When was the last time you received a thank you note? We bet you can remember the exact moment. Whether a digital card, a short email or Slack message, or a handwritten one that arrived in the mail, you likely remember it because it's nice to feel appreciated. And that's exactly why you should be sending thank you notes to your customers, too. 
Perhaps that thanking letter was from a loved one or someone you helped in a time of need. Or, it may have been tucked into an order from your favorite online shop. Sweet thank you notes for customer appreciation have been cropping up more and more in both physical shipments and digital inboxes. And, it feels nice to be remembered. It's customers that keep businesses, well, in business. 
So, if you're a business owner and you don't yet send out the occasional thank you note, you may want to start. Include a physical thank you card for an order right in the box with a shipment of products or, a few times a year, send a letter just to say "thank you for supporting my small business," perhaps with a couple of heart-warming customer appreciation quotes. 
A personal touch goes a long way towards building a lasting relationship with your customers. So read on to learn all about how to create your own thank you notes and appreciation messages for customers.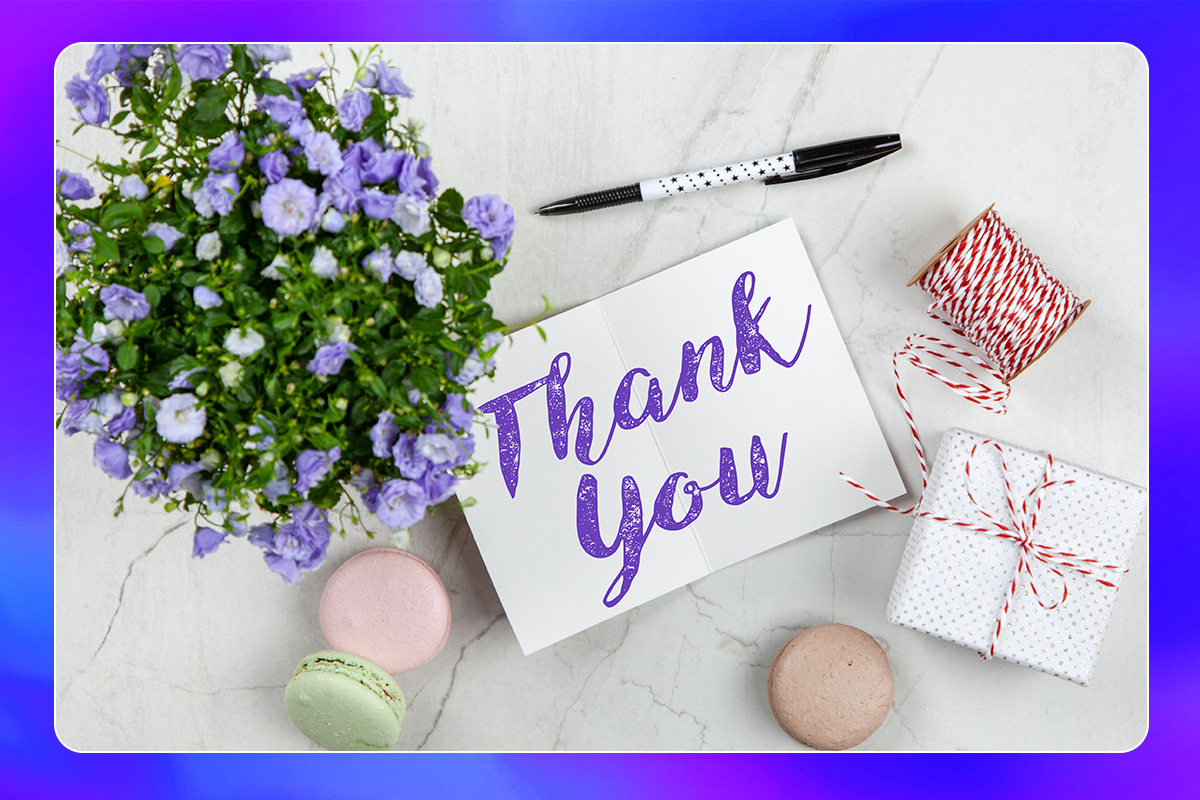 Why Write Thank You Notes for Customers?
Social media is great for spreading the word about your small business, helping you reach more people at scale. However, it's sometimes hard to build one-on-one connections with your customers. That's where small gestures like handwritten thank you notes for customers comes into play. 
Writing thank you notes is a simple gesture that shows how much you care and helps improve your overall customer experience. It's a nostalgic move that reflects the time, effort, and consideration that you put into every aspect of your business. 
Even if it's just a simple thank you written on the back of your business card, a thank you note provides the perfect space to reiterate your brand values and reinforce your carefully-curated aesthetic. 
When to Send a Customer Appreciation Note
There are a few different times when it's appropriate and appreciated to send a note of thanks. 
In Physical Shipments:

If you're in e-commerce, you may want to set up a system for a thank you note to go into the package of any order that's a first purchase. 
With an Email Confirming Purchase:

Many brands will also have a thank you email trigger when any order comes in. Customers often expect to receive an email confirming their purchase, so why not thank them for their continued business at the same time?
Customer Milestones:

Have a frequent buyer? Consider celebrating customer milestones, like a certain amount purchased, for a second note to go out. This is a nice way to reward your best customers for continuing to support your small business. 

After Meeting:

If you deal directly with clients, send out a hand-written note or email soon after meeting your client in person. You'll stay top of mind, and the potential client will learn just how much you care about their business. 

Referrals: If a current customer refers your brand to a friend, don't forget to thank them for the referral. 
Best Ways to Send Customer Thank You Notes
It's the 21st century, which comes with certain digital advantages. For example, you can now send a thank you note in many different ways, without relying on the physical mail (that's still an option, too, though). 
In a box with a purchase:

Include a print note right in the box that says thank you for your order.

Email:

Thank you emails can be triggered by an event like a purchase or milestone if you have a customer database setup. 

Via mail:

Snail mail is here to stay. Go all out and send a handwritten note. If you write these often for your clients, consider

creating your own personal logo

for that extra special touch. 

Via text:

Send an SMS to thank your customers for purchases and remind them that you're there to help resolve issues, track their shipping, and receive feedback. 
Do's and Don'ts When Sending Appreciation Notes
Keep these best practices in mind when writing thank you notes for customers.
Send the note at the right time:

Don't wait too long to say thank you for your order. As we mentioned above, sometimes the best time to share customer appreciation is alongside their order confirmation. 

Keep it short:

Choose a brief but well-stated message instead of a lot of text that a customer is unlikely to read. 
Check it twice:

Make sure that your note is free of grammar, creative, and formatting errors that could make you look unprofessional. When in doubt, keep

these design principles

in mind. 
Personalize:

Even if you're sending out a ton of notes, take the time to manually add in the correct name of the person.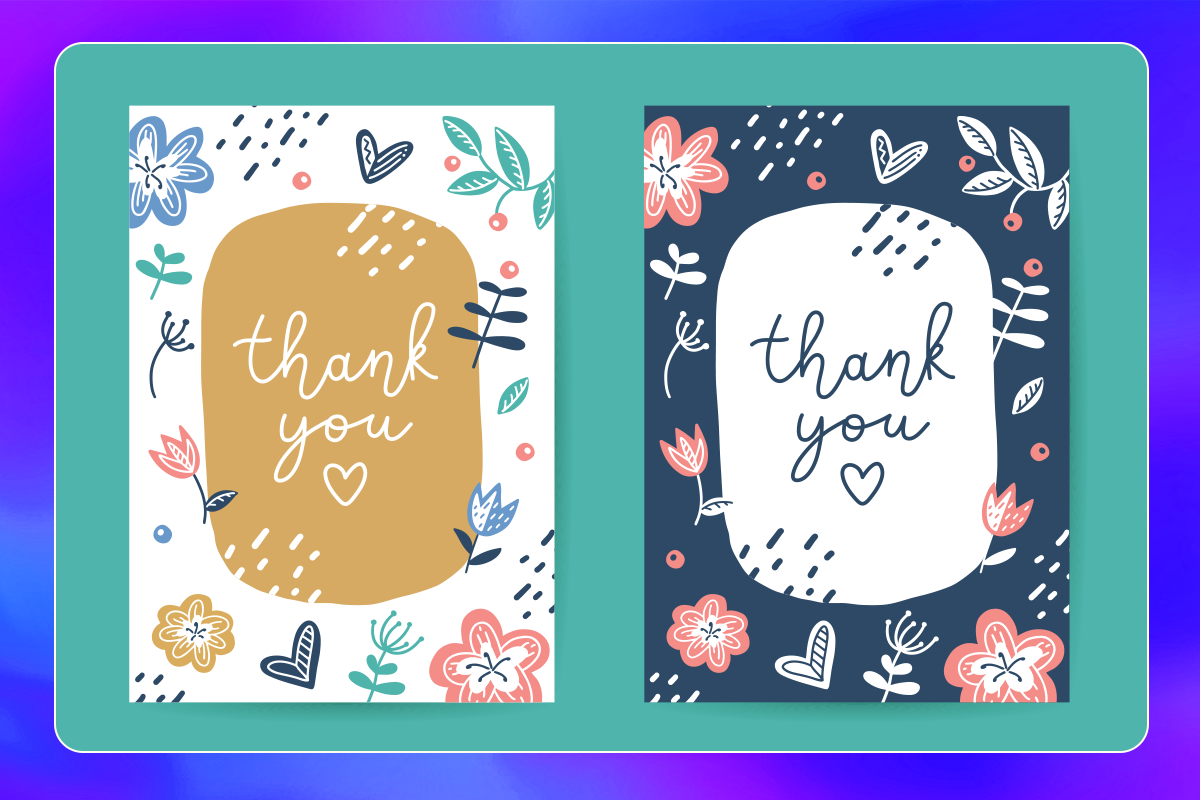 What to Write in a Thank You Note for a Customer
We've already told you that it's best to keep these notes personalized and short, but what exactly should you include? 
The feels:

Show real gratitude. Remind people why your business is different with a heartfelt, unique note. 

Support:

Quickly remind your customers that you're there to help them with any issues or questions they may have. Making yourself available also doubles as a very subtle call to action (CTA) to keep customers coming back. In a longer note, you can even include a brief customer satisfaction survey.

Contact information:

Don't forget to let your customers know what's the best way to reach you. This is especially important if you're just starting out a business relationship with a potential new client. 
6 Customer Thank You Note Examples
If you need some inspiration before you start writing, check out these six useful phrases to express customer appreciation. 
1) Thank you for taking the time to (include a personalized example).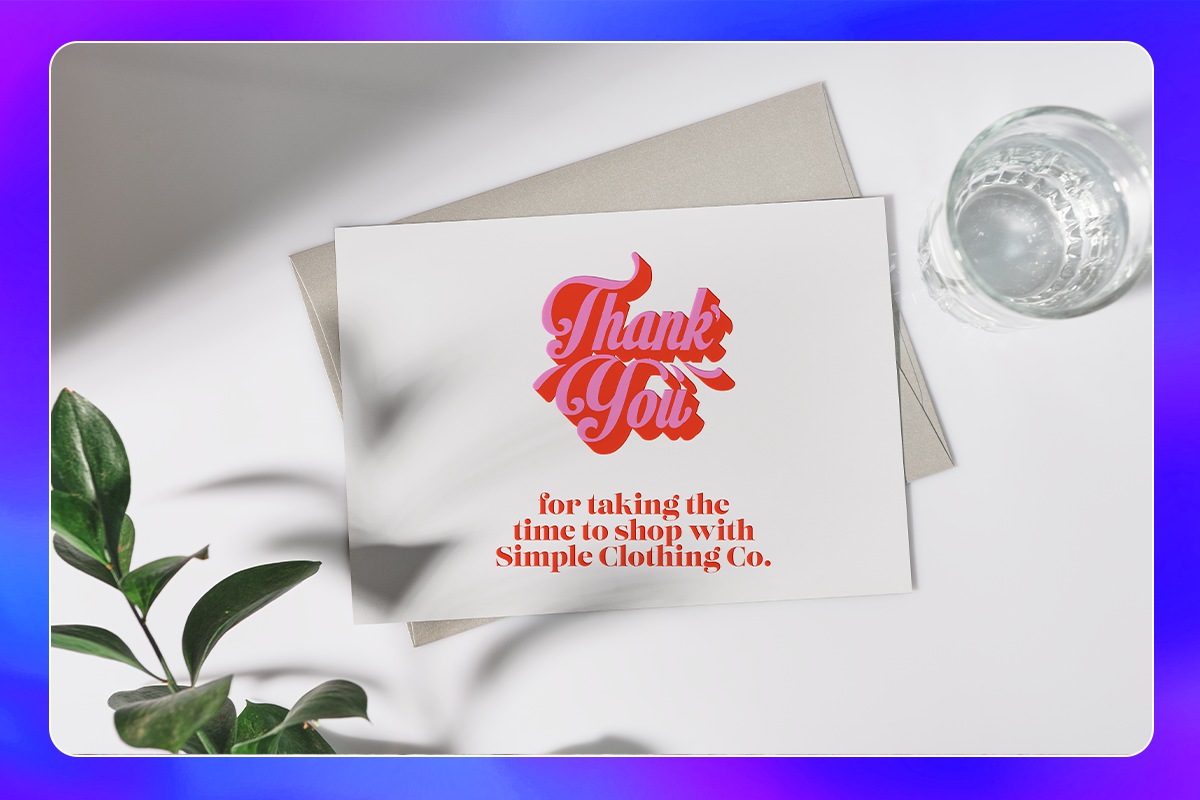 2) We remembered that you liked (included personalized examples of a product or service).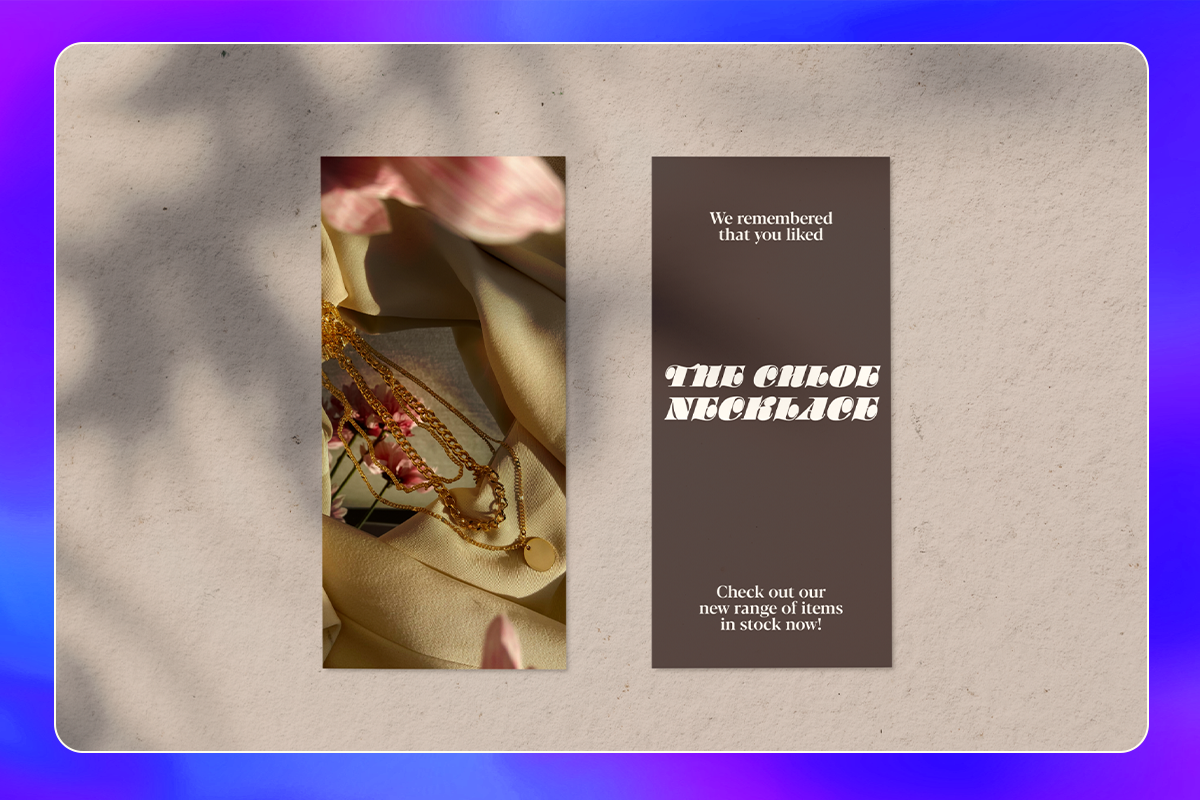 3) We wanted to take a moment to thank you for being one of our most loyal customers. (Especially at a milestone moment. This is a great time to include a coupon as well to celebrate customer loyalty)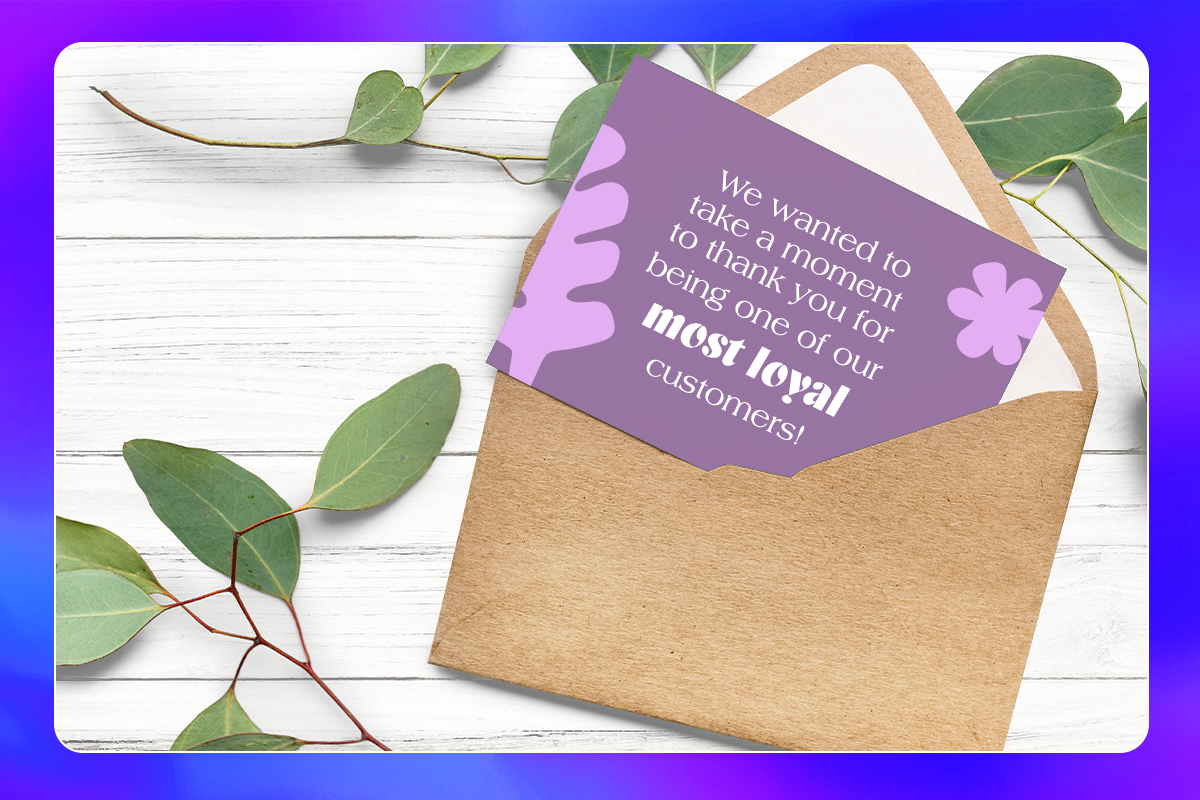 4) Your feedback has helped us to (cite a specific customer-driven change in your offering).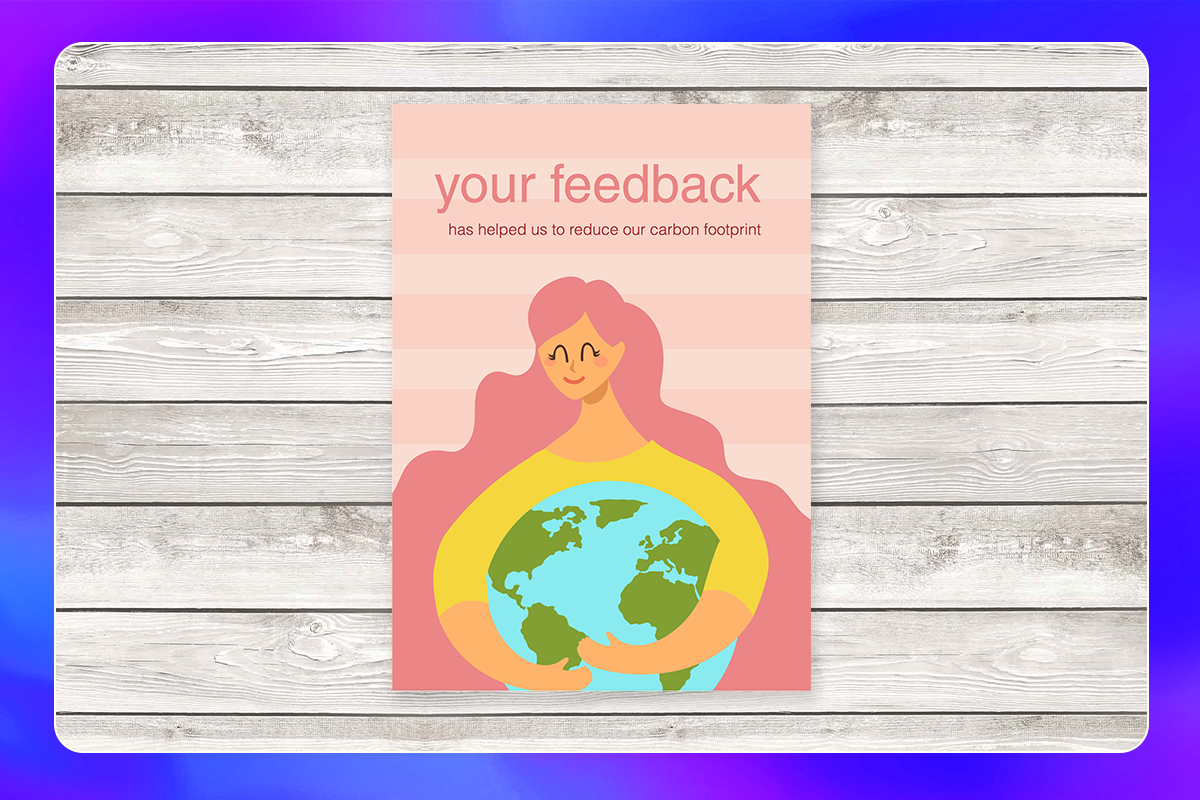 5) We admire how (cite an example of how your clients support your business. This is another great time to include a coupon code to thank a customer for their loyalty).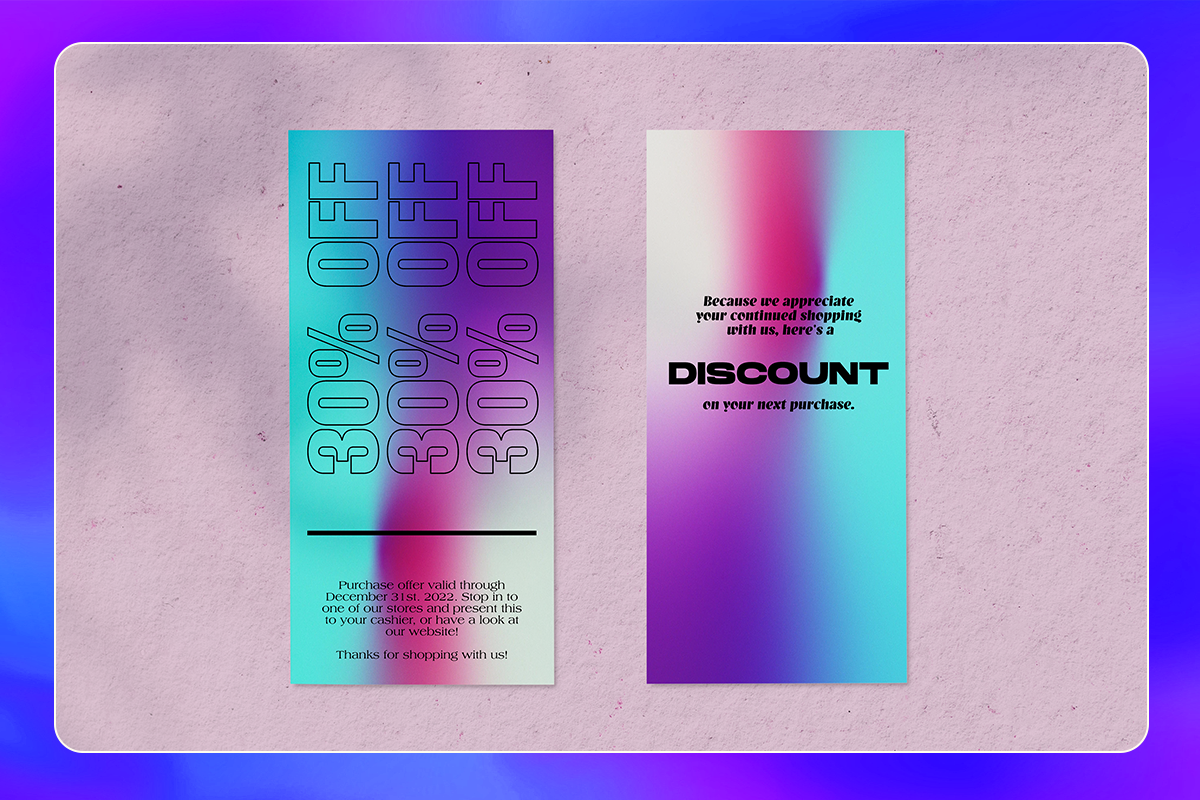 6) I know that you are interested in (cite a personalized example about the customer's preferences or projects, especially with regard to services).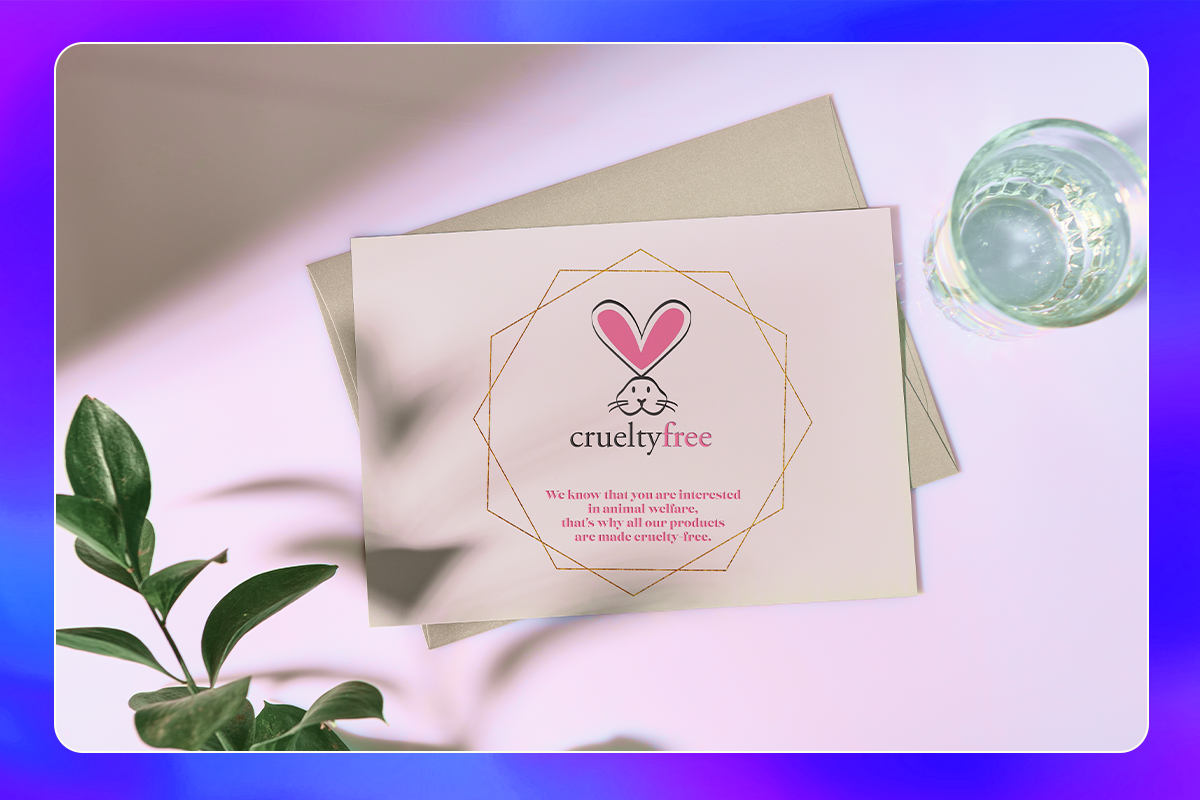 How to Design a Thank You Card with Picsart
On the web:
1) Open the Picsart Web Editor and start a new project.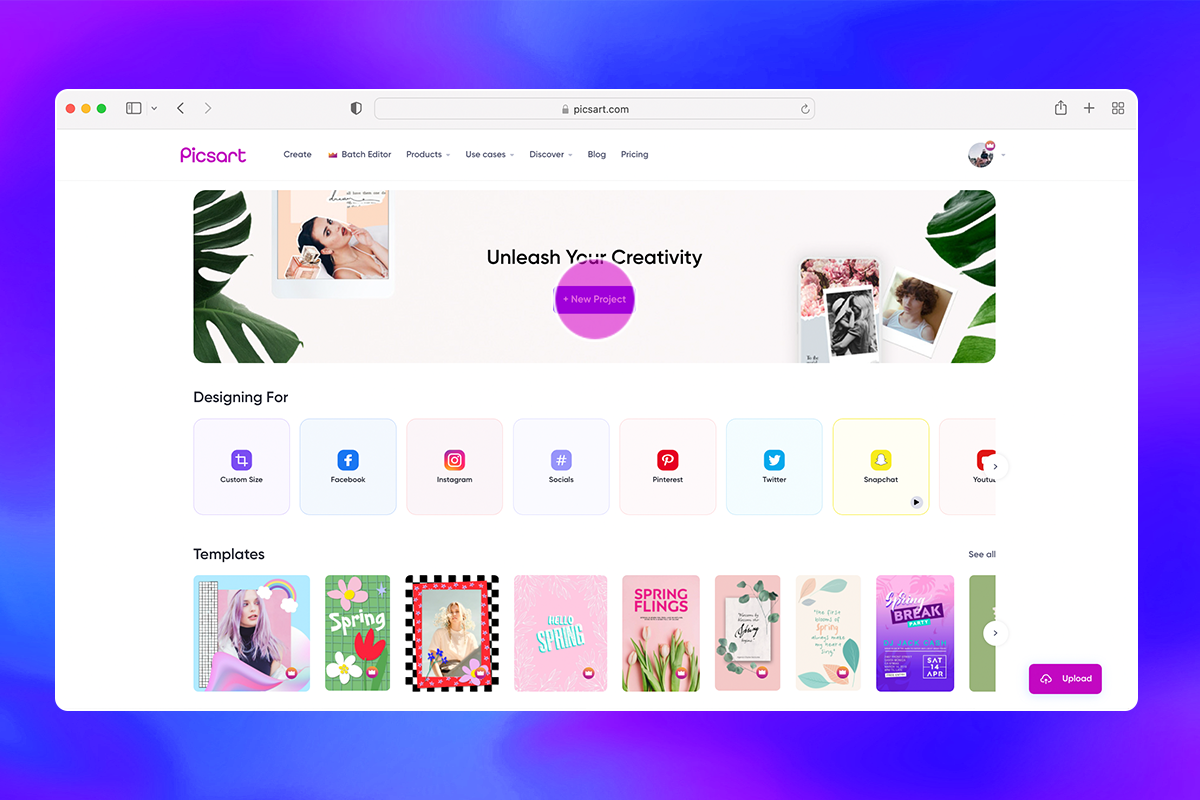 2) Click on Templates, then use the All Templates drop-down menu on the left-hand side of the screen to choose Greeting Cards. The great part about templates is that they're super customizable, so you can change the template size or various elements on the template to make it custom for your brand.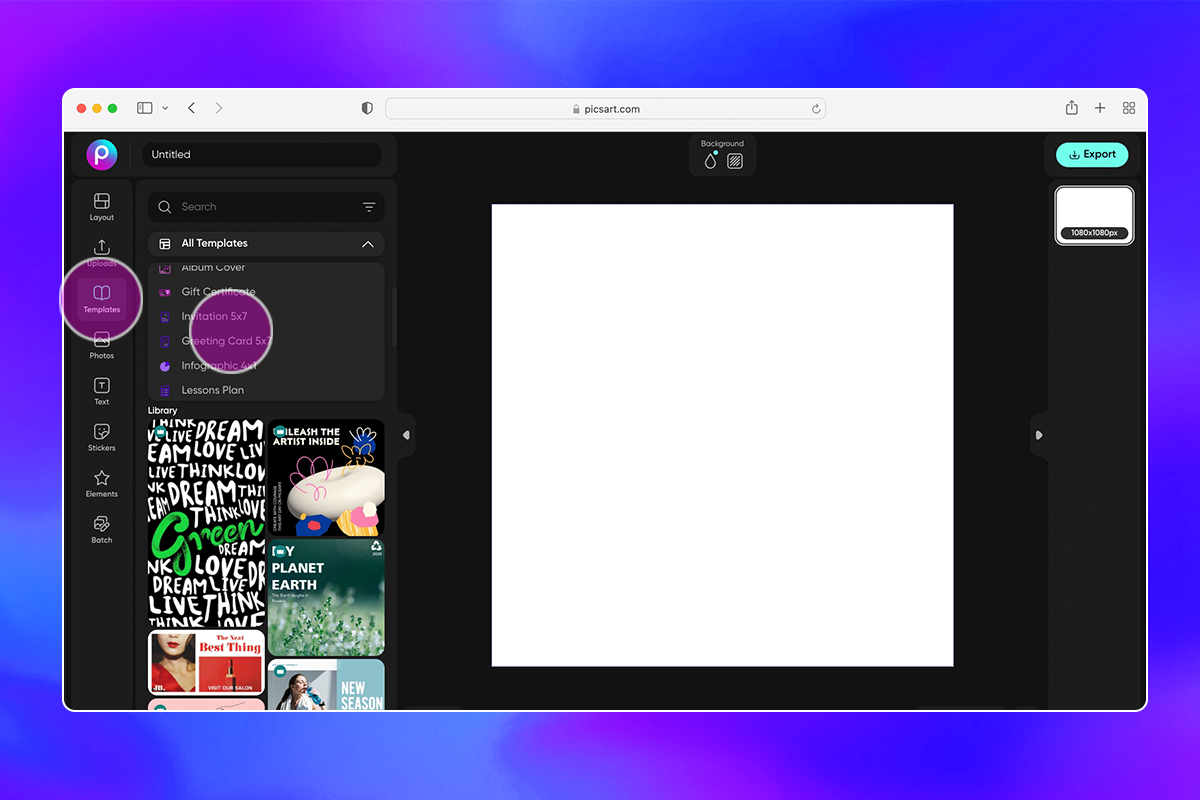 3) Once you've selected a template, it's time to customize it. You can remove, reposition, or customize elements like photos, stickers, and text to your design using our easy drop-and-drag tools or the layers on the right panel.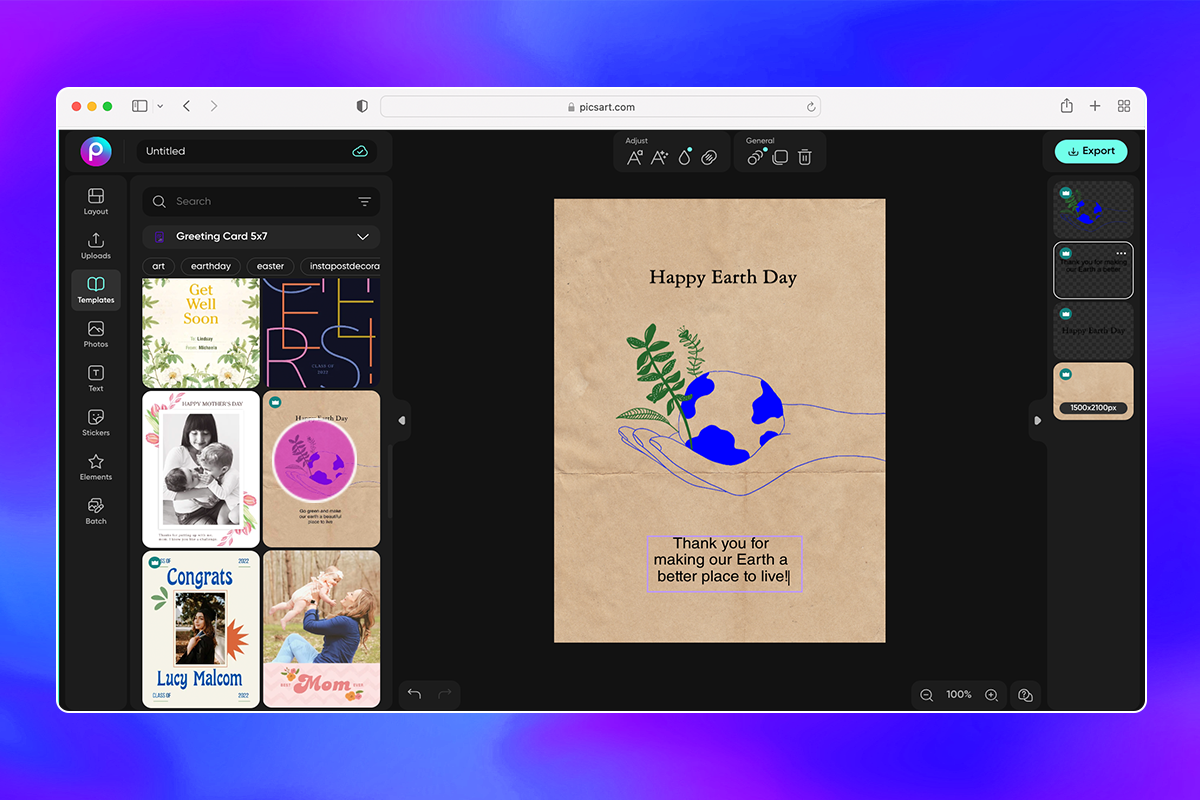 Make any further adjustments to text or add new Elements and Stickers.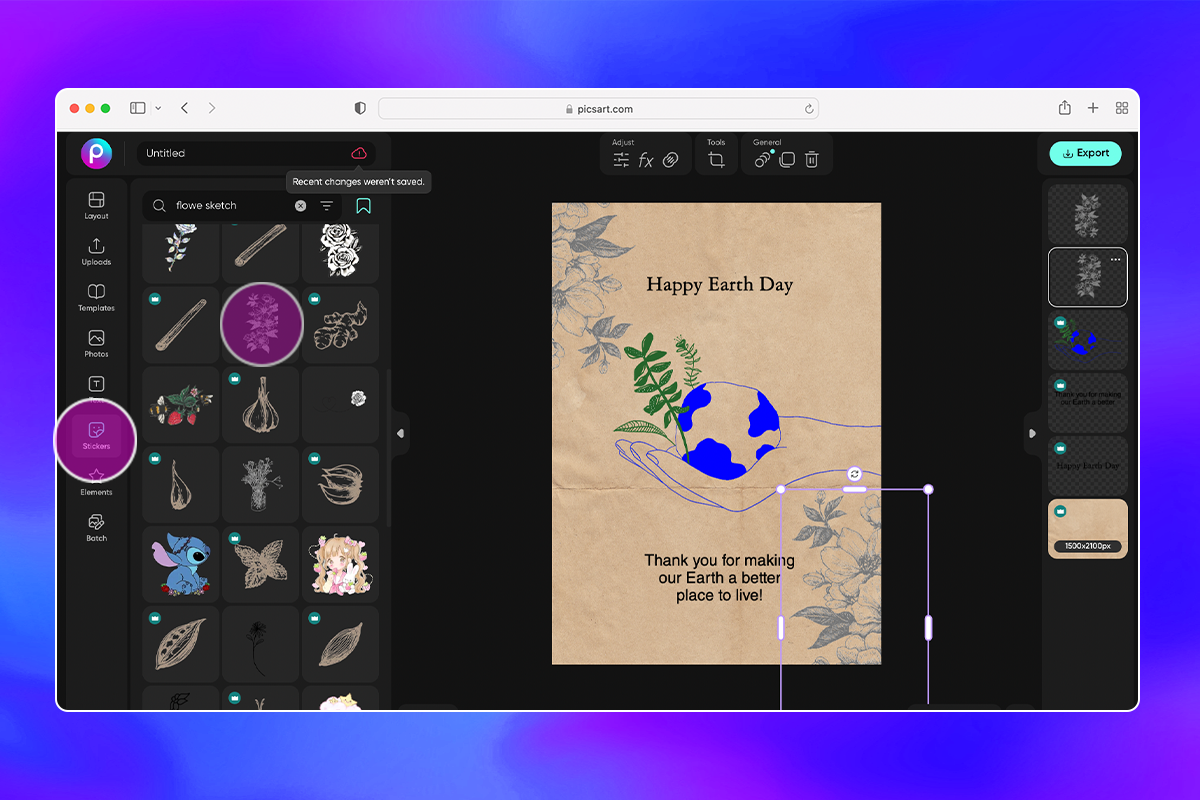 4) When you are satisfied with your edits, download your photo using the Export button in the upper right-hand corner of the screen. Here you can name your file as well as select the file size, format, and upscale if needed.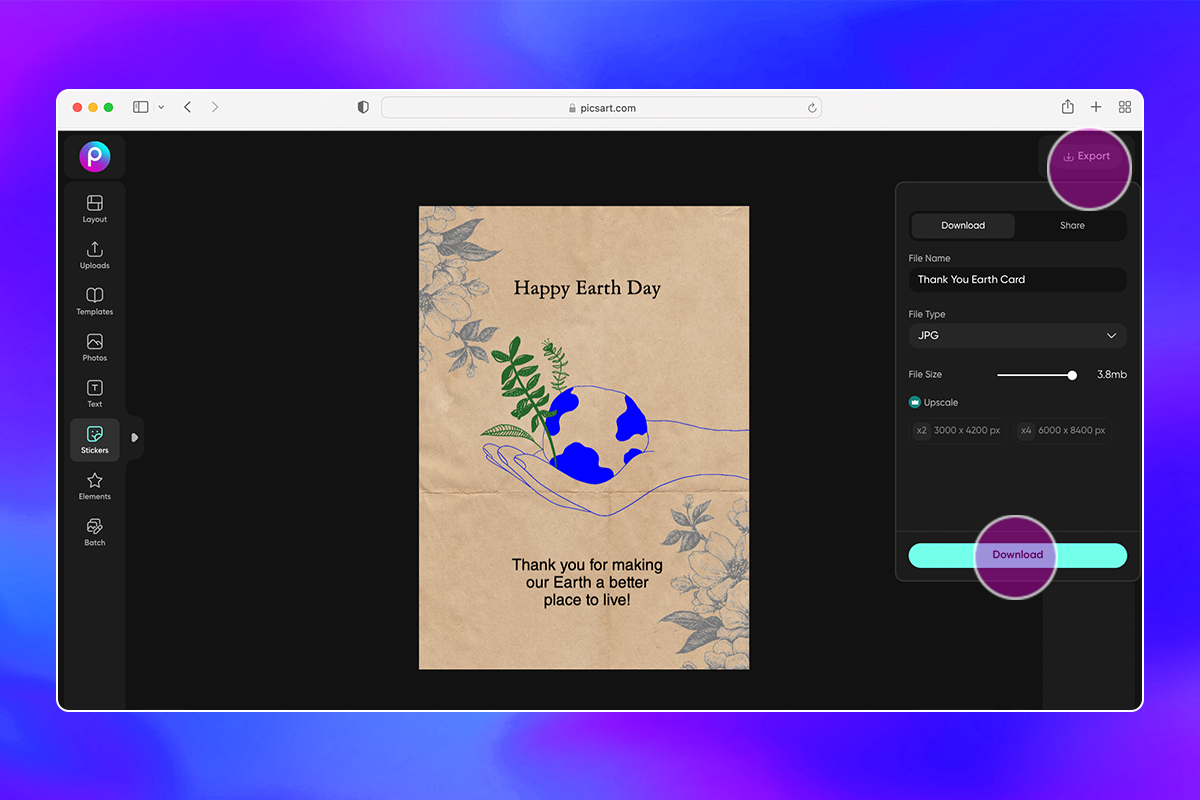 On the mobile app:
1) Open the Picsart mobile application  and tap on the purple plus sign (+) at the bottom of the screen to start a new project.
2) Scroll down to Templates and tap on All Templates. Choose a template with which to start designing. You can filter by size or use keywords to find a certain design theme.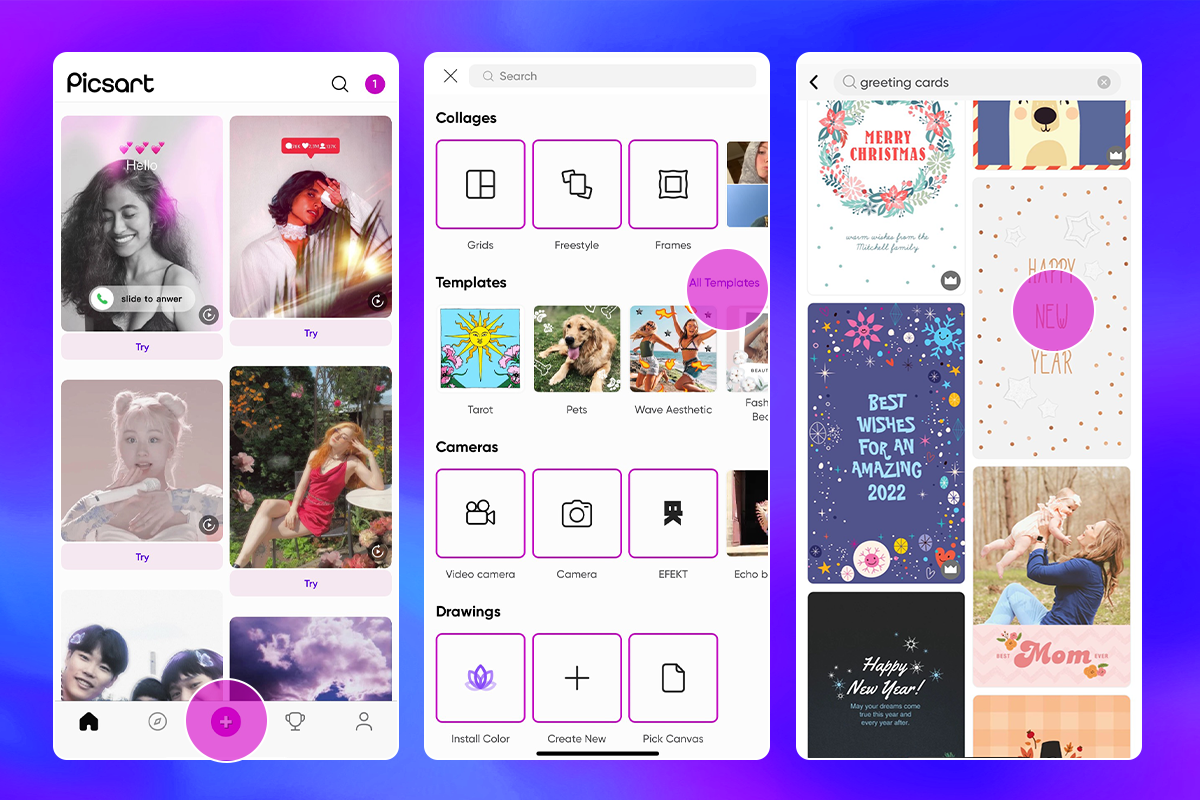 3) Let's customize your template into the perfect customer thank you note. Tap on the text on screen to edit it to reflect a thank you note. Here you can also change the text size, font, spacing, and reposition it as needed.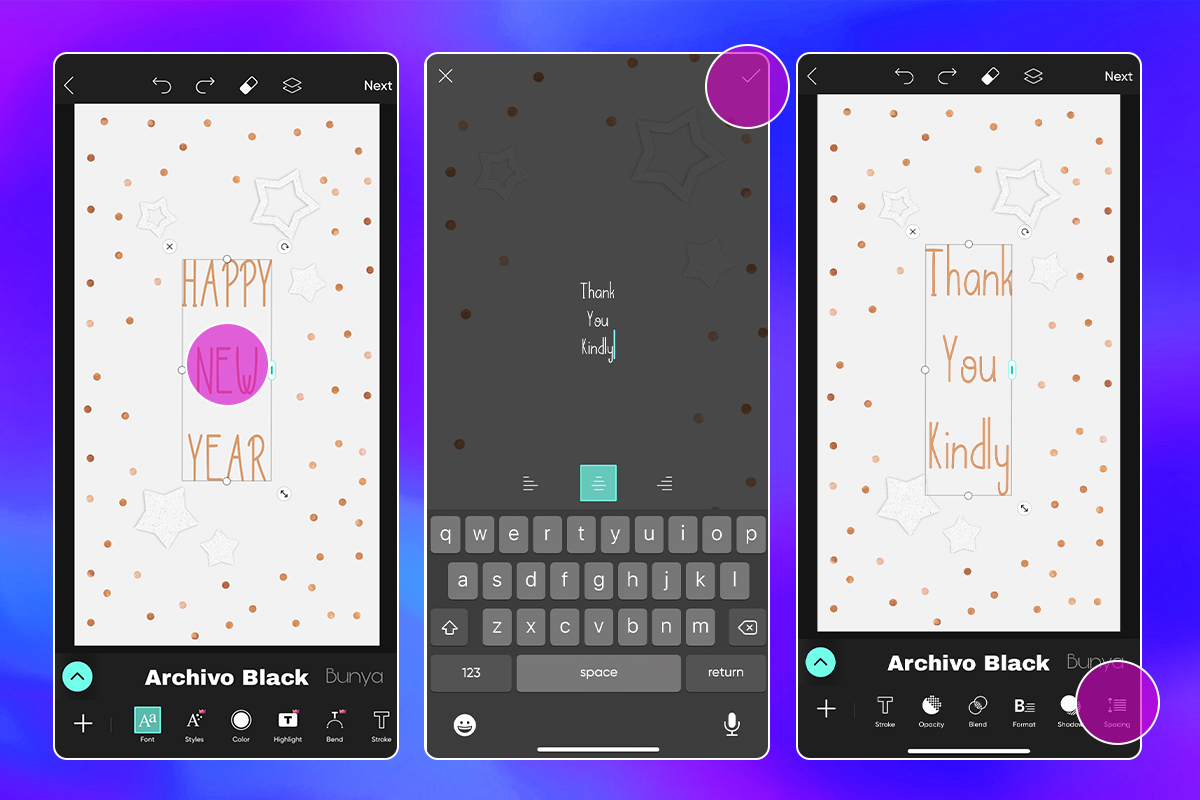 4) Remove elements if needed and add others in using the toolbar on the bottom. You can add additional text, stickers, effects, masks, and more for the perfect customer appreciation touch. When you're finished, tap Apply in the upper right-hand corner of the screen to get your changes to stick. 
5) When you are satisfied with your edits, click on Next in the upper right-hand corner of the screen to save or post your final thank you card.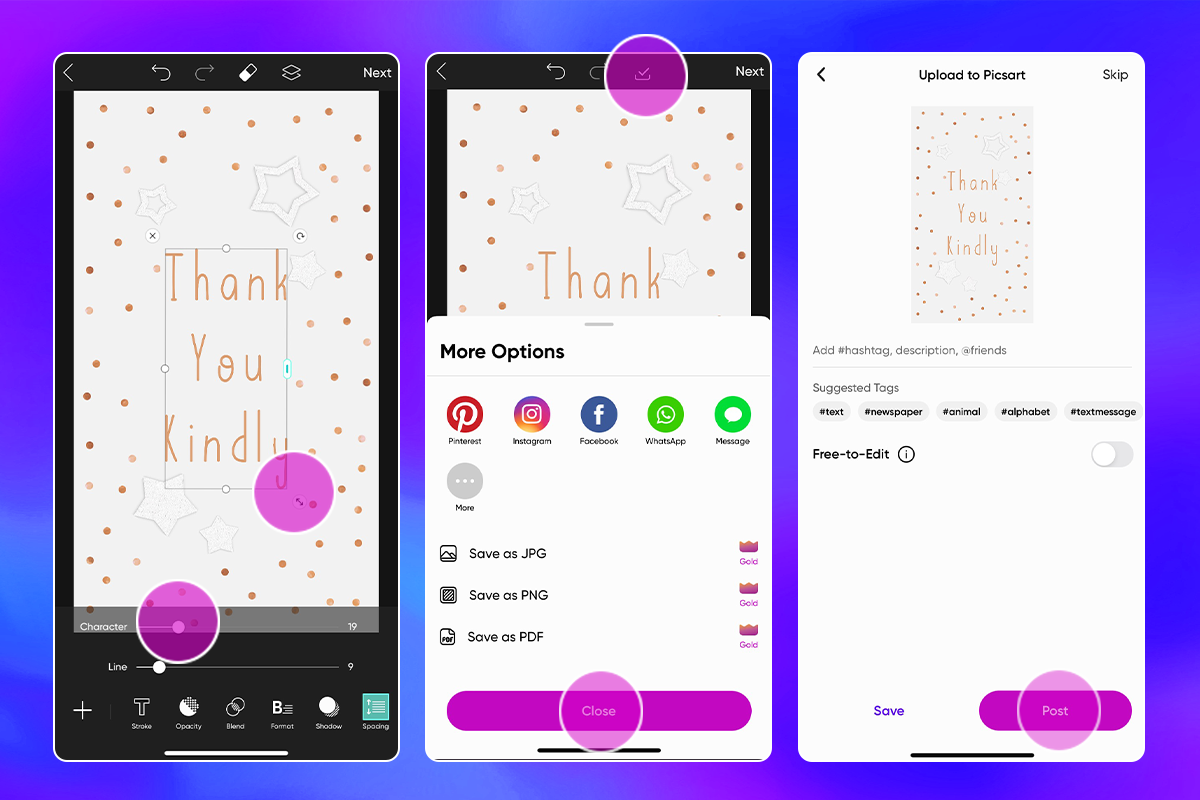 Picsart is a full ecosystem of free-to-use content, powerful tools, and creator inspiration. With a billion downloads and more than 150 million monthly active creators, Picsart is the world's largest creative platform. Picsart has collaborated with major artists and brands like BLACKPINK, Taylor Swift, the Jonas Brothers, Lizzo, Ariana Grande, Jennifer Lopez, One Direction, Sanrio: Hello Kitty, Warner Bros. Entertainment, iHeartMedia, Condé Nast, and more. Download the app or start editing on web today to enhance your photos and videos with thousands of quick and easy editing tools, trendy filters, fun stickers, and brilliant backgrounds. Unleash your creativity and upgrade to Gold for premium perks!