Congratulations! You've decided which of your closest friends you want in your wedding party. Now it's time to officially pop the question with the perfect 'will you be my bridesmaid?' card. Bridesmaid proposal cards are a fun and memorable way to kick off your wedding festivities. And there's no better way to set the tone for your bridal party. 
When and how you ask your bridesmaids to join your bridal party can vary based on your wedding theme, color scheme, venue, geographic location, and many other factors. If you're a bride-to-be looking for ideas on how to make the perfect bridesmaid proposal, then stick around. We'll cover when and how you should ask your bridesmaids, what to include in your 'will you be my bridesmaid?' card, and share some of the best templates for bridesmaid proposal cards. Then, we'll help you create your own.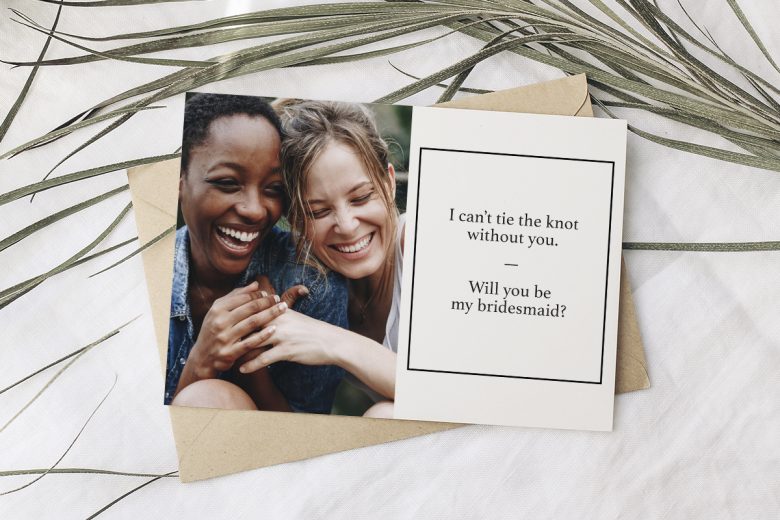 When Is the Right Time to Make Bridesmaids Cards?
There is no right answer on when the send a bridesmaid proposal card, but our advice is to get on it sooner than later. There are so many aspects to planning a wedding, and the bridal party organization process is a daunting task on its own.
Once you've nailed down your squad, you should prepare your bridesmaid cards and ask them as soon as possible. That way, you can start planning other components of your wedding together, such as bridesmaid dresses, bridal shower, bachelorette party, etc. Once you've gathered your bridesmaid crew and ask them to be a part of your wedding, they become your official support network, tasked with helping you through other aspects of your wedding. The sooner you can get them involved, the more supported you'll feel.
Plus, you can check one thing off your huge wedding to-do list sooner than later.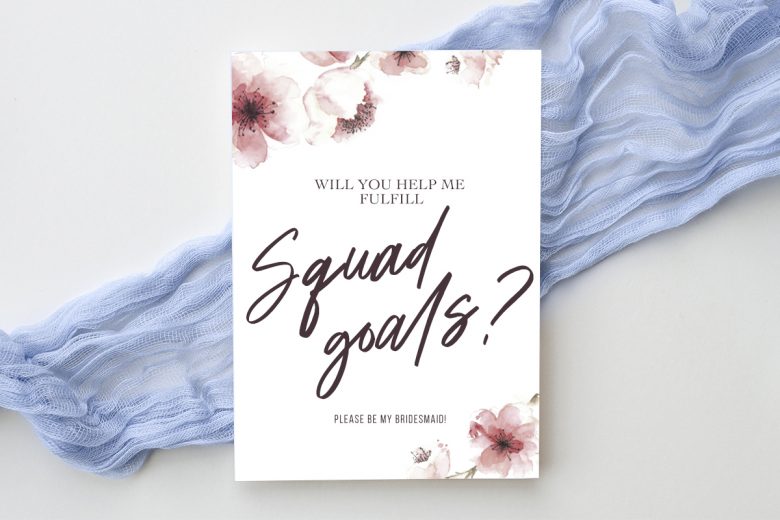 Elements to Include in a 'Will You Be My Bridesmaid?' Card
The design approach for bridesmaid proposal cards can vary from bride to bride, and even from bridesmaid to bridesmaid. Each bride is so unique in their personality and wedding theme, which is why there is no one-size-fits-all bridesmaid proposal card. While each proposal design can vary greatly, there are some elements that are consistent throughout.
If you're not sure what to include, here are some elements you can incorporate into your 'will you be my bridesmaid?' card. To cut down on design time, you can give similar cards when asking your maid of honor or matron of honor. 
'Will You Be My Bridesmaid?' Quotes
Whether you're straightforward with the ultimate question or want to include a fun customized quote, this is one of the most important elements to include in your proposal card. Consider customizing the quote for each bridesmaid. For example, if you have a running joke with one of your bridesmaids, you can include it in her specific card. Or if you have a sentimental note you'd like to share with another bridesmaid, you can include that in their card.
We'll go over different 'Will you be my bridesmaid?' quotes below, so you have an idea of what kinds of quotes you can use.
Consistent Color Scheme or Wedding Theme
If you have a specific color scheme or decorative theme planned for your wedding day, you can incorporate those elements in your bridesmaid proposal card. For example, if you have a tropical beach, a rustic barn, or a black-tie formal location or theme, then incorporate those elements to make your proposal card extra special.
Pro tip: If you find a design that you really like, you can use it across other wedding related stationary, like your wedding program.
Personalization
Personalizing your bridesmaid proposal cards will make the recipient feel extra special. Simply adding your bridesmaid's name on the card can make her feel a lot more connected to you and provide a more intimate experience. You can also add personal notes to each bridesmaid card, making them extra elegant and specialized. Take it up a notch by turning it into a custom photo collage.
Gift Set
If your budget allows, putting together a gift set along with your bridesmaid proposal card can make for the most optimal bridesmaid proposal experience. Select a few items and put them together in a nice box with cute packaging. Your bridesmaids will appreciate the gesture and it'll get them excited for your upcoming wedding festivities.
Not sure what to include in a bridesmaid proposal gift box? Consider: mini bottles of champagne, monogrammed coffee tumblers or champagne glasses, matching bridal party t-shirts, a framed picture of you and the bridesmaid, bath or beauty products, fun bridal party stickers, temporary tattoos, a framed photo, and much more.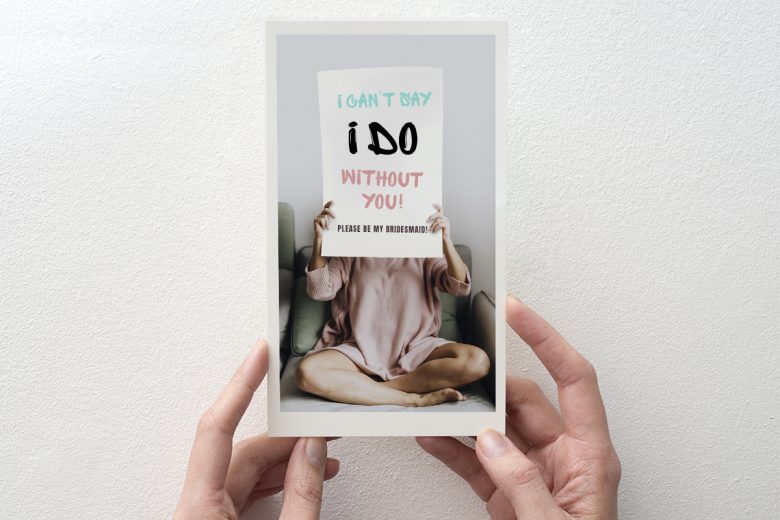 Fun 'Will You Be My Bridesmaid?' Quote Examples 
Looking for a quote to put on your bridesmaid proposal card? Look no further. Let's take a look at some fun 'Will you be my bridesmaid?' quotes you can include in your proposal card. Remember, you can always use customized text for each bridesmaid card, but if you're not sure where to begin, these quotes will help you get started. 
"Will you be my bridesmaid?"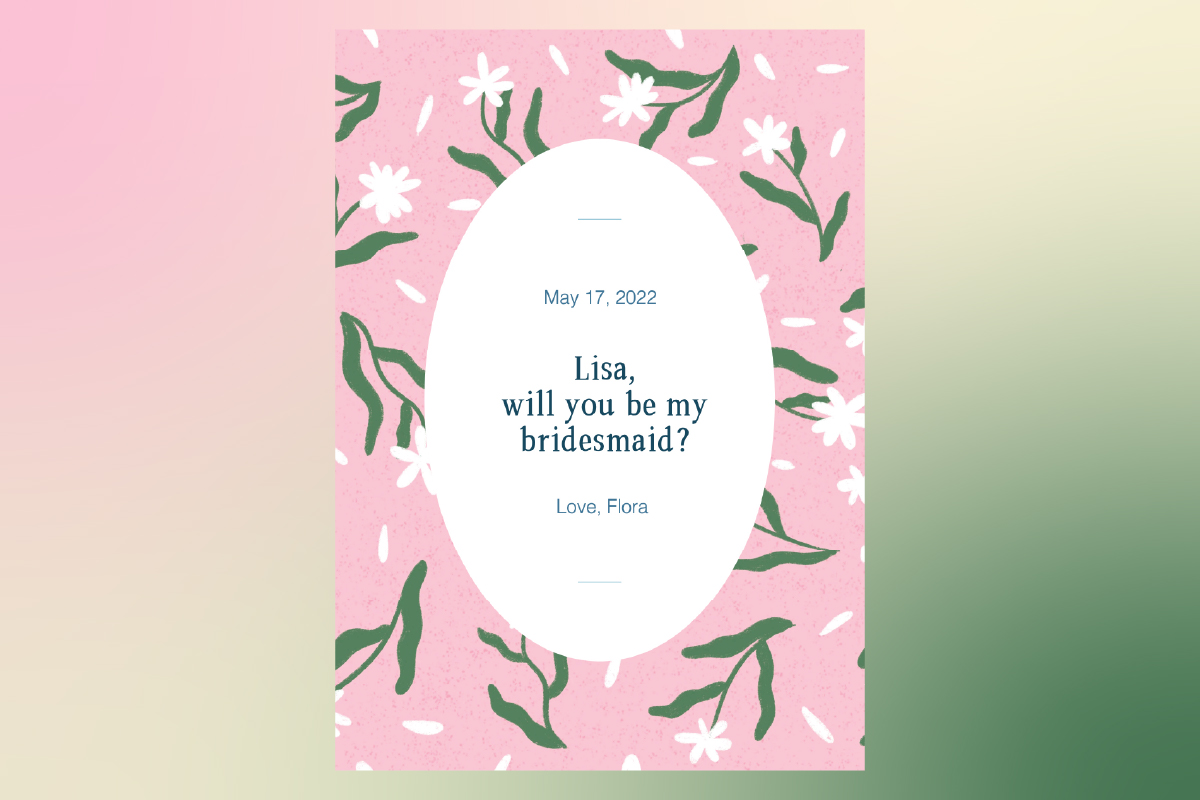 "I can't say I do without you!"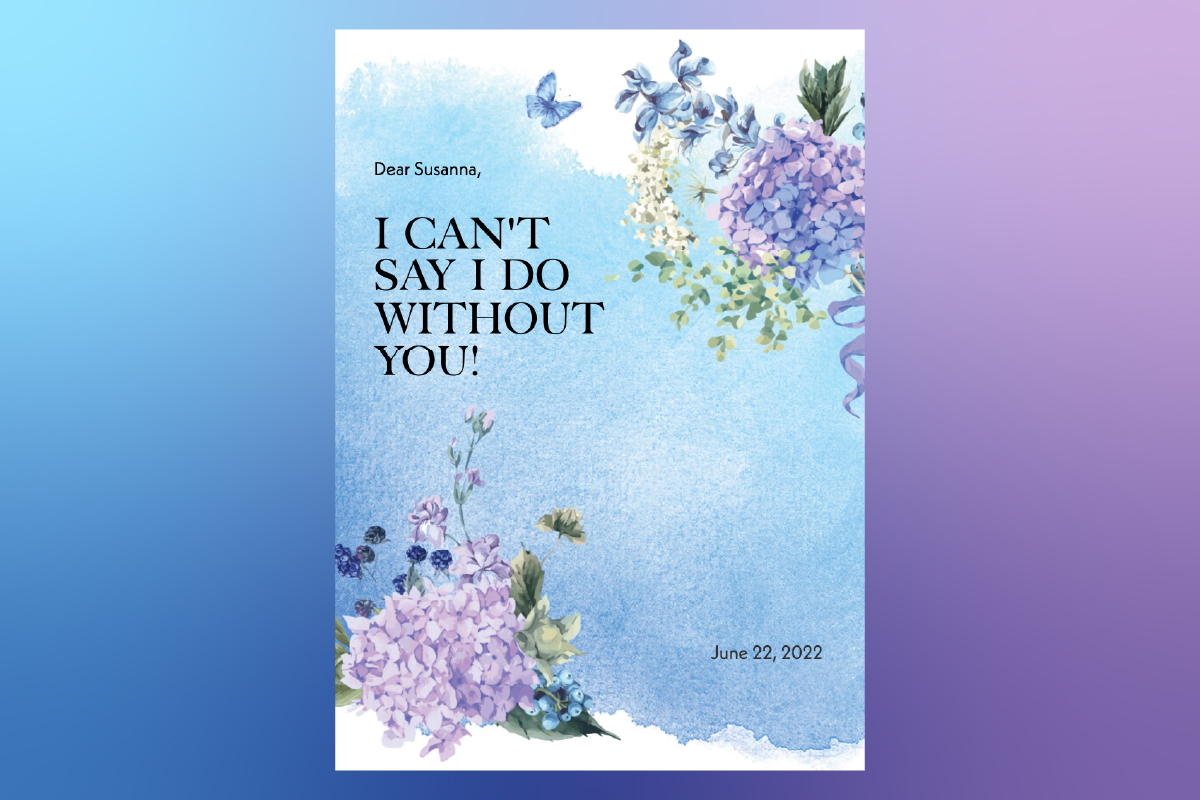 "It's my turn to pop the question to you."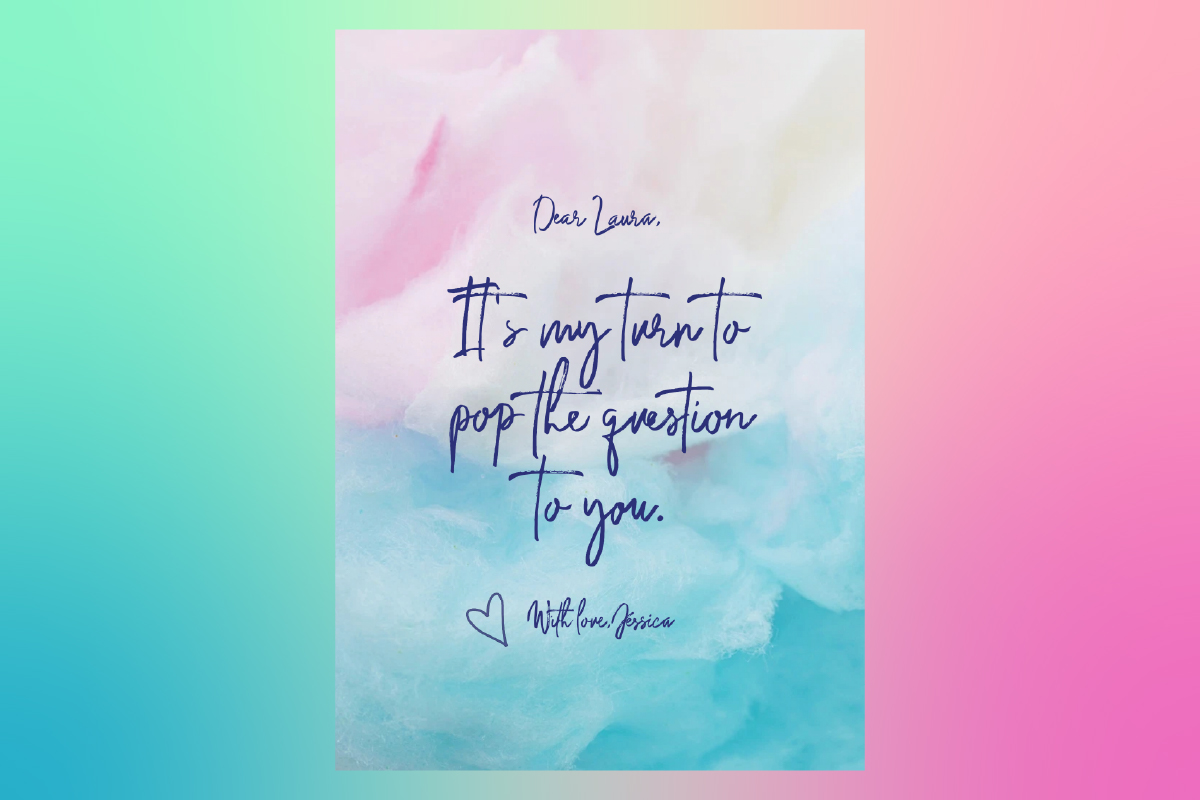 "Will you join my bridal squad?"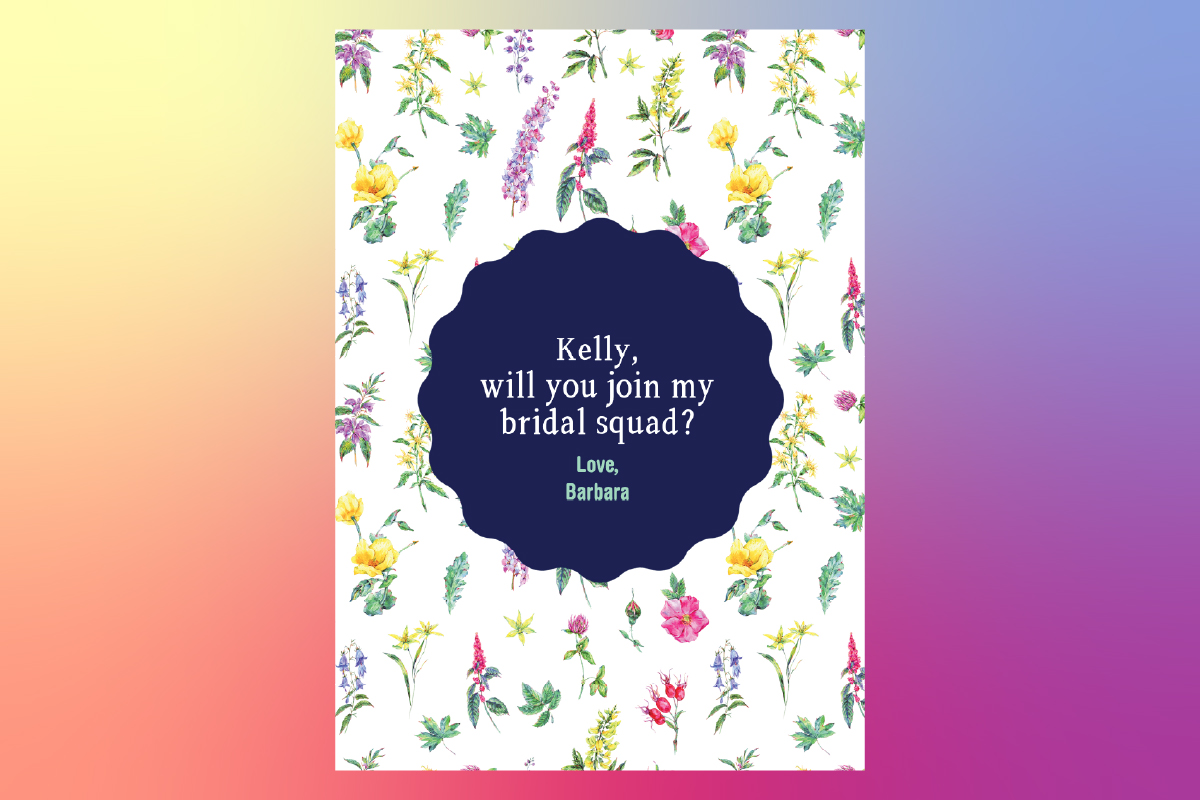 "Make me a happy bride and stand by my side."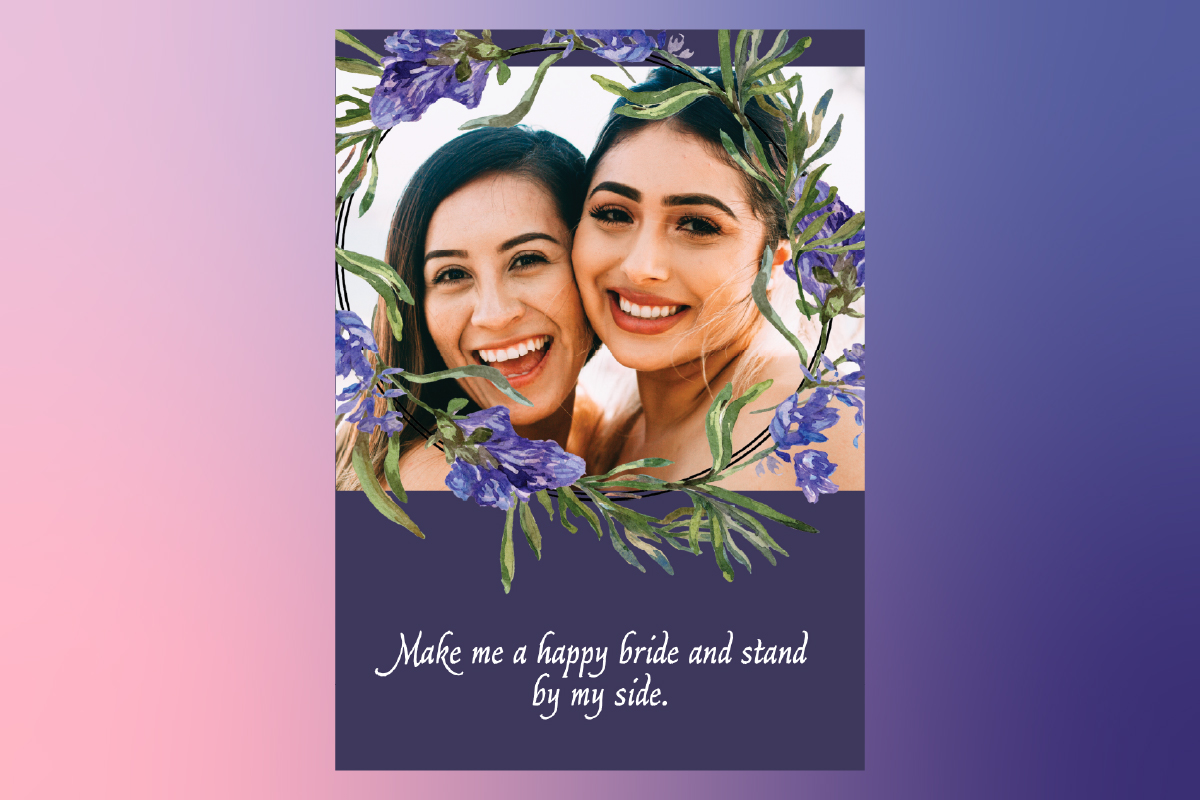 "I can't tie the knot without you. Will you be my bridesmaid?"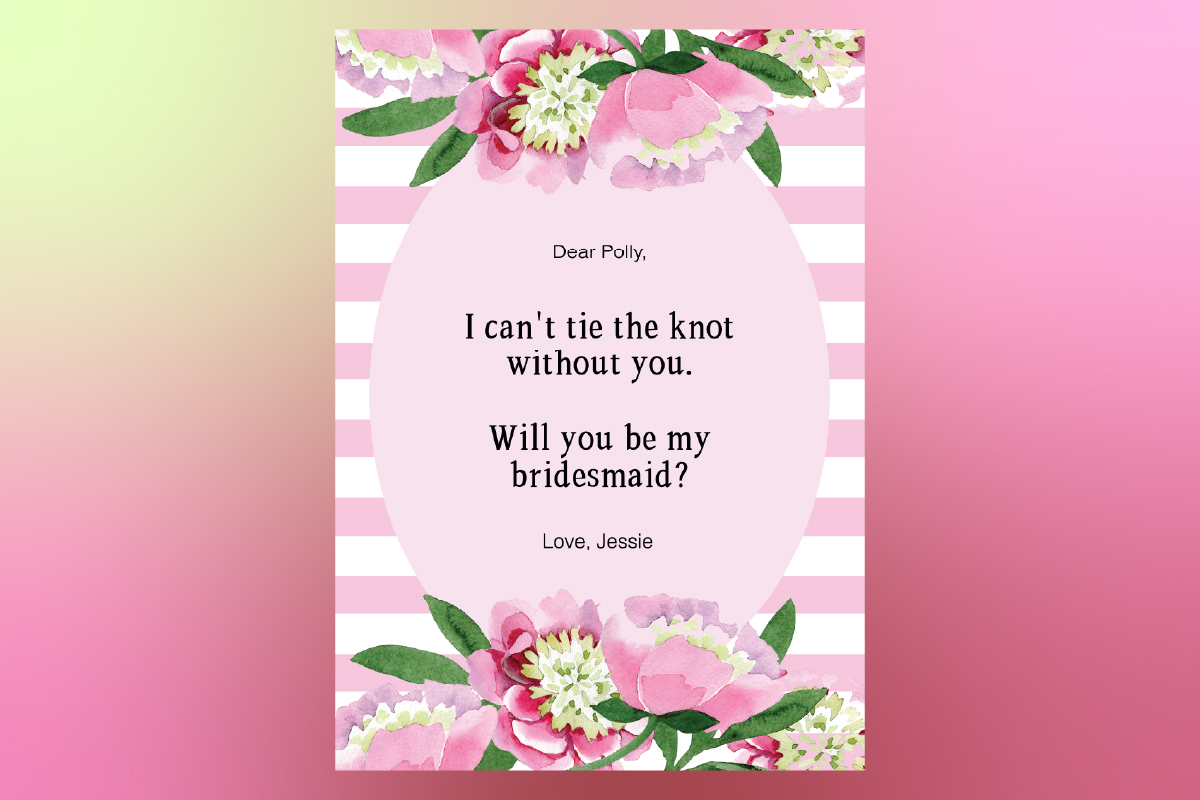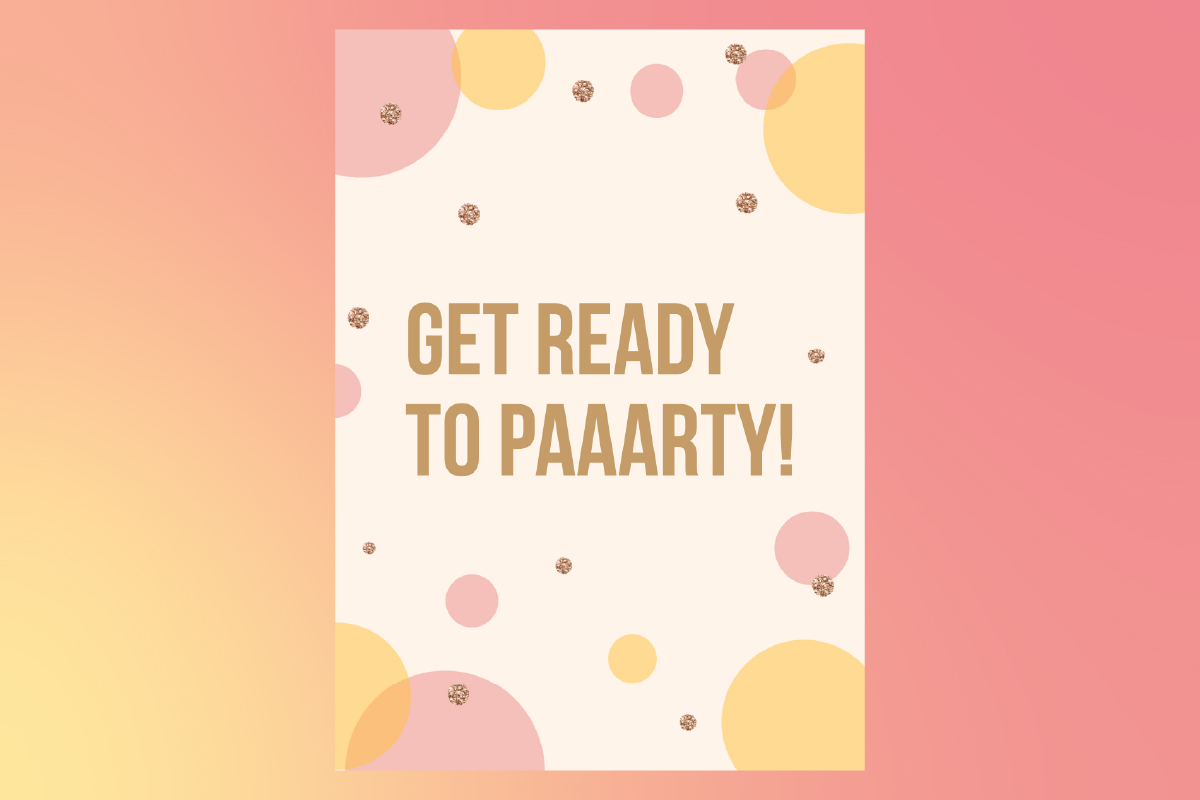 "Will you say yes to being my bridesmaid?"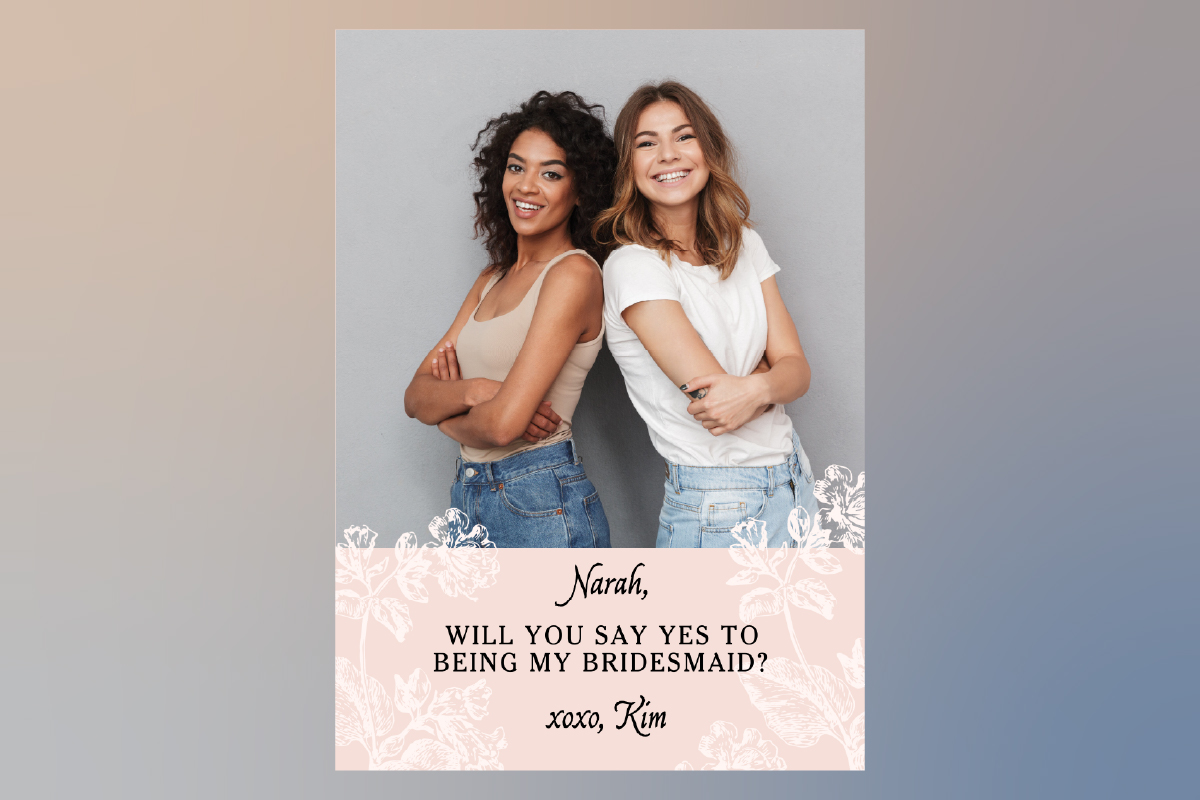 "I can't picture my big day without you as my bridesmaid."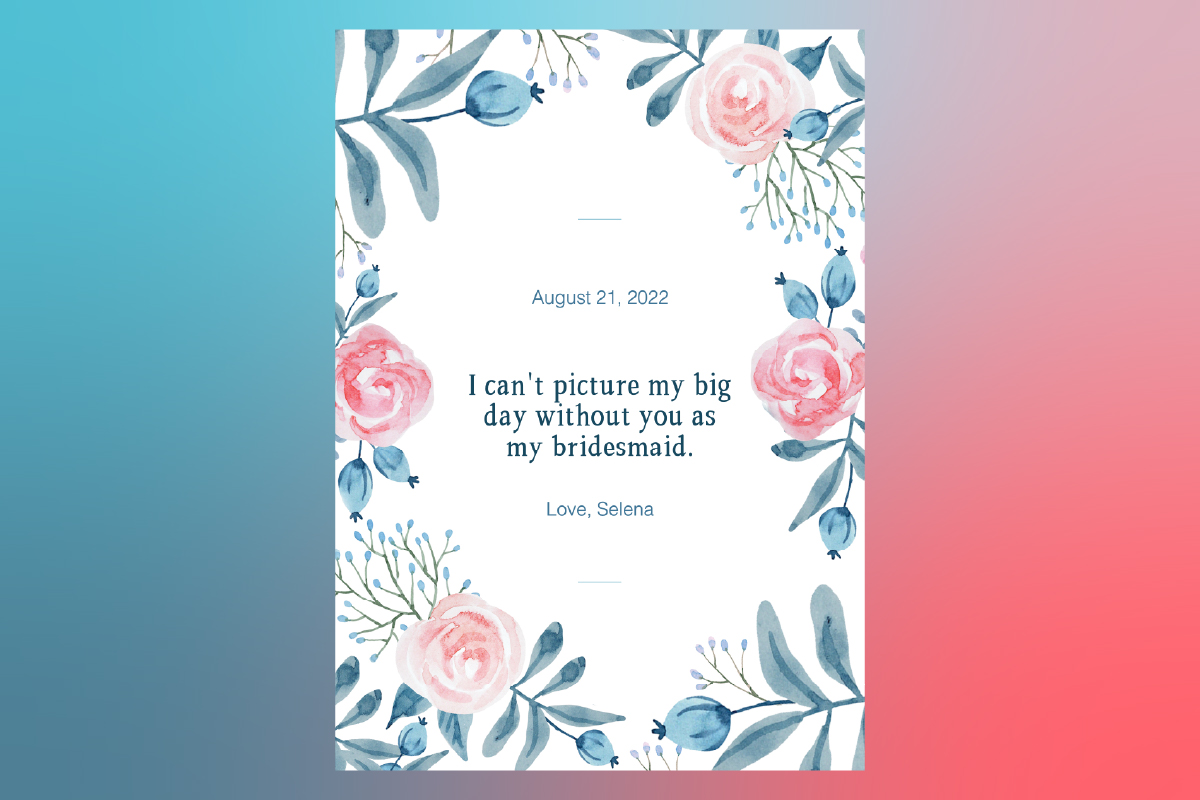 "I promise I won't make you wear an ugly bridesmaid dress."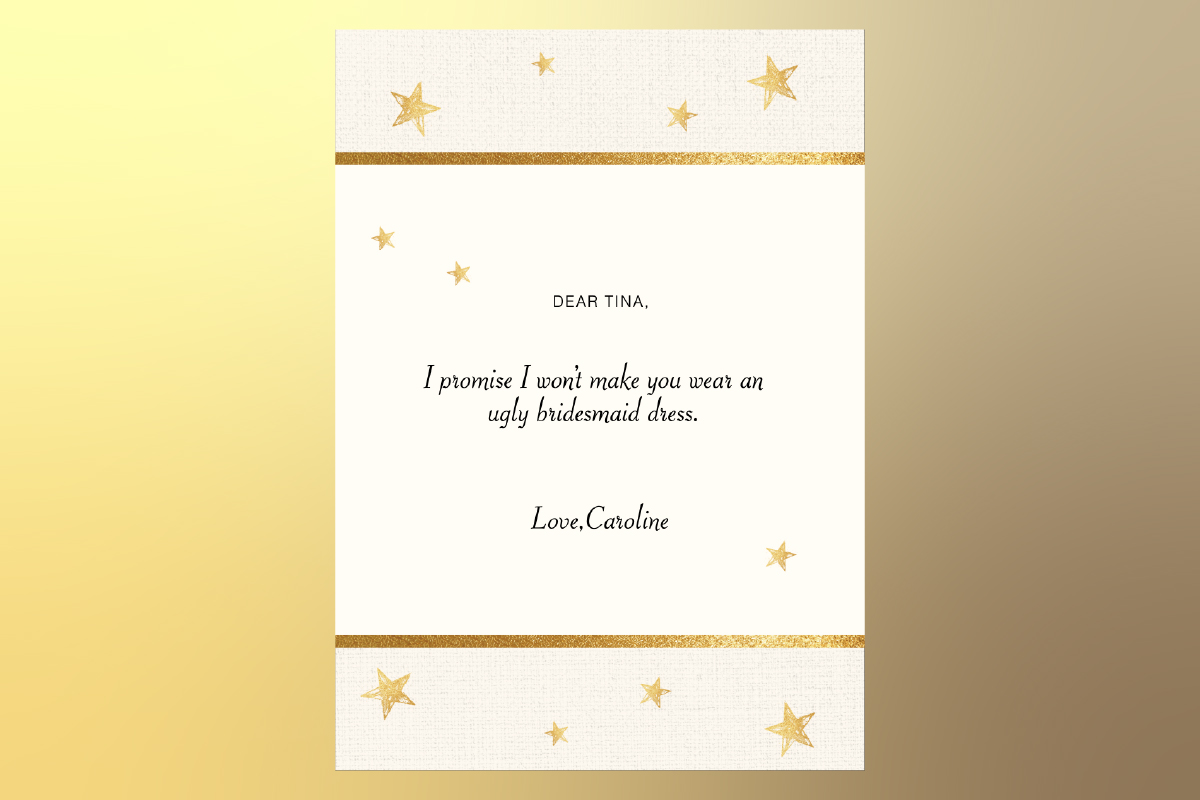 "Will you join my bridal crew as I say I do?"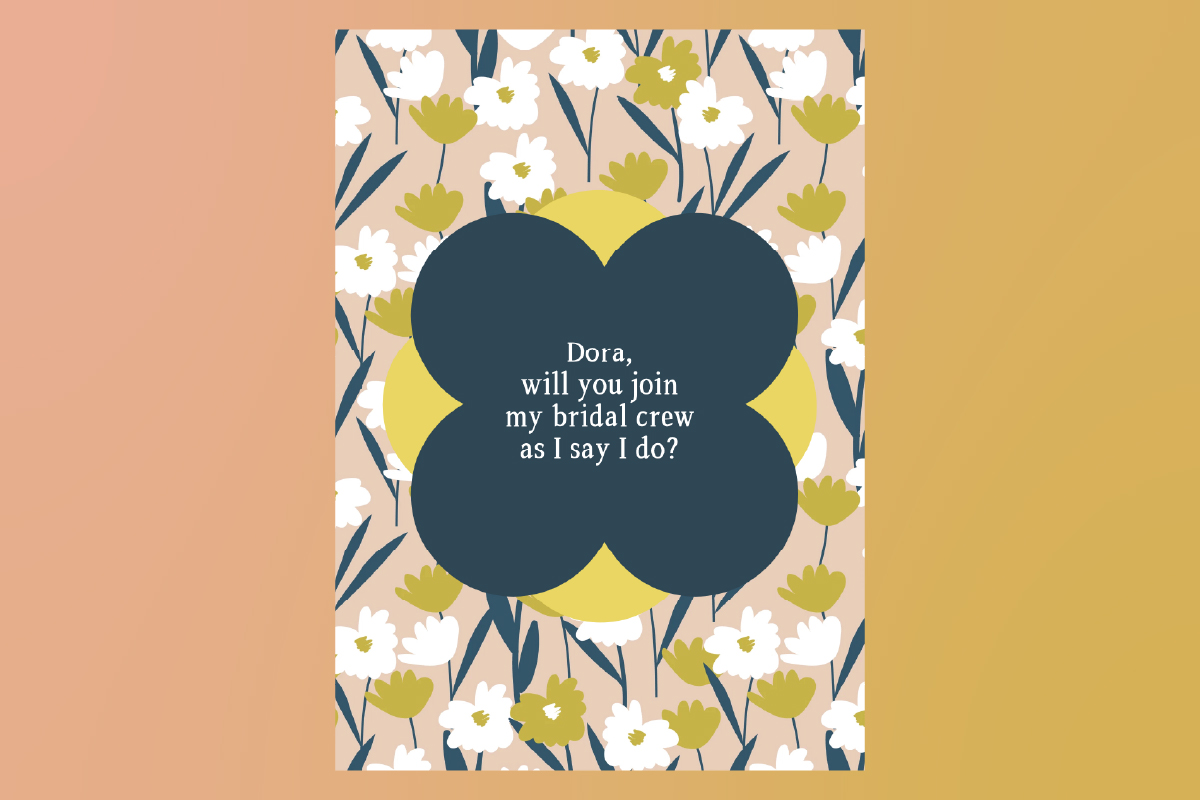 5 Best 'Will You Be My Bridesmaid?' Templates 
If you're looking to create your own bridesmaid proposal cards, but you're not sure where to begin, it might be helpful to use a 'Will you be my bridesmaid?' template. We've rounded up our favorite templates, which you can draw inspiration from when creating your own. 
1) Floral 'Will You Be My Bridesmaid?' Template
From bouquets to centerpieces to flower girl petals, flowers are a common component of wedding details. Which is why floral patterns are one of the most popular designs when it comes to wedding cards or invitations. So, add your wedding flowers and colors along the edges of your card with a quote in the middle. You can't go wrong with beautiful floral patterns and a fun font.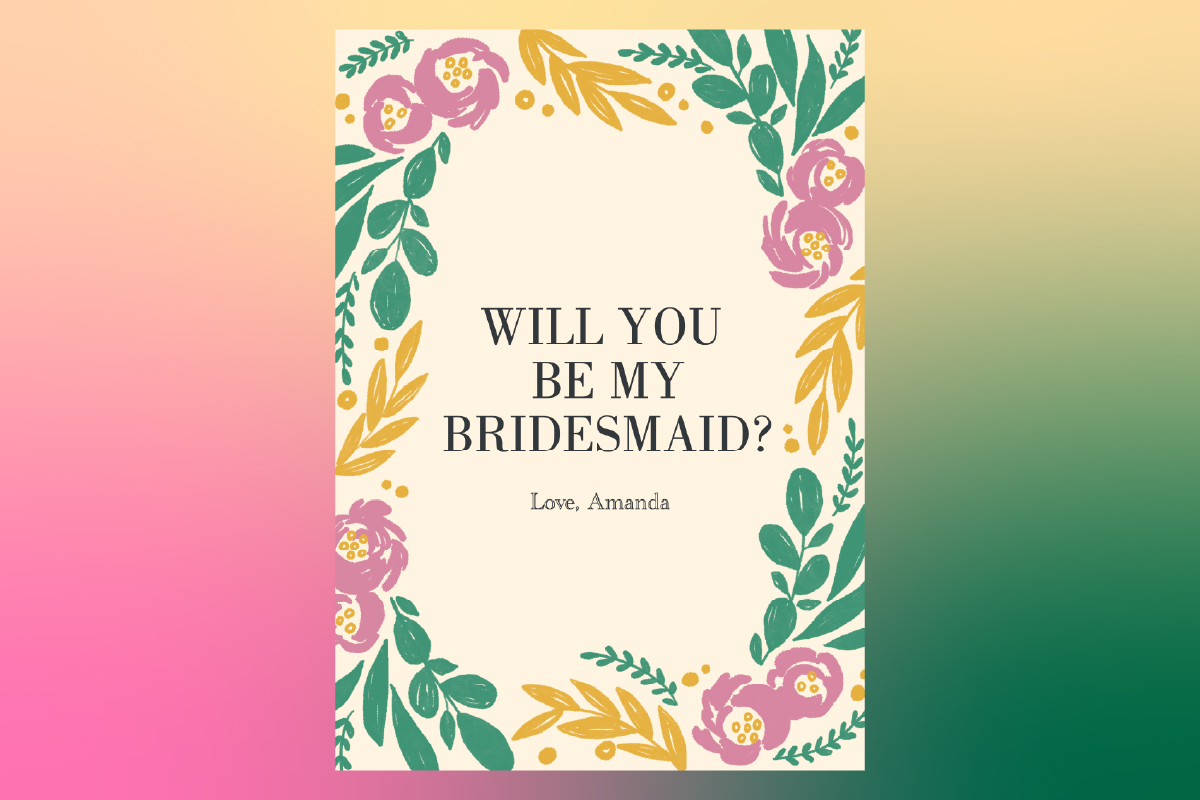 2) Bridesmaid Proposal Scratch Off Cards
A scratch-off template is a creative and interactive way to ask your bridesmaids the big question. You can start with a personalized quote at the top of the card and hide the 'Will you be my bridesmaid?' question under the scratch-off portion. Your bridesmaids will appreciate this fun, interactive keepsake.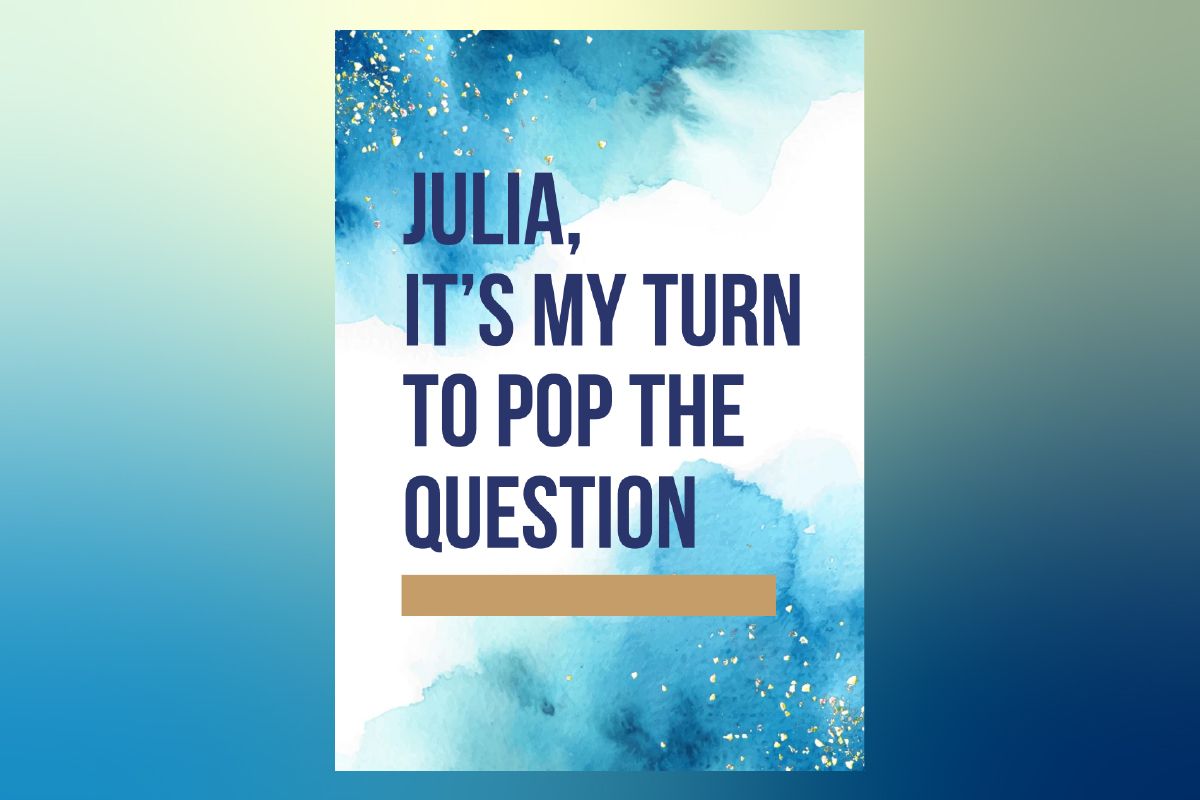 3) Gold Font Bridesmaid Proposal Template
Gold color font is a classic for wedding-related text. Choose a fancy cursive font to add an extra layer of class and elegance when asking your best friends to be your bridesmaids. This is a great option if your wedding colors include gold, or if your wedding theme is more formal, such as a black-tie wedding.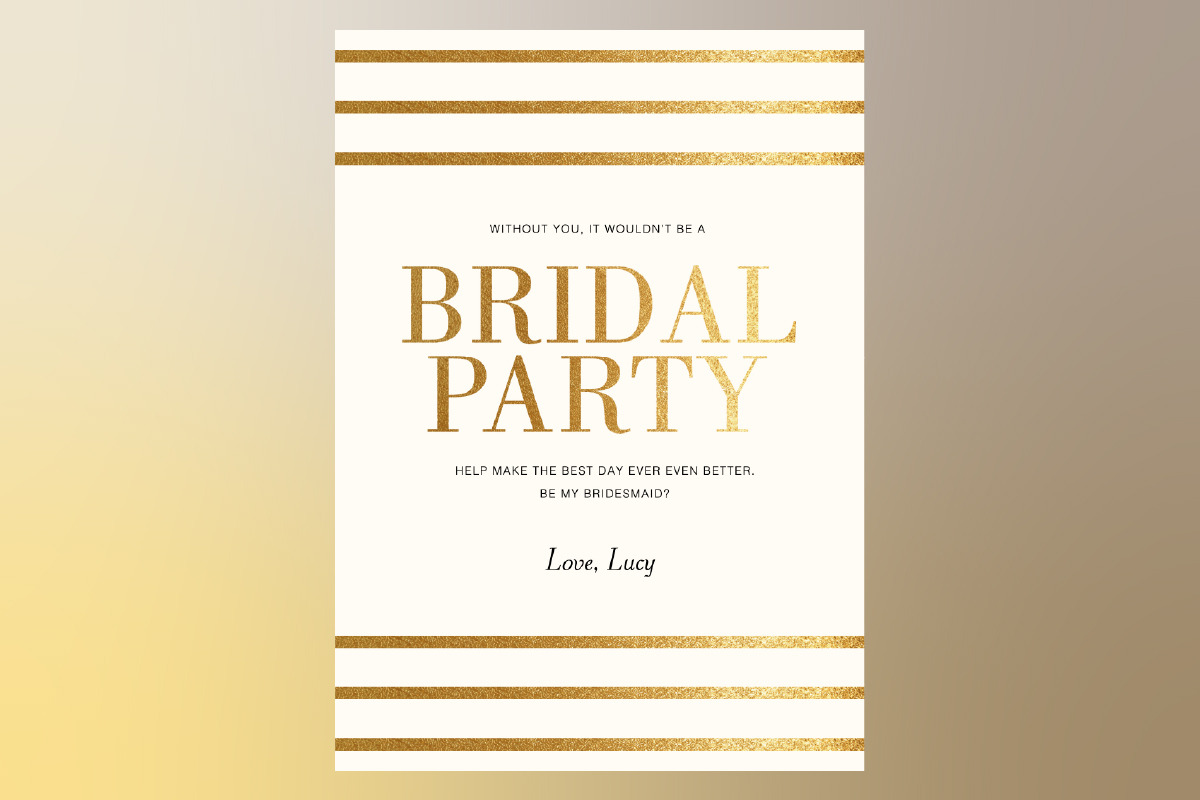 4) Champagne Themed Bridesmaid Template
Champagne is the ultimate celebratory drink for wedding festivities. Add a champagne bottle or flute graphic alongside your bridesmaid quote. That way you can pop some champagne while you pop the question.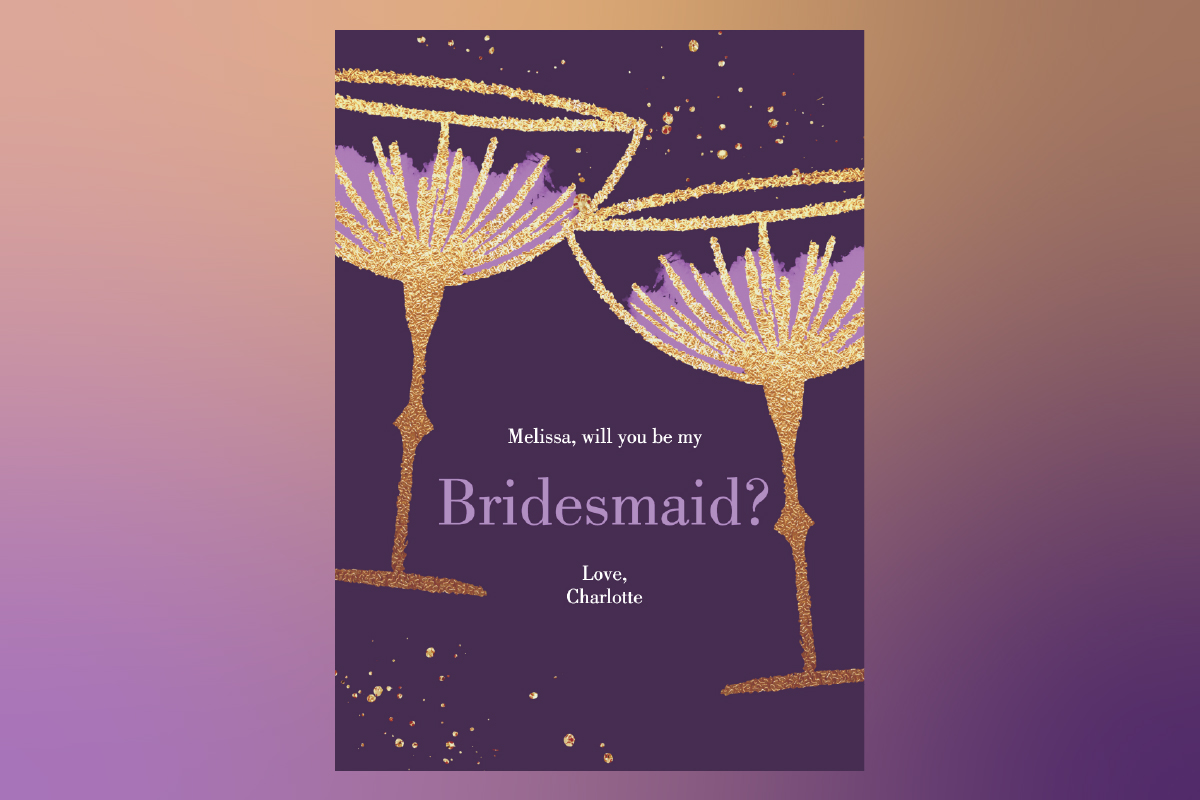 5) Regency Era Bridesmaid Template
Regency era inspired templates are every trendy now with the rise of a certain popular tv series. And for good reason – they're elegant and make for a great keepsake.
Choose a beautiful monogram design with some flowers on the edges to give your bridesmaid the ultimate personalized proposal card. Use a delicate stamped flower effect, add your bridesmaid's monogram, and include supporting text and decorations underneath or around it. This is guaranteed to make your bridesmaid feel special.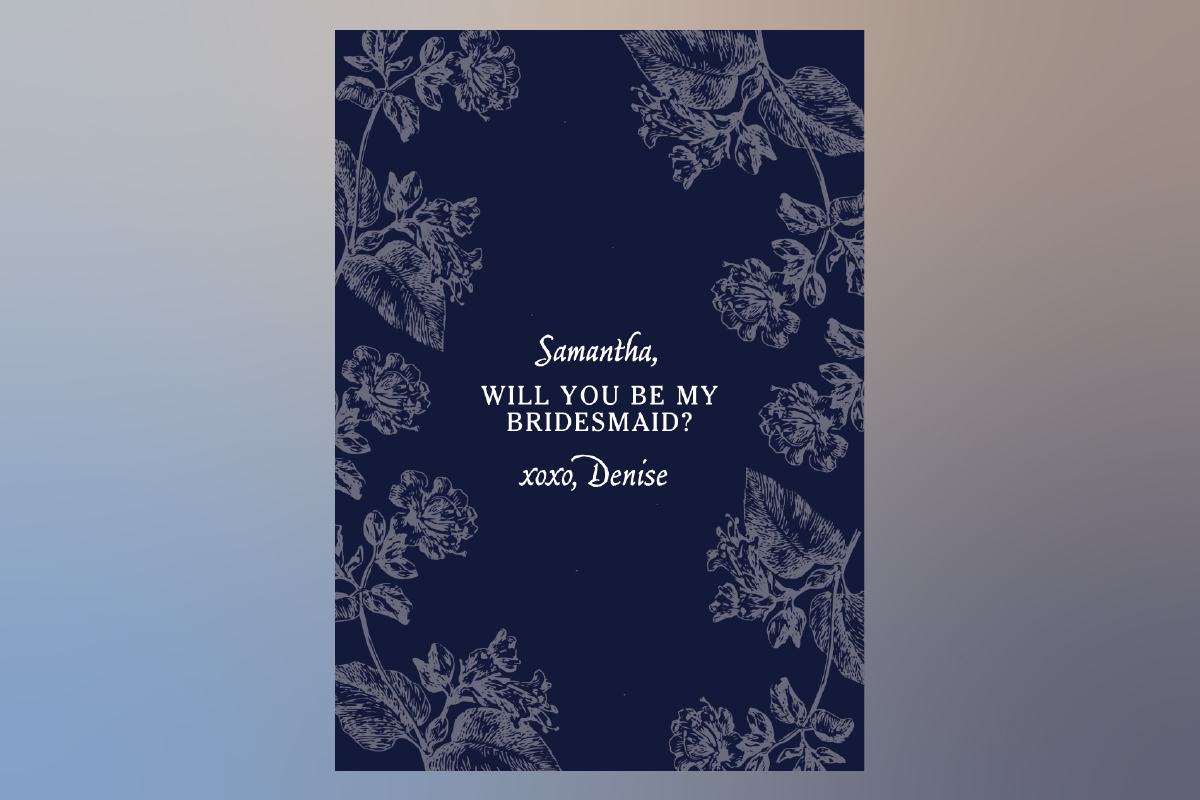 How to Make a Bridesmaid Proposal Card
Ready to create your own 'Will you be my bridesmaid?' card? Follow these easy instructions and create your own design using Picsart. For a detailed dive on how to make a photo collage with text, take a look at our Complete Tutorial on How To Make a Text Collage.
If designing on web:
1) Open the Picsart Web Editor and start a new project.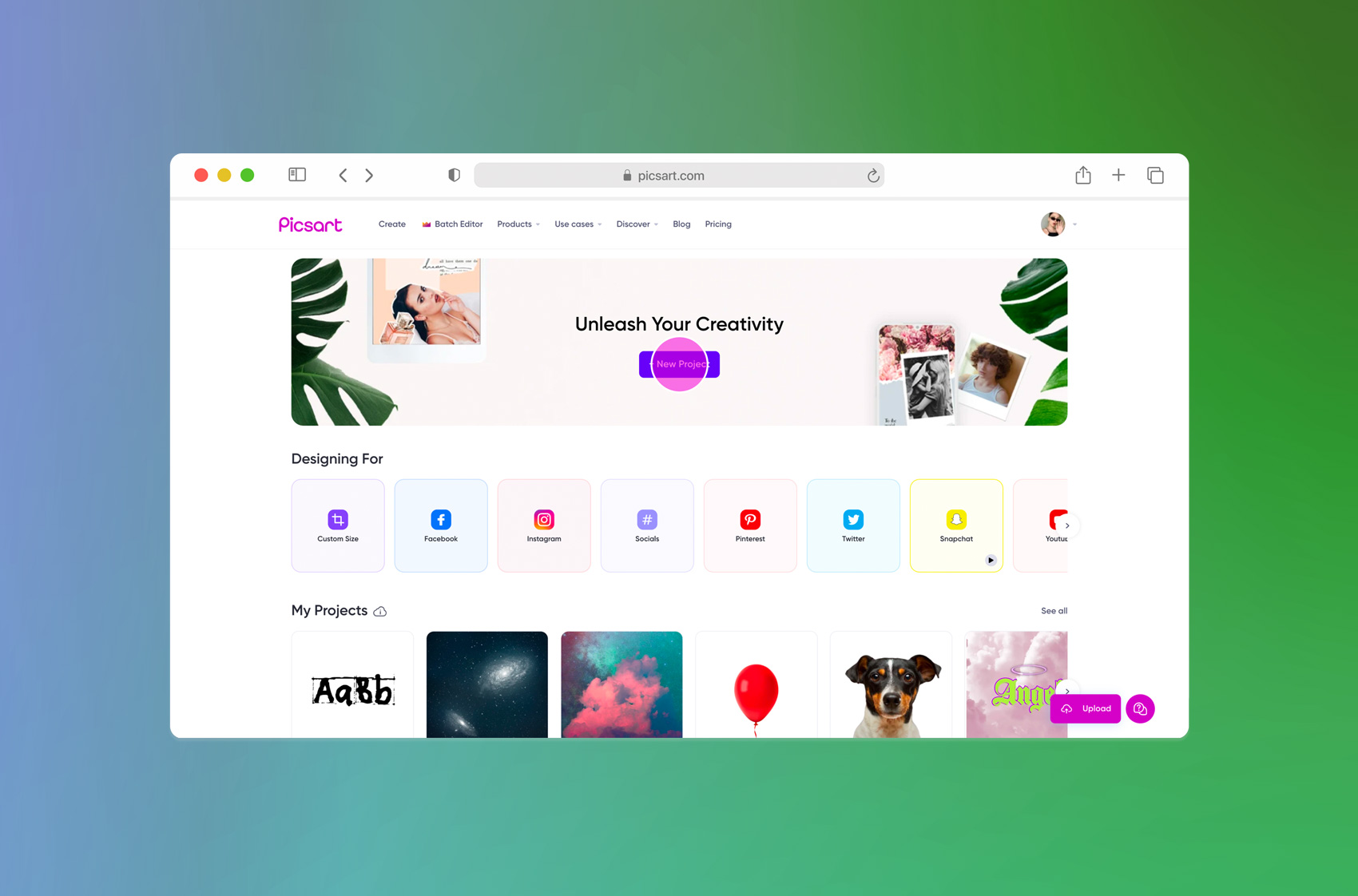 2) We're going to design from a template in this tutorial, but you can also design from scratch. Click on Templates in the left Editor panel and search for "bridesmaid."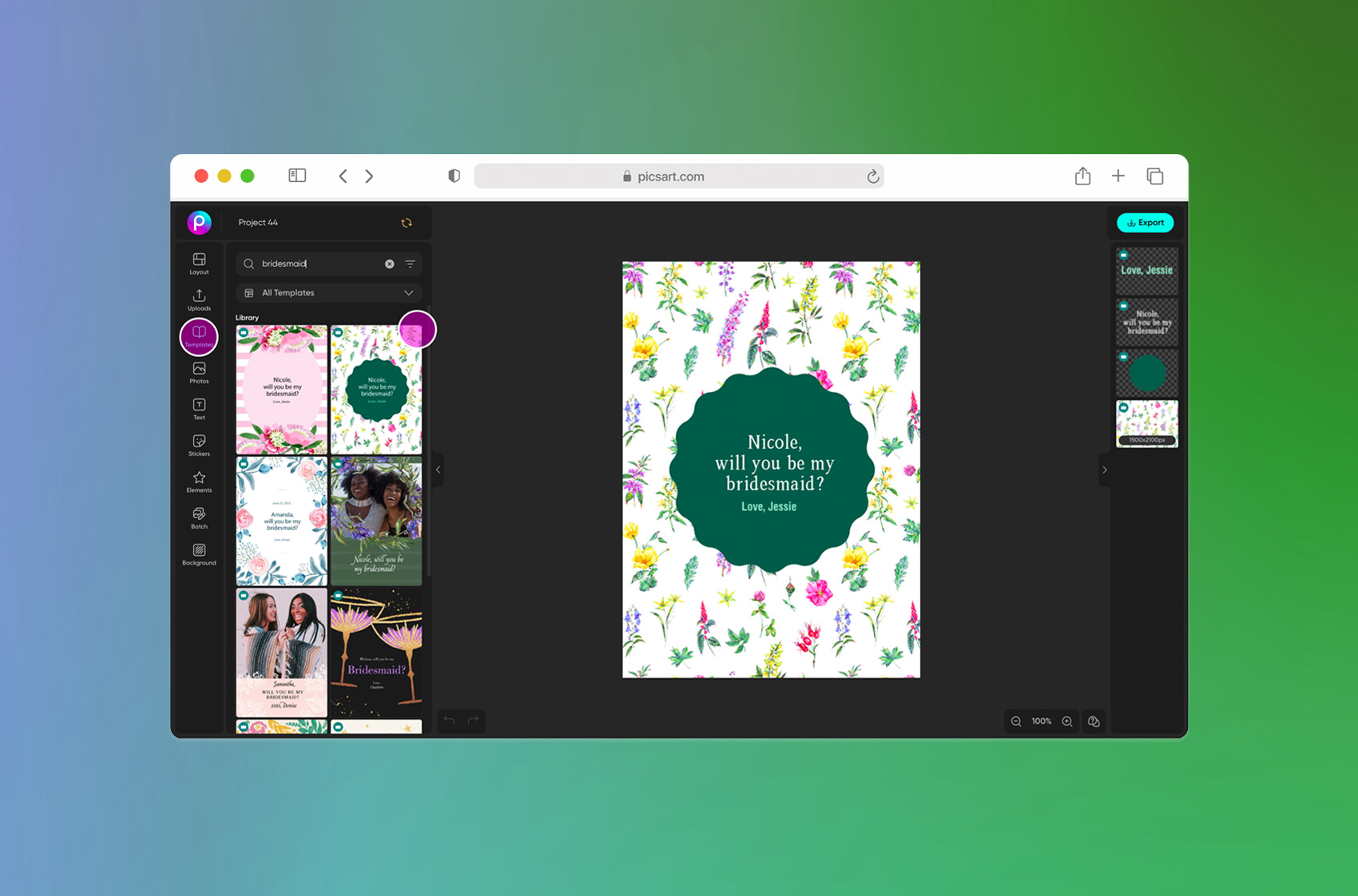 3) Now it's time to customize your template. You can do this by clicking on any of the elements on your canvas or selecting them in the Layers toolbar on the right panel. Here, we're changing the name by clicking on the text and using the Text tools above the canvas to change the font type, color, size, text, and more.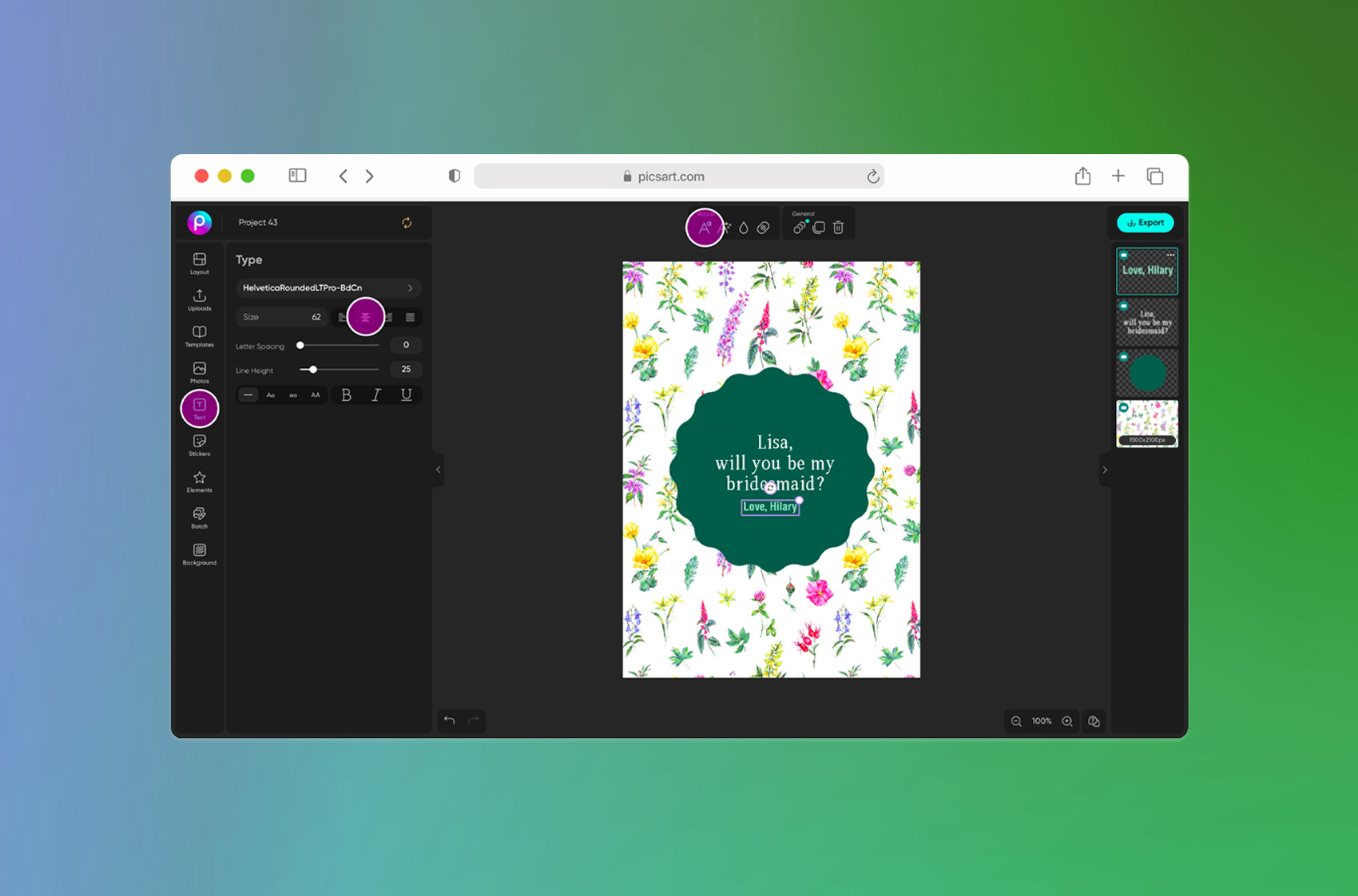 4) Since can customize any element of your template, let's change the background. Click on Background in the Editor toolbar and search for a background that matches your wedding party theme. Here, we searched for "floral."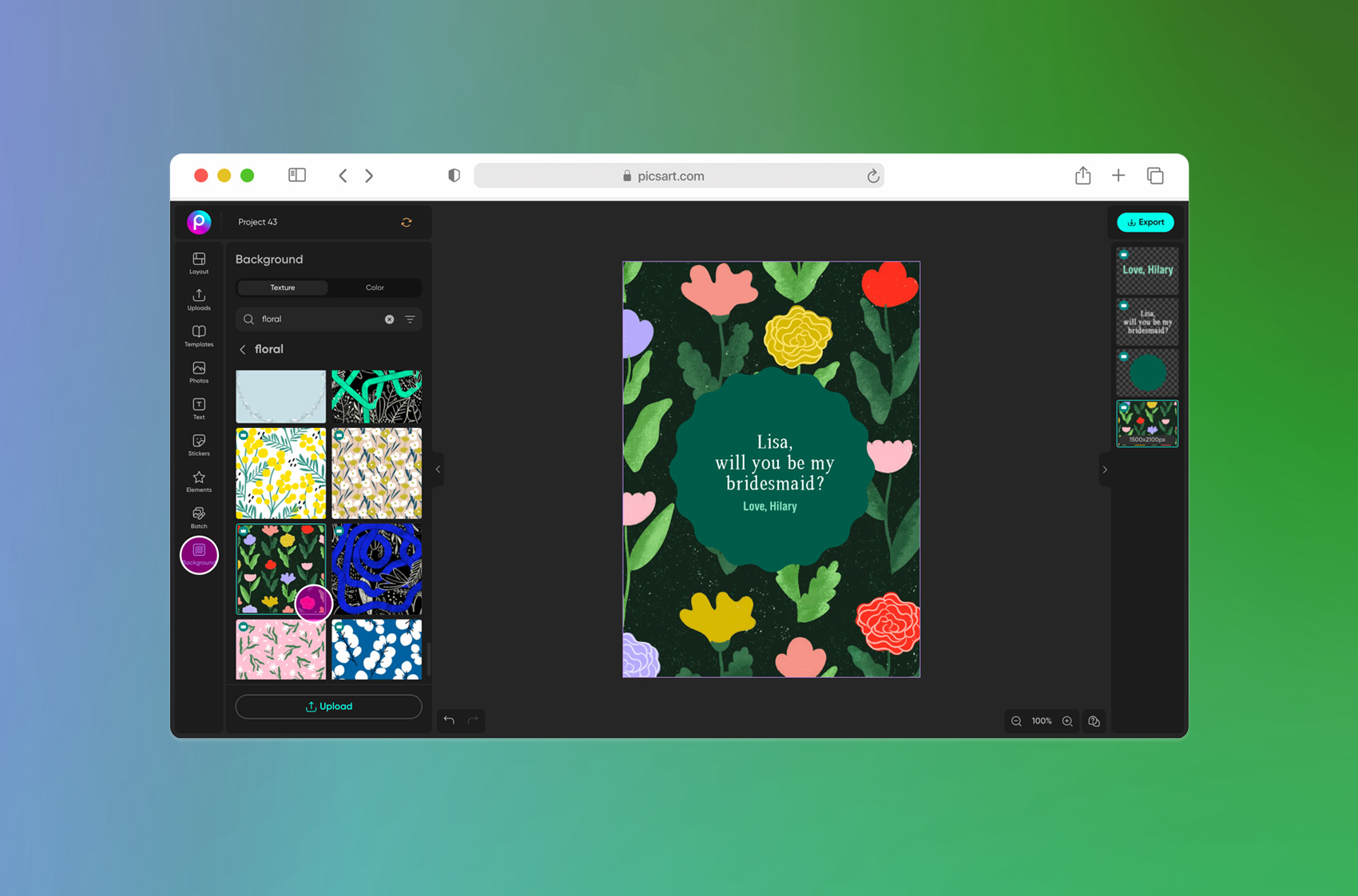 5) Further customize elements until you're done with your bridesmaid proposal card. Then, click on Export to download and save your new card. Here you can also upscale your image for printing if needed, name your file, and select the file format.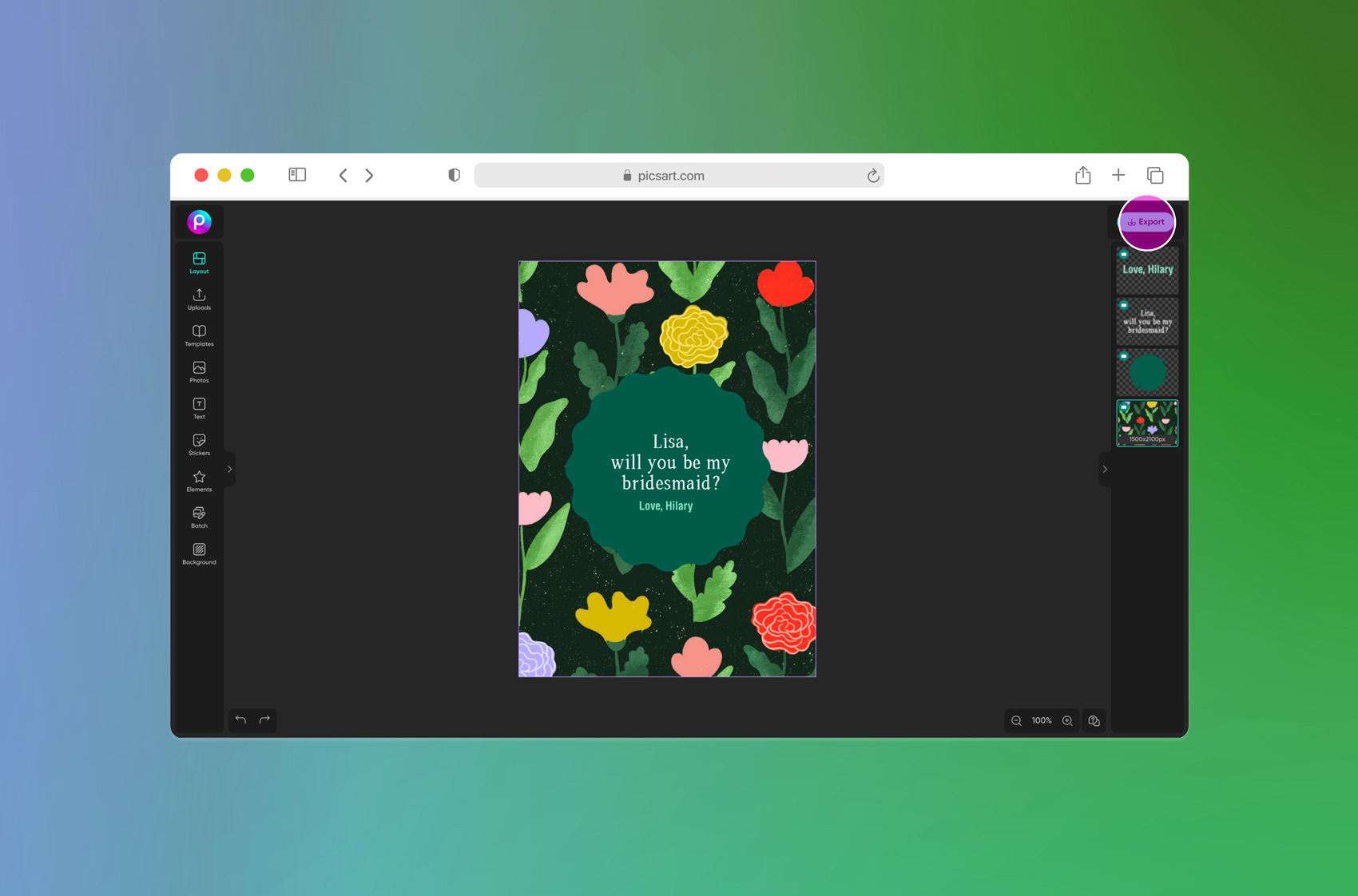 In designing on a mobile device:
1) Open the Picsart app and tap on the plus sign (+) at the bottom of your screen to start a new edit. 
2) Scroll down to Templates, select All Templates, and search for wedding or bridesmaid cards.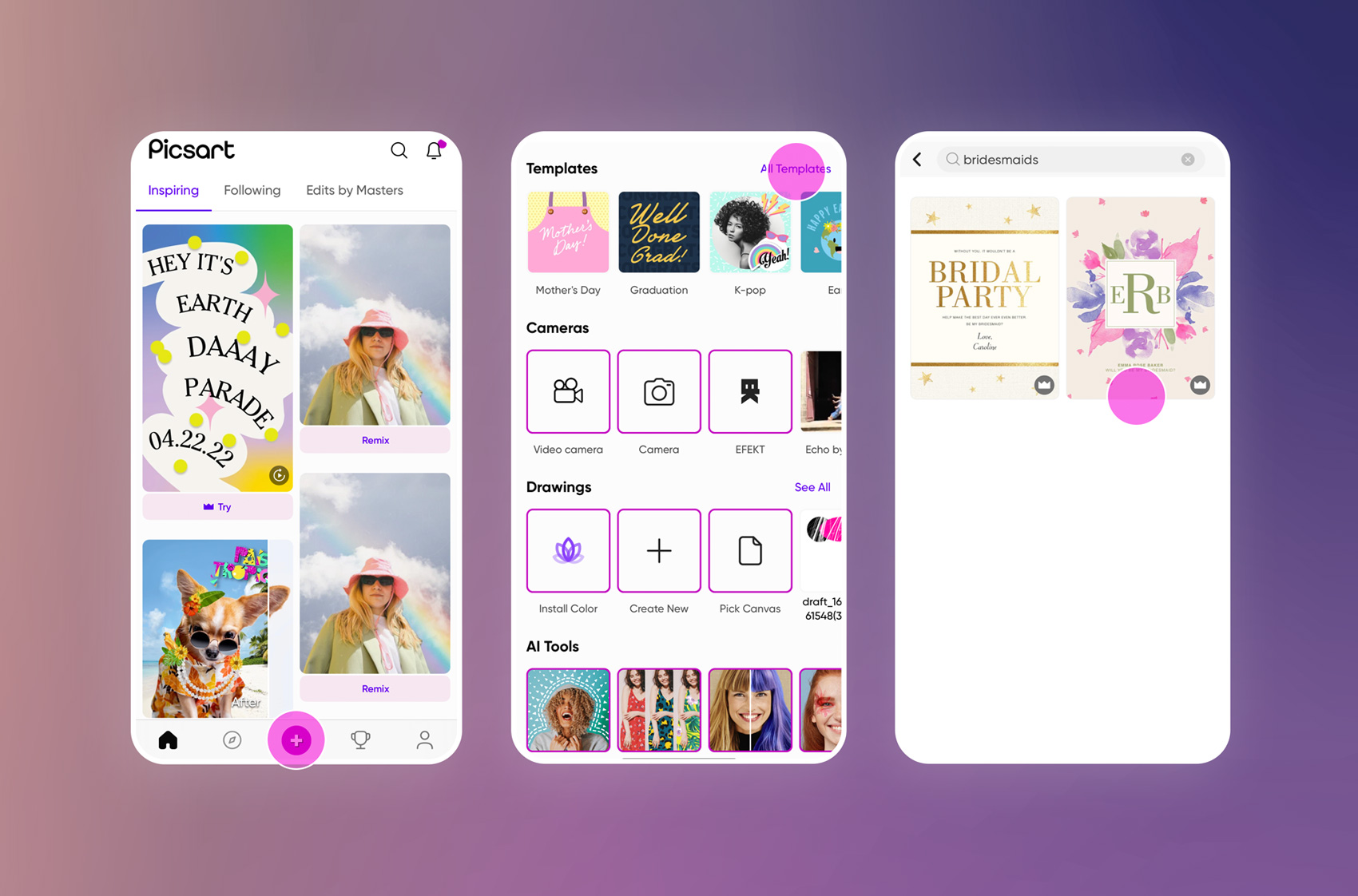 3) First up, let's change the background color of this template. Tap on Background, then select Color and pick a new background color using the options at the bottom of your screen or with the color dropper. Tap Next to save.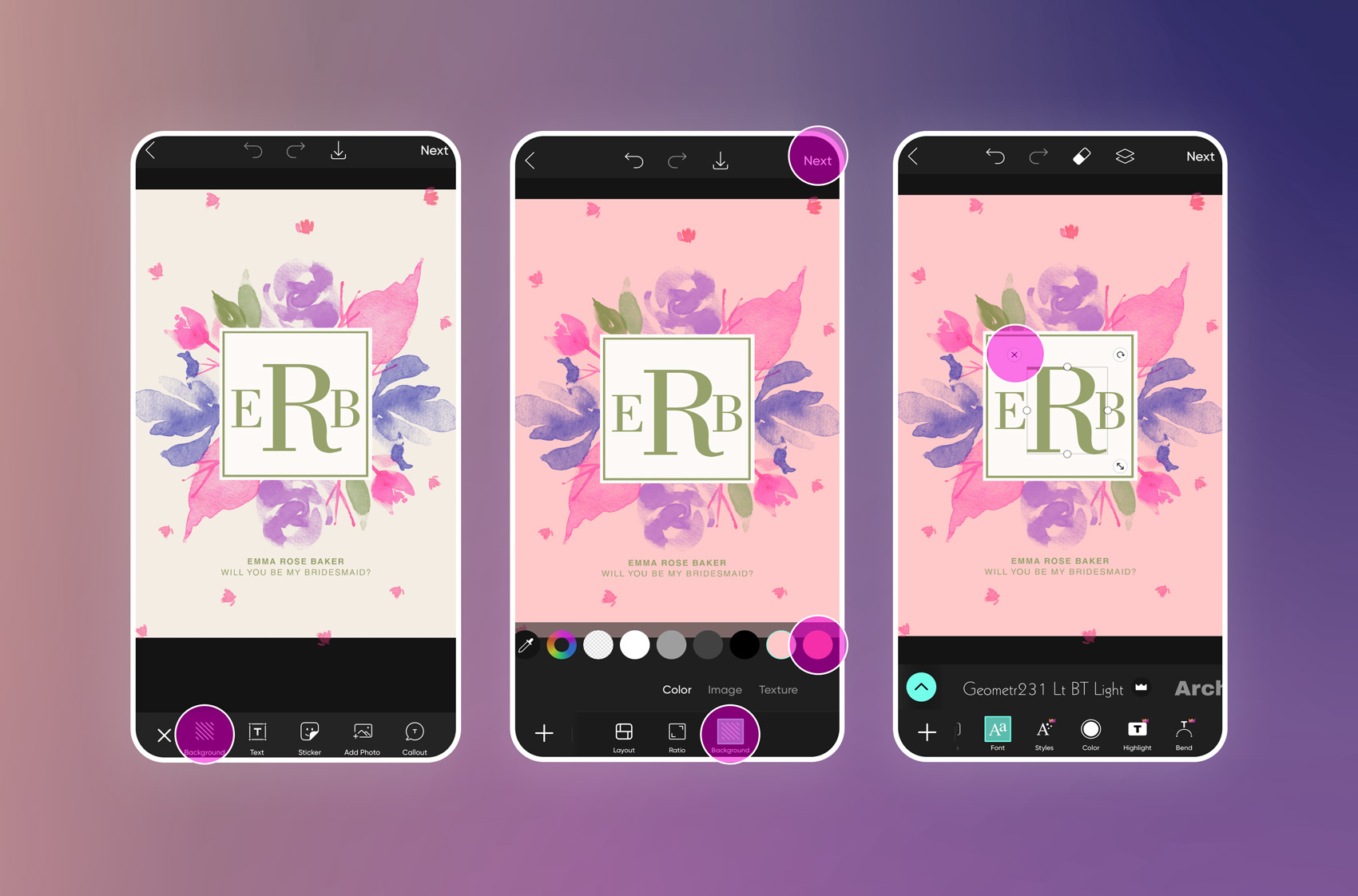 4) Customize the text by tapping on the various text elements. This will open the Text tools so you can change the font, color, text size, copy, and more.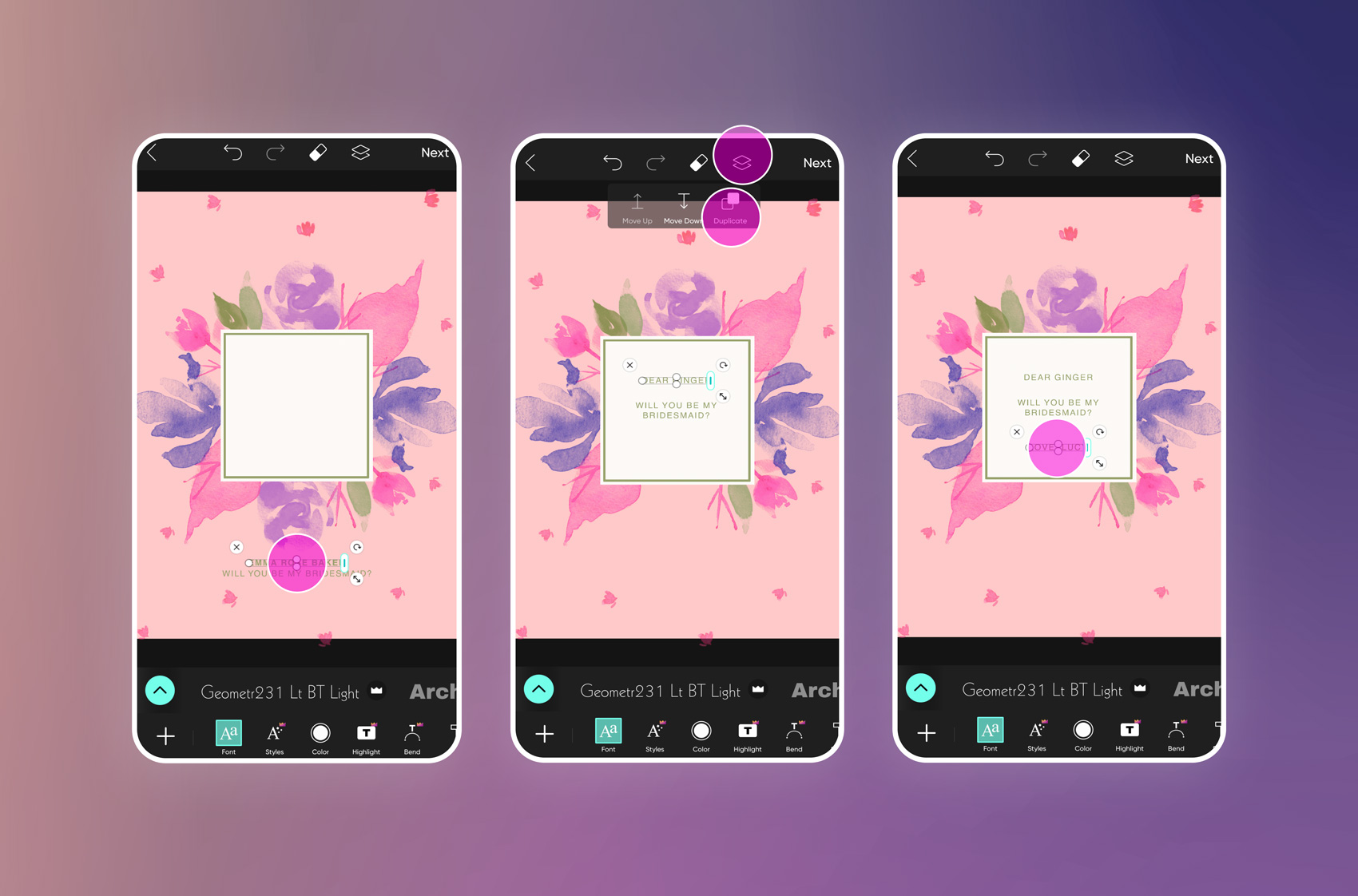 5) When you've finished editing the text elements, tap Next, then Save and / or Post to share your edit with the Picsart community.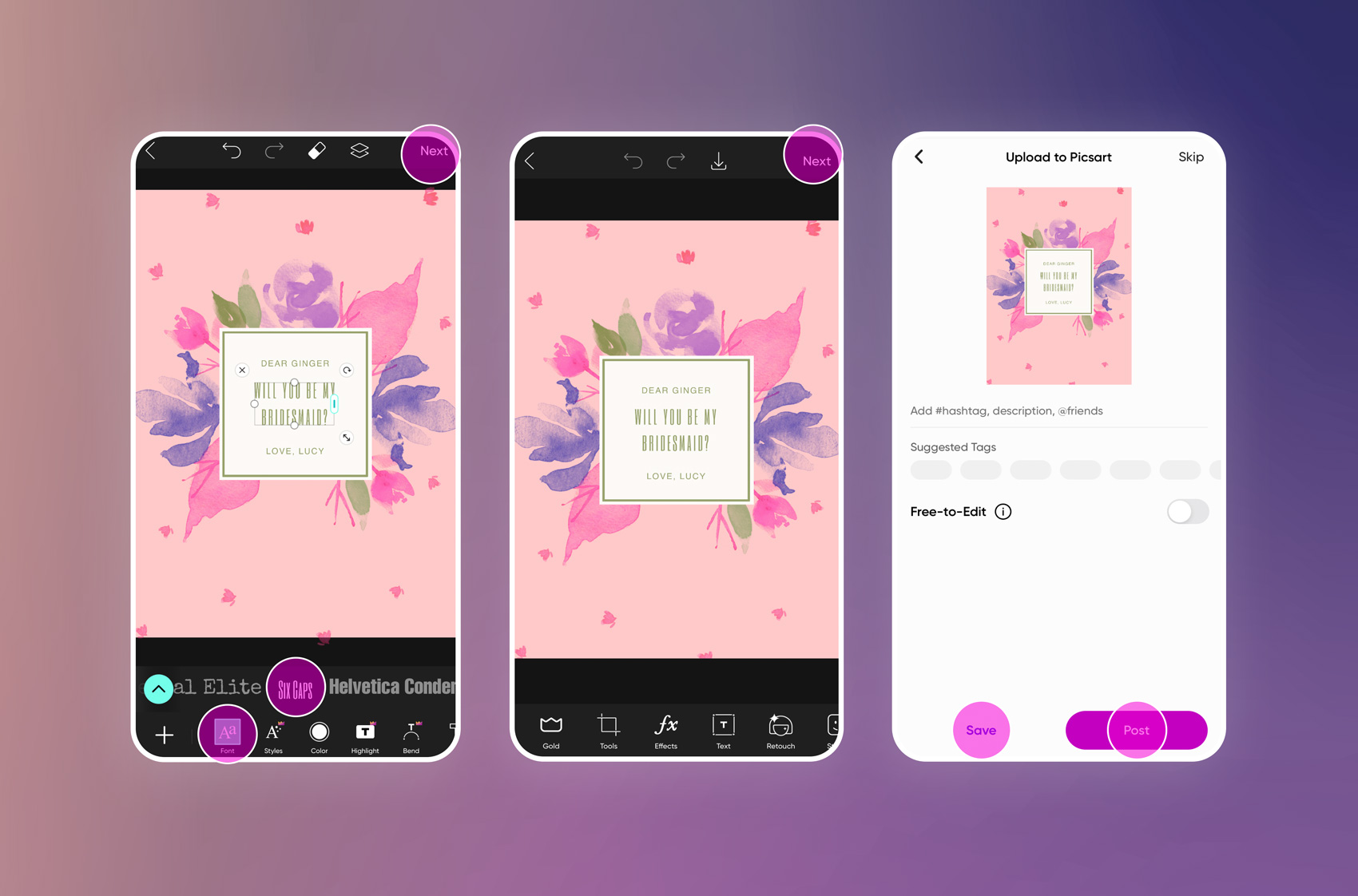 Picsart is a full ecosystem of free-to-use content, powerful tools, and creator inspiration. With a billion downloads and more than 150 million monthly active creators, Picsart is the world's largest creative platform. Picsart has collaborated with major artists and brands like BLACKPINK, Taylor Swift, the Jonas Brothers, Lizzo, Ariana Grande, Jennifer Lopez, One Direction, Sanrio: Hello Kitty, Warner Bros. Entertainment, iHeartMedia, Condé Nast, and more. Download the app or start editing on web today to enhance your photos and videos with thousands of quick and easy editing tools, trendy filters, fun stickers, and brilliant backgrounds. Unleash your creativity and upgrade to Gold for premium perks!