How do you communicate with your customers? Email marketing might not be the first method you think of, but it's a great way to reach your database at scale. Think about it – email has been around for several decades and has been continually proven to be a great way to get in front of your audience. But how do you make sure that your email stands out from the rest? That's where good email design comes into play. 
What Is Email Marketing?
Email marketing is the practice of sending both prospective and current customers emails containing messages related to your company's products or services. Subscribers may receive marketing communications featuring new products, discounts, or seasonal promotions that help you convert email readers into customers. But, that's easier said than done.
While you may think your email newsletter will stand out, capturing the attention of a subscriber among the hundreds of other emails in their inbox isn't easy. Just because you take up space in their inbox doesn't mean they will click through. What truly matters is a good email design that will resonate with subscribers and get them to engage with your content. 
Benefits of Good Email Design 
Good email design is about more than just a pretty layout or appealing aesthetic (although those are important, too). Here are three reasons why your business can benefit from a well-designed email:
Good Email Design Reinforces Your Brand
When a potential customer signs up for your email newsletter, that means they have expressed a desire to begin or continue to engage with your brand. If your emails show a high level of attention to detail and provide thoughtful content, then potential customers will start to consider you as a credible company. Simply put, prioritizing your email template design allows you to put your best foot forward.  
Good Email Design Creates Content Hierarchy 
Like any other form of communication, a well-organized email is the key to having your message resonate with your audience. By creating clear headers, content columns, and a clean layout with enough white space around text, your readers will be able to hone in on key messages. A professional email template with a clear content hierarchy is a marketer's best friend.   
Good Email Design Allows You to Track Metrics
Did you know it's more difficult for senders to track open rates, click-through rates, and conversions on plain-text emails? HTML is usually the way to go when designing an effective email. This is because it enables the sender to properly code and design a newsletter layout that ensures consistent visuals and deliverability. Surveys also show that most people prefer to receive HTML emails because of their visual appeal. 
Elements of a Professional Email Template
Before you can start designing your newsletter layout, consider the following elements of a professional email template. Decide what works best both for your business needs and for your customers. 
Subject Line: The first step to engaging with your audience is to attract them with a catchy subject line. Your email will likely be one in a sea of emails in someone's inbox. So shoot your shot – a good email subject line needs to be descriptive and hard to ignore. Professional email subject lines are typically more formal and informative, teasing the key details of your email message in just a few words.
Preheader: An email preheader is what appears in your audience's inbox below your subject line. It is typically one sentence long and gives the reader a preview of what to expect in the body of the email.
Salutation: A professional email template is a bit different from one with more informal intentions. While a "Hi [Name]" salutation or even a casual "Hey" could work for a friendly note, a professional email requires the sender to address the recipient formally. Professional emails typically address individuals by their group association ("Dear Parks and Recreation Staff") or by including the recipient's title and last name ("Dear Doctor Ramirez"). 
Body Text: This is the heart of your email. Use this space wisely to share your intentions and provide details related to your outreach. Ask yourself: What is the purpose of this email? Keep it concise but be sure to clearly outline and familiarize recipients with your product or service. 
Signature: Have you ever struggled to come up with the perfect email signature? Do you flip-flop between signing off with "Best Regards" or "Warm Wishes?" It can be tough to choose the best closing to leave your readers with. In more formal emails, it's important to strike the right tone. You'll often see professional email templates close with the sender's full name, brand logo, contact information, and social media avatars to leave a lasting impression. In some email designs, the signature can even look like a business card.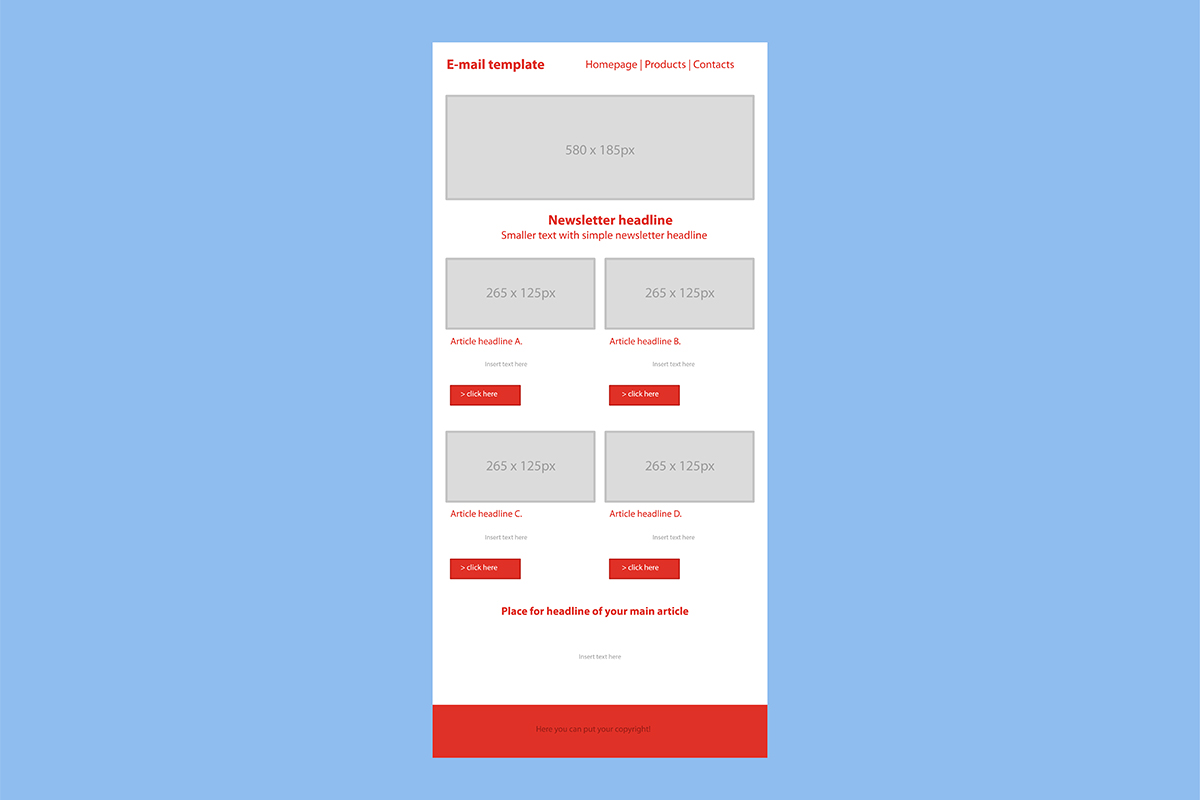 Best Email Design Inspiration
Need some email design inspiration? Catch your readers' attention with these visually appealing email design elements:
1) Attention-Grabbing Colors
This newsletter design features brilliantly bold graphic designs. With its splash of color and playful graphic treatment, it instantly catches the eye of its recipient. Designed to look like an infographic, the email is crisp and informative without sharing too much text. The content provides a clear path to the call-to-action (CTA) button that leads the user to the intended registration page.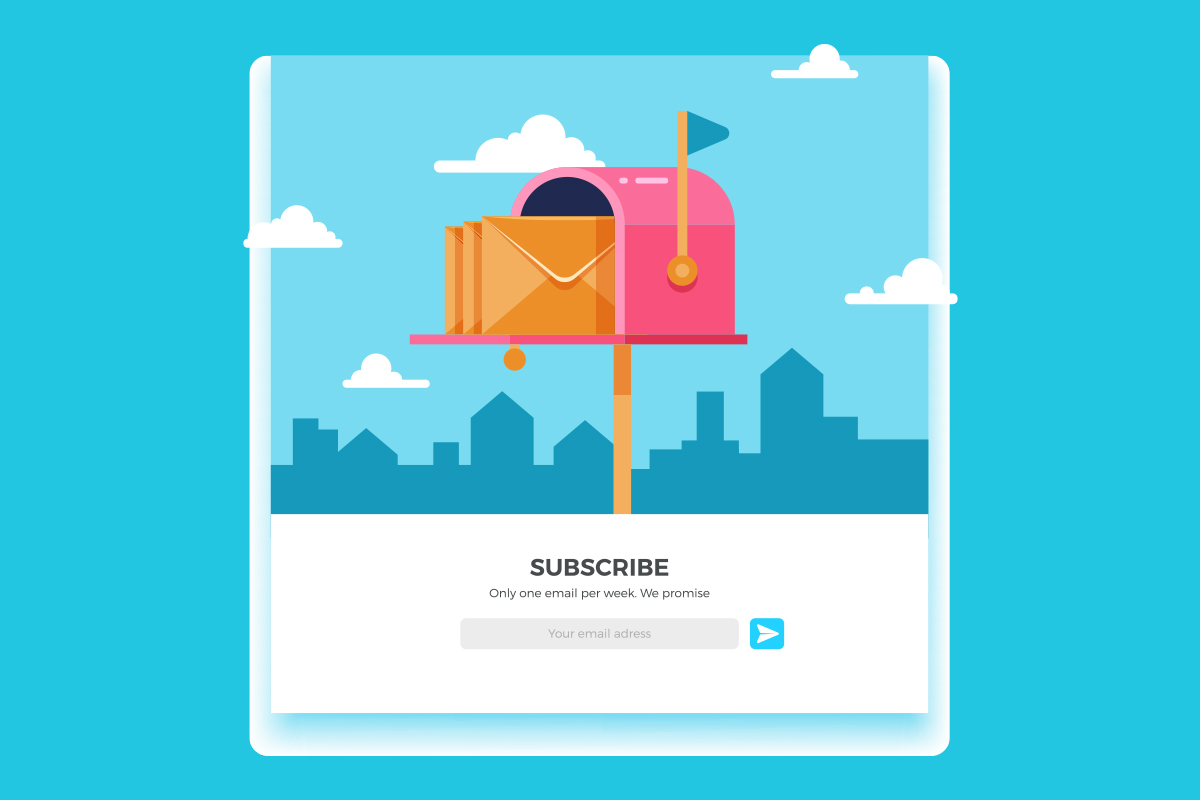 2) Good Use of White Space
This email design gets it right. The black-and-white template features a bold header and standout image (in this example, text) that shares just enough of the story to whet your appetite and encourage you to click through to read more. An email design that features a lot of white space allows you to lean heavily into typography treatments.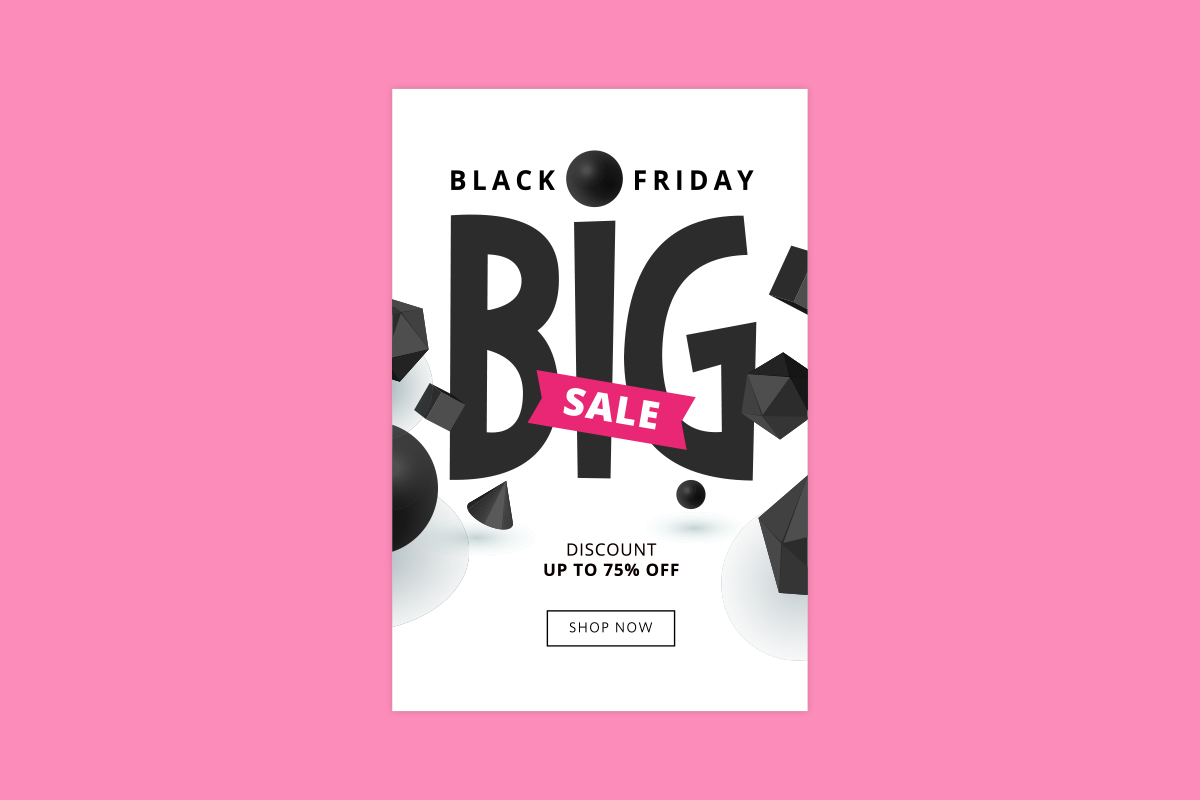 3) Clear Visual Cues
This promotional newsletter isn't in-your-face with its graphics and layout, but its content is organized in a way that makes it easy for the reader to know where the most important information can be found. The use of color, photography, and blocked off sections visually guides the reader through the content in a subtle way.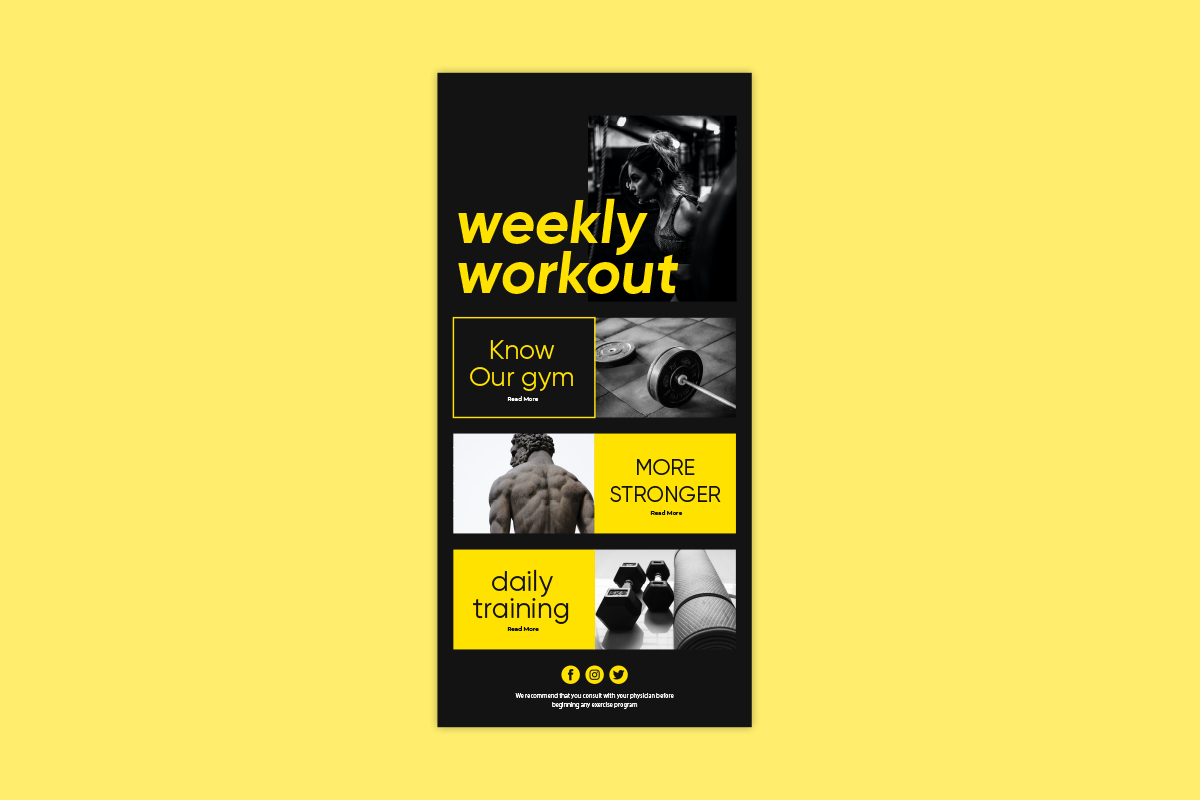 4) Minimal Layout
Do chic, clean lines and a minimalist aesthetic align with your brand? Then consider an email layout like this. Relying less on text or color makes the what you do include in the email body really stand out. In this case, the red mailbox and clear CTA. A minimal newsletter layout is great if you have a lot of striking product photography.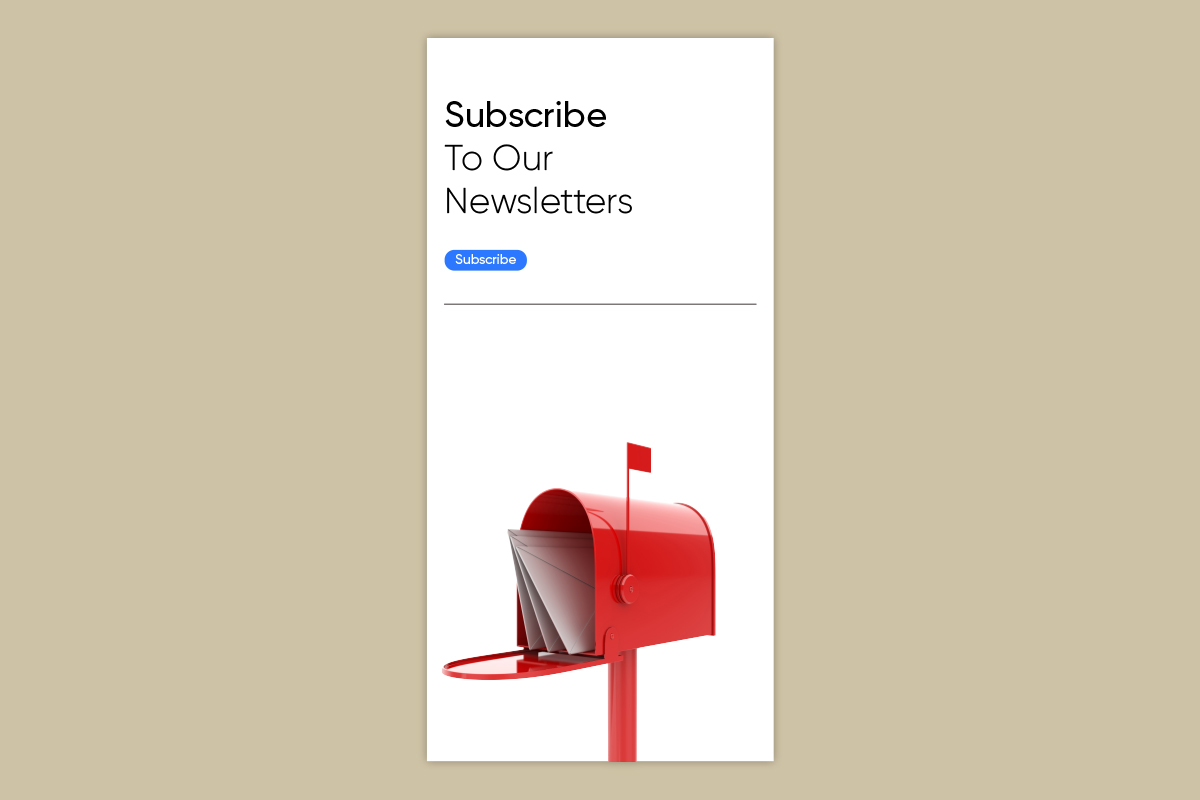 5) Bold Content Blocks
Some layouts can appear dated, clunky, and full of text. If you're looking for email design inspiration that relies less on text and more on photos, then bold content blocks might be right for you. This type of layout allows you to feature top stories or fast selling products with a strong visual content hierarchy. The grid format is also a surefire trick to organize content in a way that enhances the email's user experience while making your brand look more modern.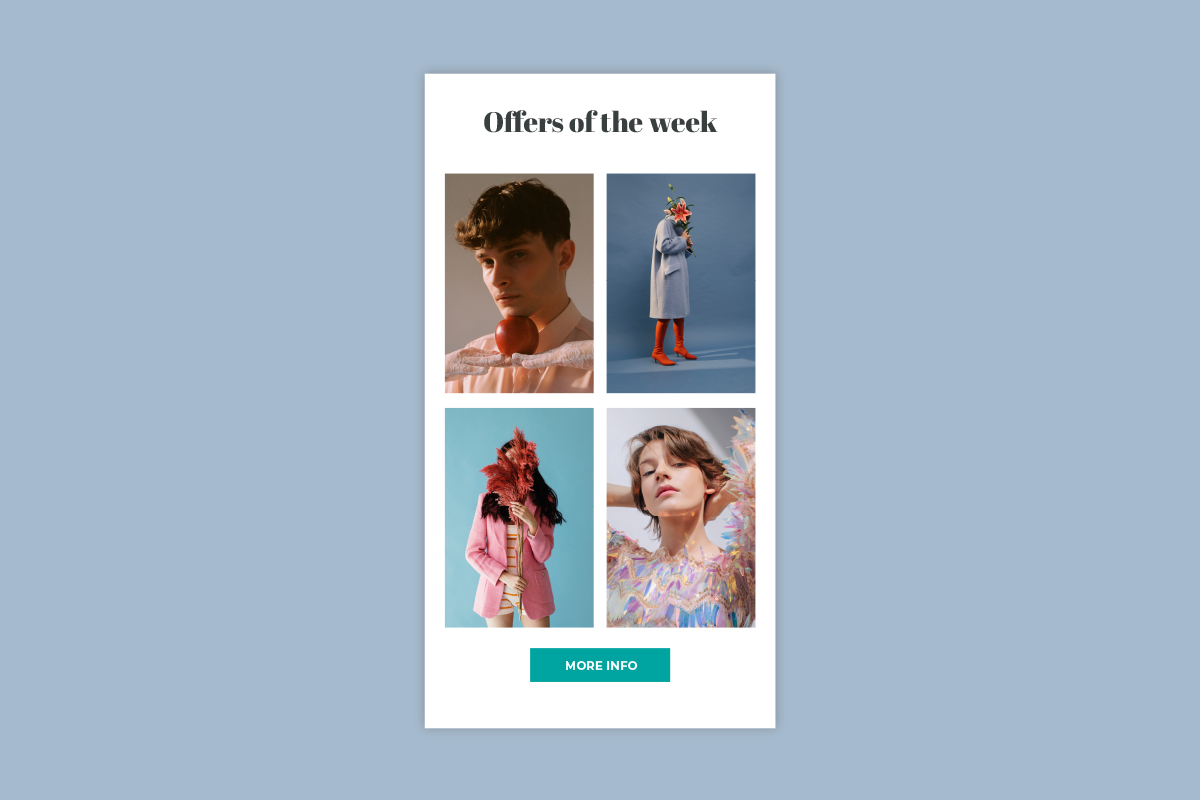 6) Symmetrical Grid Format
This symmetrical design allows you to quickly draw in the viewer with a strong header image, while also featuring multiple items below it. These types of newsletter layouts work best when used in conjunction with a complementary color scheme and repetitive CTAs. This adds a cohesive feeling to an email that actually contains a ton of content.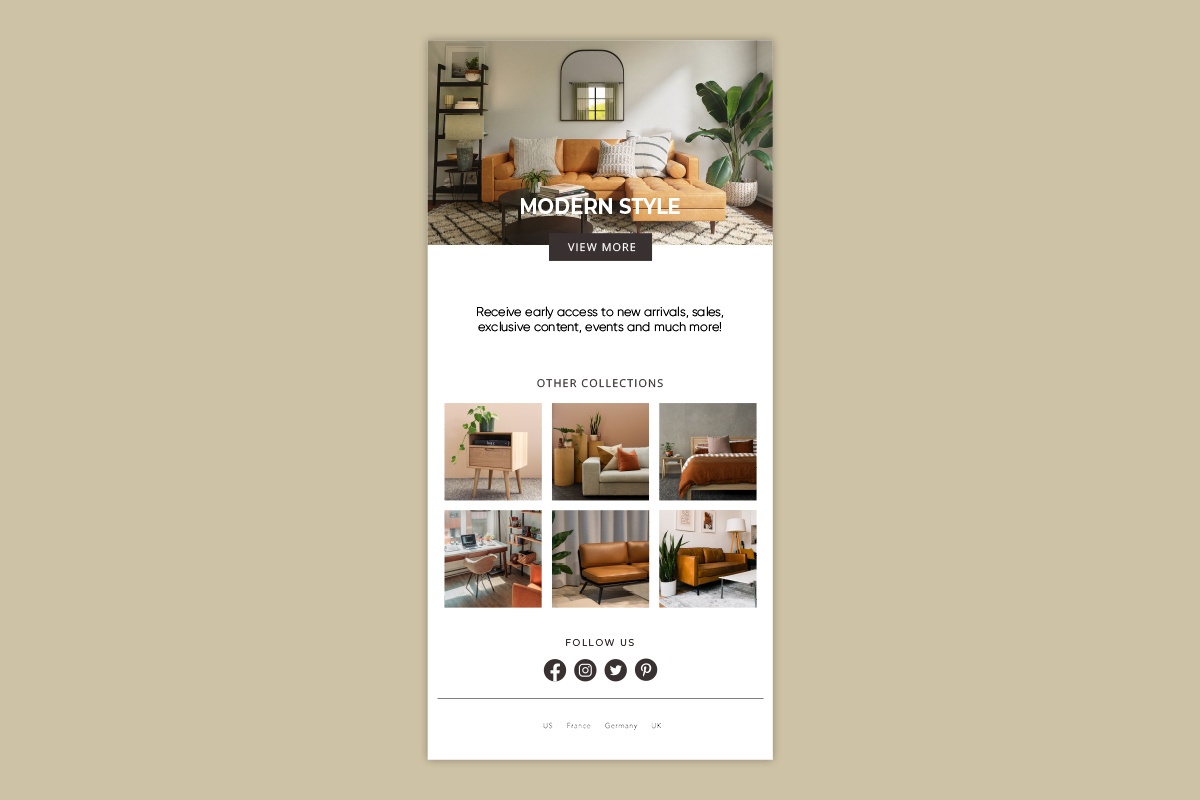 Top Tips for Creating an Email Design 
You know what to say and how you want your customers to engage with your email. Check out these tips for creating an effective email design that will enhance user experience and ensure your emails drive results. 
1) Keep Your Branding Consistent
From your color palette to your typography to your header, incorporating your branding in an email design will enforce a consistent brand experience. It'll also help you establish credibility as a business owner. Be sure to maintain a consistent tone to reinforce your brand's personality among your audience. 
2) Keep Design Elements Minimal
GIFs, infographics, and videos are interesting to look at in an email, but keeping design elements minimal is key to increasing your deliverability. Consider including a link in your email to an infographic that's hosted on your website instead. It'll help ensure your email doesn't end up in the spam folder.  
3) Lead With Your Logo
People receive dozens if not hundreds of emails a day, and more often than not they are suspicious of a message if it wasn't sent by a personal contact. Make sure your logo is presented clearly at the top of your email message to introduce yourself and establish your credibility as soon as the recipient begins reading it. Don't have one yet? It's easy to design your own logo. 
4) Present a Clear Call To Action
Every email should include a clear call to action. Otherwise what's the point of hitting send? Are you asking the recipient to learn more about a service, to register for an event, or to purchase a product? If your email design has clickable CTA buttons, make sure that they're clear and bold. 
5) Make It Mobile-Friendly
This email design tip should come as no surprise to marketers everywhere. Given the amount of time people now spend on their phones, it's essential to optimize all marketing content, especially emails, to make them mobile-friendly. Keep subject lines brief so they don't get cut off on handheld mobile devices and use preheader text to offer a preview of your content. Keep your copy concise, optimize images for web accessibility, and make sure that your CTAs are presented clearly while remaining easily clickable. 
6) A/B Test Your Email Design
If you're not sure which design or messaging strategy will resonate with your readers, you can create multiple versions to test out. In fact, most major brands use this method to make sure they get the most eyes on their content. From switching subject lines that alternate what to lead with to changing the anchor text for a CTA button, test and learn what resonates best for your customers. 
How To Create Your Own Email Design 
Now that you're ready to create an email template of your own, Picsart makes it easy to design your email creative. Here's how to make the perfect first impression when readers open your email with an eye-catching email header. 
Step 1) Go to the Picsart Online Editor. Scroll through the preset sizes at the top of your screen and select the Email Header option.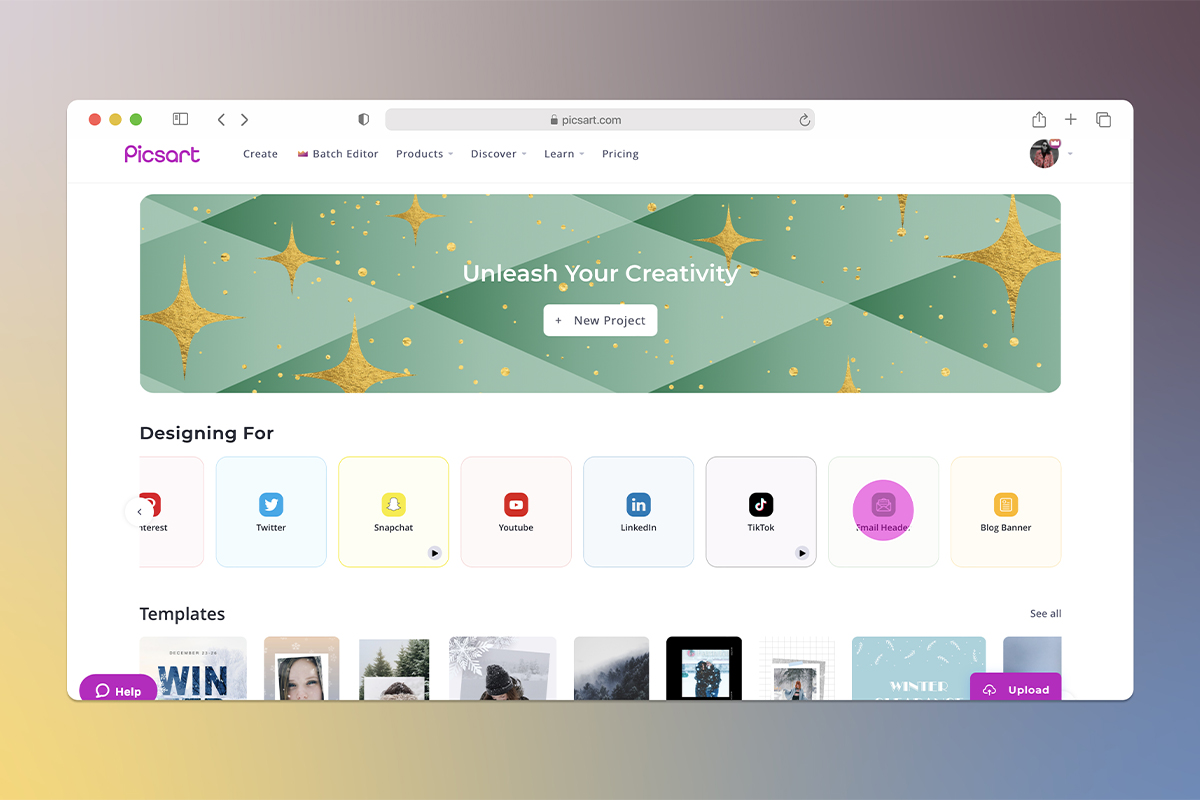 Step 2) Find pre-made header templates in the left Editor panel.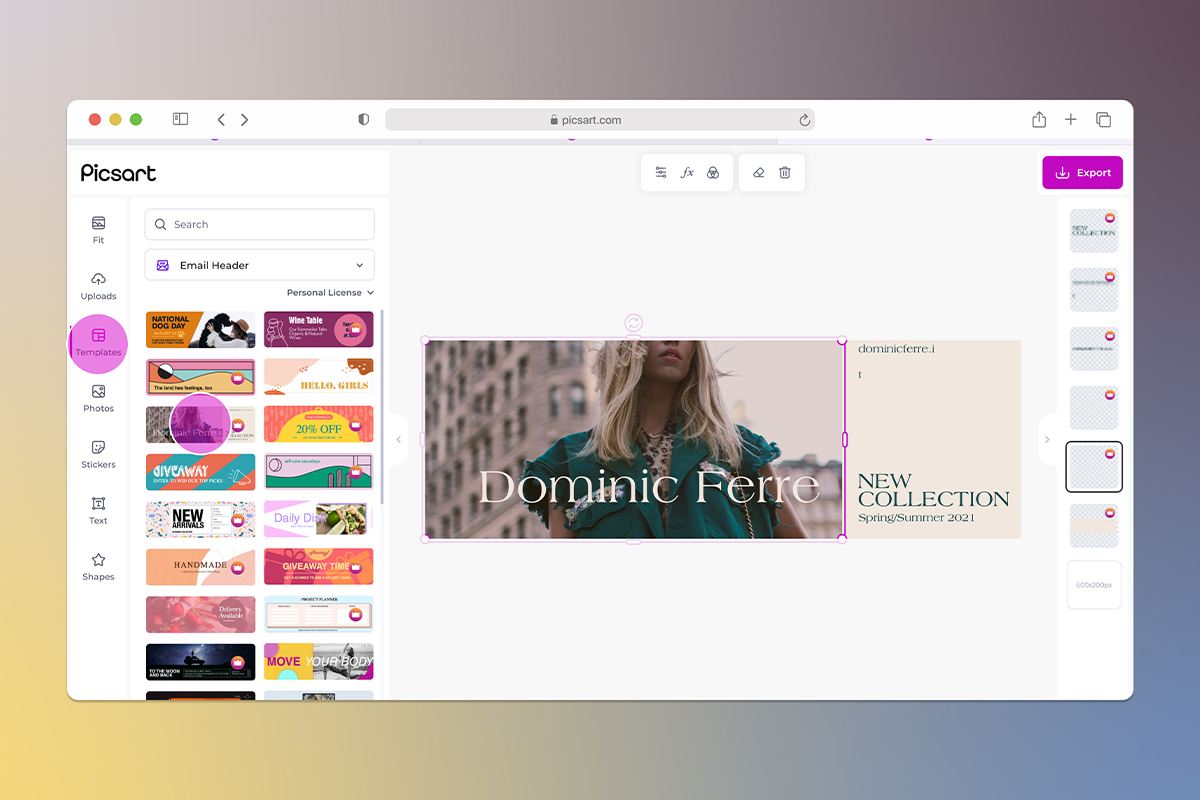 Step 3) You can customize a lot of the elements in the header template. Here we change the photo by clicking on Photos in the left toolbar and searching for one that better fits our needs. You can also upload your own brand images in this step by clicking on My Photos above the search box.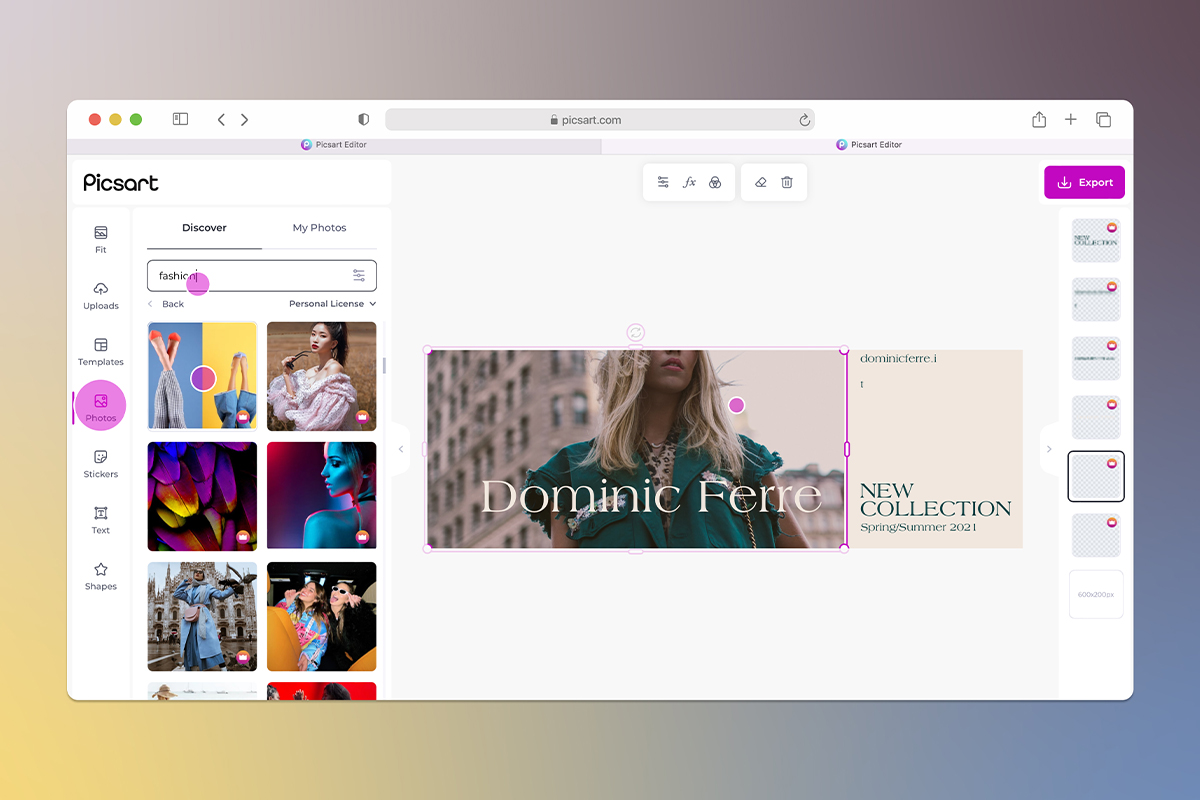 Step 4) Now it's time to customize the template's text by clicking on the text in the template and typing your copy. Alternatively, you can delete the text box altogether. Write your own from scratch by clicking on Text in the left panel and typing. Here you can adjust the font size, color, shadow, and use preset text styles.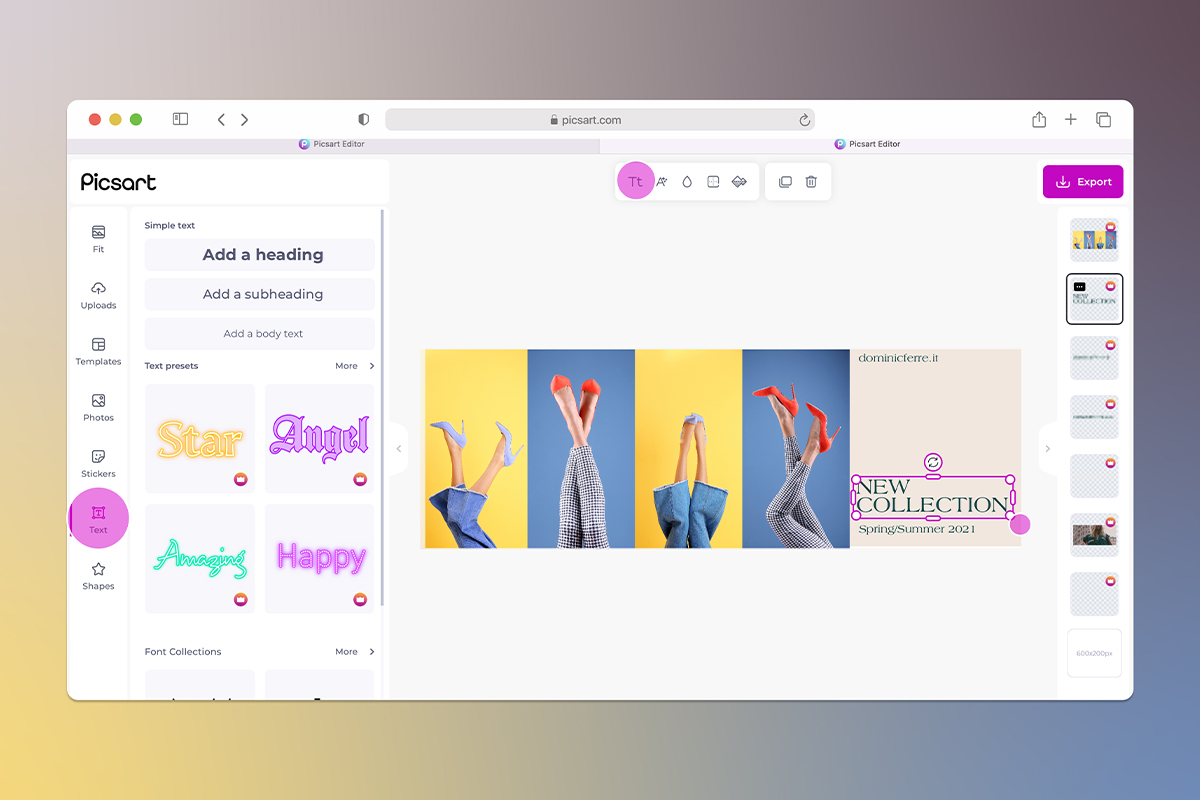 Step 5) Once you've completed your design, click Export on the top right corner of your screen to save your new email header to your device. Here you can adjust the file size, name, and upscale as needed for your email needs.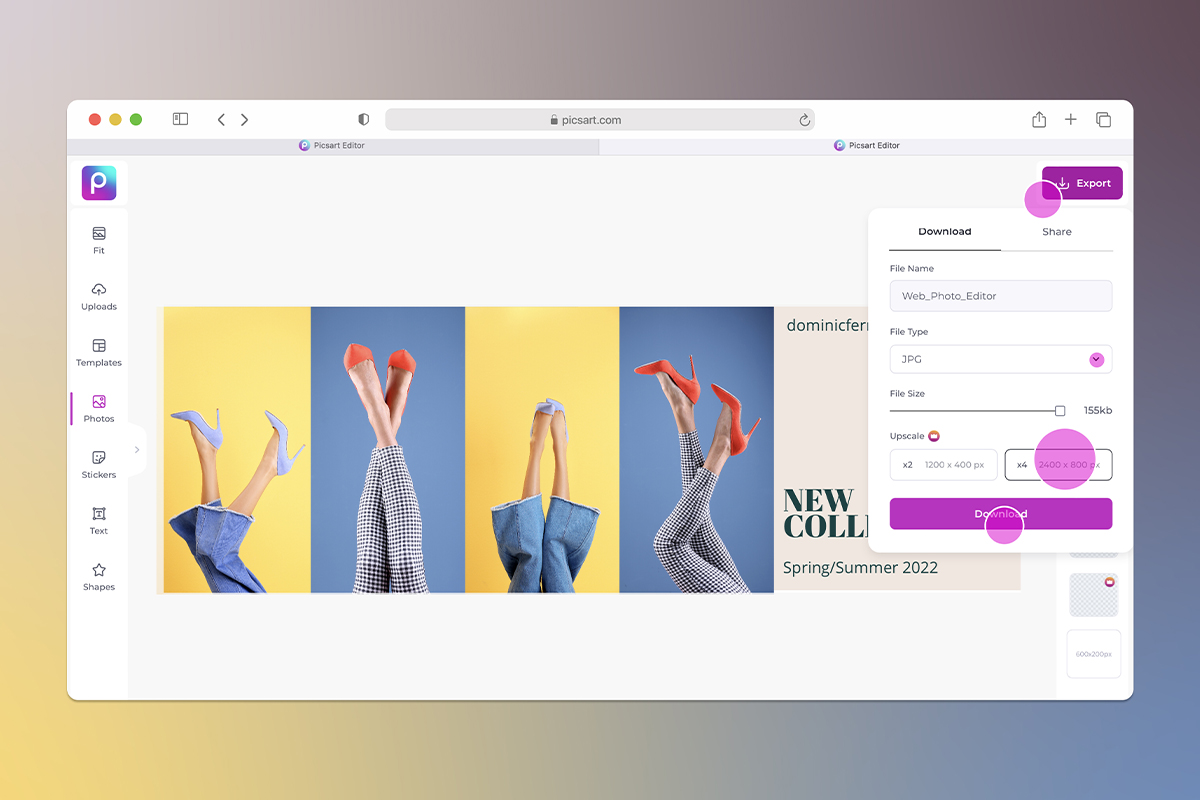 If you prefer to design on the go, here's how to design an email header in the Picsart app:
Step 1) Open the Picsart app and tap on the plus sign (+) to start a new project. Scroll down to Templates and search for email templates.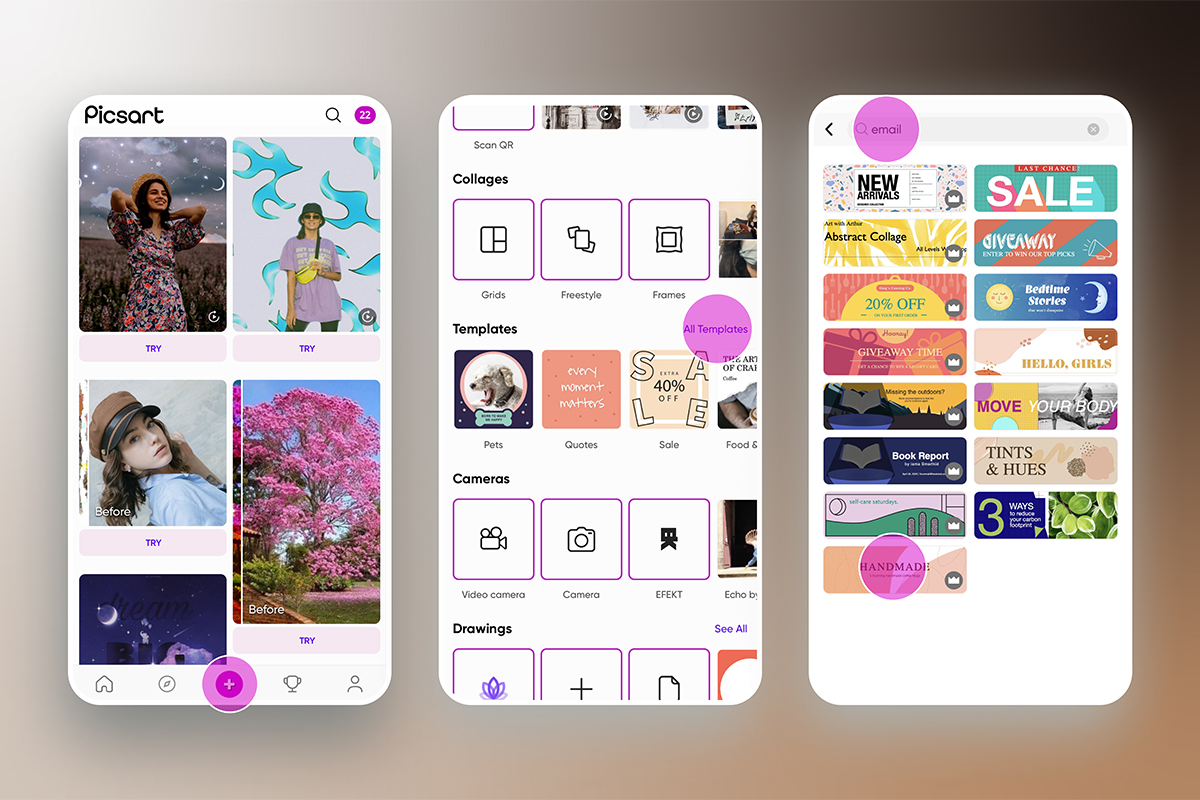 Step 2) Edit the template to your marketing needs. In this example, we changed the background from a graphic design to a photo. Tap on Background in the bottom Editor toolbar, tap on Image, and select the up arrow to search for a variety of images in Picsart or add your own. Tap on Next in the upper corner to apply.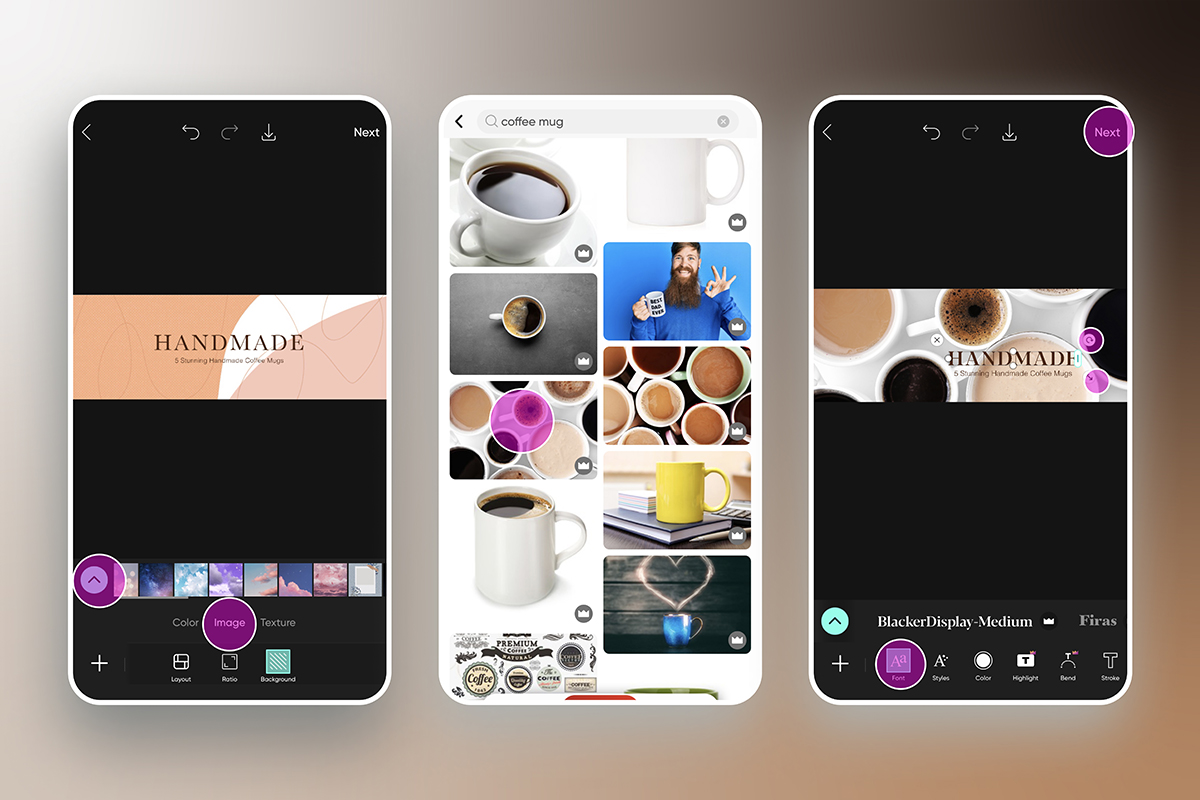 Step 3) Add text by scrolling across the Editor and selecting Text from the toolbar options. Type your text, change the font and color, reposition or bend the text and more. Tap Apply to keep the text work.
Step 4) Once you're done with your email header design, tap Next, then Save your image to your device and Post to share your design with the Picsart community.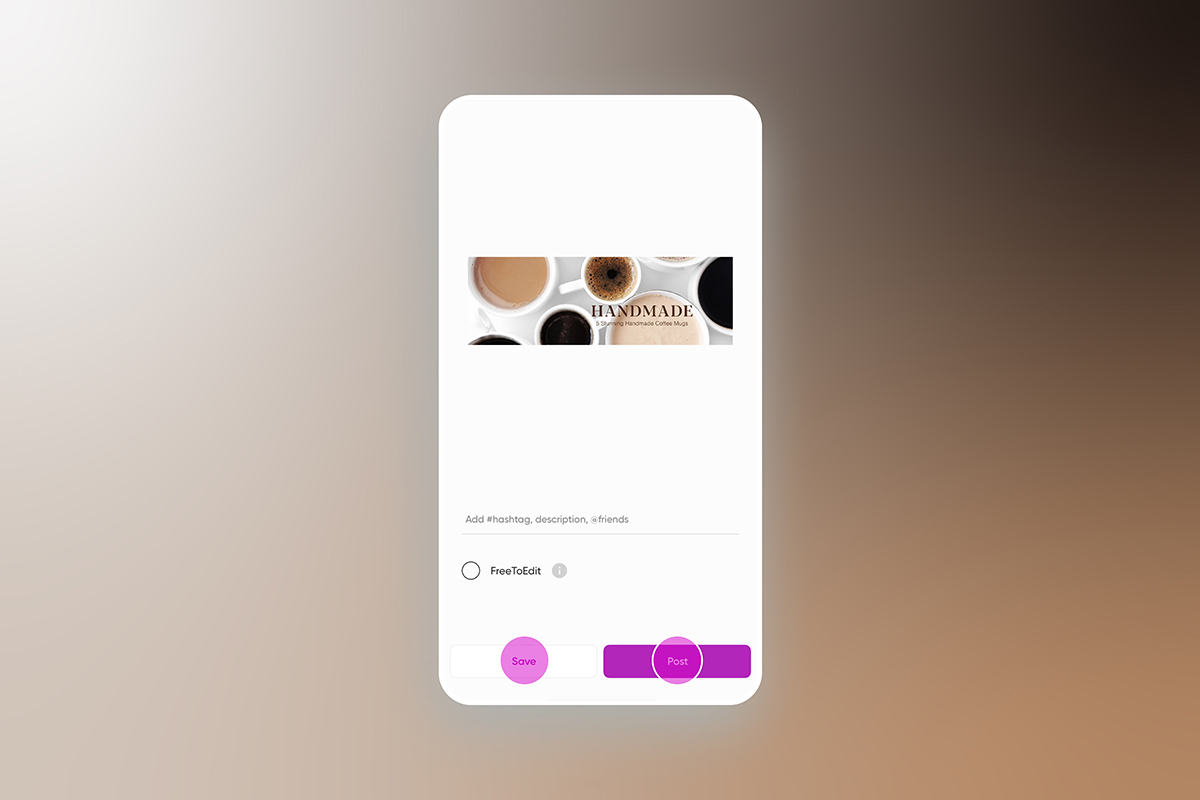 Picsart is a full ecosystem of free-to-use content, powerful tools, and creator inspiration. With a billion downloads and more than 150 million monthly active creators, Picsart is the world's largest creative platform. Picsart has collaborated with major artists and brands like BLACKPINK, Taylor Swift, the Jonas Brothers, Lizzo, Ariana Grande, Jennifer Lopez, One Direction, Sanrio: Hello Kitty, Warner Bros. Entertainment, iHeartMedia, Condé Nast, and more. Download the app or start editing on web today to enhance your photos and videos with thousands of quick and easy editing tools, trendy filters, fun stickers, and brilliant backgrounds. Unleash your creativity and upgrade to Gold for premium perks!