From piano keys to wedding gowns and marble floors, the ivory color is more ubiquitous than you'd expect. 
In this article, we'll cover everything you need to know about the color ivory, including whether ivory is a warm or cool color, lay out comparisons, alternatives, and complements. We'll also dive into ivory color palette ideas, and talk about the ivory color meaning. 
Ivory Color Codes
With almost 17 million possible color combinations out there, you're probably wondering, "What is ivory color, anyways?" Luckily, every single color has its own digital code to help you find the exact color you want. Color codes are also essential for keeping design and brand colors consistent across platforms and mediums. 
The ivory color hex code is #fffff0. You can search for this code in most editing apps or design programs to pull up your color instantly. Hex code assigns a six digit code to each RGB color, and in an RGB color space (made from red, green, and blue), the exact breakdown of hex #fffff0 is 100% red, 100% green, and 94.1% blue. In the CMYK color space (used in color printing), hex #fffff0 is made of 0% cyan, 0% magenta, 5.9% yellow, and 0% black.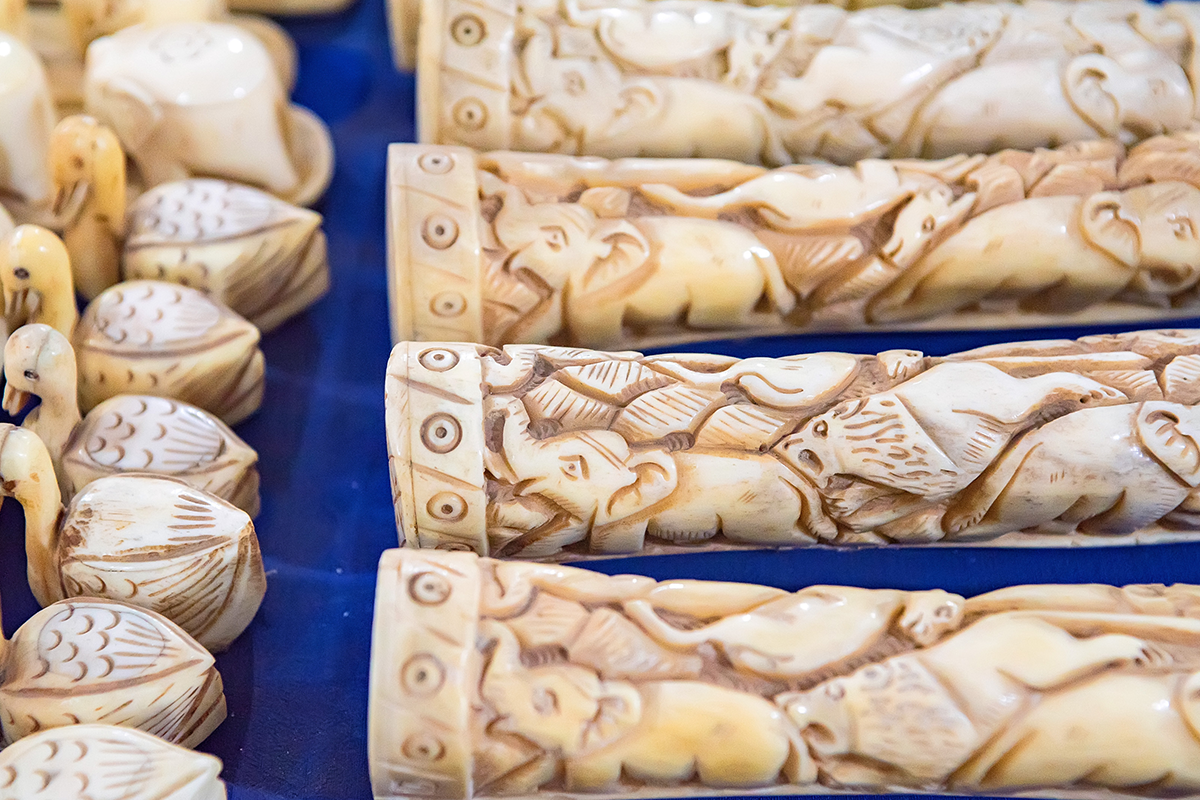 Ivory Color Meaning
In color psychology, the pure white color (#ffffff) conveys purity, peace, surrender, spirituality, and godliness. Even though the ivory color has a little yellow mixed in, it's still used to symbolize similar feelings and messages as pure white, such as calmness and purity. The ivory color meaning also represents a sense of formality or luxury.
In the context of weddings, many brides choose to wear an ivory wedding dress instead of a pure white dress to elevate the sense of luxury or convey a sense of timelessness.
Ivory is also very useful in conveying a sense of time passing, as many antique and vintage products contain some form of the color, which can often develop naturally as white tends to show age over time with exposure to the sun, oxygen, or other environmental factors.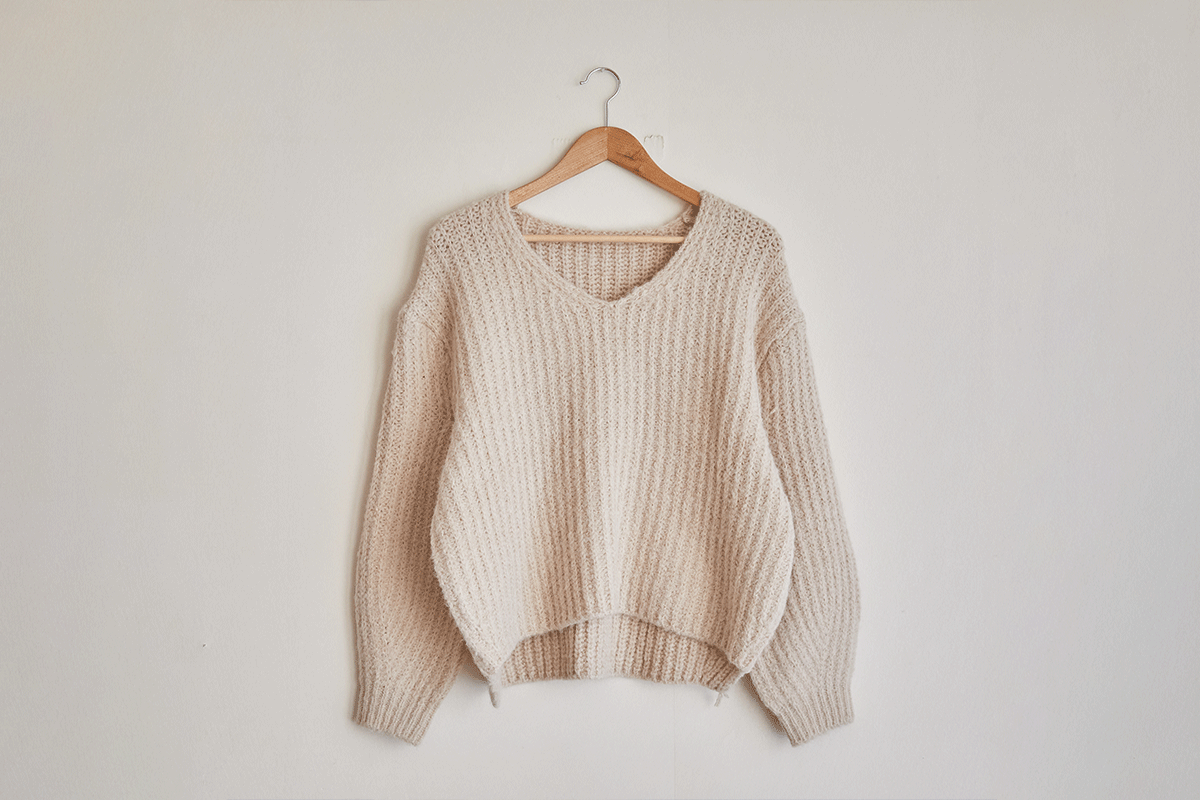 Is Ivory a Cool Or Warm Color?
Because of its yellow undertones, the variation of ivories tends to lean slightly more towards the warmer side of the color temperature spectrum. Ivory is often considered a neutral color that can work well with both warm and cool colors, although the general consensus is that the yellow undertone gives off a subtle warmth.
Ivory vs Similar Colors
So is ivory the same as white? What about beige? Let's brush on some color theory and break down the ivory color vs white and ivory color vs beige debate.
Ivory Color Vs White Color
White is the absence of color, while ivory is white mixed with yellow. However, ivory is considered a shade of white, much like its color siblings of eggshell, cream, and off-white. The addition of a subtle tint of yellow, cream, or peach is what separates ivory from pure white or other shades. So now you'll have an official answer to the popular "ivory color vs white" dinner table debate.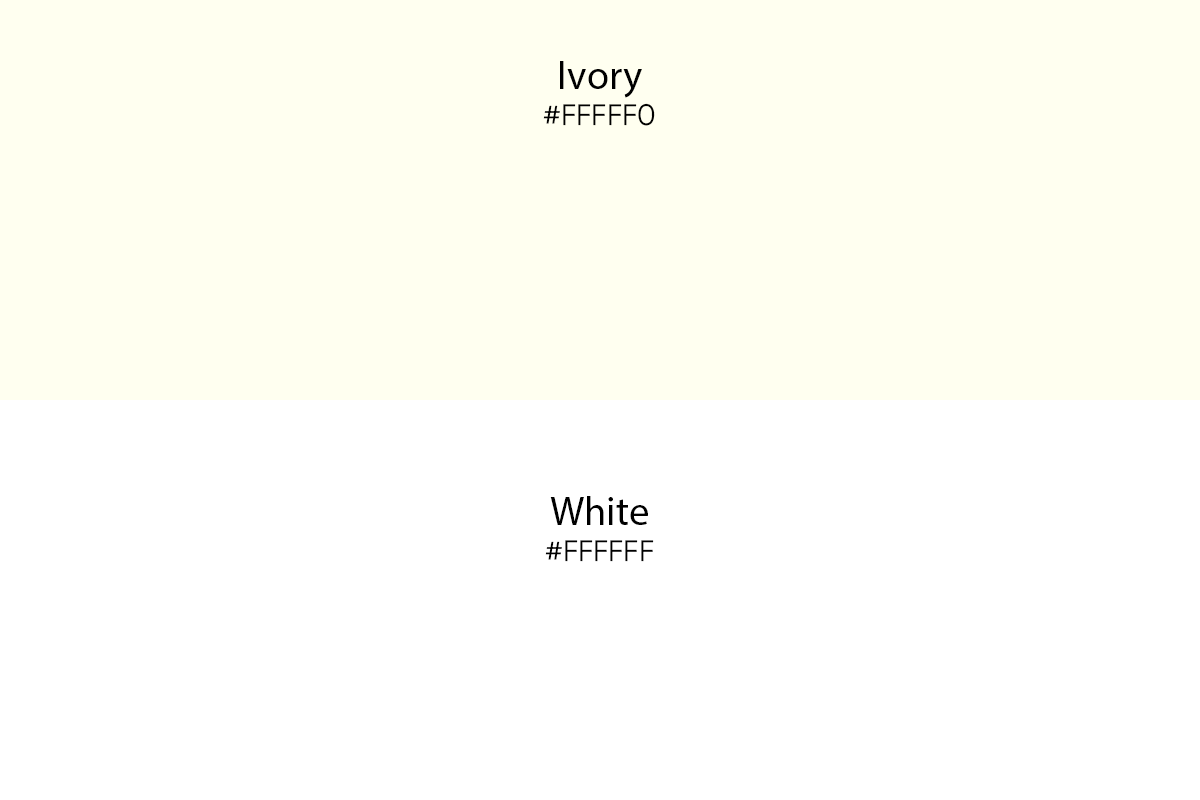 Ivory Color Vs Beige Color
The easiest way to understand the color beige is to think of mixing a bit of brown or grey into ivory. Beige is a soft, neutral color often used as an umbrella term for a spectrum of colors, from pale yellowish-brown to light brownish-gray. The most common colors that fall under the beige umbrella include buff, tan, khaki, and desert sand.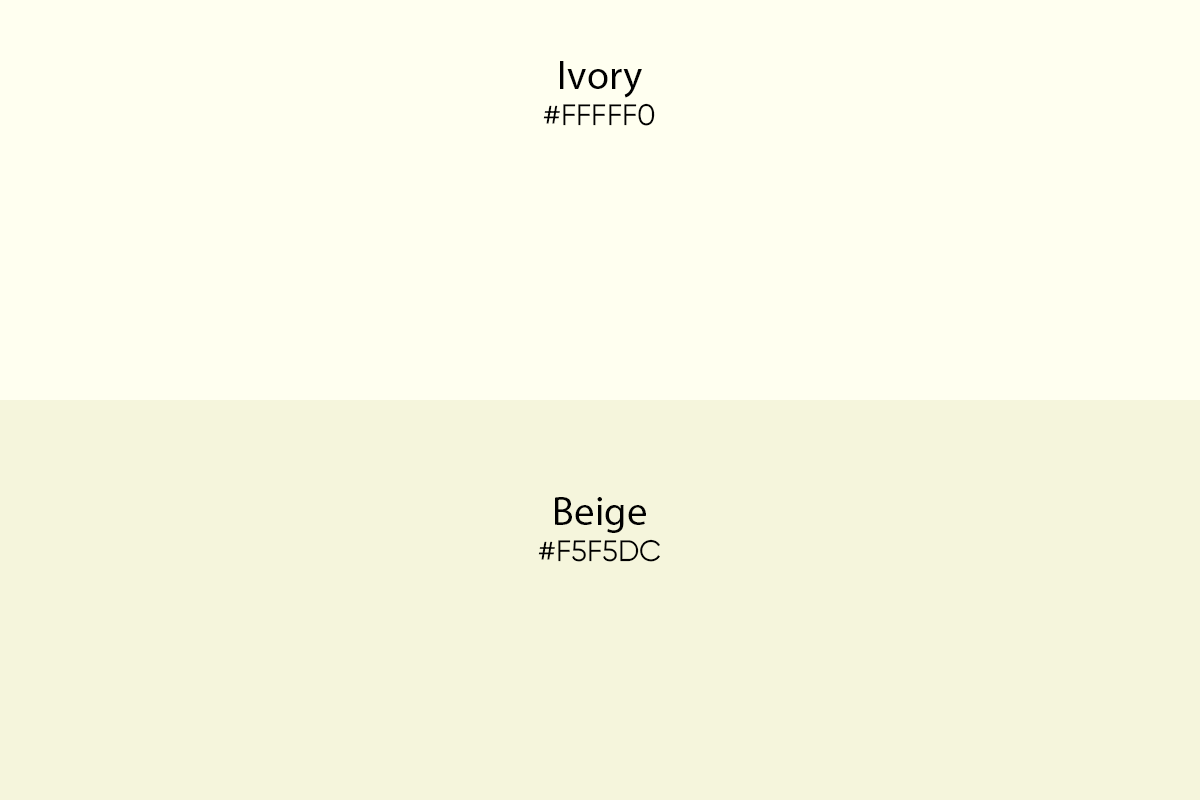 Ivory Color Palette Ideas
Looking for an ivory color palette for your next project? Here are a few of our favorites.
Ivory, Navy Blue (#000080), Tan (#D2B48C)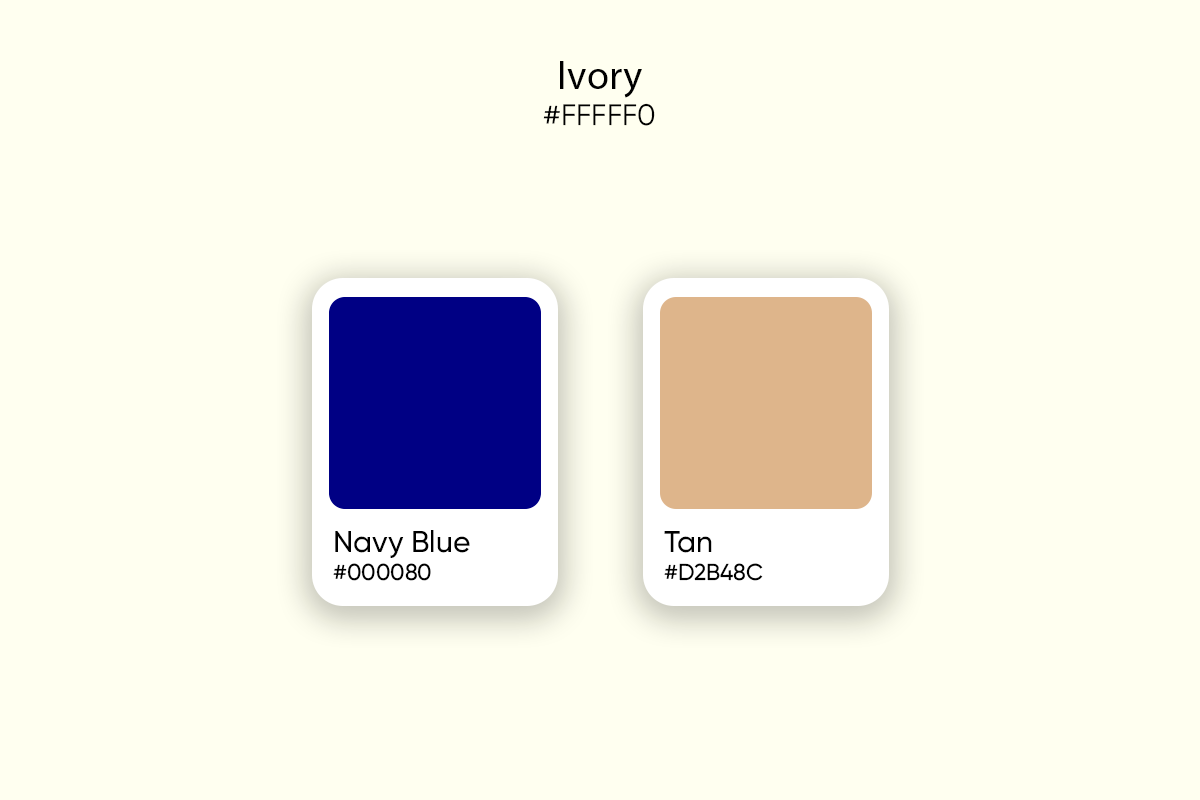 Gold (#FFD700), Black (#000000), Ivory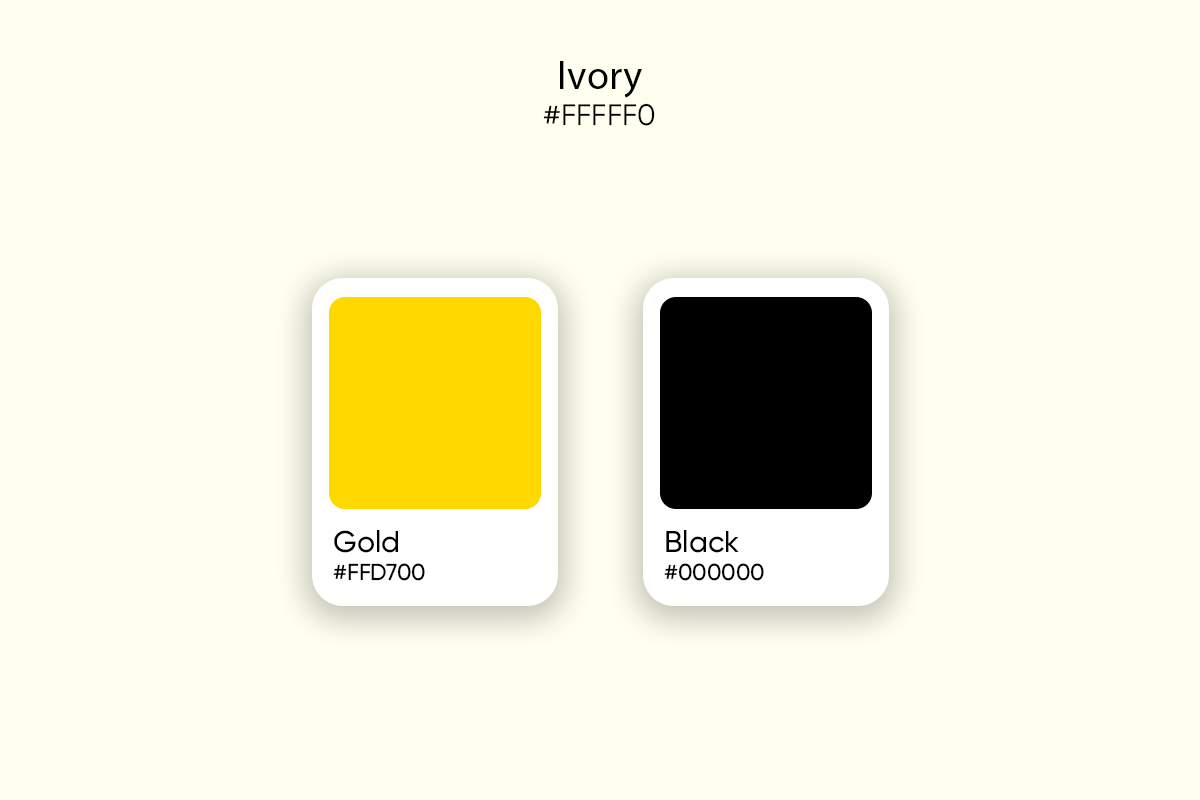 Maroon (#800000), Navy Blue (#000080), Gold (#FFD700), Ivory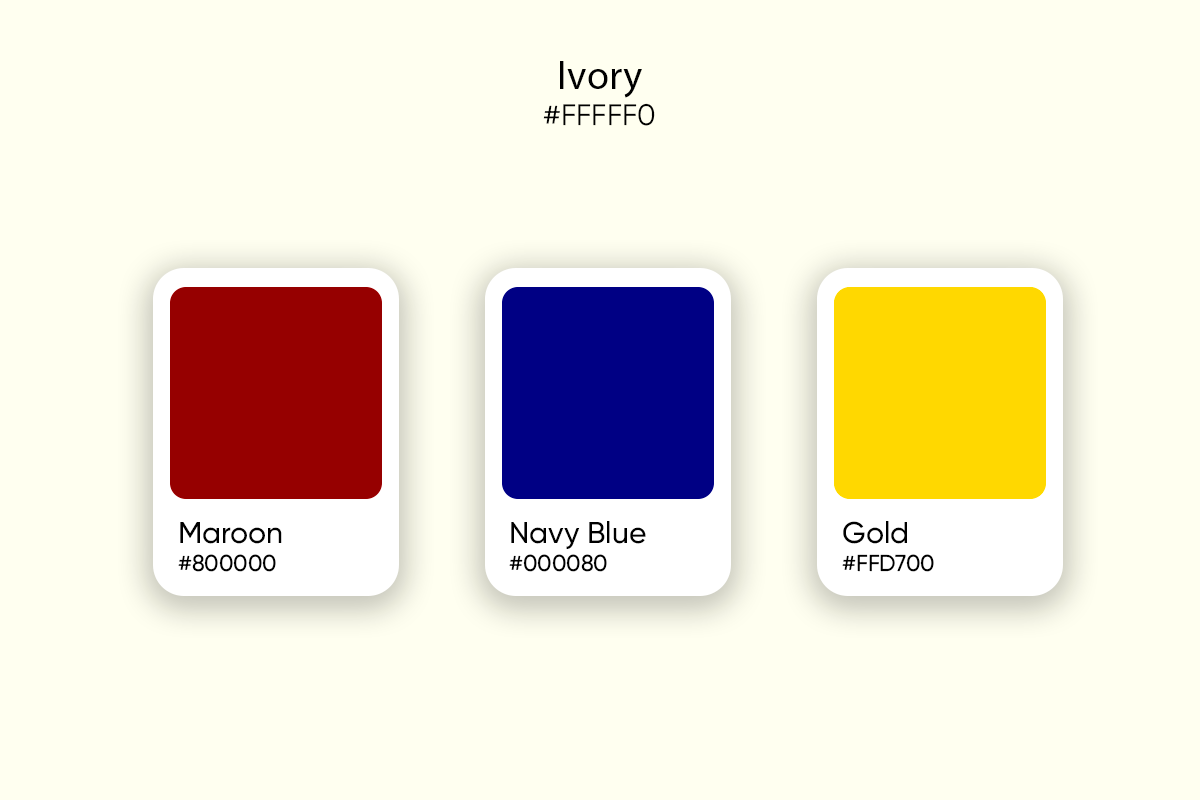 Taupe (#483C32), Cocoa (#D2691E), Soft White (#FBFAF5), Blush (#de5d83), Ivory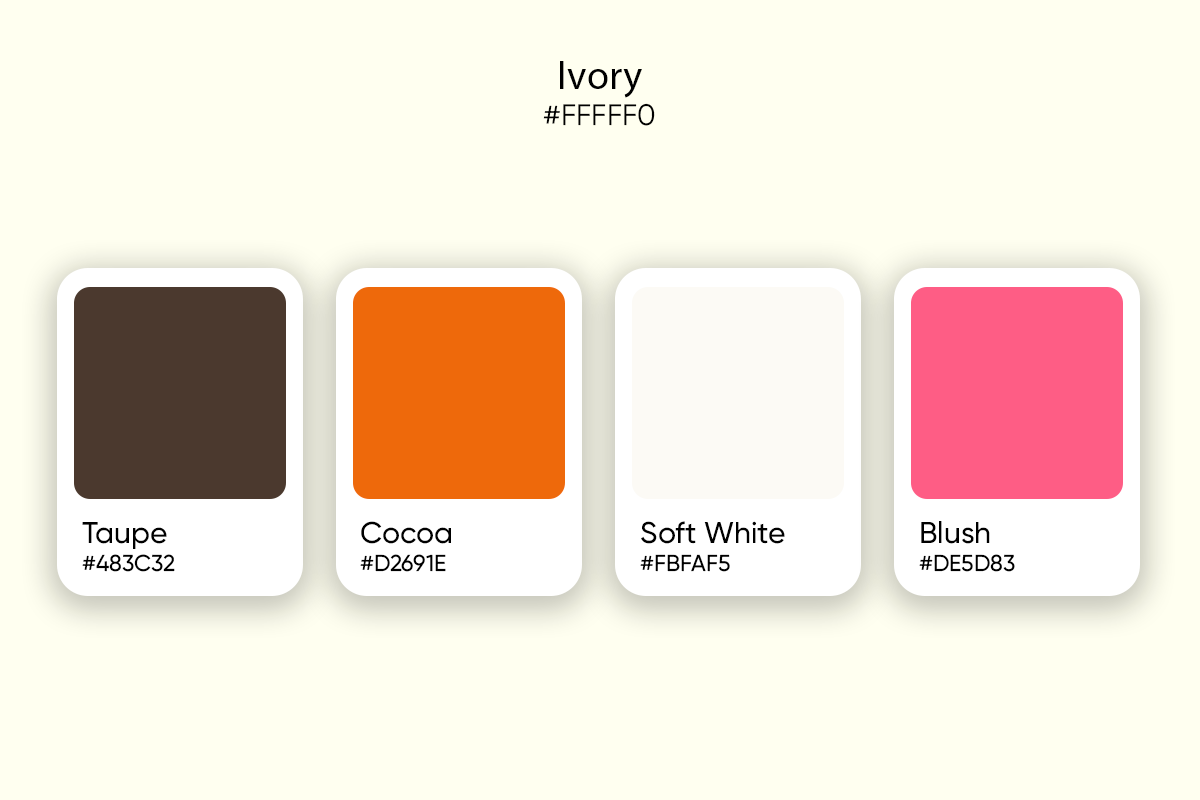 Copper (#B87333), Teal (#008080), Ivory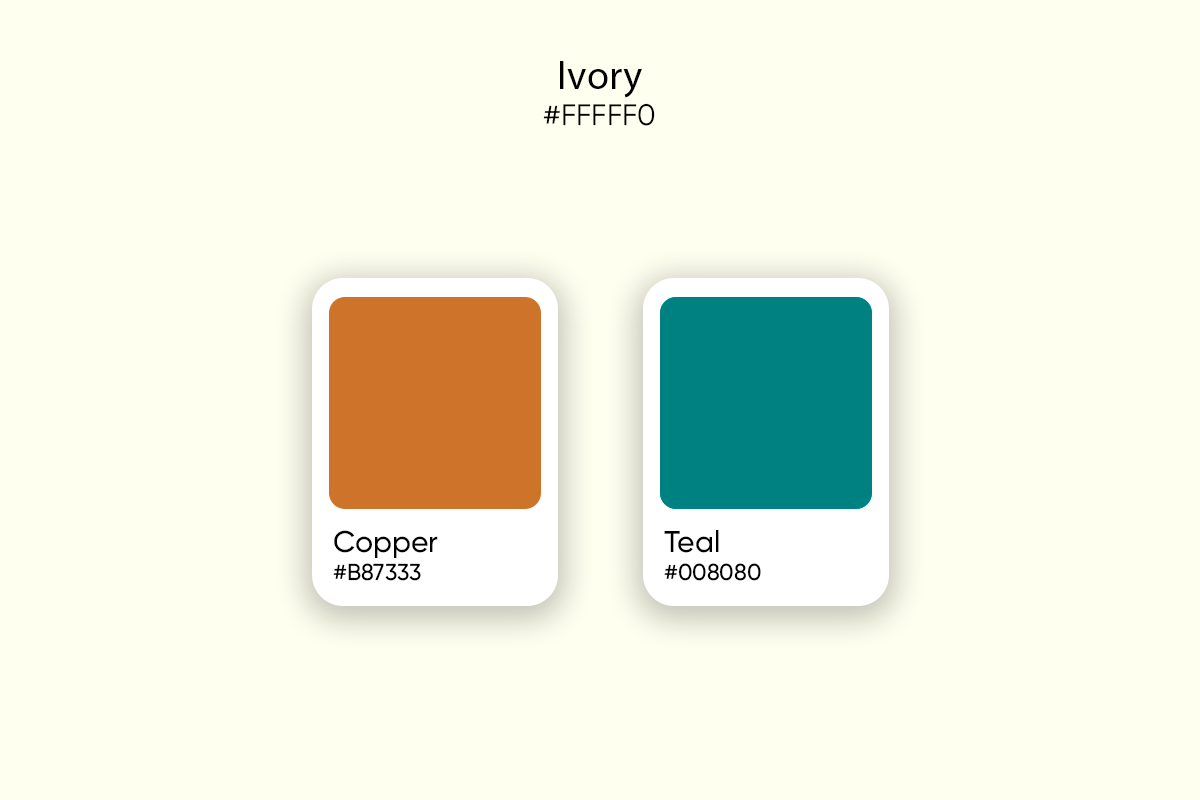 Gold (#FFD700), Sage (#BCB88A), Blush (#de5d83), Ivory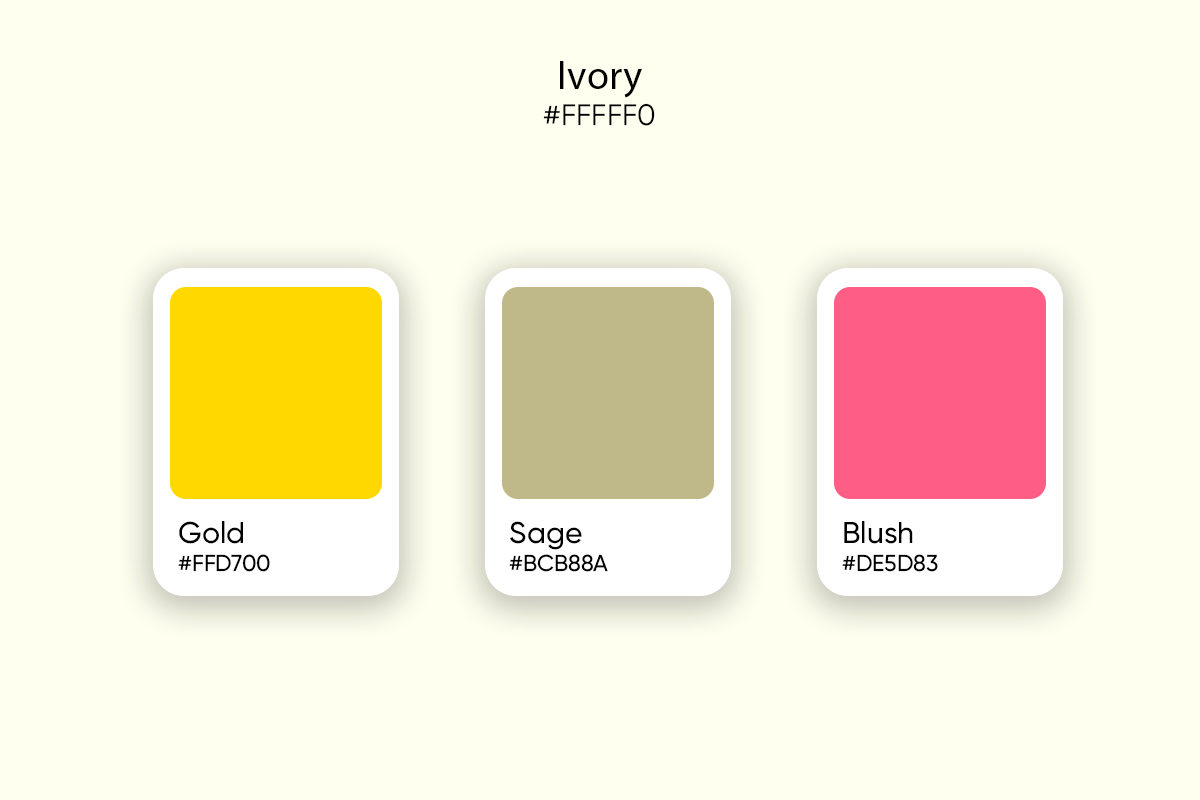 Light Gray (#D3D3D3),

Slate

(#C0C2C9), Sage (#BCB88A), Ivory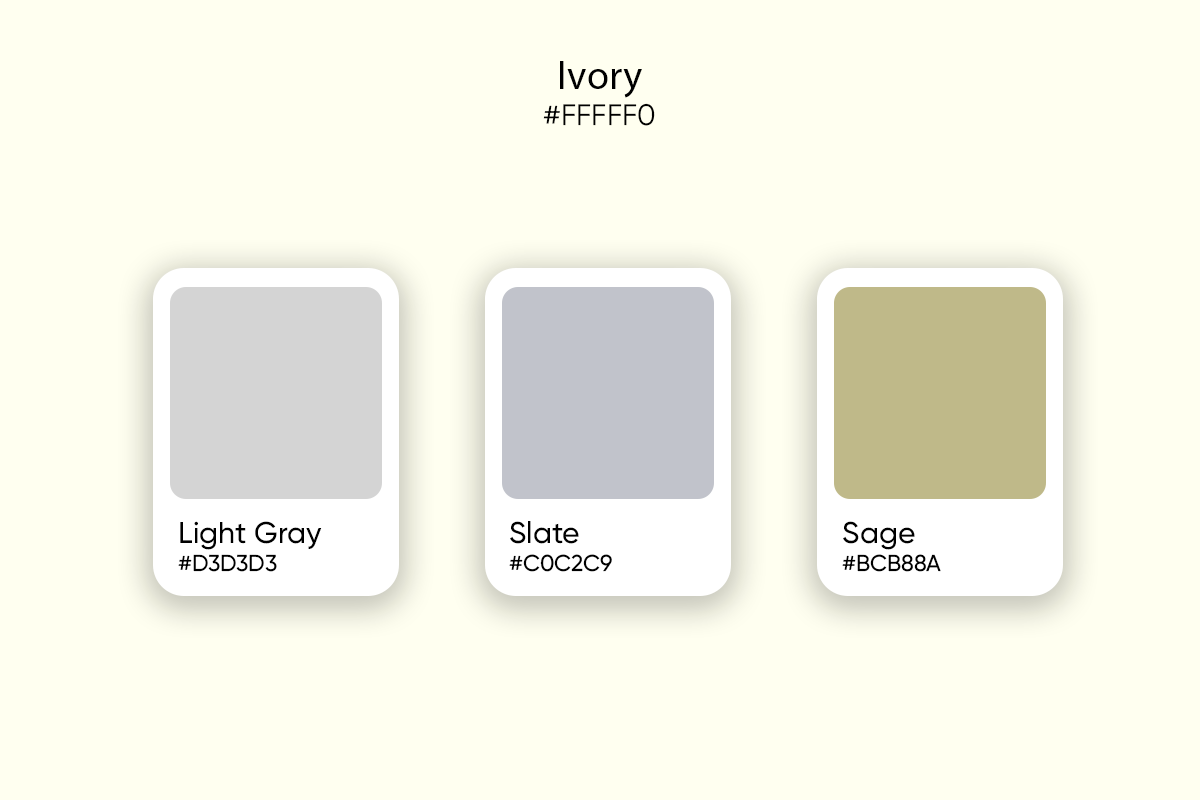 Lavender (#E6E6FA), Sage (#BCB88A), Forest Green (#228B22), Ivory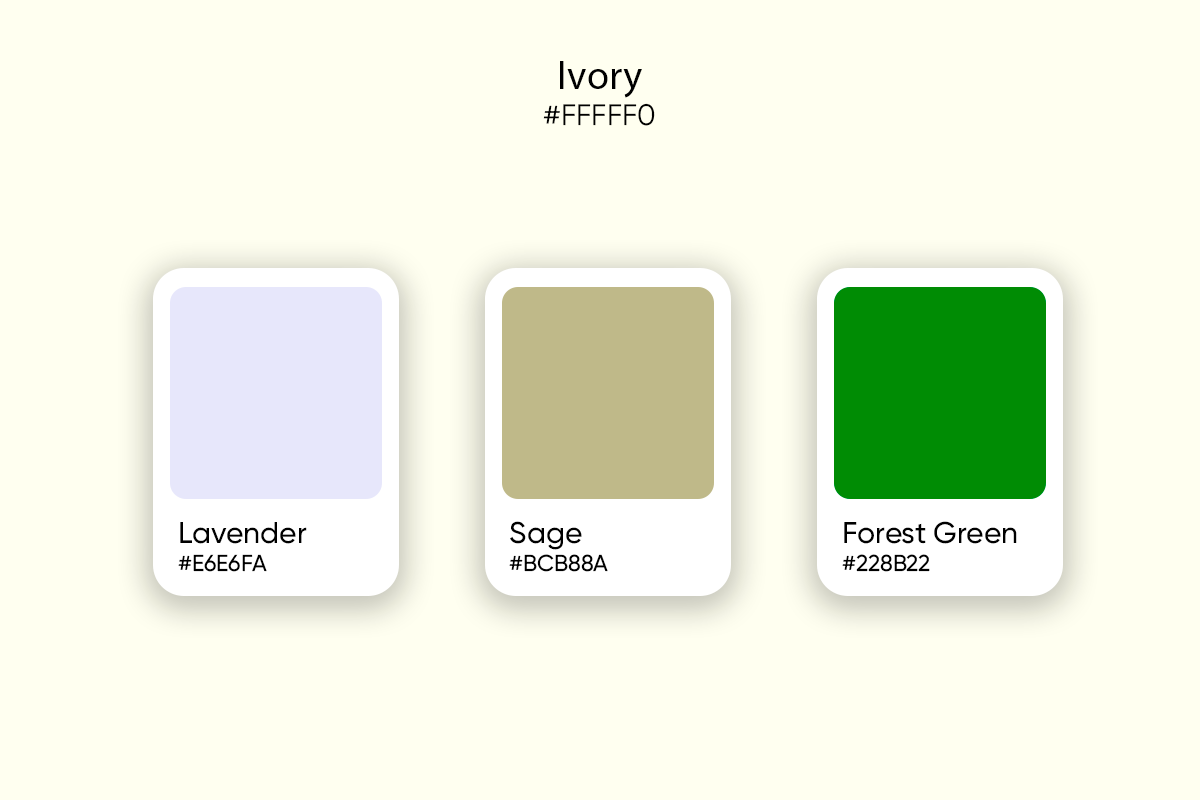 Fuchsia (#FF00FF), Emerald Green (#50C878), Tan

(#D2B48C), Ivory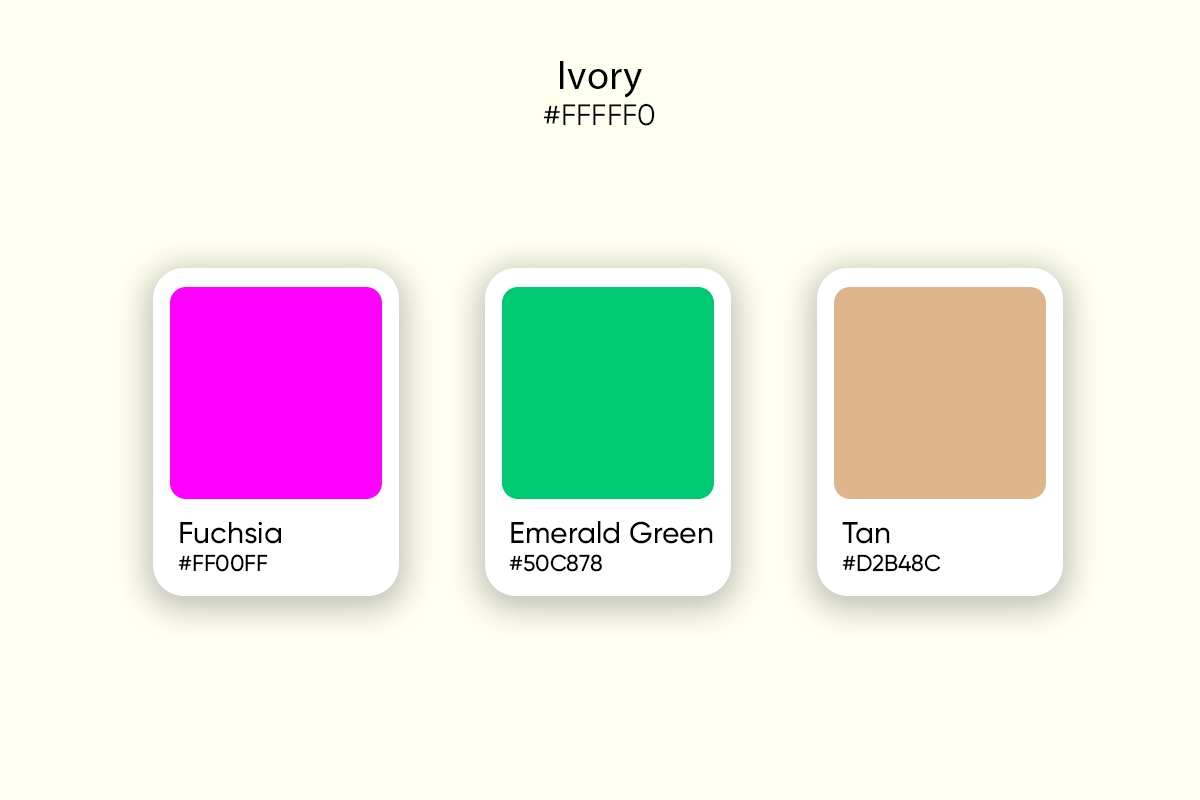 Have you ever found yourself captivated by a specific color scheme in an image and just wished you could dip your brush into it? Check out how to get a color palette from an image.
Colors That Pair Well with Ivory
Ready to make your own color palette? Check out the below color pairings for ivory as dictated by the color wheel. 
Complementary Color
Sitting directly across the ivory color on the 12-spoke color wheel is its most basic complement, a very light variation of lavender with hex code #f0f0ff.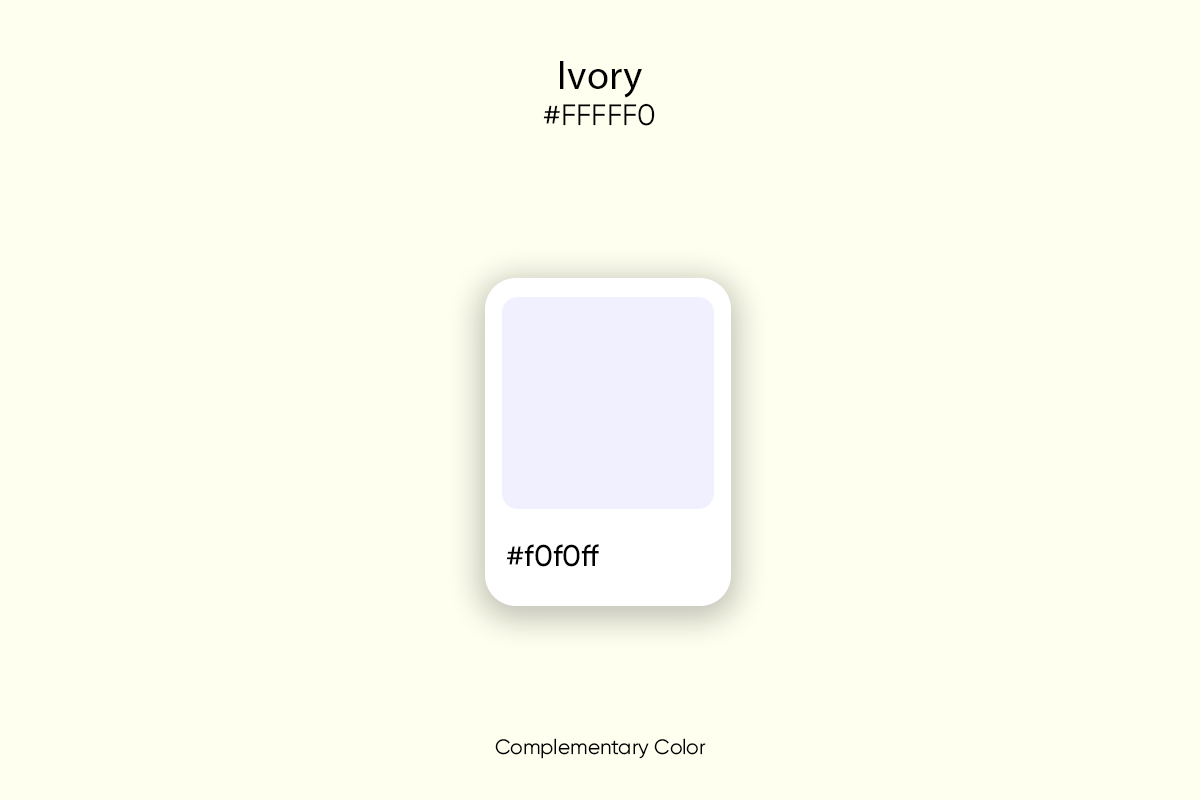 Analogous Color
The three colors sitting closest to ivory on the color wheel are very light peachy colors (#fffbf2, #fffcf0, #fffeef ) and very light minty colors (#fafff2, #f5fff5, #f1fffa). These are known as analogous colors and pair well with the base ivory color. You'll often see this soft color scheme used in wedding invitations and nature-themed designs.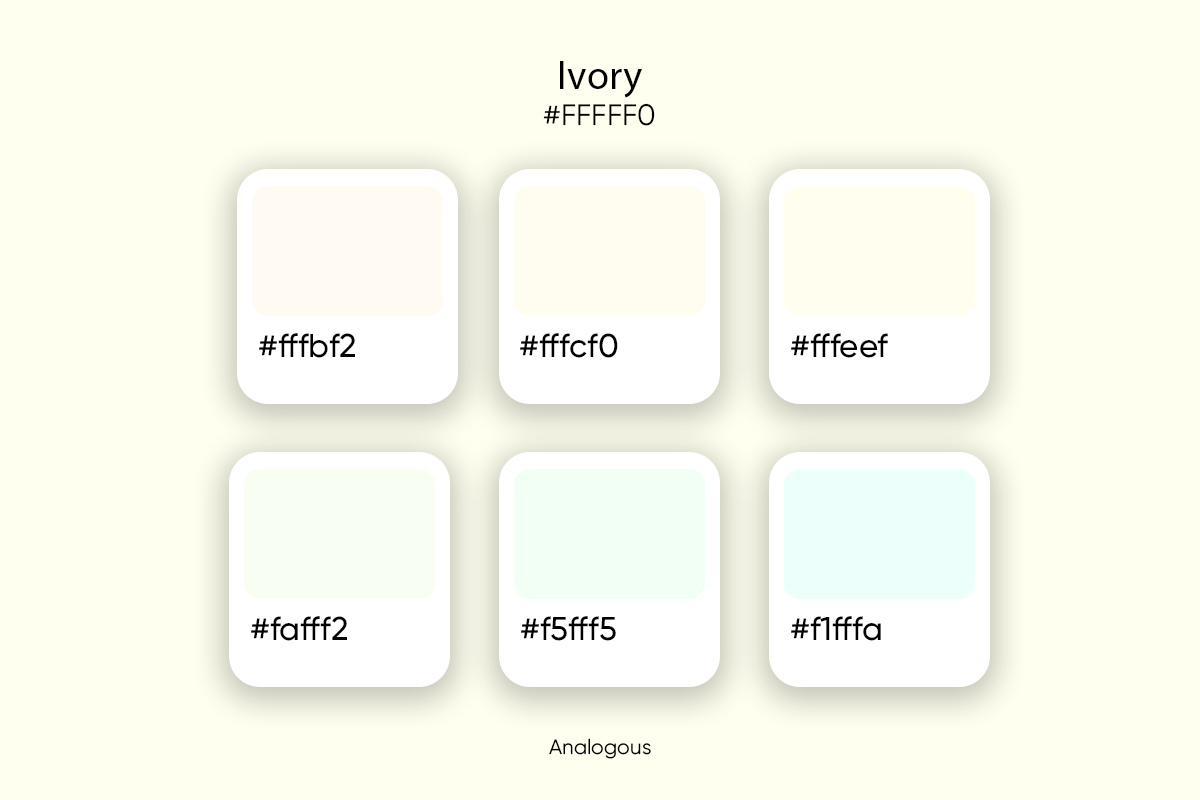 Triadic Color
A color's triad complements are the colors equidistant from it that form a triangle to include the base color. The ivory color teams up with a very light peachy-pink pastel color and a very light mint or blueish-green pastel color to form a triad of hex codes #fff0ff, #fffff0, and #f0ffff.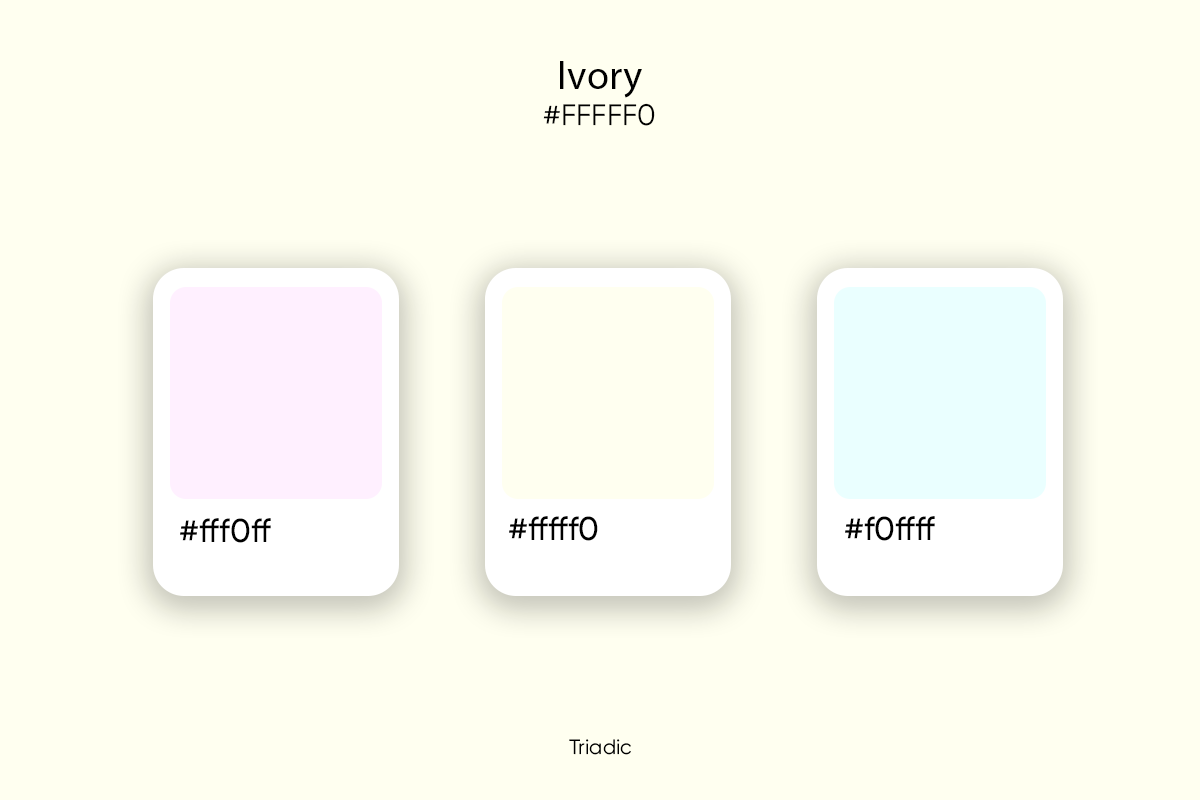 Monochromatic Color
This type of color scheme is made up of different tones, shades, and tints of a single base color. You can add white to lighten (or tint) the color or you can add black to darken (or shade) it. In order of yellow to white, ivory's monochromatic color scheme is: #ffff00, #ffffbd, #ffffd7, #fffff0, #ffffff, #ffffff, #ffffff (the last three hex codes being pure white).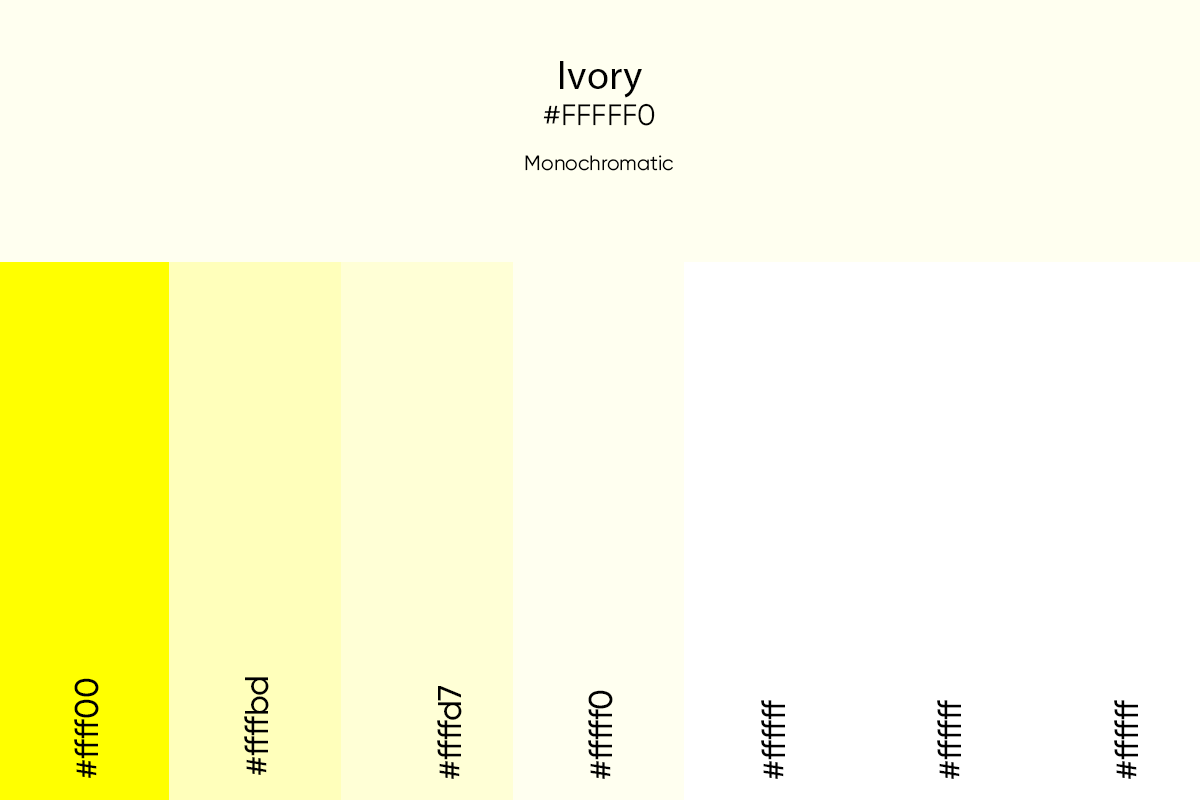 Create Fantastic Photos Using This Color
Now that you've mastered everything there is to know about the color ivory, it's time to get inspired and create! Here's how to create graphic designs with your new favorite color. 
If Editing on Web:
1) Open the Picsart Web Editor and start a new project.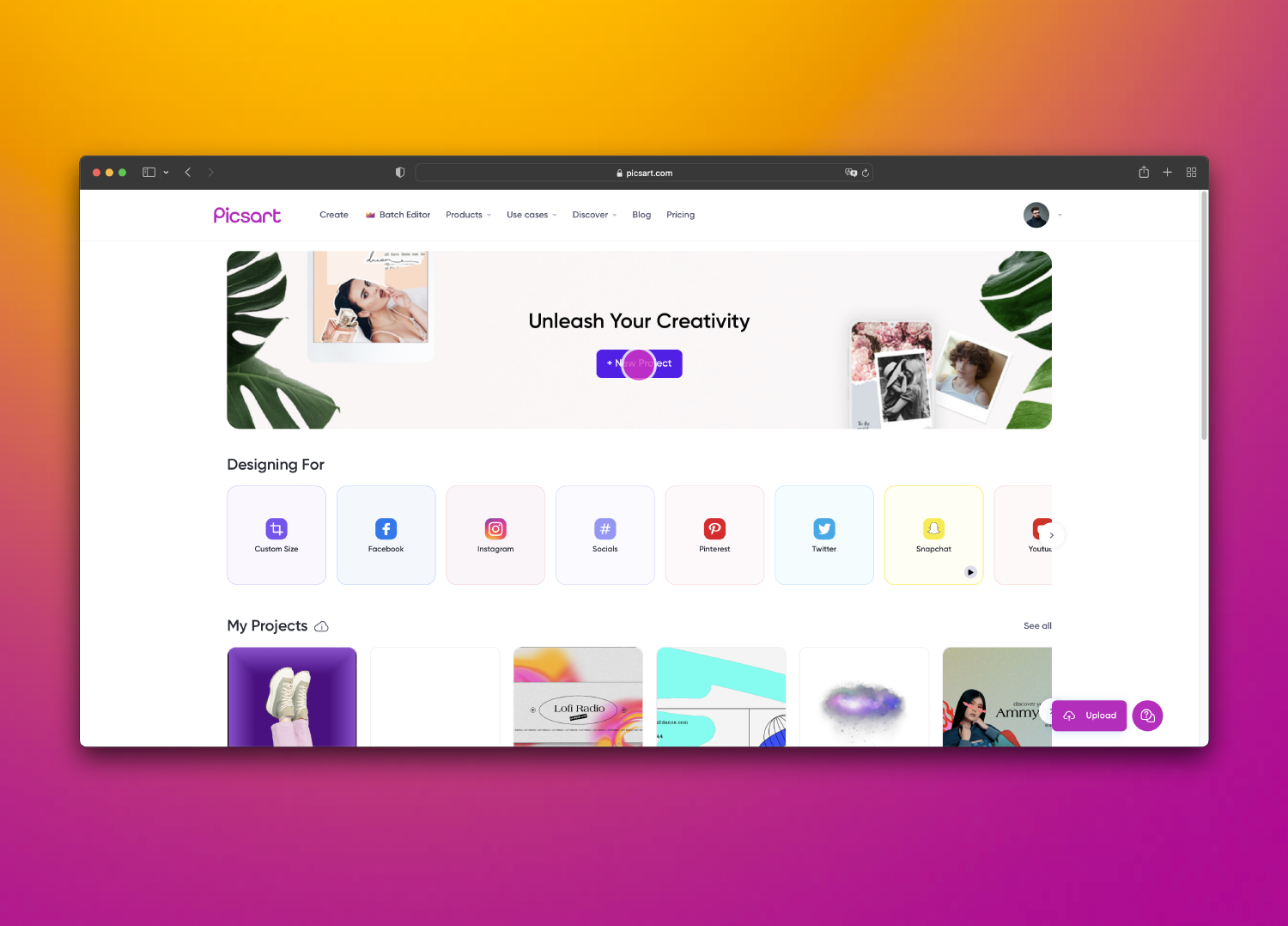 2) In this tutorial, we're going to create a promotional poster with an ivory background. To do so, click on the Layout tool on the left toolbar and select a canvas size. Then, click on the color dropper above your blank canvas to open the color tools.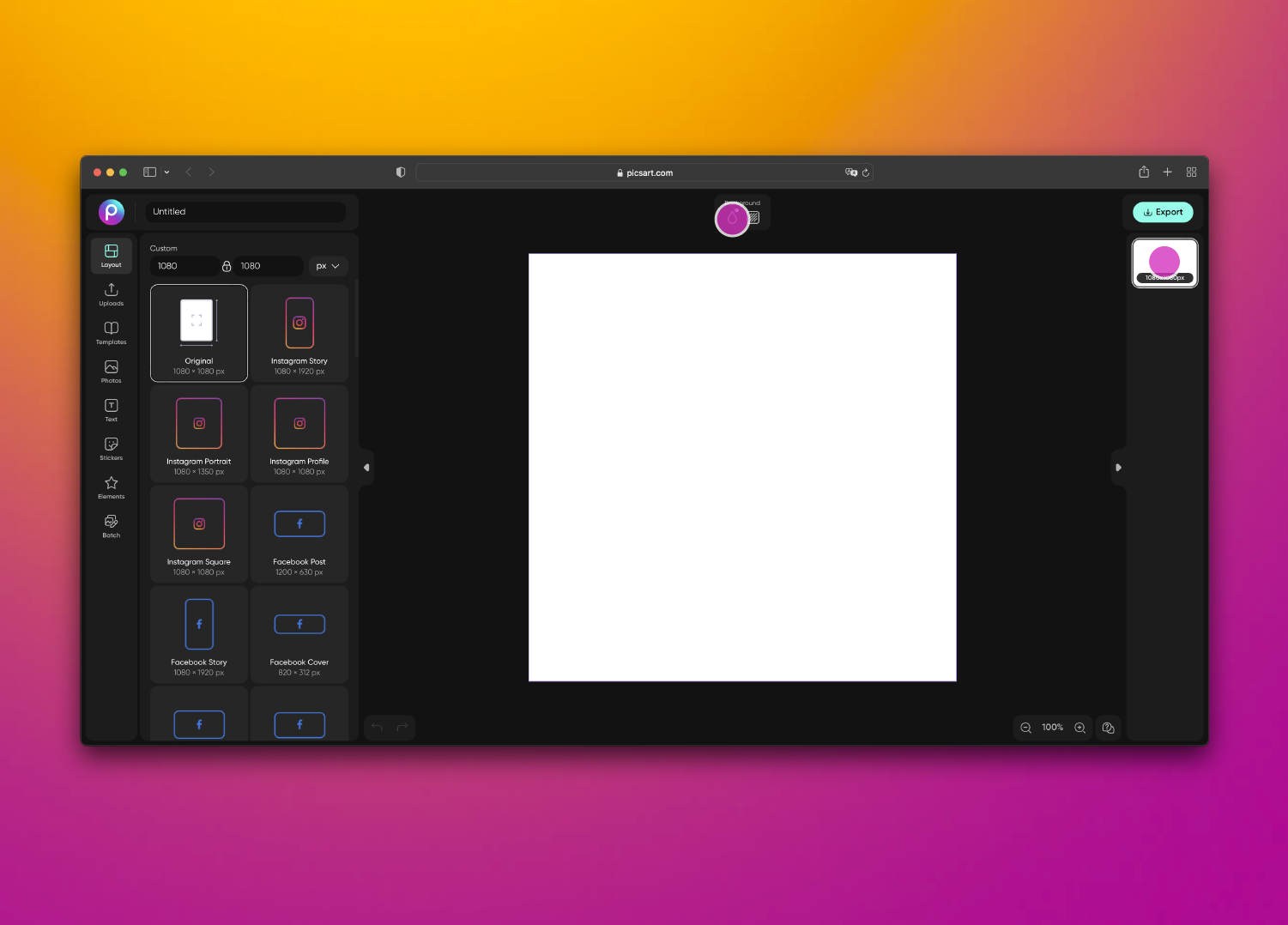 3) Type in the hex code for ivory to get a new background color.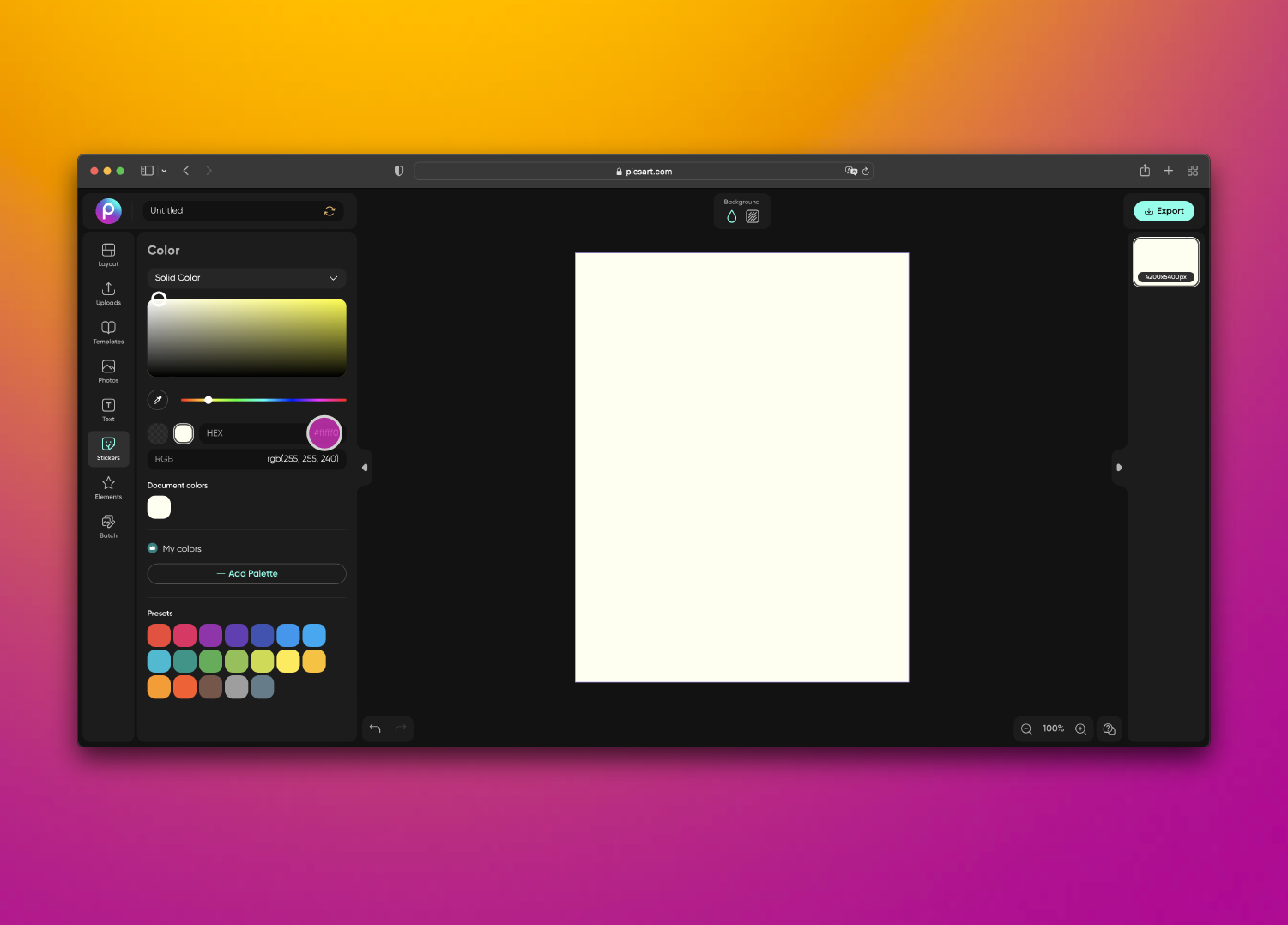 4) Now it's time to add some design elements using the Text and Sticker tools. Click on the Text tool and select a header size (you can always change this after). Type in your text, then change the color, font and more using the toolbar.
You can also the Sticker tool to add additional design elements like we did here with the flower image.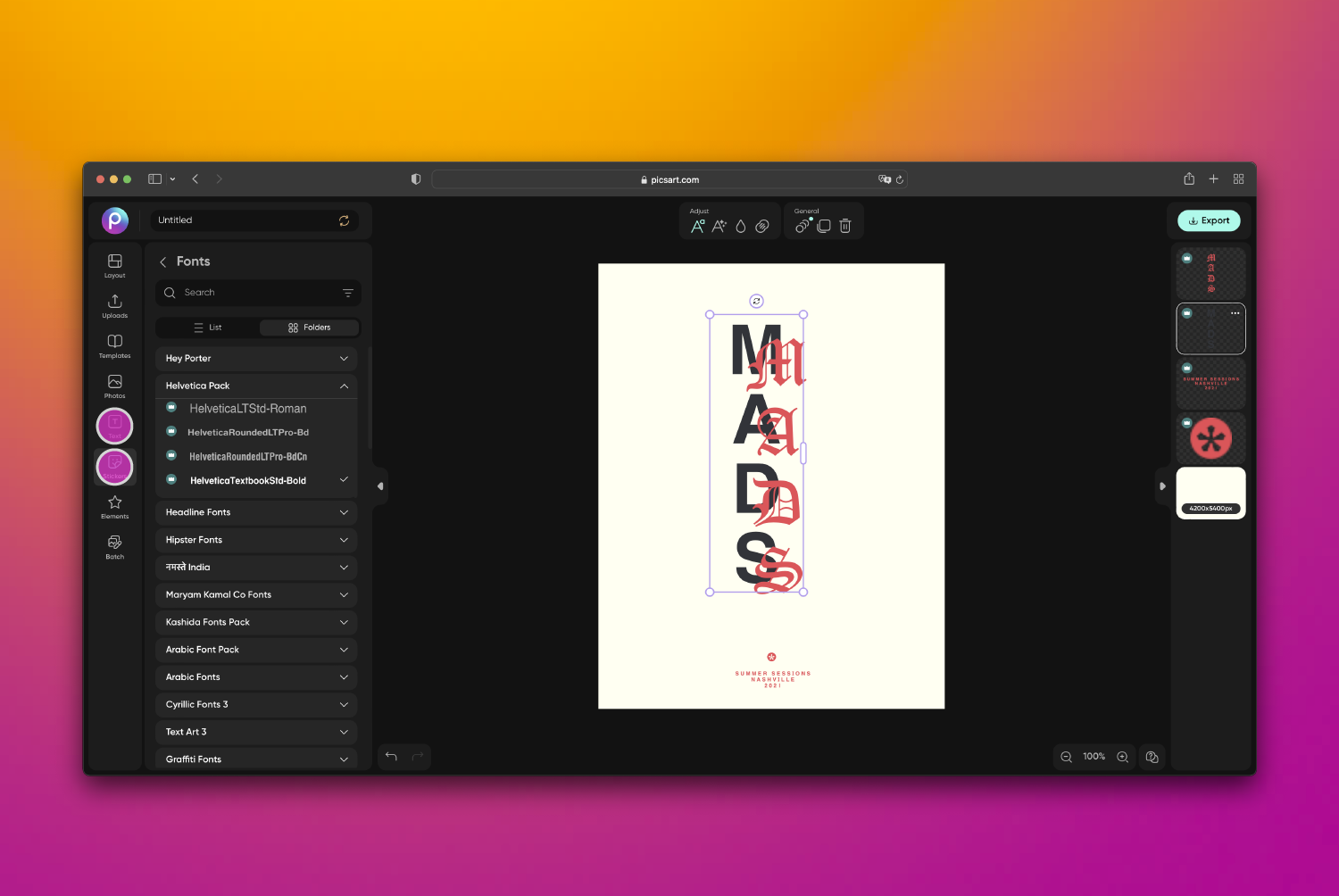 5) When you're done with your new ivory themed promotional poster, click on Export to download and save your file. Here you can also name your file, select the file format, and upscale your image if needed for printing.
If Editing on Mobile:
1) Open the Picsart app and press the plus button (+) to start a new edit.
2) Scroll down to Color Backgrounds and then scroll across until you see the Color Picker option. Here you can select a custom color canvas. Simply tap on the three sliding dots and type in any RGB value.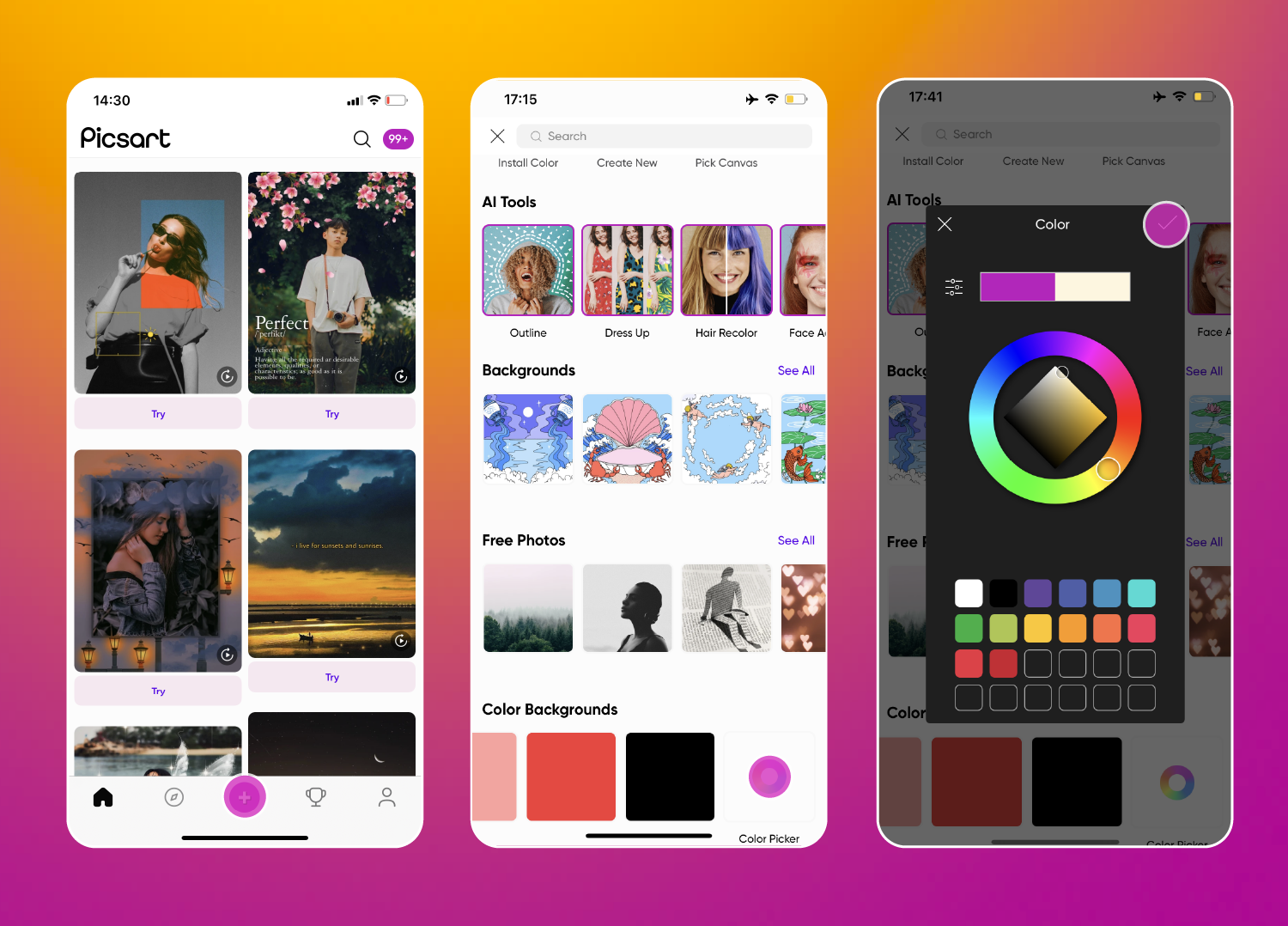 3) Now you have an ivory canvas that's ready for design. As shown above for the web tutorial, you can use the Text and Sticker tools to make a cool promotional poster.
4) When you're done with your edit, tap Next then Save and/or Share your edit with the Picsart community.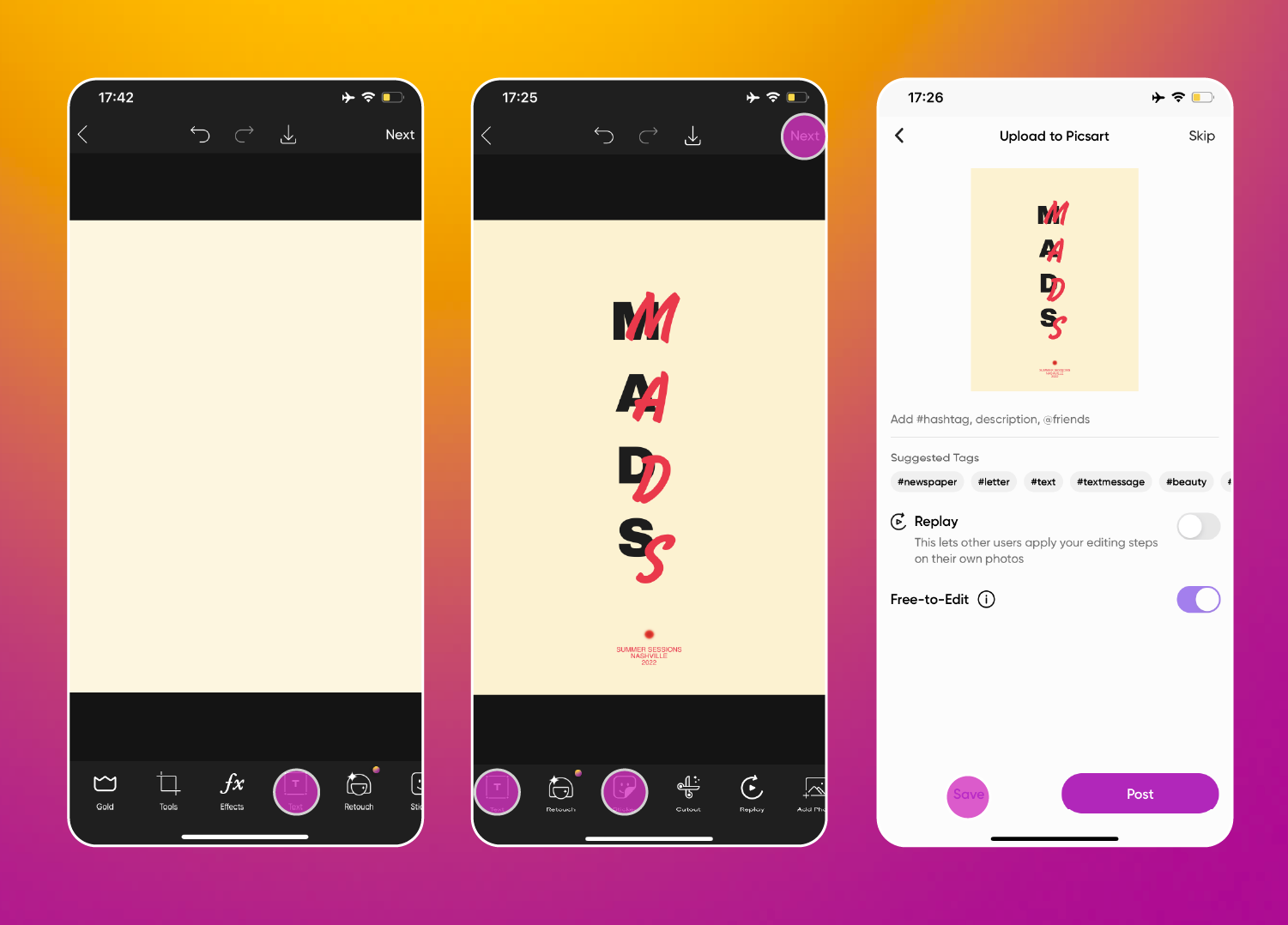 If you're looking for more design inspiration, Picsart has an awesome community format that allows you to search and edit images from other creators. Just search for #Ivory in the hashtags search both in-app or on web for more design inspiration. Then use Picsart's photo and video editing software to work your magic!
Picsart is a full ecosystem of free-to-use content, powerful tools, and creator inspiration. With a billion downloads and more than 150 million monthly active creators, Picsart is the world's largest creative platform. Picsart has collaborated with major artists and brands like BLACKPINK, Taylor Swift, the Jonas Brothers, Lizzo, Ariana Grande, Jennifer Lopez, One Direction, Sanrio: Hello Kitty, Warner Bros. Entertainment, iHeartMedia, Condé Nast, and more. Download the app or start editing on web today to enhance your photos and videos with thousands of quick and easy editing tools, trendy filters, fun stickers, and brilliant backgrounds. Unleash your creativity and upgrade to Gold for premium perks!