Podcasts are one of the most popular forms of entertainment today. If you aren't watching TV, reading a book, or listening to music in your downtime, then chances are you have a podcast playing. From true crime podcasts to celebrity gossip, news analysis to comedy, podcasts cover a range of topics and genres. Some have said that podcasting is the new talk radio, but unlike talk radio, listeners have the ability to download and stream podcasts to their devices wherever they are and whenever they want. 
The accessibility and extensive range of podcast options are what make the auditory medium so popular. After all, there are over 800,000 podcasts with over 54 million available episodes! That's a lot to compete with and just the reason why it is crucial for podcasters to have leverage good, eye-catching podcast cover design. Your podcast cover art is going to be what catches the eye of potential listeners. The best podcast cover art reflects the mood, tone, and theme of the podcast, so it is important to make sure there is harmony between the spoken word and the visual art associated with it. 
Before we dive into how to make a good podcast cover, there are a few things to consider. Once you learn the best practices for podcast logo ideas and podcast cover design, you'll be ready to create your own podcast cover art. And with that, you can sit back and watch all of the new listeners roll in!
Considerations Before Creating a Podcast Cover Design 
Now, before you jump into making the best podcast cover design, there are a few things to keep in mind. The most important first step is to really think about what your podcast is about and who your listeners are. And we're not talking about identifying the high-level who and what of your podcast. Really think of the specifics. In a sentence or less, think of what sets your podcast apart from others in the same niche or category and what you want people to think, feel, and do after listening to it. 
Next, think of your audience. Who exactly you're making this podcast for, who'll benefit from listening, and who's likely to want to share it with their friends? Also, consider how they'll enjoy your podcast. Will it be a quick morning listen while they get ready for work, something calming to lull them to sleep at night, or playing in the background while cooking dinner? 
Once you have the who and what of your podcast identified, it's time to think of the tone of your podcast. You want your podcast cover art to reflect your tone so that everything comes together in a nice package for the listener. Are you serious news or sarcastic, witty banter? True crime or pop culture gossip? This will help determine what style your podcast cover design should take on.
Overall, it is important to think of your podcast cover as its first impression on potential listeners. It's important to appeal to your audience in a relatable way that's telling of what they can expect when pressing play on your latest episode. With all of the podcasts out there, you'll want to stand out in the best way possible, and thoughtful podcast cover art is the way to do it!
Elements of Good Podcast Cover Art
What elements go into a good podcast cover design? Your podcast can't just sound good these days. It has to look good, too! Before you jump into designing your podcast cover art, keep these five elements in mind.
Consider Podcast Cover Format Requirements
Much like when you are designing a YouTube thumbnail or brand logo, there are also size and file type restrictions for your podcast cover art that will vary between podcast platforms and directories. Whether you are on Stitcher, Soundcloud, iTunes, Google Play, or Spotify, you will want to be sure that your cover design looks the same across all platforms without looking stretched or distorted.
Design Your Cover Art as a Square
The starting point for making sure that your podcast cover design looks good wherever it shows up is to design it in a square ratio. Set your square canvas for your design to be 3000 pixels by 3000 pixels. That way, you will know that it will still look good even when it is scaled down. We also recommend saving your art as a jpeg or png. It's easy to work within these creative dimensions from the start or resize existing images! 
Don't Overcrowd Your Design
Since your podcast cover art will be viewed as a tiny square, you'll want to be sure that your design is easy to see and identify. If you try cramming in too many designs with photos or text, you'll begin to lose the key takeaway you want your audience to leave with. If potential listeners can't determine what your podcast cover art is supposed to represent, how are they going to figure out what the actual podcast is about? In your design, leave some space between words and photos as well as the edges of the design. Text collages are a great way to accomplish your visual goals! Speaking of text, let's talk fonts.
The majority of podcast cover designs have some sort of text on them. It's a quick and easy way to get your podcast out there, so you'll probably want to make sure you are adding your podcast name at least somewhere on your design. Of course, to keep your design clean and easy to read, try not to use too many words. When choosing fonts for your podcast cover art, make sure they are easy to read. After all, the presentation of your design is going to be pretty small. Don't make reading the title harder than it needs to be! In the same vein, keep your fonts consistent. As a rule of thumb, don't use more than two different fonts. This will keep your design easy to read. If you want to get creative with fonts and maximize the visual space, consider using text tools like the text bend effect or the text highlight tool to make your text stand out. 
Keep Your Cover Art Consistent with the Rest of Your Branding
Everything about your podcast should be consistent. Setting brand guidelines is a great way to ensure that you achieve a consistent visual look and feel. When you are creating podcast cover art, don't be afraid to use your podcast logo. In fact, leveraging podcast logo ideas can ultimately lead to the perfect podcast cover art. 
Podcast Logo Ideas
Having a good logo matters. That's why we've compiled some of the best podcast logo ideas to inspire your very own logo to include in your podcast cover design.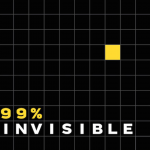 When in doubt, keep your podcast logo ideas simple. Simple logos like this one from 99% Invisible use minimal design elements like geometric shapes but still catch your eye. They project a certain tone that leaves the podcast browser curious to learn more.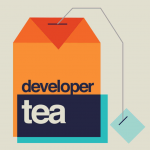 Consider making a podcast logo that visually represents a theme or aspect of your show. The title Developer Tea in itself is a nod to something that isn't literally tea but rather a common slang definition of tea. The mood and tone of the podcast are carried through to the symbolic use of the illustrated tea bag.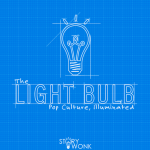 A doodled or hand-drawn podcast logo is a great idea for a podcast with a light, entertaining mood. This says that your tone isn't too serious without having to be loud or goofy.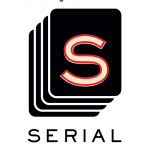 The Serial podcast logo is simple but uses a simple palette of contrasting colors, coupled with bold lines and fills to create a logo that packs a multidimensional punch. This signals to the listener that they aren't about to tune into a light story and prepares them to buckle up for a serious, straightforward ride.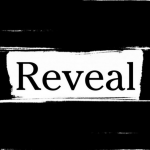 Using your podcast's title as the main element of your logo design might seem easy, but it can be hard to determine the best way to make it unique. Choosing a strong, eye-catching font can help create a lasting impact without getting too complicated. 
Best Podcast Cover Art Examples
Now that you have your podcast logo ready to go, it's time to start thinking about your actual podcast cover design. Remember that you want it to compliment your logo and the rest of your branding and visually appeal to your fans. Check out these podcast cover art designs for inspiration for your own podcast cover art.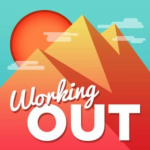 The colors here are bold but calming, and the font and lines on the design are strong. The impact of this cover art is one that makes you feel pumped up and inspired before even listening. It leaves listeners feeling like they could climb the mountain on the podcast cover art after listening to the latest episode.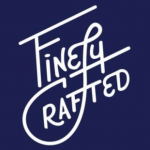 This one keeps it simple and achieves a unique look using only their podcast name and logo. It's a perfect example of how a well-chosen font can take your design to the next level while appealing to a specific audience. 
The Michelle Obama Podcast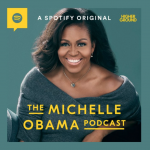 Using photography on your podcast cover design can be very eye-catching if it is done correctly. It is especially effective if the host or guest is a popularly recognizable person.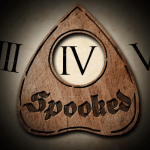 This design perfectly compliments the title and content of the podcast without being overtly scary. It leaves a little bit of mystery, enticing the listener to listen in to the latest episode.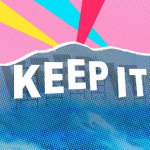 Design can give away a podcast's topic without having to spell it out. The pop-art look coupled with the famous Hollywood sign typography signals that the podcast will be about the entertainment industry.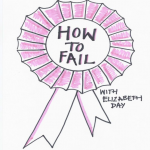 Not only does this podcast cover leverage the popular look of hand drawn calligraphy, but it does it in a witty and ironic way. This signals that this is going to be a comedic podcast without using too many elements in the design.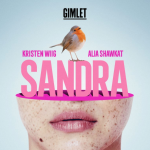 While this design doesn't visually give much information as to what this podcast is about, it is well balanced and decidedly eye-catching. This leaves potential listeners curious about what's to come. 
How to Make a Good Podcast Cover
Now that you're feeling inspired, it is time to get designing! The easiest way to design your podcast cover art is with Picsart. There are SO many design tools and free assets to use in your podcast cover art creation. You can even explore PicsArt's customizable design templates to get even more inspiration for and easily create your own unique design.
Here's the step-by-step on how to make a good podcast cover. 
Open the

PicsArt app

and tap on the plus sign (+) at the bottom of your screen. Scroll to

Drawings

and open a square canvas setting the dimensions to 3000px x 3000px. Tap on the arrow at the top right of your screen to proceed to the next step.

Tap on the image icon at the bottom of your screen to upload a photo or sticker from your device's image library. You can also choose something from PicsArt's library of #FreeToEdit images and stickers. Tap to select the image. 

You can also create a design from scratch using tools like

Shape

,

Text, Masks,

and

Filters

. Hold and drag design elements like

Stickers, Text,

and

Backgrounds

to rearrange and resize them. You can adjust effects and colors, too. There are so many options here, so have fun getting creative!

When you have finished editing your

podcast cover art

design, tap on the arrow at the top right of your screen to save and share your image.
You can easily create a podcast cover on PicsArt's web editor, too! Here's the step-by-step on how to do it:
Open PicsArt

in your browser and select a custom size template. Set the dimensions to 3000px x 3000px. 

Tap on

Photo

in the left side menu bar to upload a photo or sticker from your saved files. You can also choose something from PicsArt's library of #FreeToEdit images and stickers. Tap to select the image. 

Continue to customize your podcast cover with

Effects, Text,

and

Shapes

. There are lots of great ways to get creative with your design online!

Once you are happy with your

podcast cover art

, tap

Download

in the top right corner to save your design to your computer.
That's it! Now you have some awesome new podcast artwork to help promote your podcast! Since you designed your cover art in a square format, it's perfect for sharing to social media, too. Now it's time to get to work perfecting your next podcast episode. The sky's the limit!
PicsArt all-in-one Photo and Video Editor, Collage, and Sticker Maker is the world's largest creative platform with over 150 million monthly active creators and influencers. PicsArt has collaborated with major artists and brands like Taylor Swift, The Jonas Brothers, Gwen Stefani, Maroon 5, Lizzo, Meghan Trainor, One Direction, MONSTA X, Warner Bros. Entertainment, iHeartMedia, Condé Nast, and more. Download the app today to level-up your photos and videos with thousands of quick & easy editing tools, trendy filters, fun stickers, and brilliant backgrounds. Unleash your creativity with PicsArt and upgrade to Gold for awesome premium perks!