Whether you're a vintage goods aficionado or you make crafts worthy of sharing with the world, you're probably familiar with the popular e-commerce platform that is Etsy. And, whichever of these categories you fall into, we'd venture to guess you're pretty concerned with aesthetics. Having the right images, especially Etsy thumbnails, can make or break the success of your online shop. 
Think about how much time you spend making your products, then consider how much heart you put into your Etsy images, thumbnails, and overall shop aesthetic. Creating a coherent scheme that keeps your Etsy store looking great as a whole will make your shop more attractive to potential customers. 
In this post, we'll cover everything you need to know about Etsy images, specifically thumbnail size, cover photo size, banner size, and more.

What is an Etsy thumbnail?
An Etsy thumbnail is the first photo that shows in your shop listing. Think of Etsy thumbnails as an essential part of your marketing, since they're the first image that potential customers see in search results and your home page. Any additional branding elements you add to your thumbnails can help Etsy images stand out from the crowd in search. 
It doesn't matter what you sell. All products look their best when you put some effort into displaying them well with high-quality images. So, give customers a good first impression of your page by having thumbnails that are the correct size.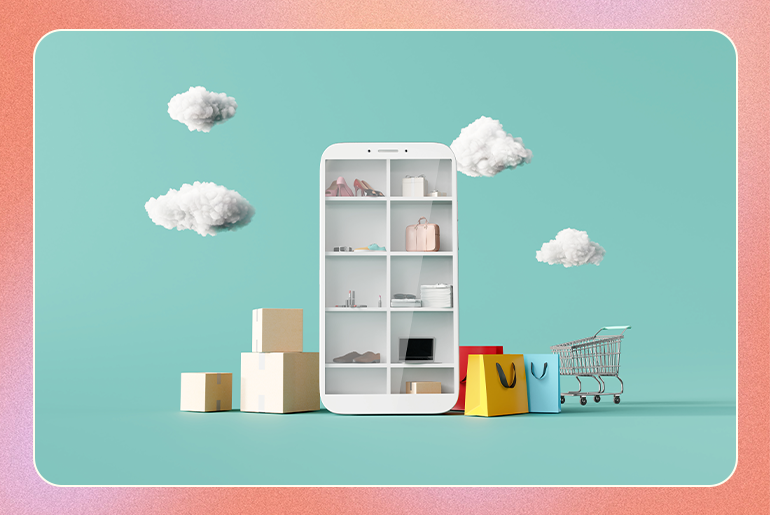 Why is it Important to Create a Thumbnail?
As on any platform, low-quality or incorrectly cropped images can create a sense of confusion, even mistrust. This rings especially true if you have a premium product or are working in a very competitive market. Put your brand's best foot forward by displaying your handiwork in the most visually-appealing way possible and leveraging this thumbnail space to get users' attention. This will help keep them on your page (not to mention, click through to buy products).  
What is the Best Size for an Etsy Thumbnail?
The correct Etsy thumbnail size is 570 x 456 pixels, or a 5:4 aspect ratio. Remember that it is always a good idea to use the recommended sizing of any image for social and e-commerce sites, as the wrong size photo can result in unwanted cropping or poor quality.
Some like to go as big as 2500 x 2000 pixels. Just be sure to keep your thumbnail image file size under 1MB to decrease load time on your page.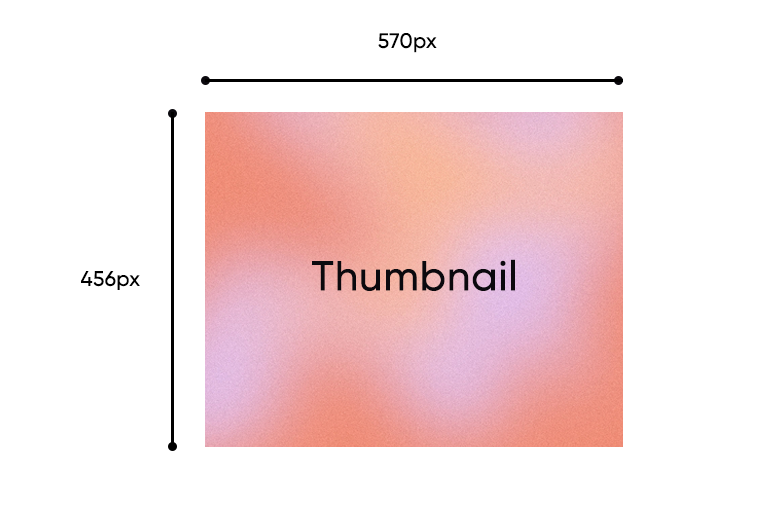 What is the Best Format for Etsy Images?
The aspect ratio of Etsy thumbnail photos is 5:4. What does that mean? Simply put: your Etsy image needs to be slightly rectangular. If you're not sure if your image is the correct size, you can easily resize it in Picsart. 
What are Other Photo Sizes in Etsy?
While this post focuses on Etsy thumbnail size, there are some other important image parameters to keep in mind for your Etsy shop. We cover everything you need to know for the right Etsy banner size and ideas in another article. 
Bookmark this page before you start designing your online shop to make sure all of your images are all the correct size.  
Etsy banner size (aka the Big Shop Banner): 1920 x 480 or 1600 × 400 pixels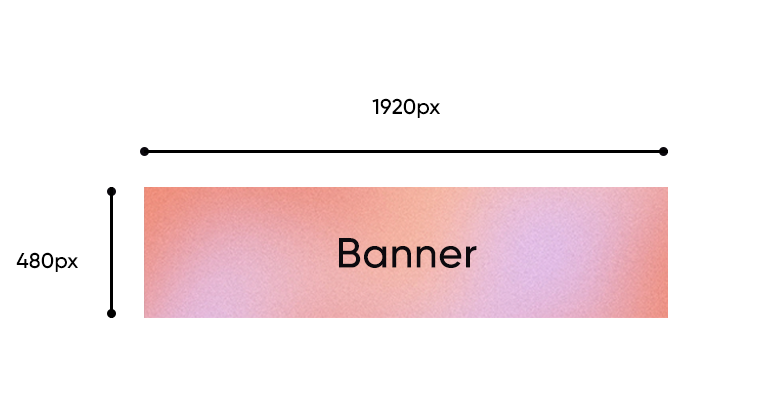 Cover photo size: 1200 x 300 pixels minimum, 3360 x 840 recommended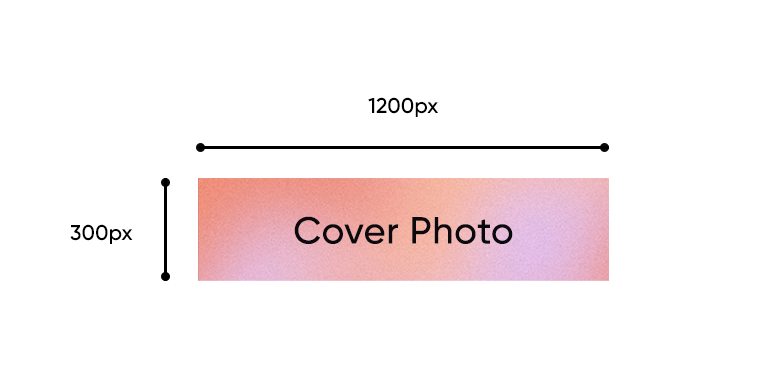 Shop banner size: 1200 x 300 pixels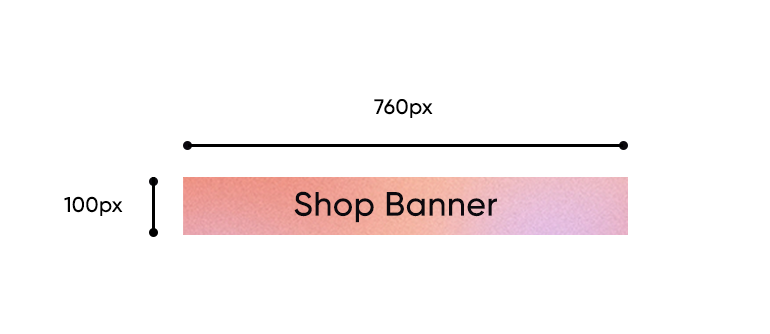 If you're making a collage, consider the number of photos in your banner. The Etsy collage banner sizes are: 600 x 300 pixels (2 images); 400 x 300 pixels (3 images); and 300 x 300 pixels (4 images).
What Makes a Good Etsy Thumbnail?
Now that you know what's the best size for an Etsy thumbnail, it's time to consider what they should actually look like. Consider the below when searching for new thumbnail ideas. 
Good lighting 

Sharp details 

Details that can be appreciated in a small form 

Colors that align well with the rest of your page theme

Legible text (if the image contains it) 

Contrast 

High-quality photo/image 

Simplicity (this is a small space, so don't pack it with visual elements) 

Circle cropped images that help you zoom in on specific details

Props that help support themes or product attributes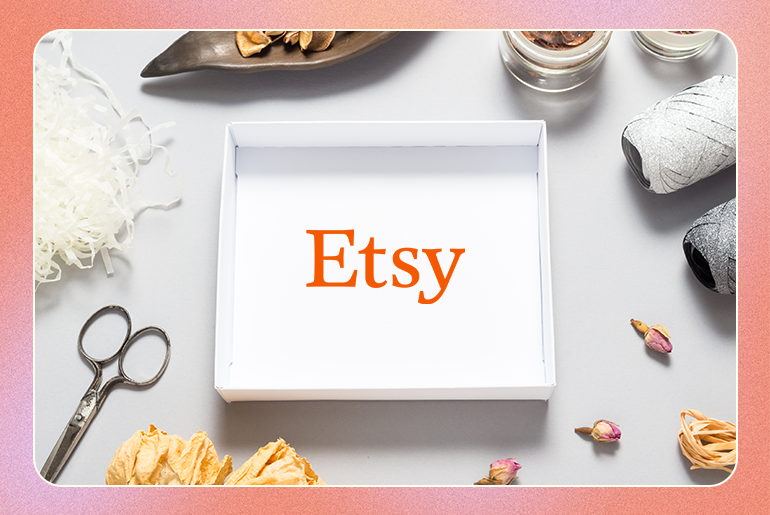 How to Make an Etsy Thumbnail with Picsart
Ready to get the right images for your Etsy shop? Here's how to nail your thumbnail every time with Picsart. We'll first show you the steps to make an Etsy thumbnail via the Picsart app and then show how to make a supporting Etsy shop cover photo using templates on web. The process is similar on both, but this way you can see how to make a variety of Etsy images across both mobile and desktop editors.
1) Open the Picsart mobile app and press the plus sign (+) at the bottom of the page to start a new edit. Scroll down and select Create New under Drawings and select white for a blank canvas. Alternatively, you can also select a textured background or draw on a photo.
Here you can also select your canvas size. Type in the Etsy thumbnail size: 570 x 456.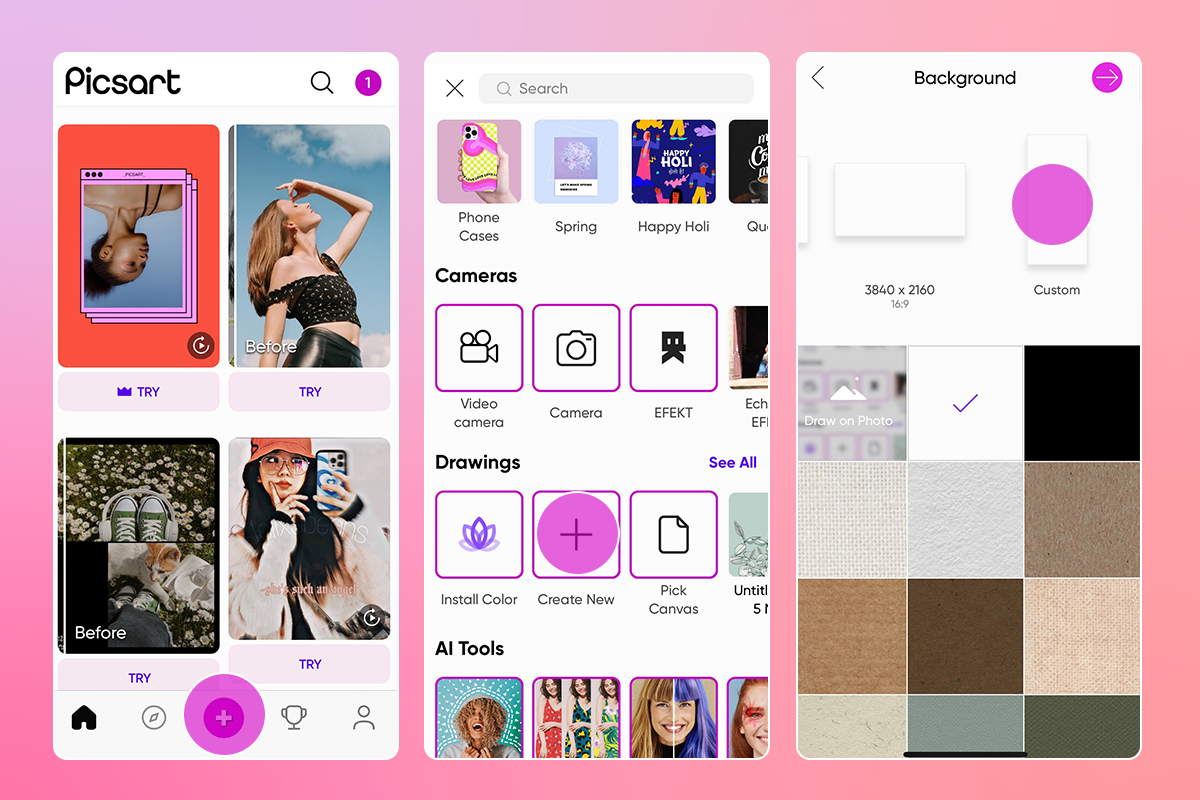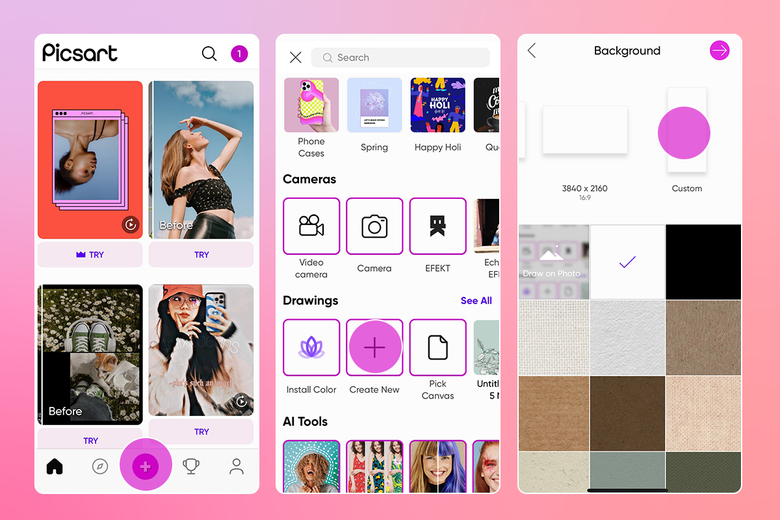 2) Now it's time to select a background image. Tap on Add Photo and select your favorite.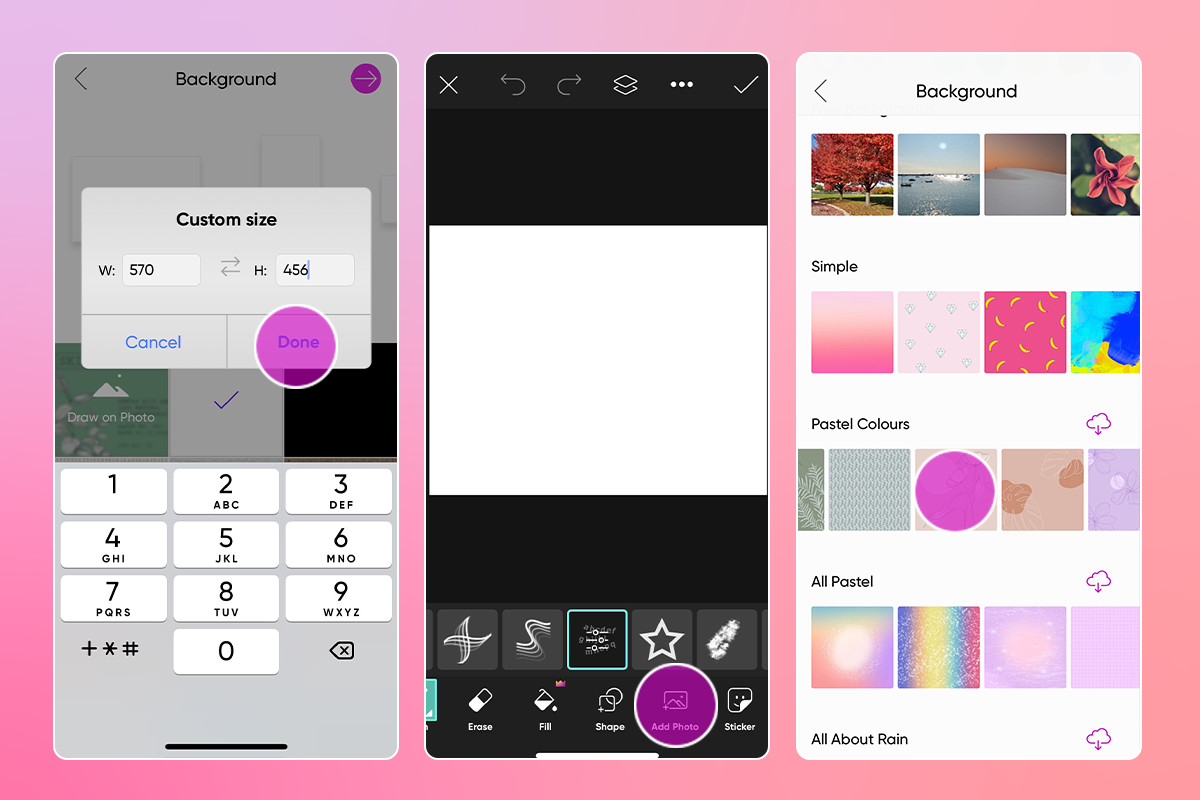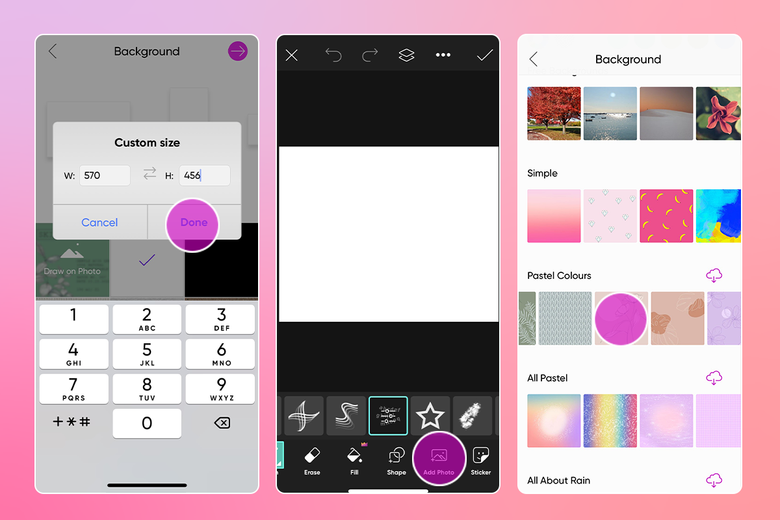 3) Tap on Text in the Editor toolbar and type in your text. Select the check arrow in the upper corner when done adding the text. Here you can also change the font face, size, color, shadow and more.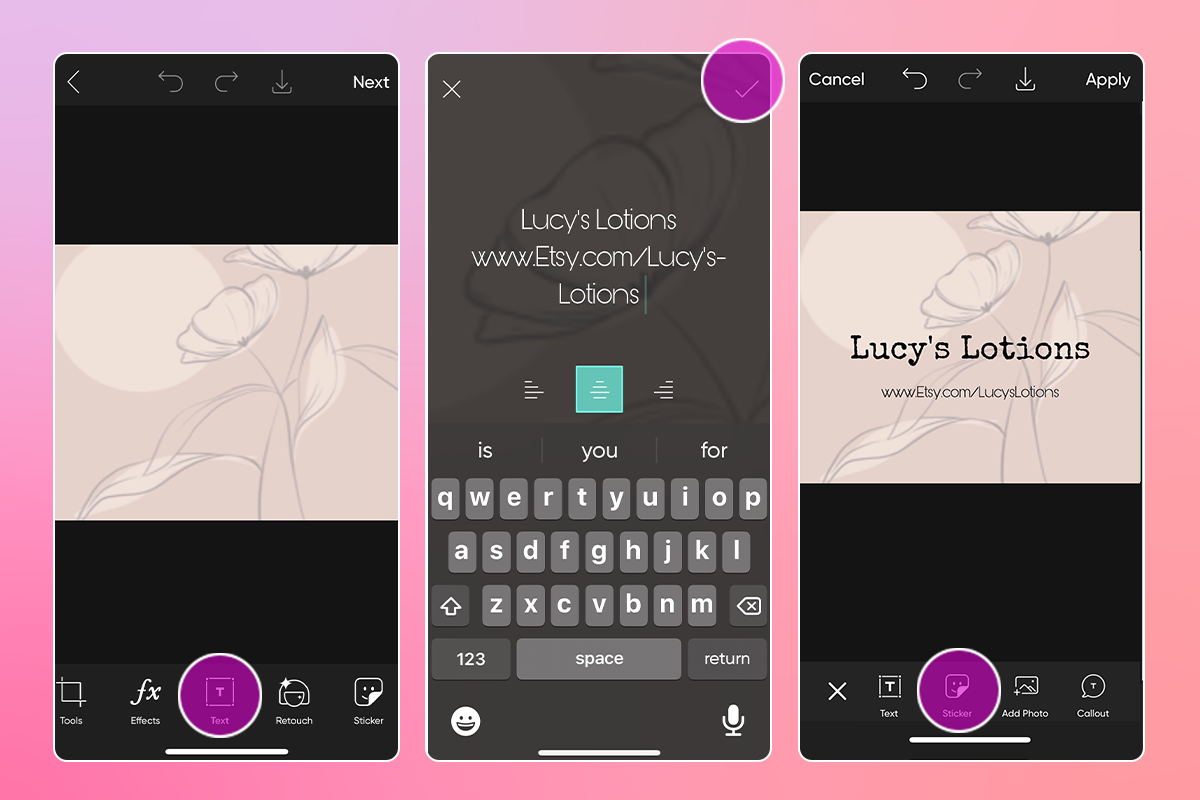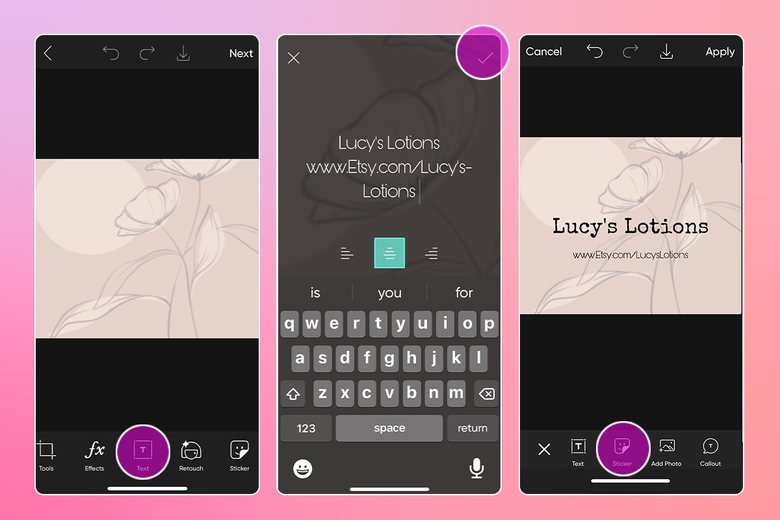 4) Select Stickers in the Editor toolbar, then search for and add relevant stickers that support your thumbnail image. If you have free shipping or a special sale, this is a great place to add them in.
When done creating your custom Etsy shop thumbnail, select the downward arrow to save it to y our phone. Here you can select the image format too.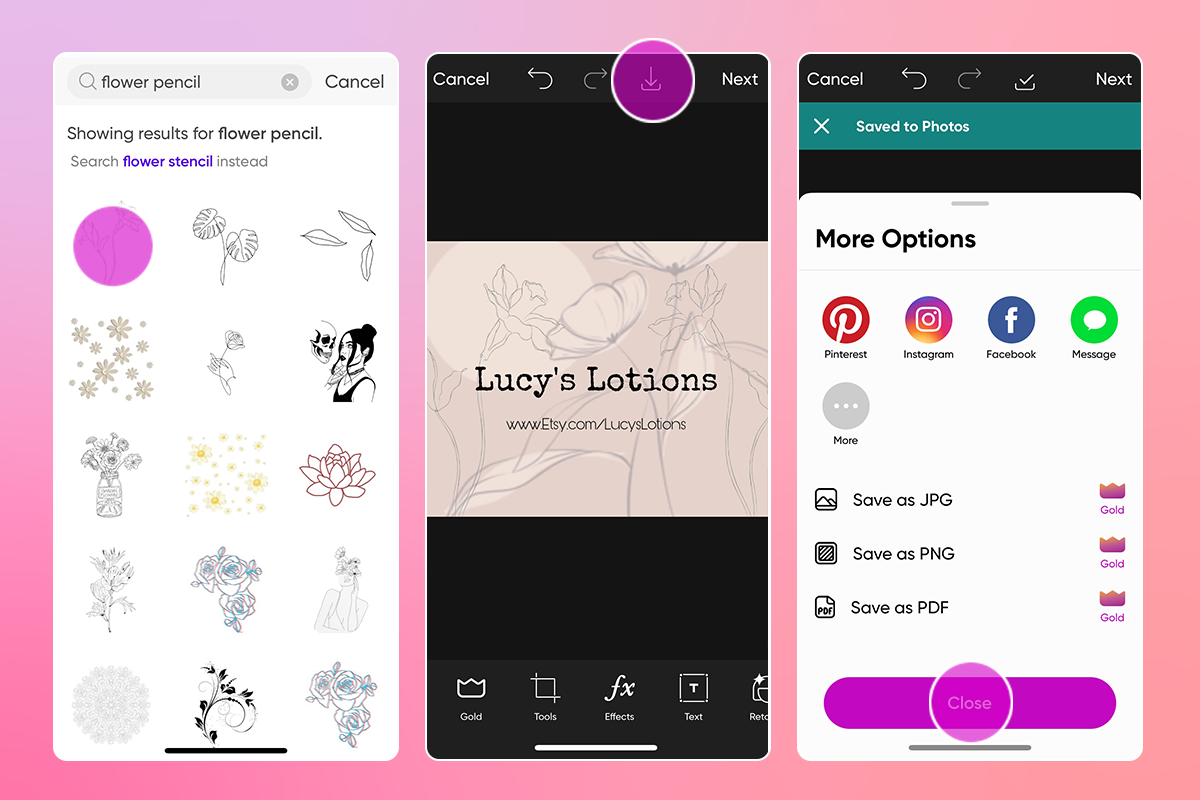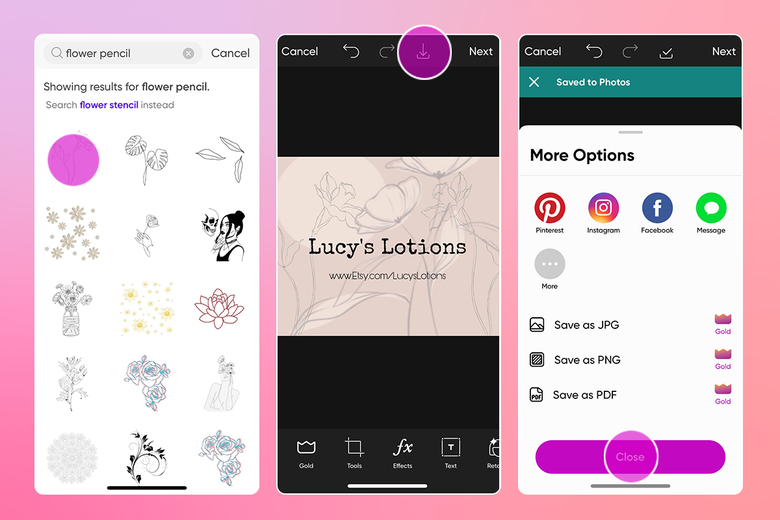 How to Make an Etsy Cover Photo with Picsart
Here's how to make a cover photo using a variety of Etsy templates in Picsart Web Tools. You can take a similar approach as outlined above to design your own Etsy cover photo from scratch in web tools as well. If in doubt, you can also consult the easy to use Picsart Resize quick tool.
1) Open the Picsart Web Editor. Pick your canvas size under the Designing For section. Select Custom Size, and enter 1200 x 300 pixels into the respective height and width fields of the pop-up menu.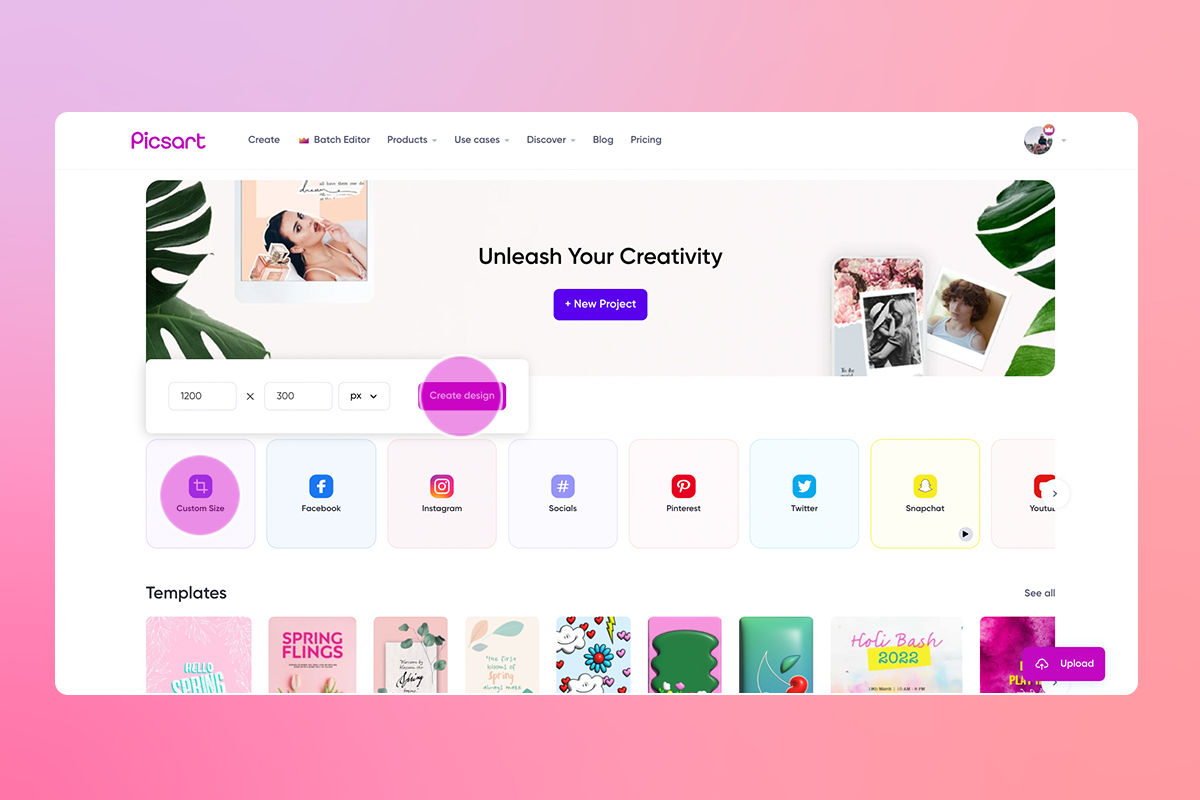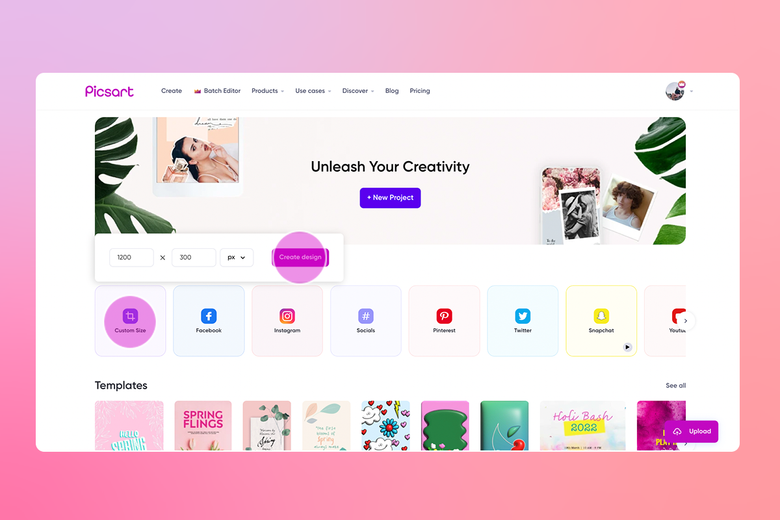 Pro tip: There are tons of ready-made templates for Etsy shops. Just click on Templates in the left Editor panel and search for Etsy cover from the All Templates drop-down menu on the left-hand side of the screen.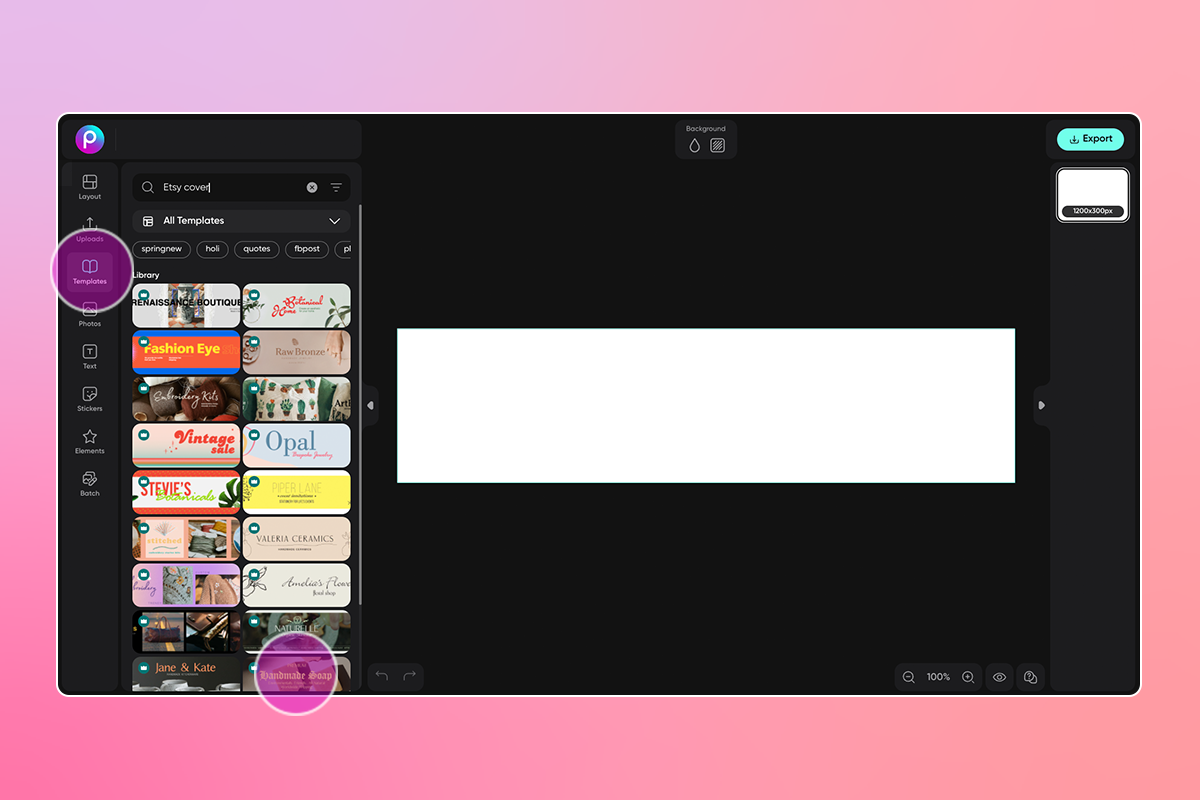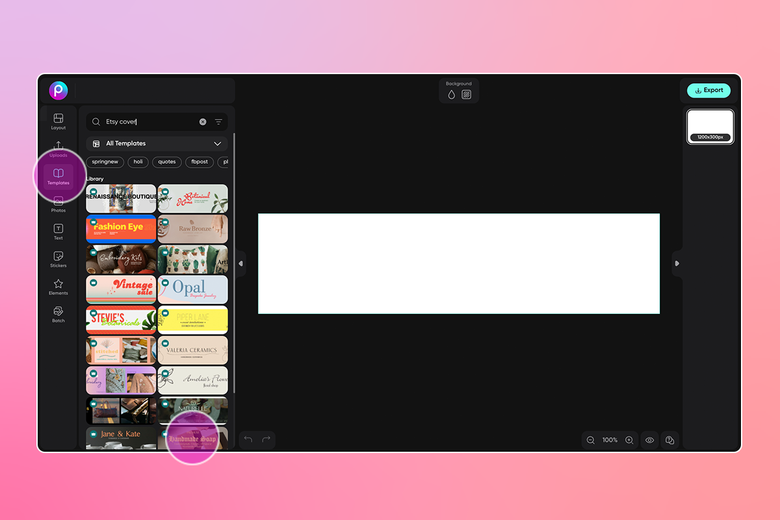 2) To edit the Etsy template, just click on various elements in the layers tabs on the right panel. You can change the text by clicking on the text box and tying in your own copy. You can also change the font face by clicking on the Font tool in the top panel and searching for a new font.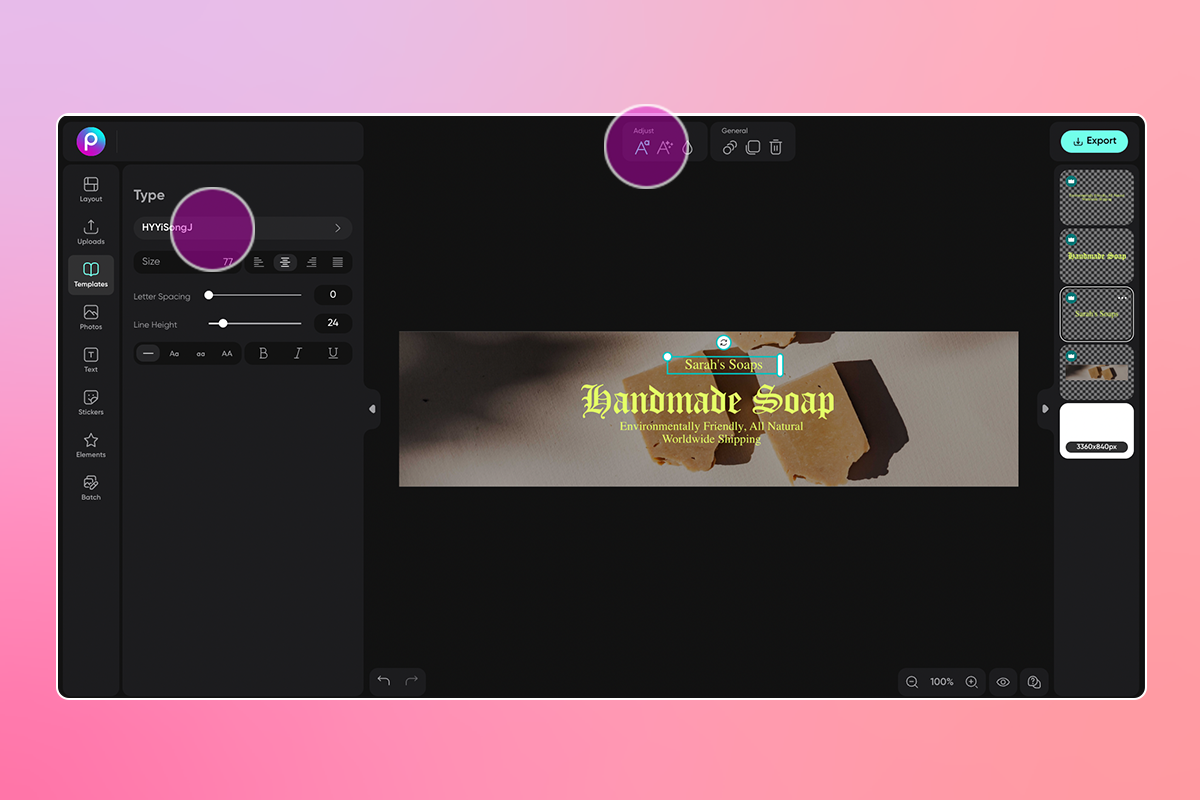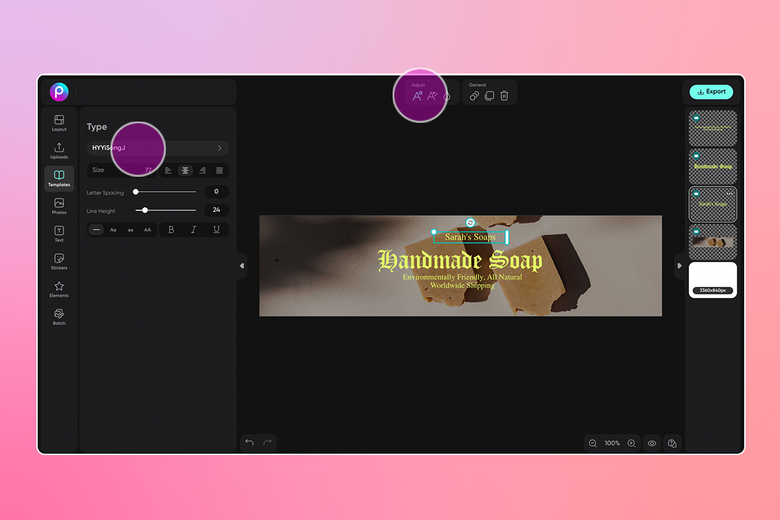 3) Don't forget to further customize your Etsy template by adding Stickers. Simply click on the Stickers icon in the Editor panel on the left and search for something that compliments your shop aesthetic. Here, we went with yellow tape to match the yellow font. Once the sticker is on the canvas, you can stretch, shrink, or move it as needed.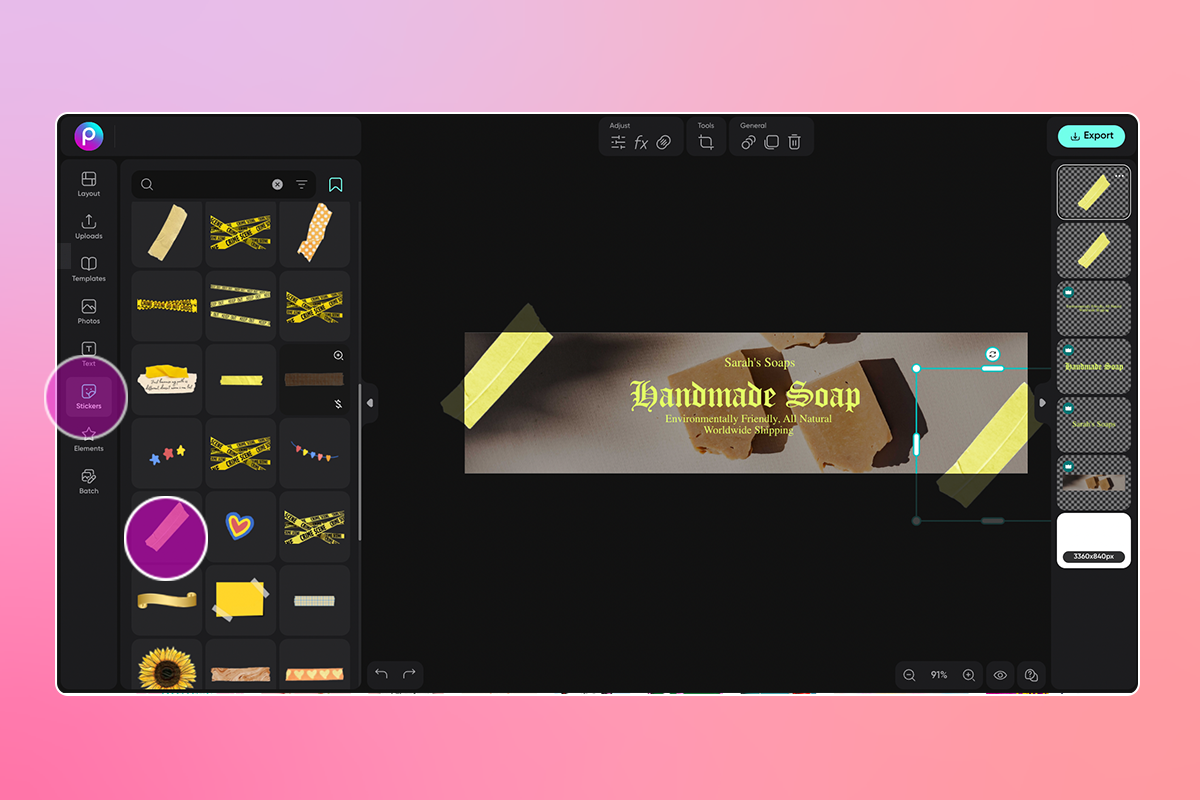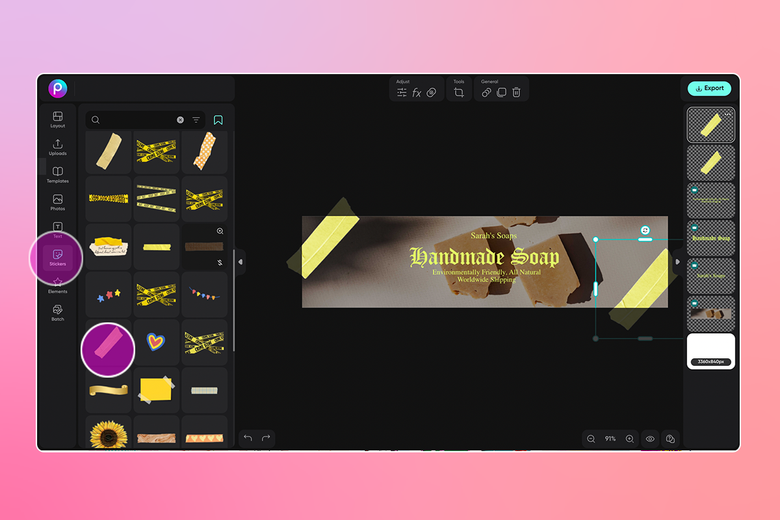 Pro tip: Think about your page as a whole as you design. The goal is to have thumbnails that look good next to one another and a cover photo that ties your whole shop experience together. So, whatever type of design you decide on, make sure it feels cohesive. Try not to change colors, fonts, or other elements from one photo to the next unless these elements complement each other well in the end. Also, let the photos of your product shine. There is no need to pack thumbnails with unnecessary elements, and this will just make your page look busy.  
6) When you're finished with your Etsy cover photo, click on Export in the upper right-hand corner of the screen and download your image. Now, you're ready to share your new Etsy photos with the world.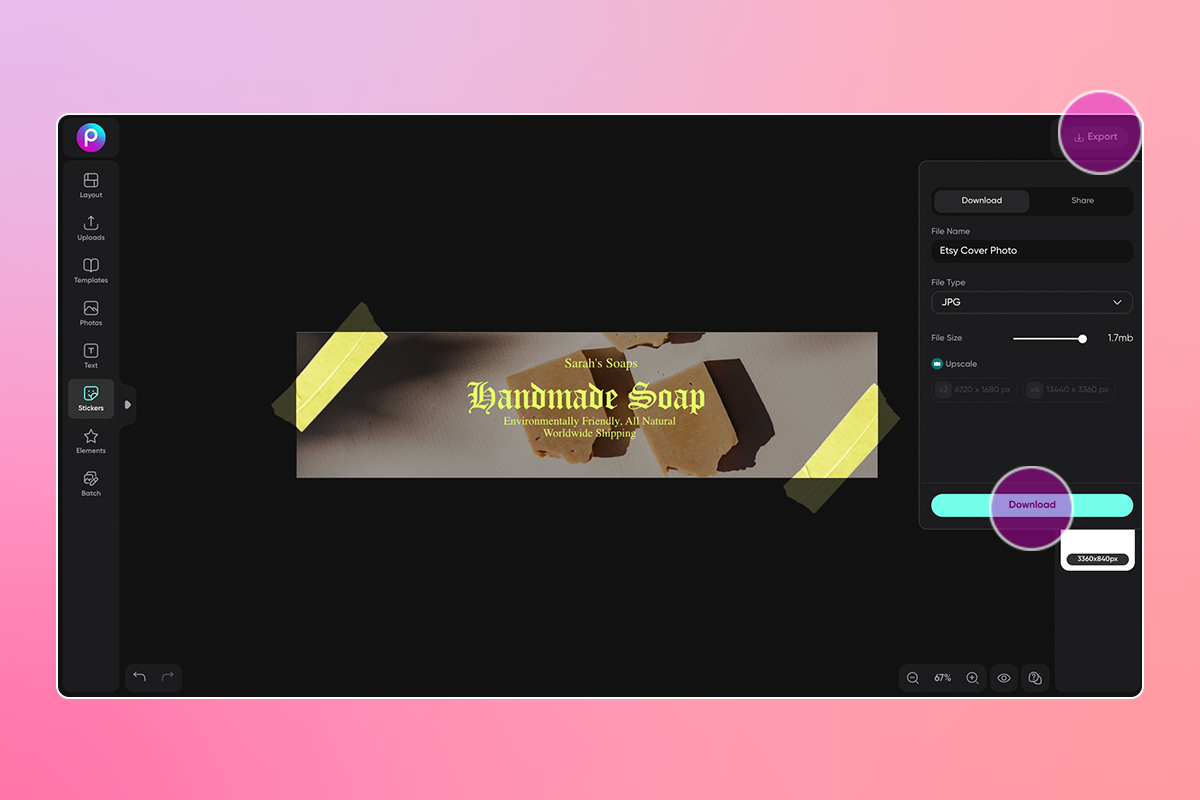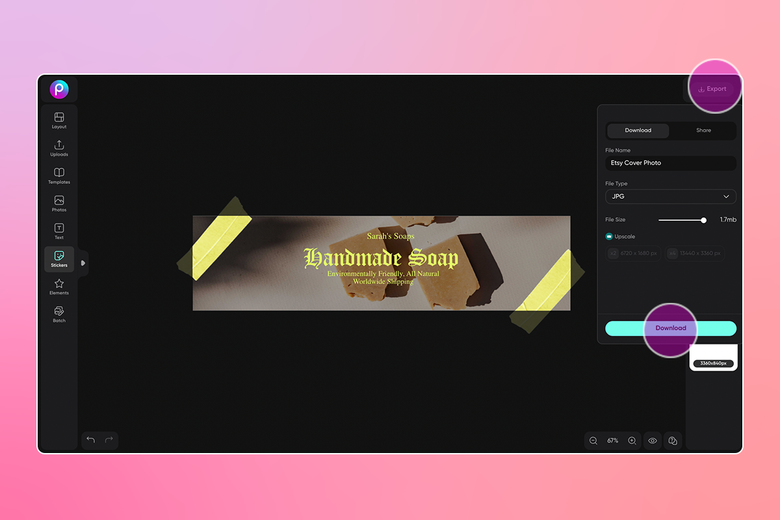 Picsart is a full ecosystem of free-to-use content, powerful tools, and creator inspiration. With a billion downloads and more than 150 million monthly active creators, Picsart is the world's largest creative platform. Picsart has collaborated with major artists and brands like BLACKPINK, the Jonas Brothers, Lizzo, Sanrio: Hello Kitty, I am a Voter, Bebe Rexha, Maroon 5, One Direction, Warner Bros. Entertainment, iHeartMedia, Condé Nast, and more. Download the app or start editing on web today to enhance your photos and videos with thousands of quick and easy editing tools, trendy filters, fun stickers, and brilliant backgrounds. Unleash your creativity and upgrade to Gold for premium perks!