American artist James Abbott McNeill Whistler once called mauve "just pink trying to be purple." This makes a lot of sense if you take a good look at the hue. The Mauve color has a truly rich history and a myriad of uses in design. 
In this post, we'll explore the meaning of the color mauve, list the colors that pair well with it, and show you how to easily incorporate mauve into your designs.     
What Color is Mauve?
Mauve is a muted light purple with a grey accent. Similar to other purple shades named after flowers (violet and lavender), mauve is named after mallow flowers.
Its hex code is #E0B0FF. In the RGB color space, mauve color consists of 87.8% red, 69% green, and 100% blue, while in the four-color system CMYK it is made up of 12% cyan, 31% magenta, 0% yellow, and 0% black.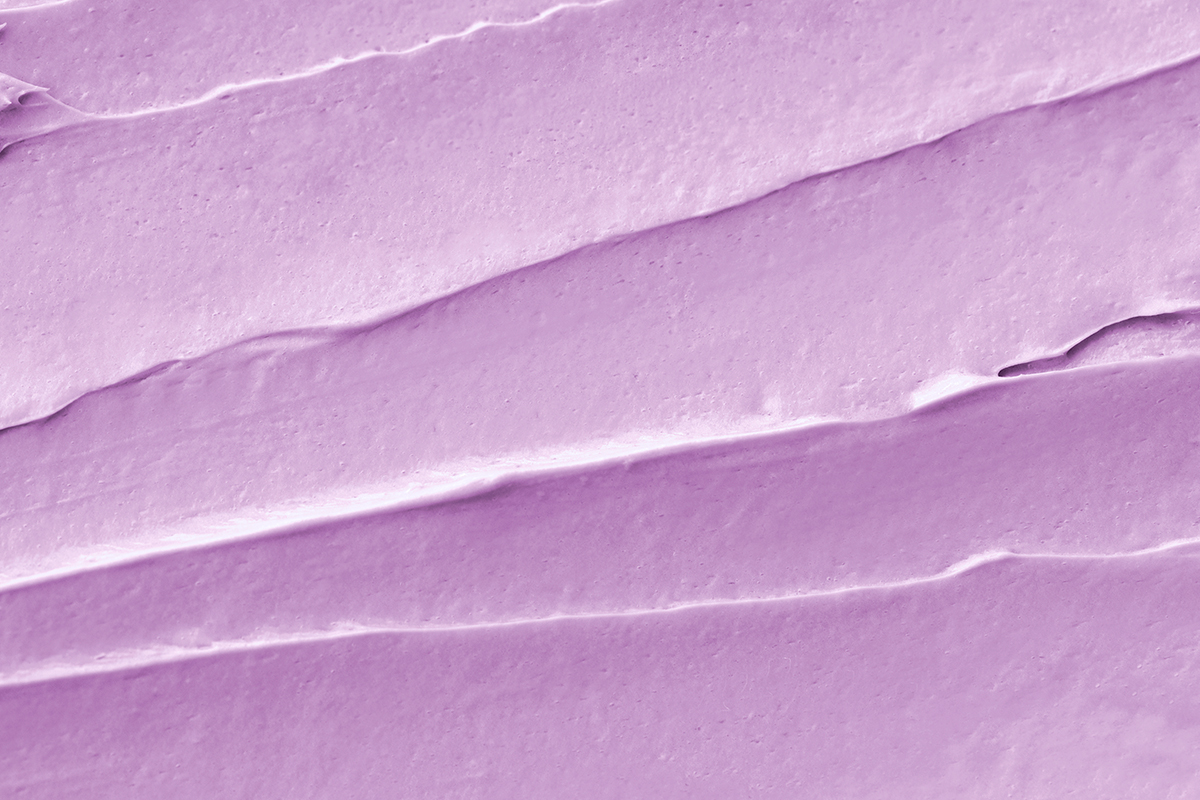 What's the Story Behind the Color Mauve? 
Mauve color is often referred to by historians as the color that changed the world. Why? Because of the inquisitive young student William Henry Perkin. During his search for a malaria cure in 1856, Perkin discovered the first synthetic dye in an intense purple shade. He called it mauveine. 
Now known as Perkin's mauve, the color democratized purple, a hue previously associated with royalty. Soon, garments in a mauve color were soon seen in the best houses of Paris and London. Queen Victoria and Empress Eugenie also championed the mauveine aesthetic. With time, Perkin's mauve discovery became such a commercial hit that the 1890s came to be known as the "mauve decade." 
The discovery gave a big boost to the chemical industry, but perhaps its most important application is in the medical field. Thanks to Perkin's mauve, scientists like Walther Flemming, Robert Koch, and Paul Ehrlich were able to respectively color cells and study chromosomes, discover the tuberculosis bacillus, and come up with chemotherapy. 
What Does the Mauve Color Mean?
The wide availability of mauve garments in the latter half of the 19th century somewhat tarnished its regal luster. However, the mauve color remains a symbol of sophisticated taste and nobility.
Nowadays the mauve color's meaning has gathered a dust of nostalgia: it is associated with romance, valor, knighthood, and idealism. Ubiquitous in interior design and wedding invitations, mauve color is a grounded feminine color that intrigues and enchants onlookers.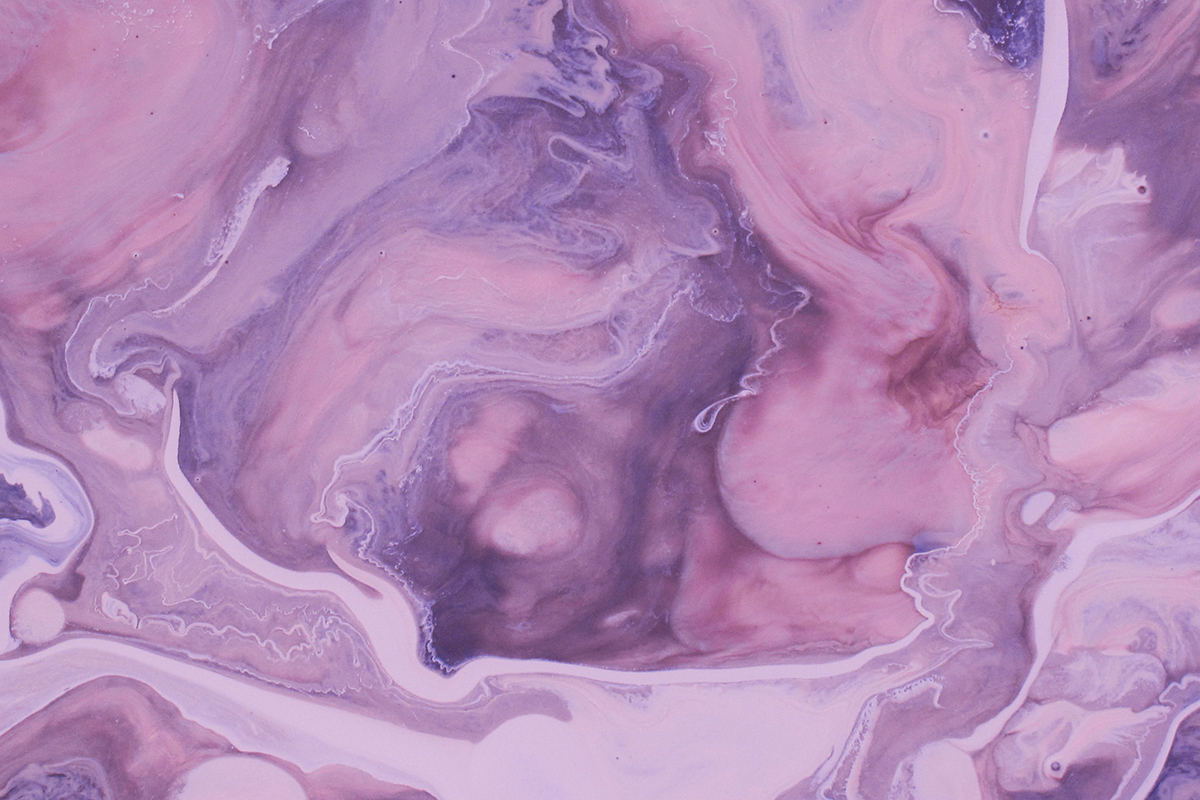 According to color psychology, mauve suggests originality of thought, artistic ambition, openness, and effortless elegance. As is with most shades of purple, it is the color often chosen by eccentrics, daydreamers, and individualists. 
What are the Colors that Go with Mauve?
To find out what colors pair well with mauve, we have to brush up on our color theory. Here are some color combinations that may work really well in your mauve designs. And if you want to create a mauve color palette, try out our color palette generator. 
Try combining mauve with Tea Green (hex color #CFFFB0), a pale yellow-green, to really make your design pop. This is a complementary color for mauve, meaning it's the opposite color on the color wheel, and makes an extremely eye-catching contrast.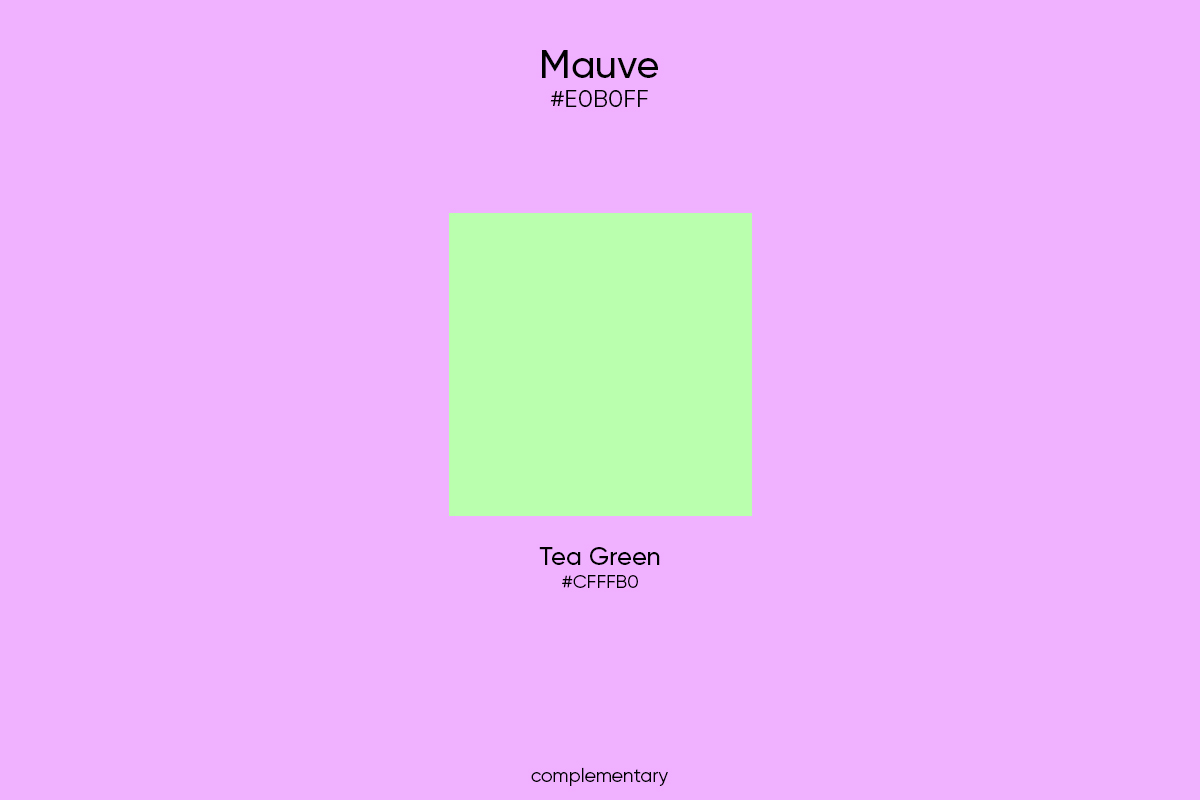 Use pale pink (hex color #FFB0F7) and lavender-blue (#B9B0FF) with mauve color to create an analogous color scheme. Feminine and soft, this color combination is perfect for communicating lightness, sugar and spice, and everything nice.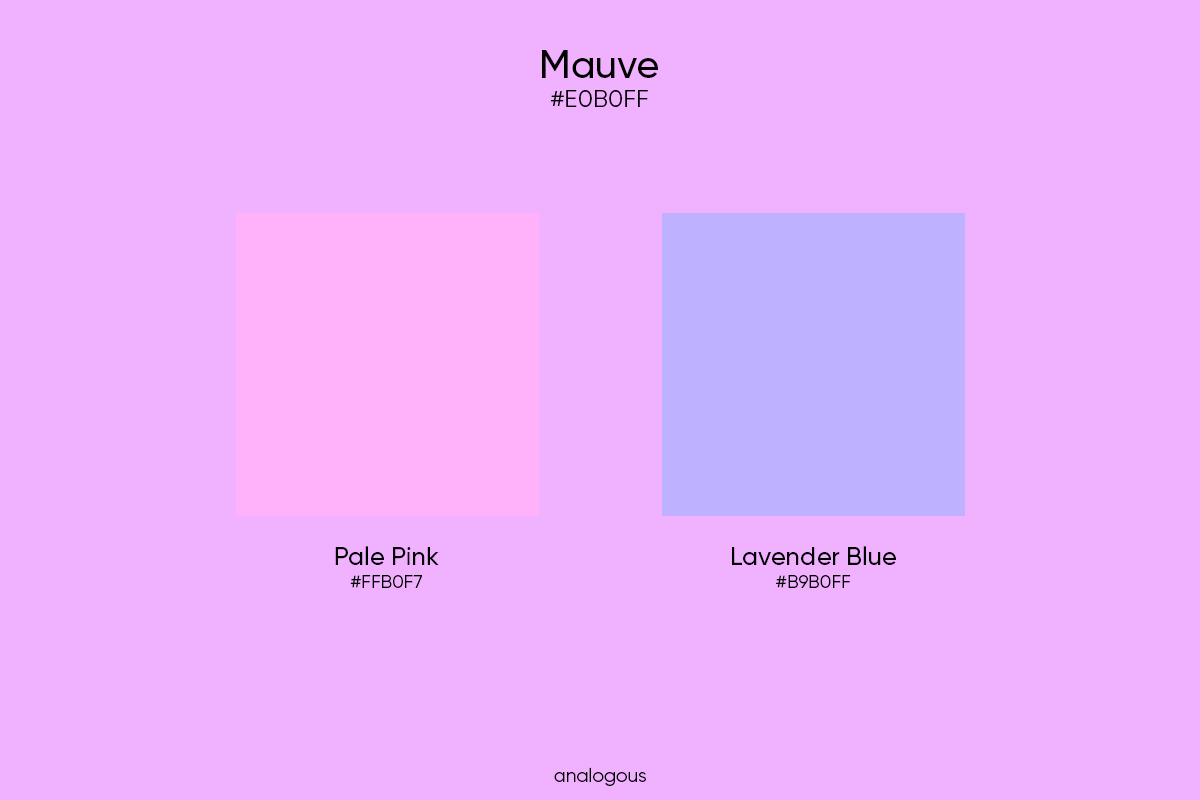 Combine mauve with Navajo White (#FFE0B0) and Magic Mint (#B0FFE0) for a pastel triadic scheme. This combination works well in designs for children. It's best to pick one of the three colors as the main shade, and use the other two colors as accents.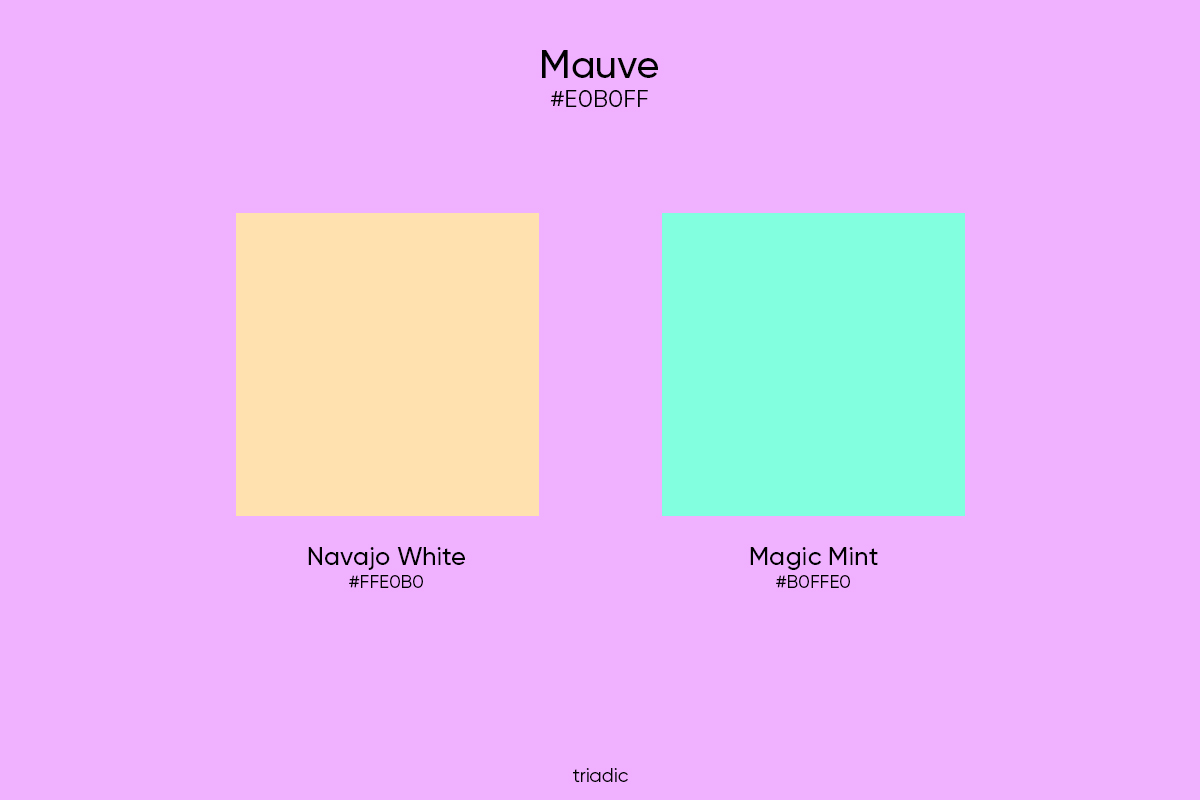 Consider pairing pale red (#FFB9B0), mauve color, Tea Green (#CFFFB0), and light blue (#B0F7FF). These are two sets of complementary colors, so you'll get a tetradic color scheme that's versatile and attention-grabbing.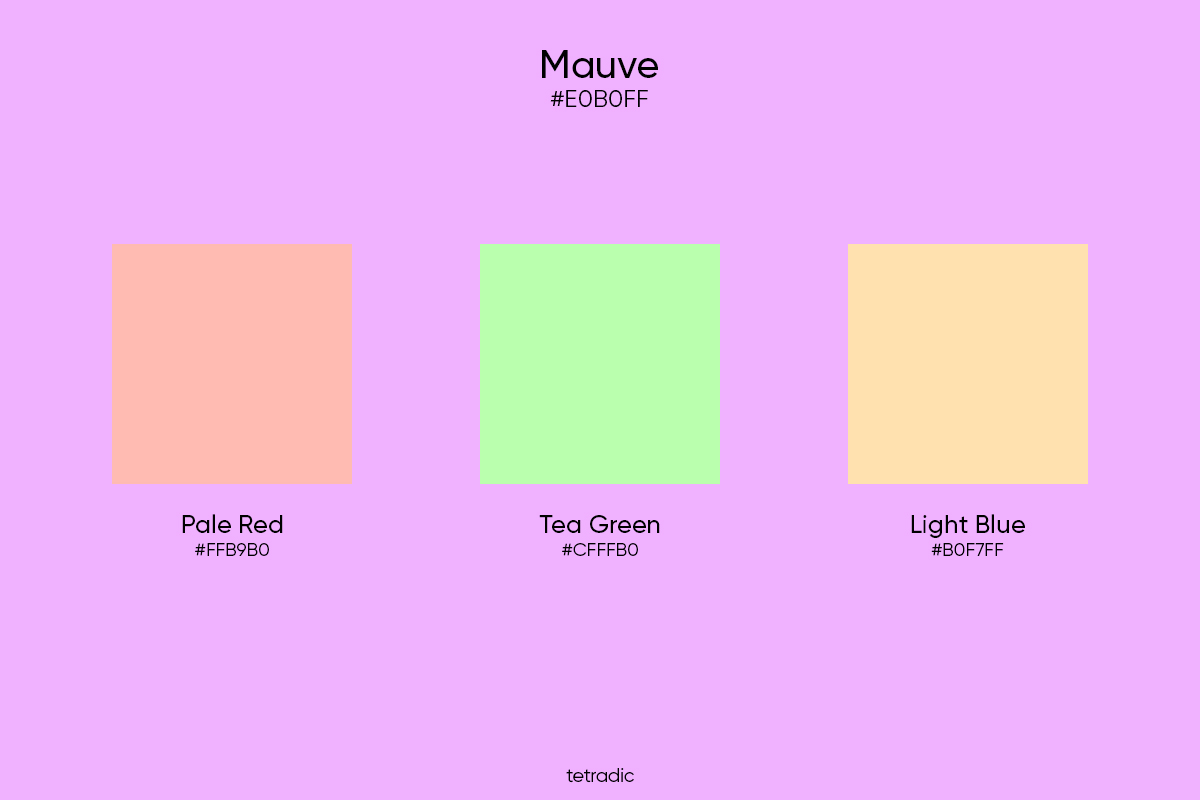 Many designers love monochromatic palettes because they're a visual delight to work with. Combine mauve with Electric Purple (#9A00FF) and Indigo (#4D007F) – or any number of shades of purple for that matter – to showcase purple in all its intricate shades.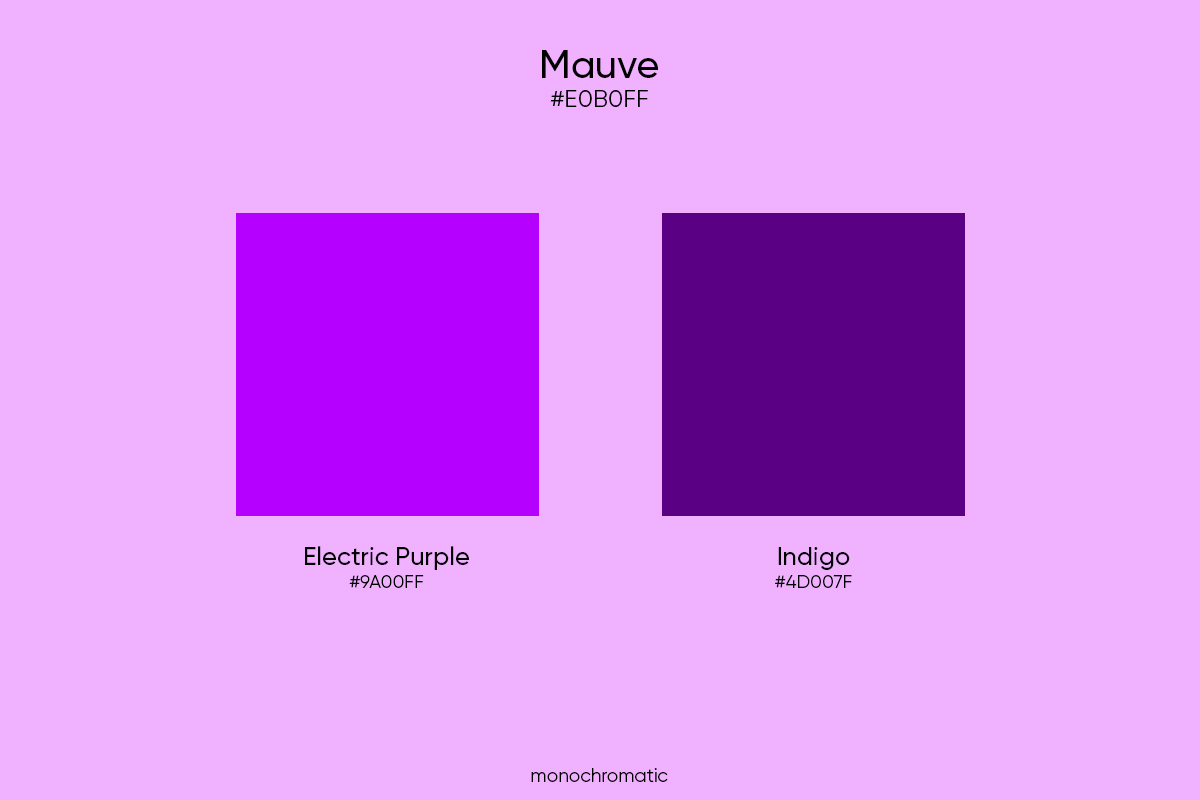 Does combining mauve with its complementary color seem too much to you? We get it. Try pairing it with its split complementary colors, Mint Ice Cream (#B0FFB8) and Paint Chip (#F6FFB0). This will help you achieve a harmonious and reserved palette.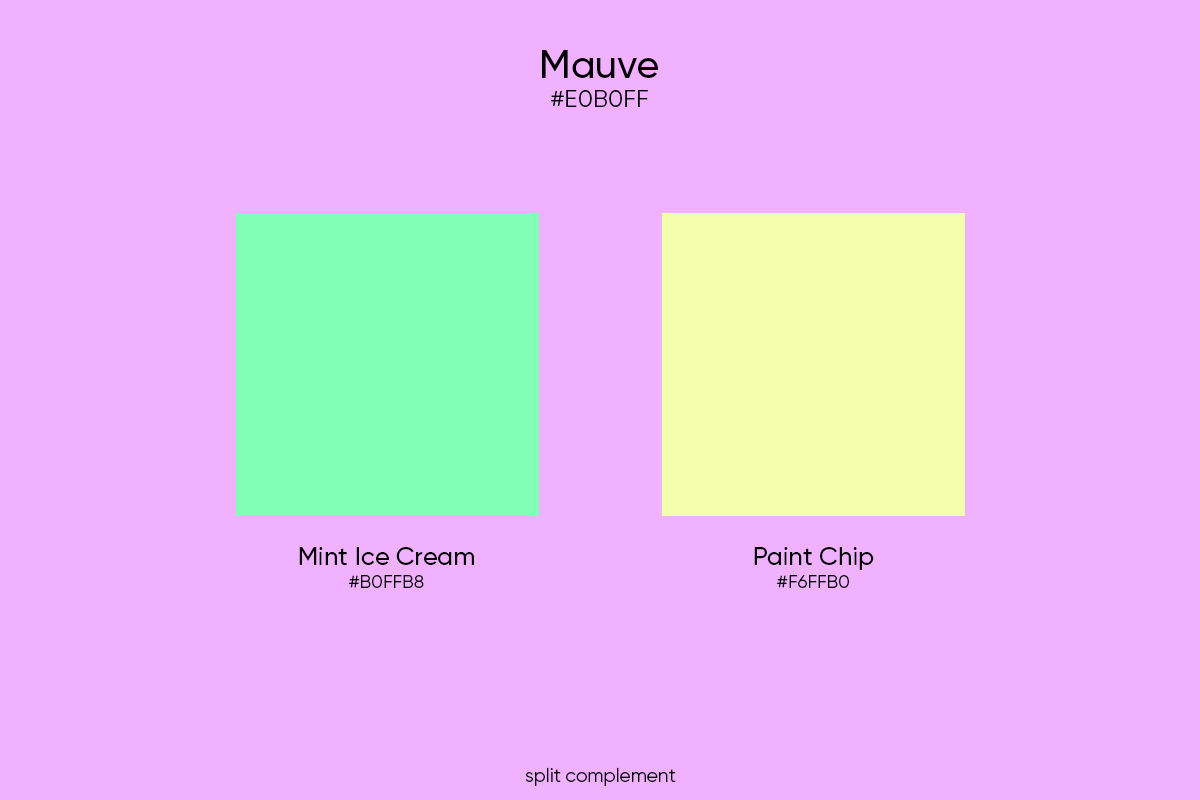 Similar Colors to Mauve
If you're not sure if the mauve color is right for your design, consider these similar colors.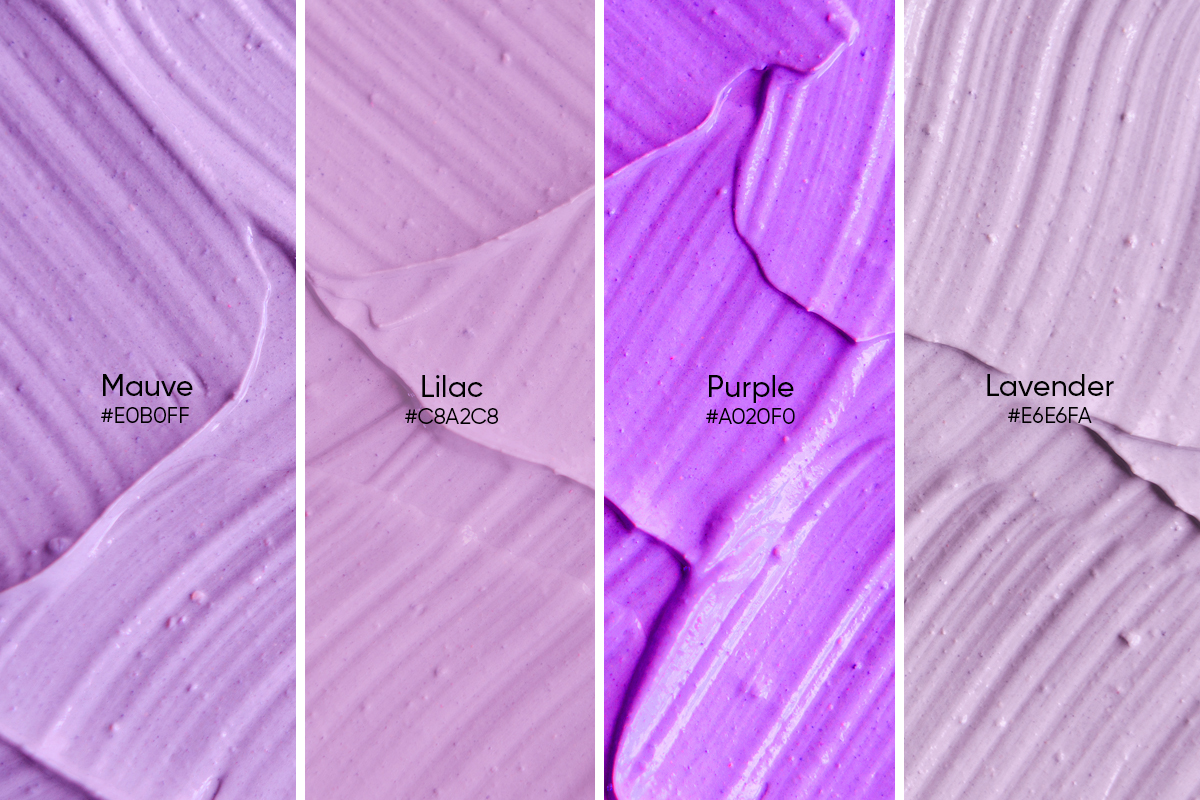 The difference between lilac and mauve is that the former is lighter and more purple in hue. Lilac has the hex code of #C8A2C8 and is made up of 78.43% red, 63.53% green, and 78.43% blue. 
A gorgeous pastel color, lilac communicates a sense of calm, grace, and vibrancy, making it perfect for nature-themes.
Maybe the pure and regal color of purple is what you're looking for? With a hex code of #800080, purple is made up of 50.2% red, 0% green, and 50.2% blue. In the CMYK color space, it consists of 0% cyan, 100% magenta, 0% yellow, and 49.8% black. 
Purple may be more suitable for your design if you're looking to convey authority, strength, power, regality, and independence. 
Lavender is another popular alternative to mauve. It has hex code #E6E6FA and consists of 90.2% red, 90.2% green, and 98% blue. 
Named after the lavender flower, this shade has more purple and white than mauve. This makes it the ideal choice if the "pinkness" and warmth of mauve is something you're trying to move away from. According to color psychology, lavender stands for purity, uniqueness, devotion, youthfulness, and tranquility.
Create Fantastic Photos Using This Color
If you're ready to start experimenting with mauve designs, then it's time to open Picsart. Whether you want to edit online or on your mobile device, follow the instructions below to get started working with the mauve color: 
Here's how to make a mauve design in the web editor:
Step 1) Open Picsart's Online Editor and pick a size to start a new design. Here we went with a preset square size, perfect for social media posts.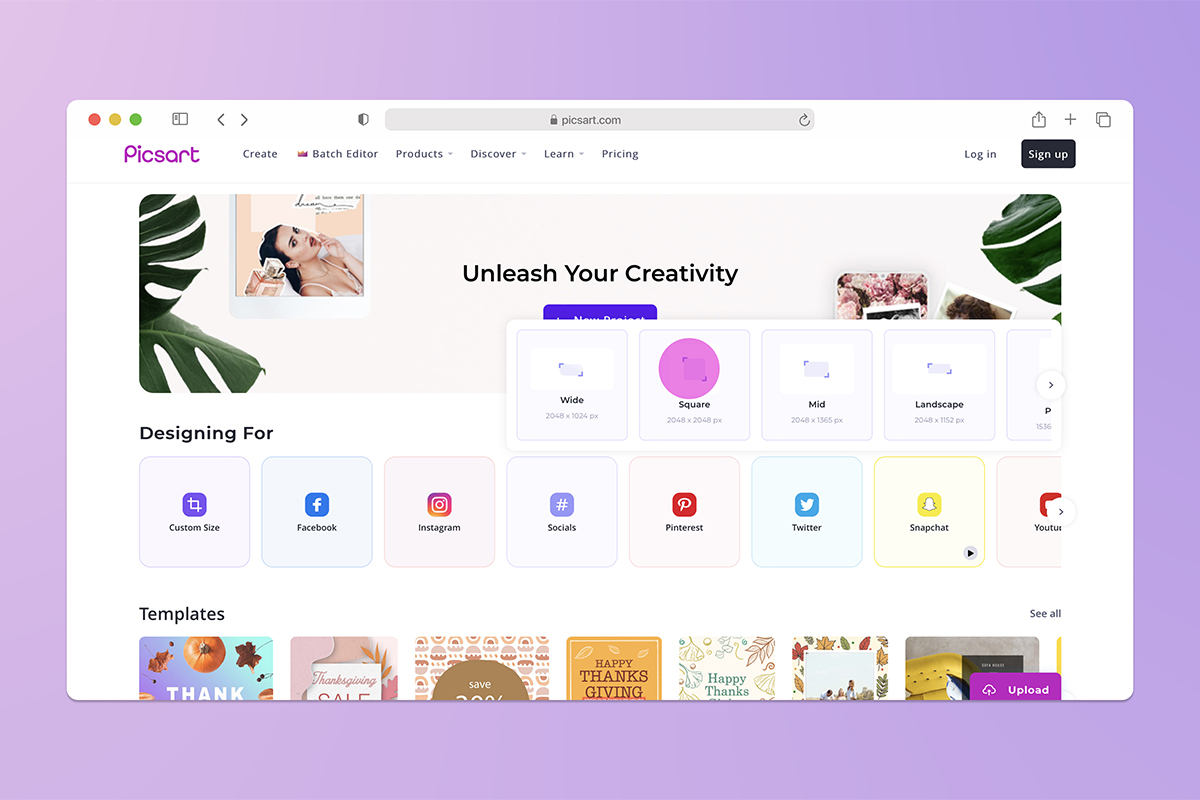 Step 2) Click on Shapes in the left panel and select a shape of your choice.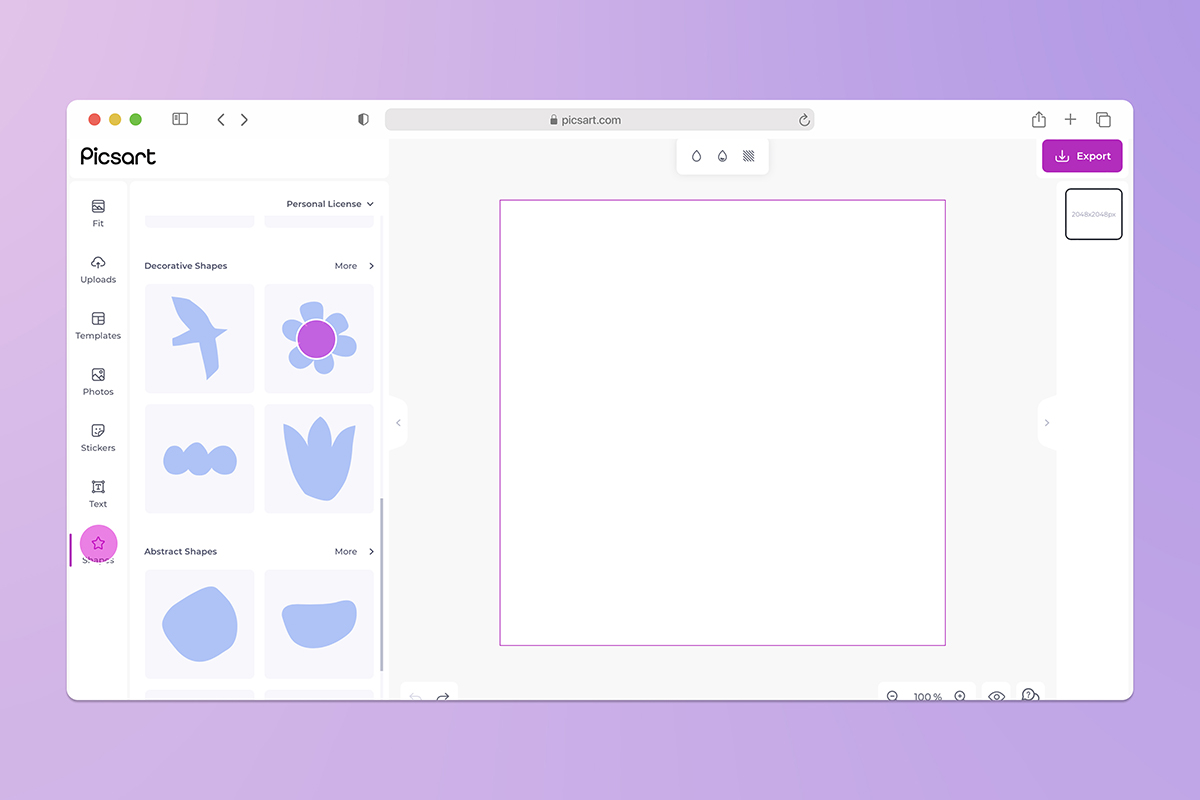 Step 3) Add as many shapes as you like. Then select Color in the top panel to open the color picker. Type in the hex code for mauve.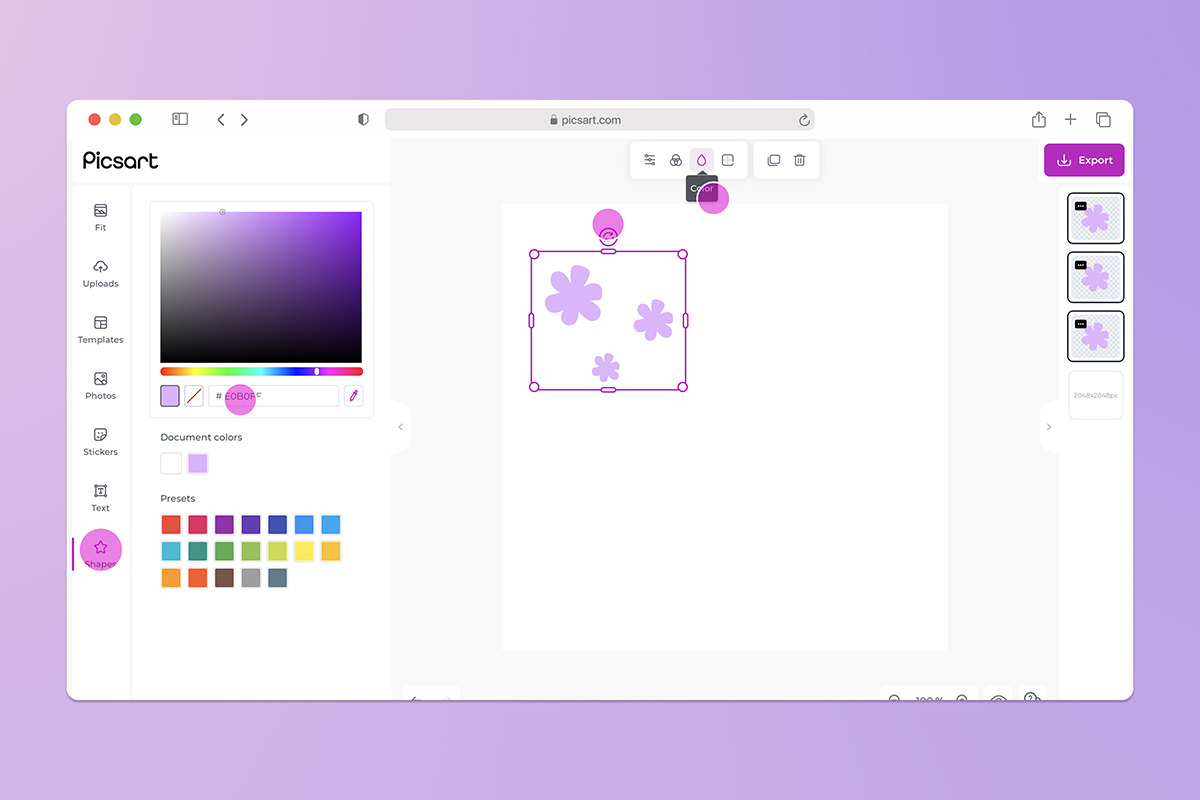 Step 4) Now that you have mauve color flowers, it's time to add some text! Select Text in the left panel, then type your text and select a font. Use the color picker tool in the top panel to change the color of your text.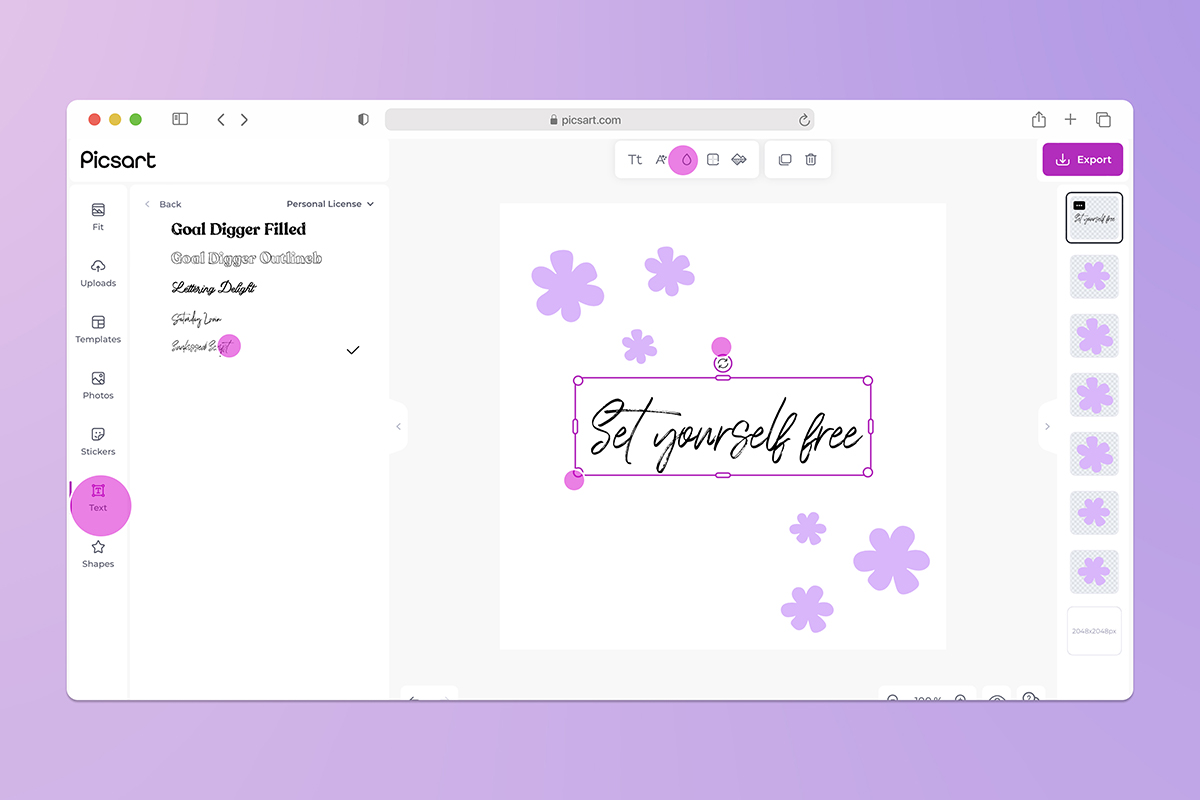 Step 5) Add more mauve elements to complete your design (here we added more flowers). Then, click on Export to save and download your image to your laptop. Here you can also upscale the image and select the file type of your choosing.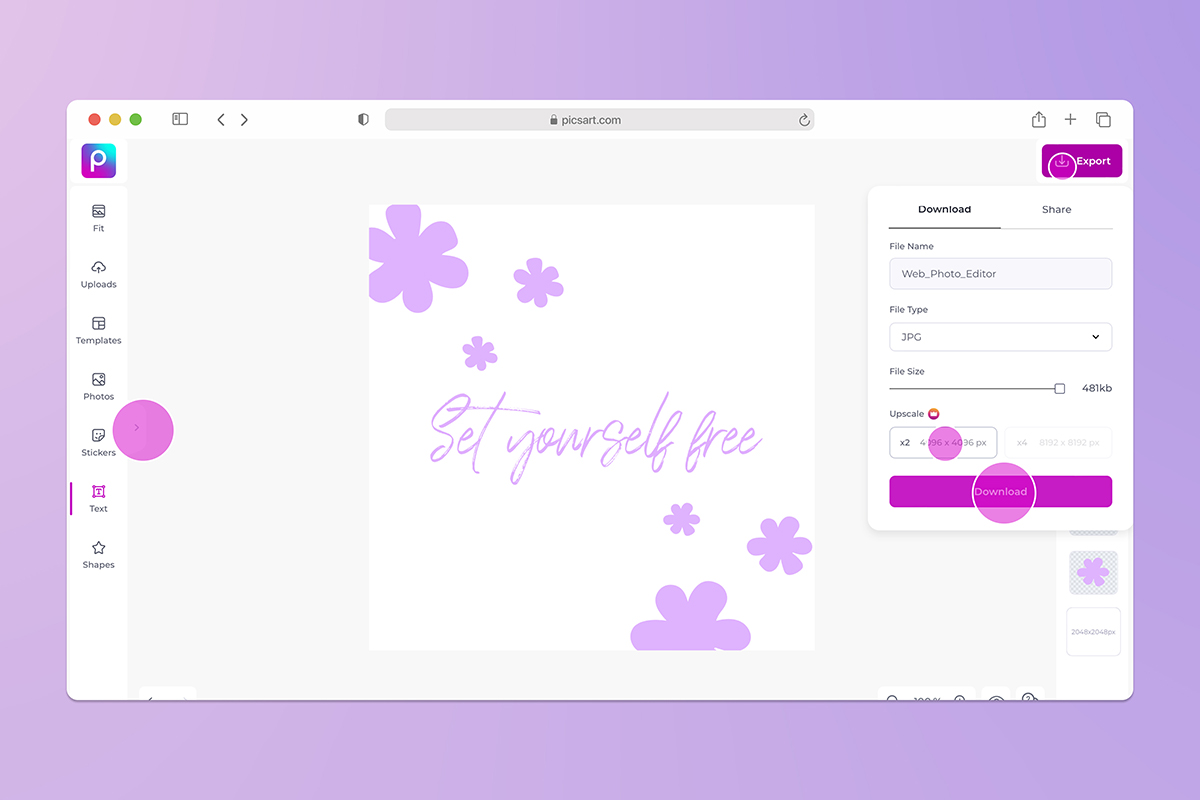 Want to add some other mauve colors to your design? Consider any of these while in the Editor.
Mauve Templates
Click Templates in the left panel of the Editor and search for 'purple.' Scroll down to pick one that features mauve and click on it to begin customizing. 
Mauve Backgrounds 
Light and enigmatic, mauve is a great background color choice. Just click Color on the top menu above the Editor, type in the hex code #E0B0FF, and click Enter. Now you have a mauve color background. 
Mauve Stickers
Looking to add a mauve decorative item or icon to your design? Click Stickers and search for 'mauve' to look through the available stickers. Click on one to add to your designs and continue customizing it. 
Editing on your mobile device is just as easy. Here's how:
Step 1) Open the Picsart app and tap on the plus sign to start a new design. 
Step 2) Upload an image from your gallery. If you want to set a mauve background, tap on Draw and Color. Tap on the arrow next to Color Backgrounds to see more options or open up the color picker. Tap on the color wheel and input the RGB code of mauve (224, 176, 255). Next, tap on the checkmark and you'll see a blank canvas with a mauve background.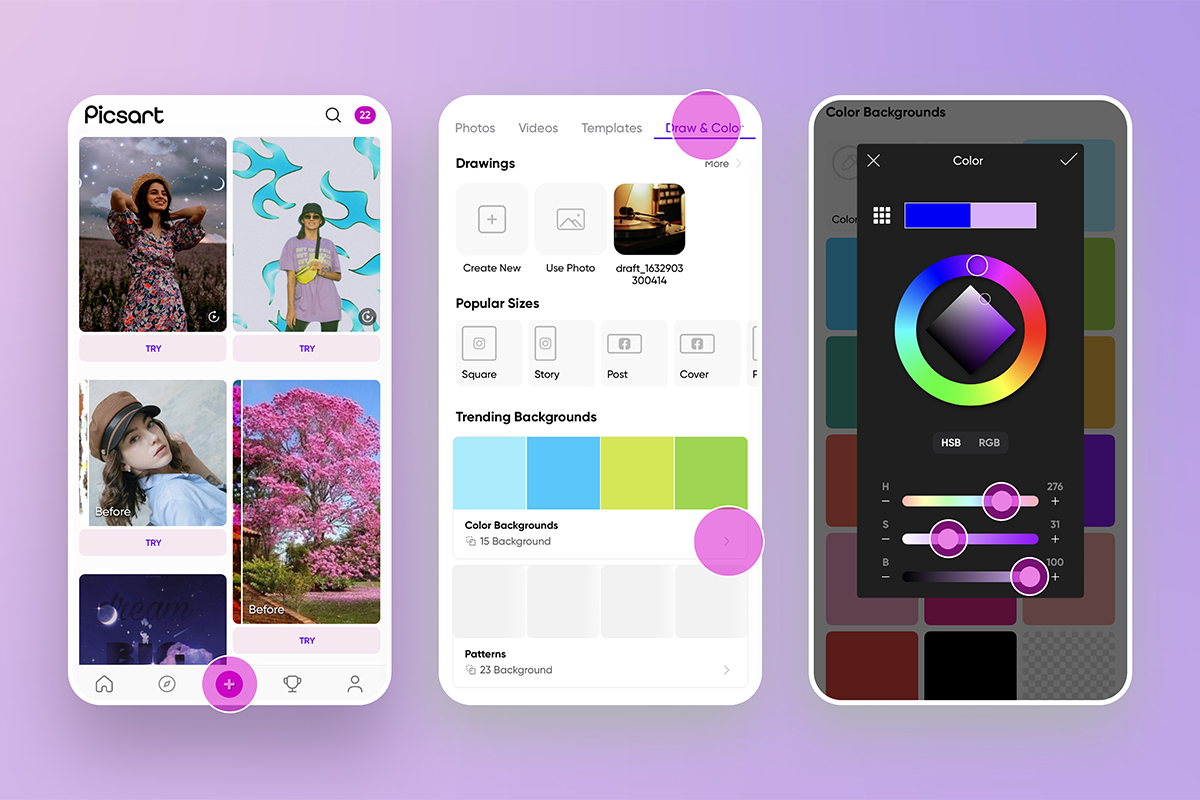 Step 3) Are you looking to add mauve text, stickers or maybe draw something mauve? Just use the Text, Sticker, and Brushes buttons respectively. Here we added Text, used the Bend tool to give it a bit of flair, and adjusted its positioning. 
At this step, you can also add Stickers by tapping on the Stickers tool then searching for "mauve" in the search bar. We applied star and confetti stickers. Tap on Apply.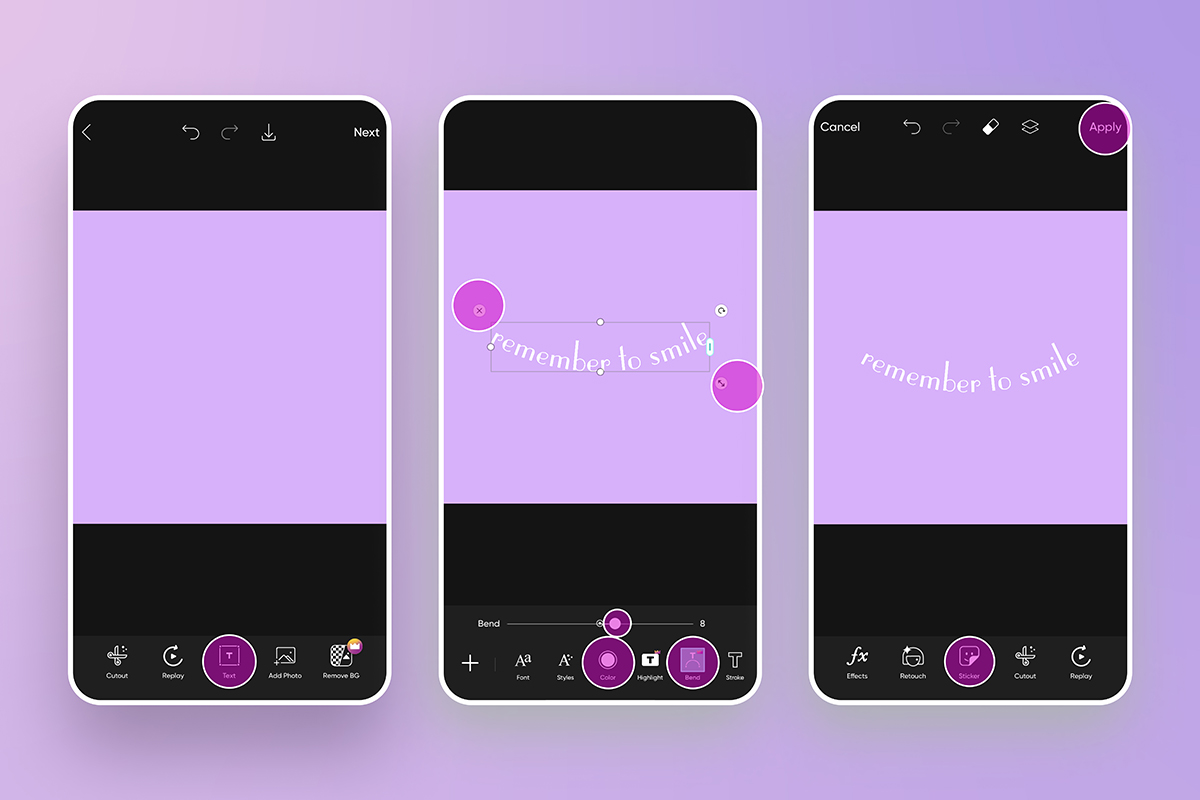 Step 4) When you're done designing, tap on Next and then Save or Post to share online or with the Picsart community.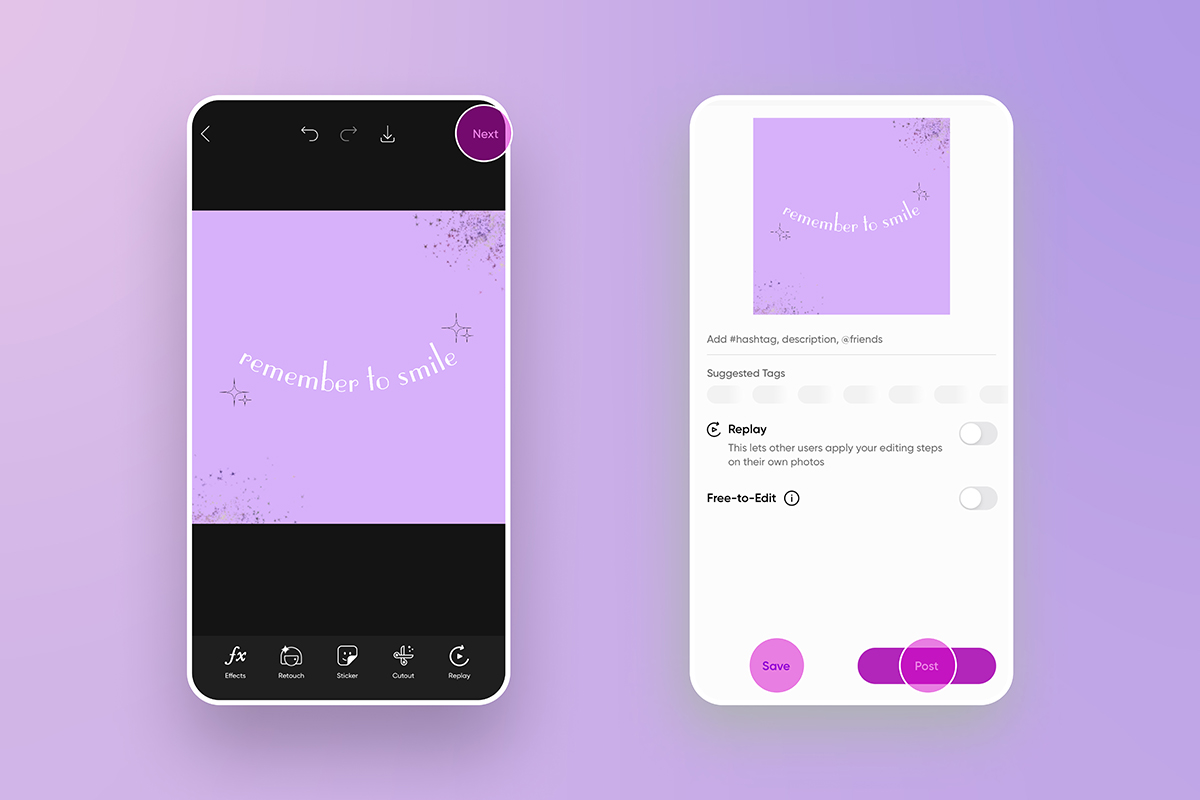 Now it's time to let your imagination fly. If you're looking for an extra dose of design inspiration, check out some of the edits our community of creators have shared. 
Picsart is a full ecosystem of free-to-use content, powerful tools, and creator inspiration. With a billion downloads and more than 150 million monthly active creators, Picsart is the world's largest creative platform. Picsart has collaborated with major artists and brands like BLACKPINK, the Jonas Brothers, Lizzo, Sanrio: Hello Kitty, I am a Voter, Bebe Rexha, Maroon 5, One Direction, Warner Bros. Entertainment, iHeartMedia, Condé Nast, and more. Download the app or start editing on web today to enhance your photos and videos with thousands of quick and easy editing tools, trendy filters, fun stickers, and brilliant backgrounds. Unleash your creativity and upgrade to Gold for premium perks!