When you think of the salmon color, you're likely thinking of a pinkish hue reminiscent of the fish you see at the grocery store. Fun fact: wild salmon fillets have a naturally bright reddish-orange hue that is determined by the fish's diet of shrimp and krill. 
But the salmon color is seen much more frequently than at the fishmonger. Whether you're looking to make a color palette, design an invitation, or make an ad, consider using this warm shade for a design that will stand out. 
Salmon Color Codes
While you may find a range of colors that are associated with salmon, true salmon is a specific combination of pinks and oranges that often leans on the lighter side of coral. 
In the design world, the color of salmon is defined by the hex code #FA8072. Hex codes are sequences of letters and numbers that create precise colors for designers and web developers to use. These codes define the blending of colors that result in a single final shade. Because web developers and graphic designers often work together on website creation, these hex codes, which are often used in HTML, CSS, and SVG formats, allow these two groups to align on the exact shades that should be used for a particular project.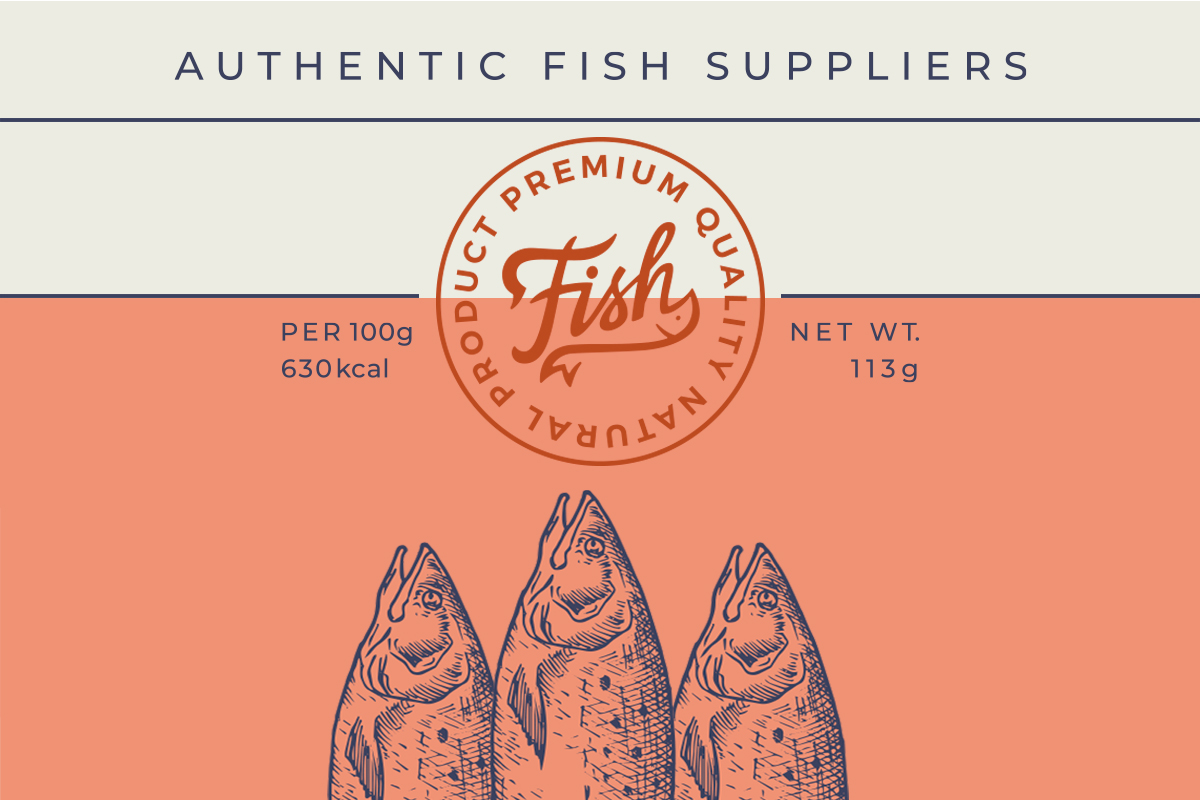 What Does the Salmon Color Represent?
Color psychology is a fascinating exploration of what colors mean and how they make people feel. Did you know that colors are associated with moods? Just think about the impact color choice has on the paint for your home, furniture color, or outfit choice. So, what does color psychology say about the pinkish red salmon color? 
Much has been said about the colors red and pink. Throughout history, red has been associated with passion, love, fire, and fury. Pink has been associated with femininity and romance, often used in imagery that depicts hope and positivity. A muted shade of red or pink, salmon embodies and evokes many of these same feelings when used in art, fashion, graphic design, or home decor. 
According to Crayola, the salmon color was introduced in 1949 and belongs in the red color family. The eponymous crayon takes on the distinct color of wild salmon and is thought to be one of more sophisticated light pink colors in a coloring box.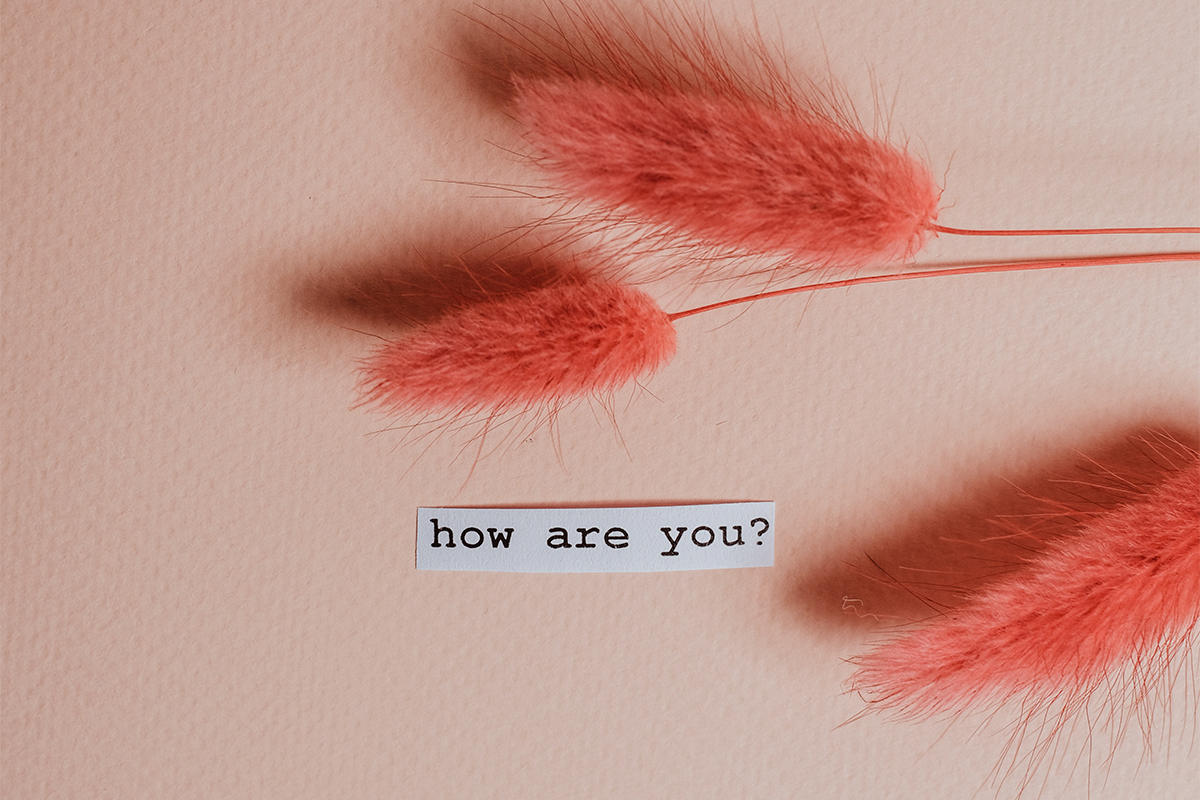 What Colors Make Salmon?
The color of salmon pink has RGB values of R: 98, G: 50.2, B: 44.7. The RGB color model is an additive color model in which red, green, and blue light are added together in different combinations to create a wide variety of colors. In the case of hex #FA8072, it is created by the combination of 98% red, 50.2% green, and 44.7% blue. Its CMYK values are C: 0, M: 0.49, Y: 0.54, K:0.02.
Complementary Colors to Salmon 
When you think of complementary colors, you might think these are colors that are close to your original shade. However, complementary colors – or colors that pair well aesthetically with a specific shade – are thought to be "opposites." 
For centuries, artists and designers have referred to the color wheel to help them determine which color combinations to use in their work. Complementary colors can be found on opposite sides of the color wheel. Salmon is closely related to pinks, reds, and oranges, which lie opposite to shades of green and blue. Read on to find out what colors go with salmon. 
If you're looking to create a color palette using Salmon, simply type in the hex code in the Color Palette Quicktool and it'll generate some fun color palettes to try.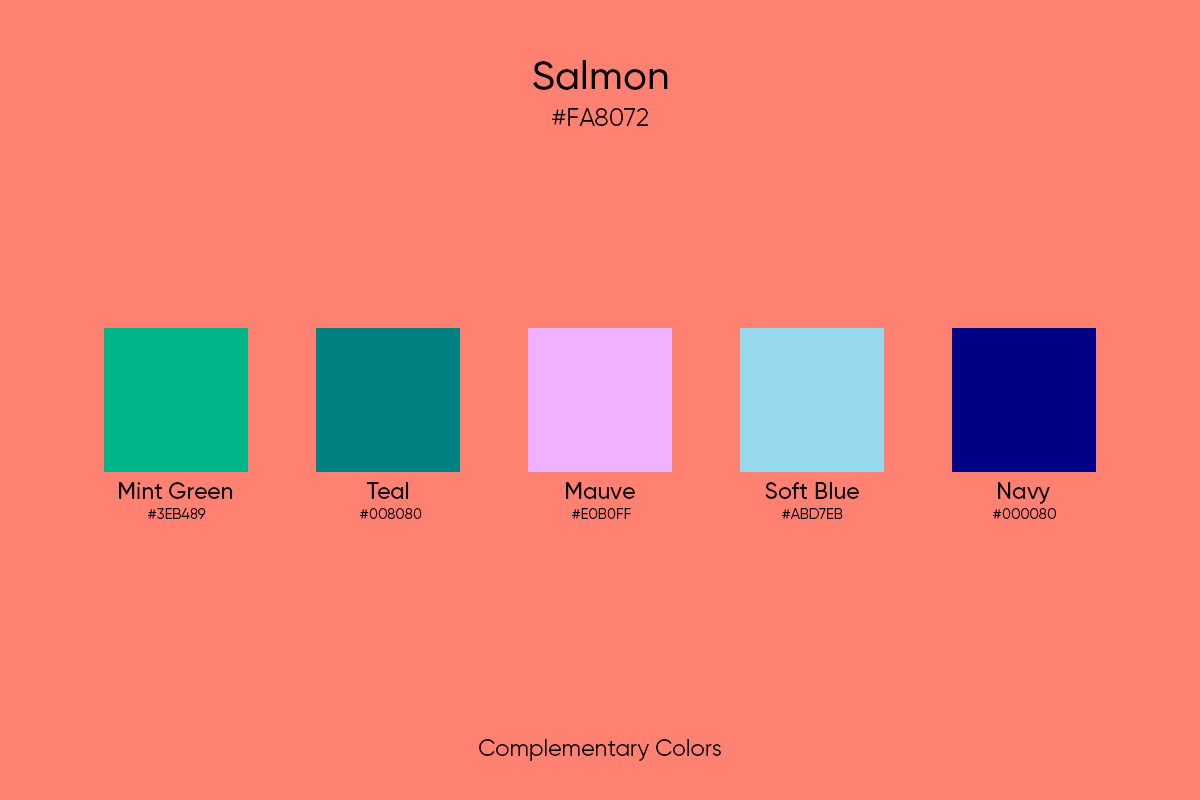 Mint Green
The sweet and delicate combination of the reddish-orange salmon and playful mint green is a classic pairing that adds whimsy to any color palette. A mint green and salmon floral print would be the ultimate option for a child's springtime attire. 
Teal
With teal's blue-green saturation and salmon's muted hue, this color combination is a winner for its modern aesthetic. A bold pattern containing both of these memorable hues (on a throw pillow or accent chair, perhaps) would add interest to any home decor piece. 
Mauve
Though not directly opposite each other on the color wheel, the duo of salmon and mauve create a sophisticated color palette that softens any design. This color combination could be the perfect palette for a bridal party or wedding color scheme. 
Soft Blue
Directly across the shades of orange on the color wheel, blue and salmon are the ultimate color combination. A soft, muted blue (think hazy morning sky) is the perfect complement to a subtle shade of salmon. Try it for a refreshing take on a baby shower invitation.
Navy
Talk about sophisticated. The salmon and navy pairing is a classic choice for a pop of color. Imagine the combination of freshly pressed navy blue trousers with a salmon-colored polo or blouse for the office or a special night out. 
Salmon Color Palette Ideas
Salmon is one of the most pleasing hues in the world of colors, so it's no surprise that many designers are eager to incorporate it into dreamy and dynamic designs. To help get you designing, we've compiled the below list of color palette ideas for a surprising take on salmon color pairings. 
Shades of Sherbet
Dreaming of warmer times? There has never been a better time to incorporate colors reminiscent of our favorite childhood summer treat: sherbet. Hues of salmon mix well with coral, peach, and even yellow-green to create a juicy color palette.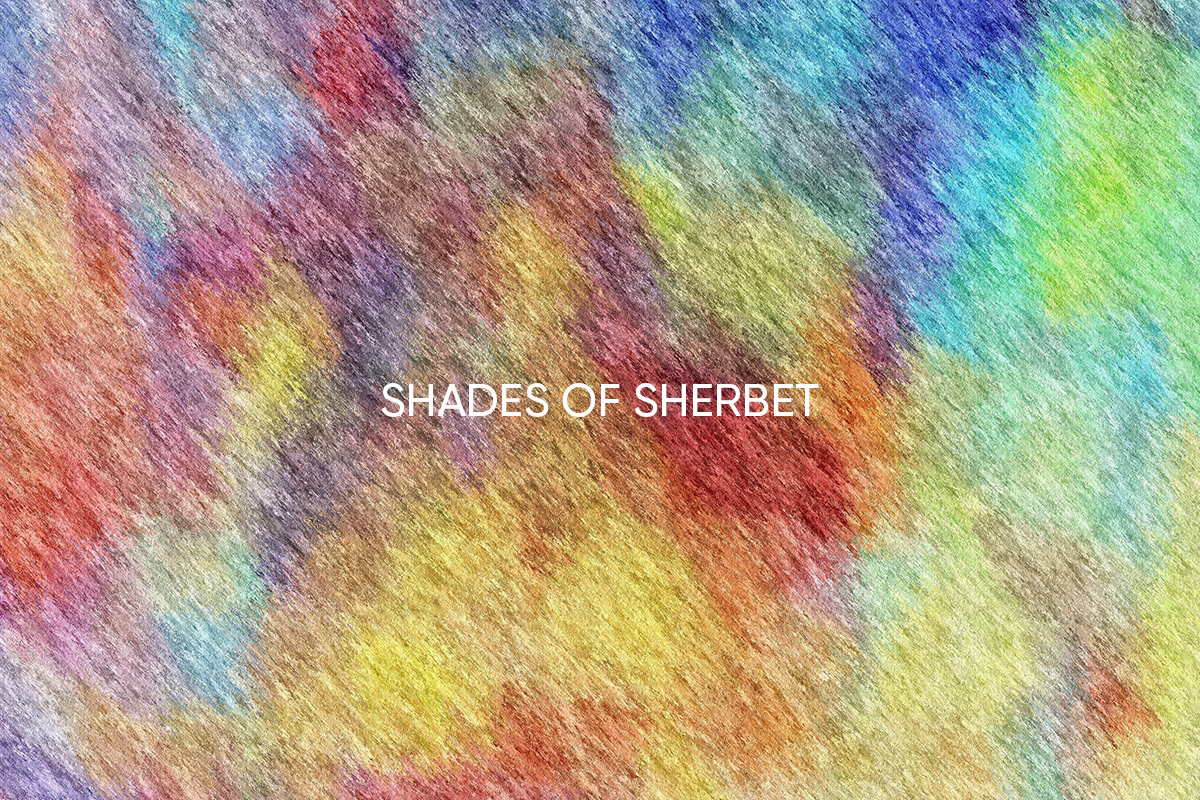 Blush and Blues
Have you ever looked at a blooming blue hydrangea? The colors aren't quite expected and create a unique experience when placed in a large floral arrangement. Certain blooms contain deep steel-grey blues with pops of cream, green, purple, and a soft pink that resembles a serene salmon shade.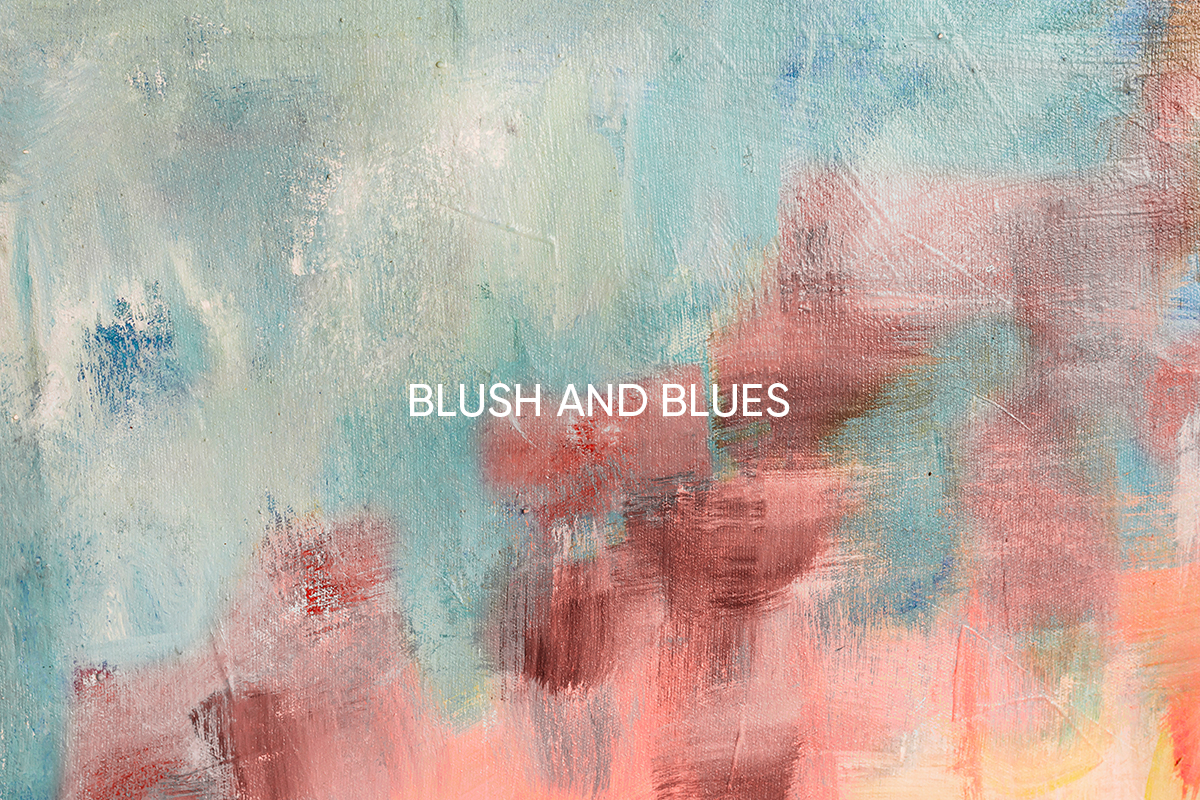 Sunset Vibes
It's hard to pin down the exact colors that make up the cotton candy skies as the sun sets each night. But shades of red and orange almost always dominate this palette. Think hazy blues, washed-out purples, and bright reddish-orange for this sunset color scheme bursting with warmth and energy.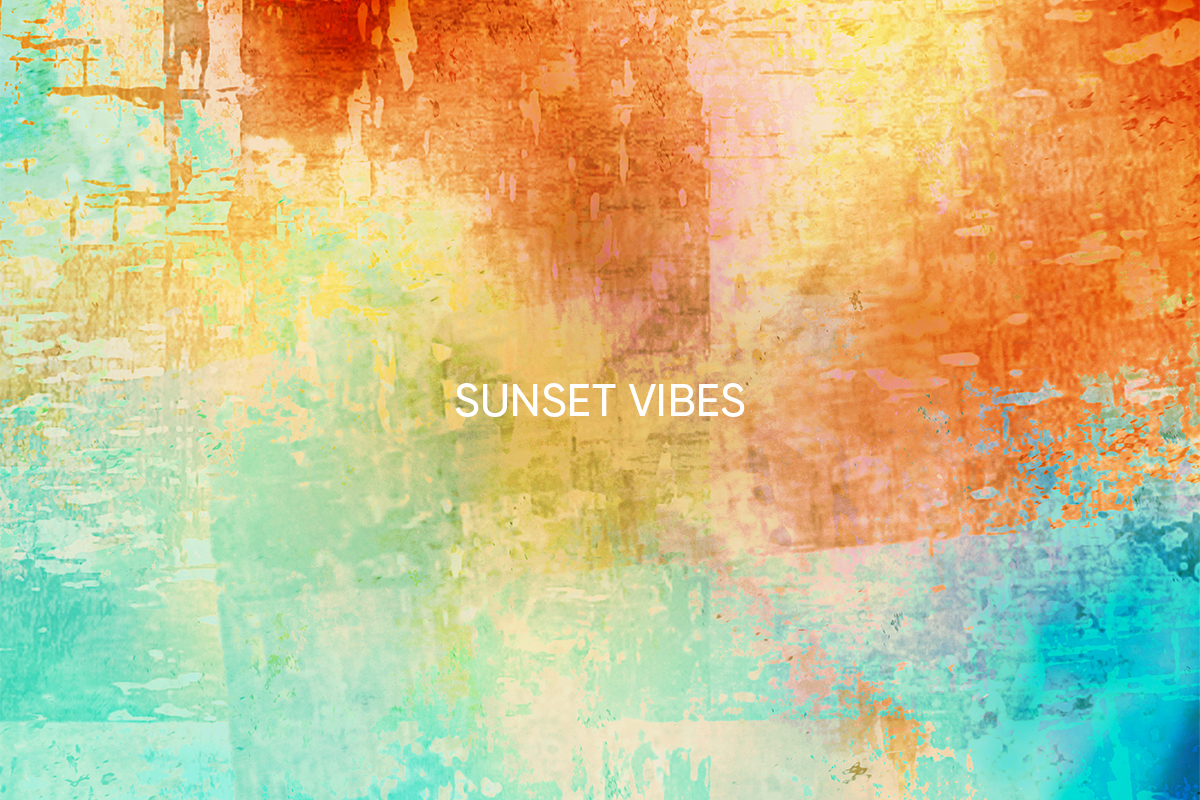 Terra Cotta
Adding the muted warmth of salmon to earth tones can add the most delicate touch of femininity to a terra cotta color palette. Imagine the ruddy reddish-orange side-by-side with taupe, cream, and charcoal hues for an elevated earthy scheme.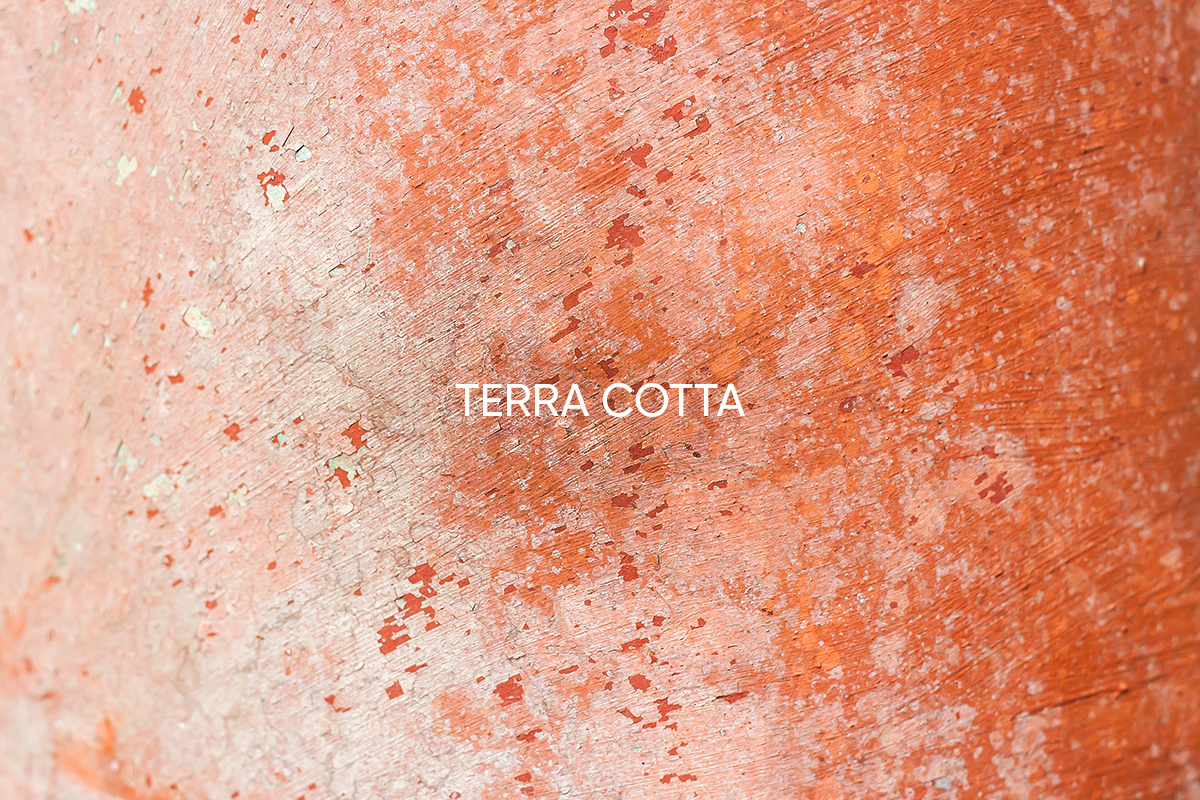 Bold Burgundy
It's no secret that pinks and reds complement one another beautifully. Beyond the Valentine's Day color scheme, there is something sublimely romantic about the blend of the two hues and the softness salmon adds to a deep, rich, and dramatic burgundy.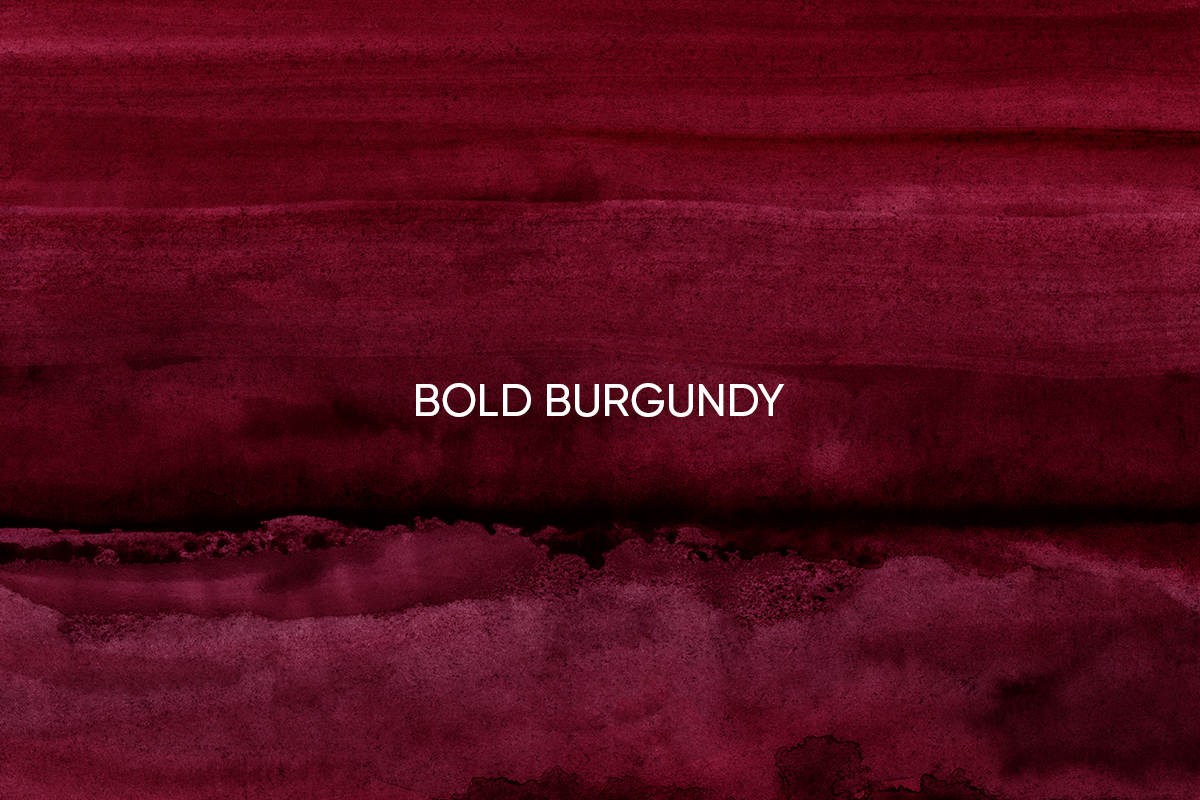 Create Fantastic Photos Using This Color
The Picsart community is full of examples of salmon color in action. If you're ready to get to work, then you can create your own salmon inspired graphic designs in Picsart.
Here's how to create a salmon color edit in Picsart Web:
Step 1) Open the Picsart Web Editor and start a new project. You can start a blank canvas or choose from a preset canvas size for popular platforms.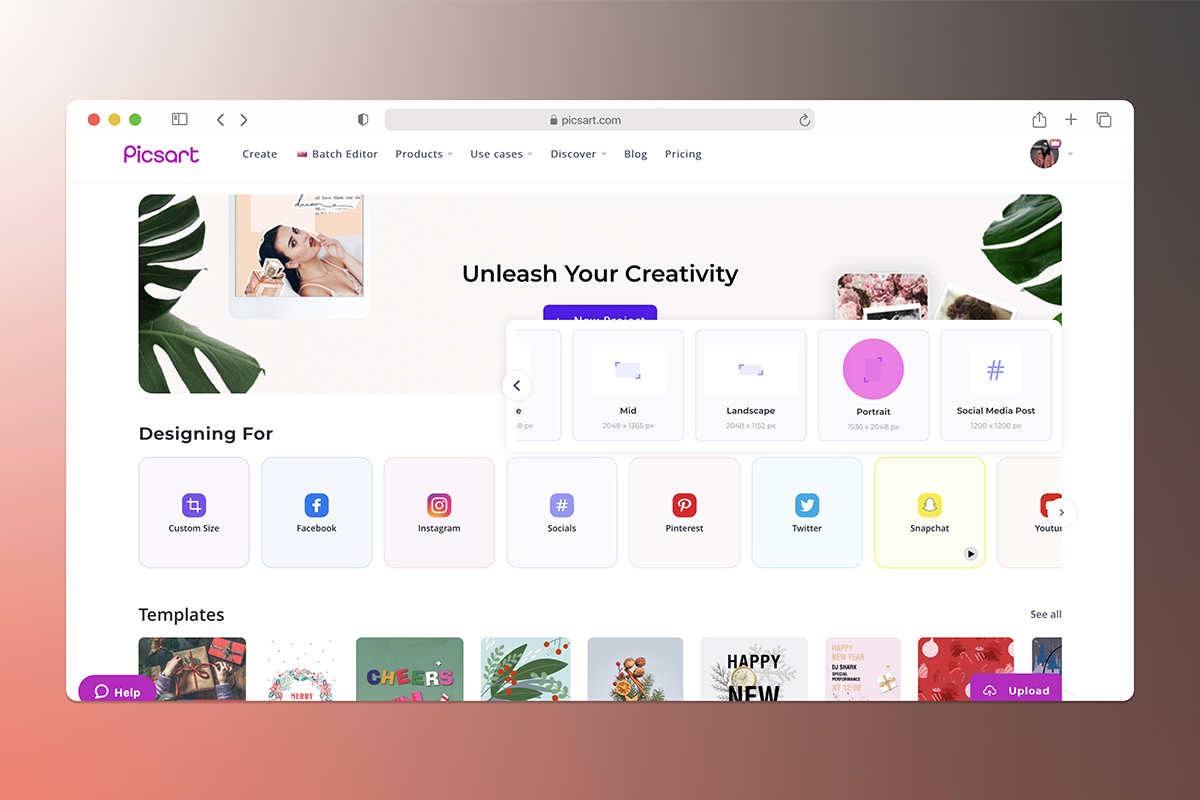 Step 2) Click on Templates in the left Editor panel and then click on the Color dropper on the upper panel. Type in the hex color for salmon. Now you have a salmon colored canvas.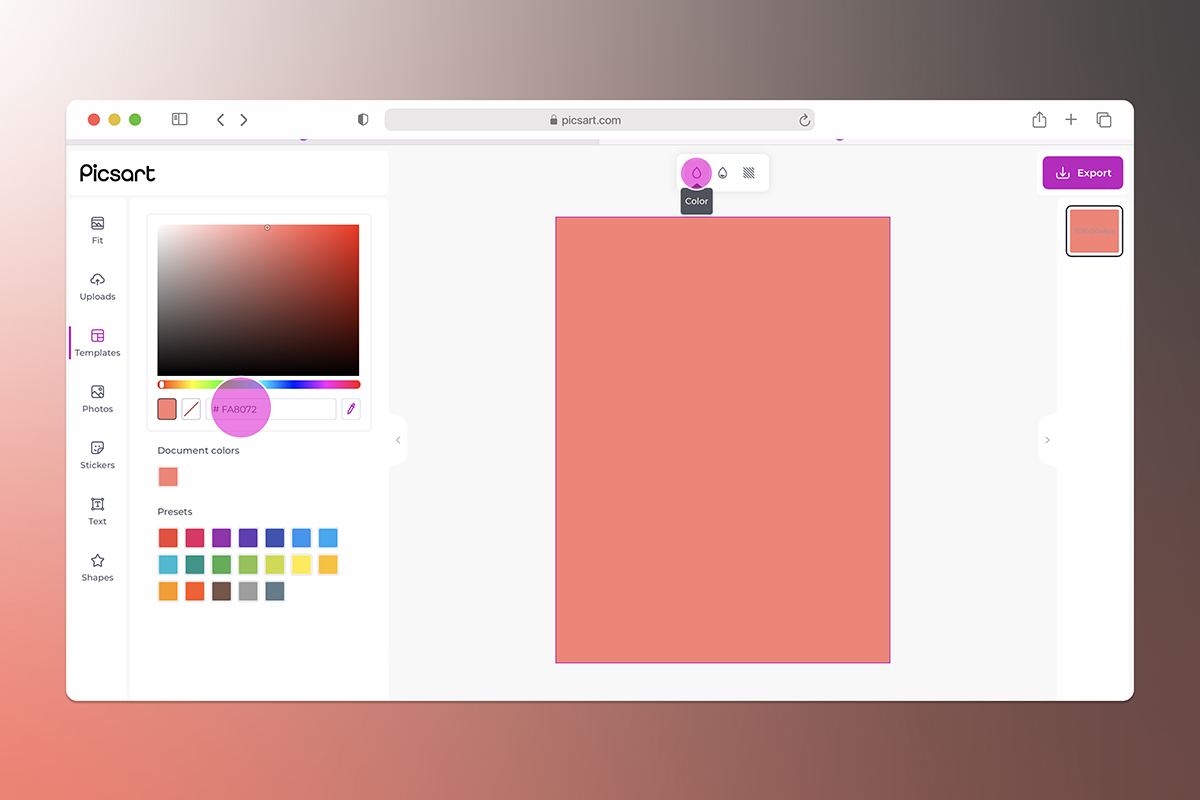 Step 3) Now, it's time to add some designs. Here, we're making a motivational edit (or a phone wallpaper) by adding text. Click on Text in the Editor toolbar, then type your text. You can reposition your text, select from various fonts, text colors and text styles all in this step.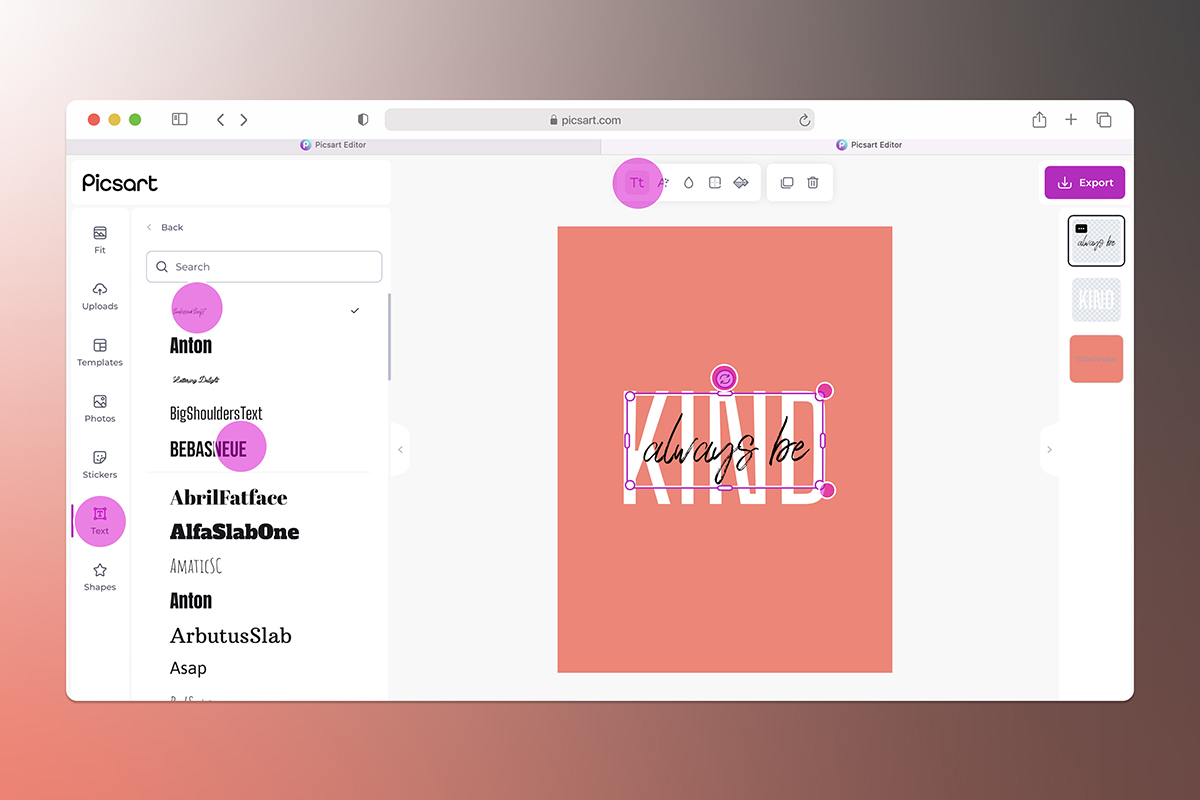 Consider also adding Stickers and Shapes to compliment your design.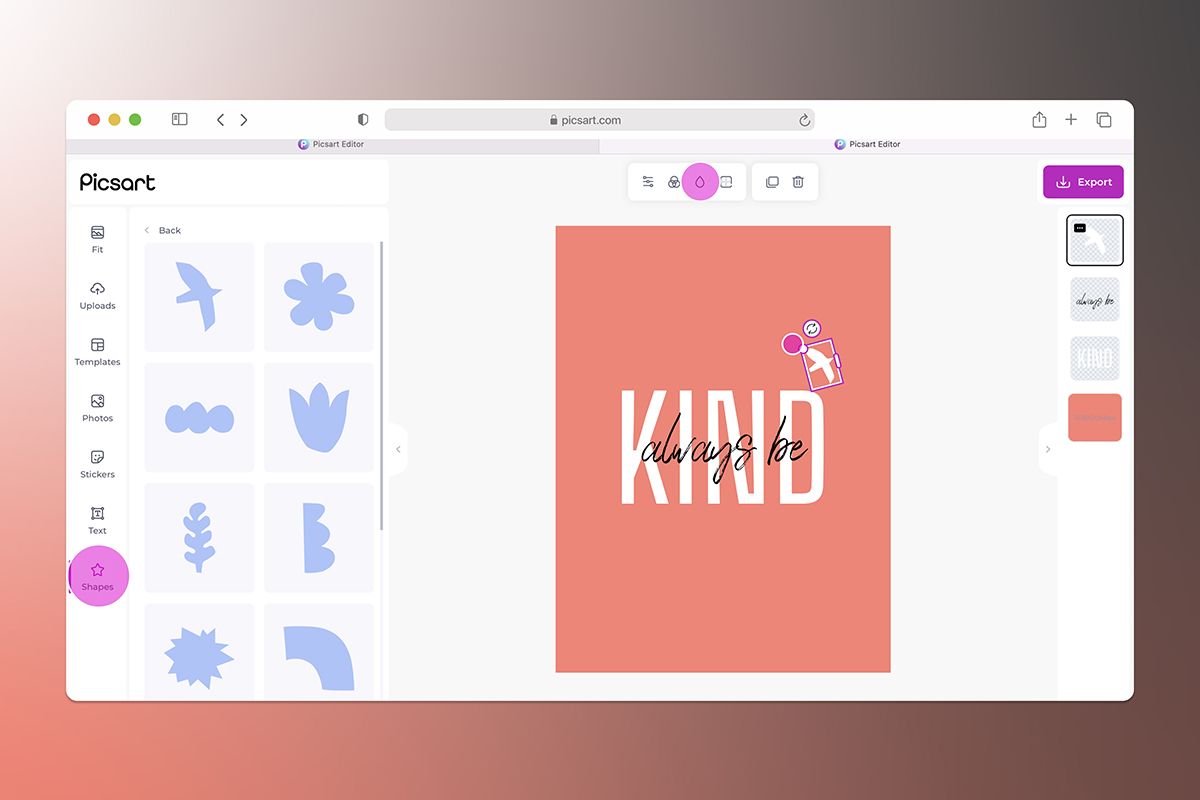 Step 4) Once you're done designing, click on Export to save and download your final image. Here you can chose the file size, file type, and file name before saving to your computer.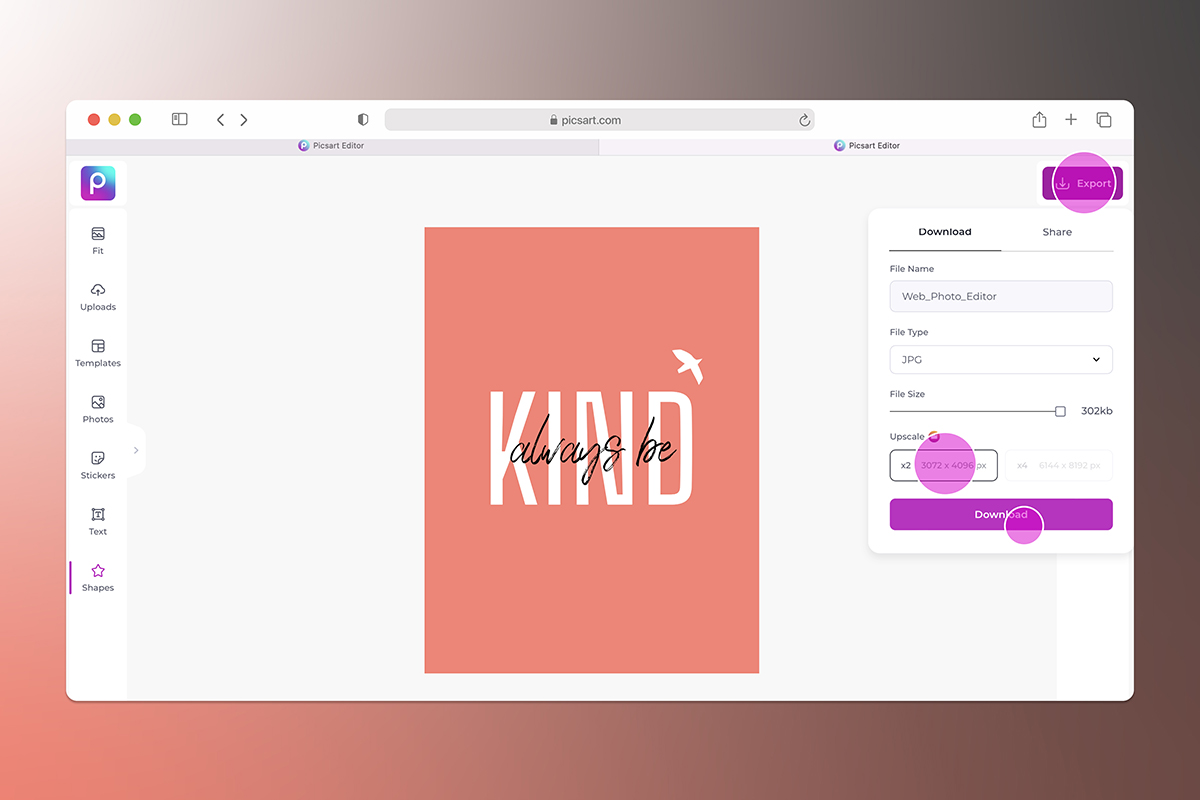 Prefer to edit on the go? Here's how to make a salmon color edit in the Picsart app. 
Step 1) Open the Picsart app and tap on the + at the bottom of the screen to start a new edit.
Step 2) Click on Color Backgrounds and select the salmon color in the color wheel. Alternatively, you can tap on the RGB option and enter the combination of colors that will render your desired shade of salmon. Tap on the checkmark to apply your changes.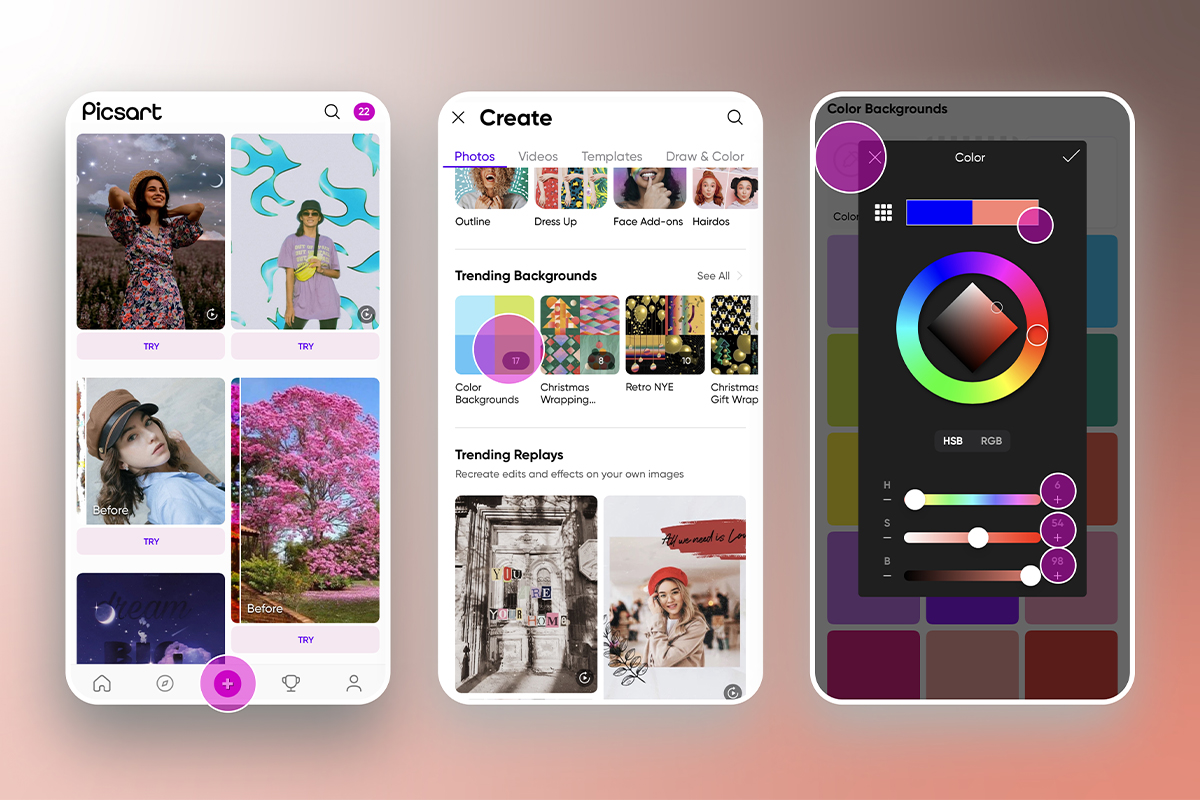 Step 3) Now that you have a salmon colored canvas, it's time to add some design elements. You can add text by tapping on the Text tool in the Editor toolbar. Type in your copy, then select the font, color, size, opacity level, and text style of your choice. Reposition as needed.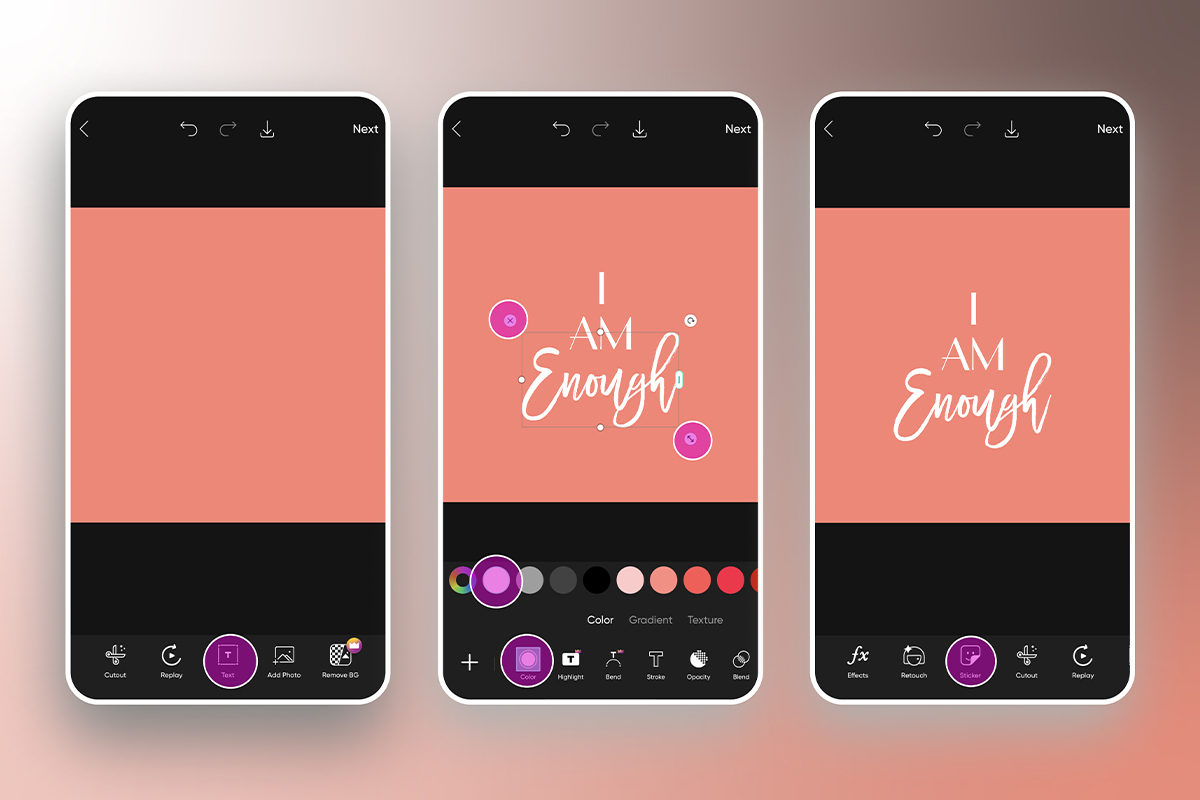 Step 4) Add additional design elements of your choosing. In this example, we added a star sticker by tapping on Sticker, searching for stars, and repositioning the sticker near the font. 
Step 5) Once you're done with your salmon color edit, tap Next then Save and Share your edit.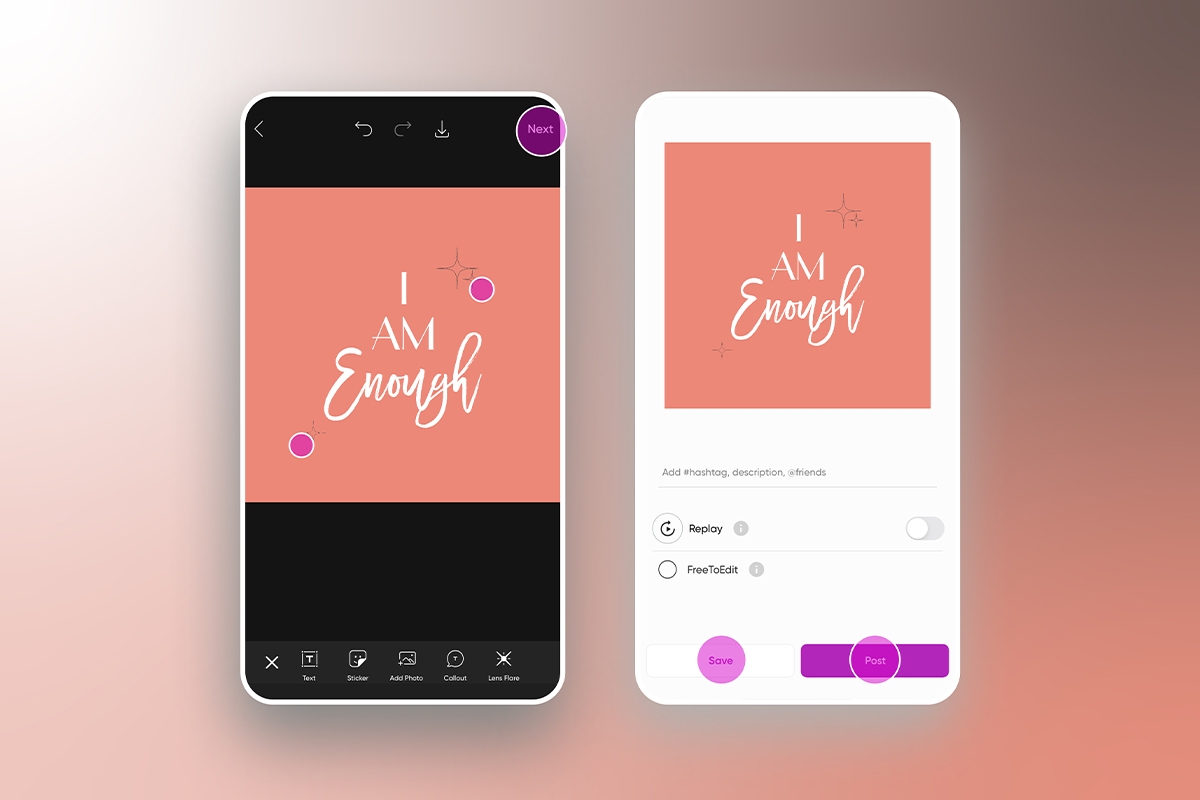 Picsart is a full ecosystem of free-to-use content, powerful tools, and creator inspiration. With a billion downloads and more than 150 million monthly active creators, Picsart is the world's largest creative platform. Picsart has collaborated with major artists and brands like BLACKPINK, Taylor Swift, the Jonas Brothers, Lizzo, Ariana Grande, Jennifer Lopez, One Direction, Sanrio: Hello Kitty, Warner Bros. Entertainment, iHeartMedia, Condé Nast, and more. Download the app or start editing on web today to enhance your photos and videos with thousands of quick and easy editing tools, trendy filters, fun stickers, and brilliant backgrounds. Unleash your creativity and upgrade to Gold for premium perks!